While President Donald Trump blames Amazon.com Inc. for the woes of the U.S. Postal Service, there is a very real problem with delivering shipments from China, U.S. manufacturers say.
The U.S. Postal Service currently collects below-cost payments, called terminal dues, to deliver small packages under 4.4 lbs. from international shippers. These payments, set by the United Nations Universal Postal Union, are being exploited, manufacturers say, by Chinese counterfeiters using e-commerce to flood the U.S. market with cheap goods, delivered at much lower cost than goods shipped domestically.
This imbalance hits U.S. manufacturers of small consumer products particularly hard, and has shot up the list of issue priorities for the National Association of Manufacturers, Patrick Hedren, vice president of labor, legal, and regulatory policy, told Bloomberg Government.
"We think that this can be dealt with. It simply hasn't been challenged yet in the proper way," Hedren said. "But there is no question that the rates provided to Chinese shippers are discriminatory compared with the rates that domestic shippers get," he said.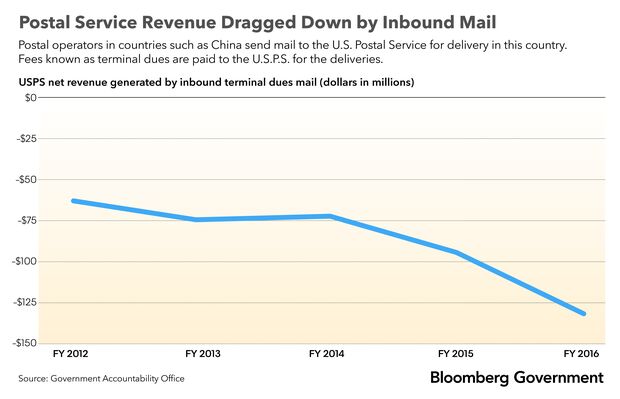 Losses Are Real
The U.S. Postal Service has been losing money in recent years, reporting in November 2017 that revenues had decreased $1.8 billion since 2016.
"I am right about Amazon costing the United States Post Office massive amounts of money for being their Delivery Boy," Trump said in an April 3 Tweet. "Amazon should pay these costs (plus) and not have them bourne by the American Taxpayer. Many billions of dollars," the president said.
Contradicting the president, the U.S. Postal Service reported that shippers like Amazon actually help its financial picture, with shipping and package revenue increasing $2.1 billion, or 11.8 percent, in fiscal year 2017.
Yet a real and growing problem for the U.S. Postal Service is inbound letter post, basically the delivery of foreign mail, which saw losses of $170 million in FY 2017 and $135 million in FY 2016, according to the most recent financial report by the Postal Regulatory Commission.
MIghty Mug to the Rescue
Jayme Smaldone, founder and CEO of Mighty Mug, based in Rahway, N.J., said he discovered the discrepancy between foreign and domestic shipping rates while enforcing patents on his spill-resistant mug design.
The patented Mighty Mug is advertised as the world's only cup that grips to a smooth surface when bumped into, but lifts naturally. About two years ago, the company started to see a lot of knockoffs of its product, Smaldone said.
The company started buying sample products and found a lot of the knock-offs shipped from China, Smaldone said. One high-quality fake cost $5.69 with free shipping from China, and it arrived in eight days, he said.
By comparison, to ship a 4 lb. package across the U.S. to California would cost about $18, Smaldone said. "But when I looked, the Chinese competitor of mine, knocking off my intellectual property, gets the same exact delivery from the postal service for $3.70," he said.
Before it gets to the U.S., there should be a big cost to ship the package out of China, Smaldone said.
"But under my analysis, I believe that China is subsidizing their leg, literally giving their shippers 20-cent shipping, so that their domestic e-commerce business explodes," Smaldone said.
Known to Regulators
Robert Taub, chairman of the Postal Regulatory Commission, which oversees the U.S. Postal Service, said the problems with the terminal dues structure are well known to regulators and have been festering for decades.
Terminal dues are set by the Universal Postal Union, which was established in 1874 in Bern, Switzerland, and is the world's second-oldest treaty organization, Taub said. The system worked well when international mail was mostly flat letters, and has only now gained attention because of the rise in e-commerce, he said.
It wasn't until the 1990s, when the commission began reporting on the costs incurred and rates charged by the U.S. Postal Service, that regulators caught on to the problem, Taub said.
The commission discovered then, particularly for industrialized nations, that the Universal Postal Union had set up an agreement in which there were winners and losers—where some countries' postal services did not charge the same rate that their domestic users paid, Taub said.
"So, the post office in the U.S. was not fully recouping the cost of delivering these particular products for other nation's posts," he said.
Four-Year Agreement
The Universal Postal Union meets once every four years to set the rules for the next four years of the agreement, Taub said. The 26th UPU Congress that met in Istanbul, Turkey, established the 2016 agreement that governs the period from 2017-2020.
During these meetings, 192 nations come together and put countries into one of four categories based on their view of how developed they are, and then set the rate these countries must pay to other posts to deliver the mail, Taub said.
It's a one-country, one-vote system, even though the U.S. handles roughly half of the world's mail, Taub said. The secretary of state negotiates on behalf of the U.S., guided by the Postal Accountability and Enhancement Act of 2006 (Pub. Law No. 109-435).
Back in 1999, at the UPU Congress in Beijing, China, the State Department objected to the terminal dues provision in the agreement, Taub said. Negotiators proposed—unsuccessfully—transitioning to a system where countries' postal systems charged a similar fee to what they were charging domestically, he said.
Pushback From U.S. Postal Service
The latest agreement contains a 13 percent increase in terminal dues rates for industrialized countries that will also apply to China, as well as tracking and some other changes. But critics see these adjustments as too little, too late.
The financially strapped U.S. Postal Service has been reluctant to address this issue because outbound mailers are more than covering their costs and adding to revenues, Taub said. It is understandably concerned that if it increases rates for China Post and others, then other postal services will do the same, he said.
"And so, hence, there's a possibility our outbound mailers might have to see an increase in their rates," Taub said.
But there are three losers in the current system, one being American merchants that face unfair competition and another being private-sector carriers that deliver internationally, like FedEx or UPS, that must deliver at cost, Taub said.
The other loser is the American mailer, Taub said, because the U.S. Postal Service is not recouping the costs of delivering inbound small packages.
"There's a reason why in every annual compliance determination, we're saying inbound letter post is underwater, losing money, and we consider it discriminatory because American mailers are paying for this, and these foreign posts are using our infrastructure and not paying any overhead," Taub said.
'Pick and Choose'
The U.S. should abide by all of its agreements with the Universal Postal Union, including the current terminal dues agreement that took effect in January, said Kate Muth, executive director of the International Mailers Advisory Group.
"Our concern is that there is some movement within the administration to direct the U.S. not to abide by the Acts, which would have broader implications on outbound shipments (in particular this is what our members care about) than just terminal dues," Muth said in an e-mail.
Terminal dues are just a small component of overall shipping costs, and the acts of the UPU are an integral whole that "we can't just pick and choose from," Muth said an April 6 letter to John Sullivan, the acting secretary of state.
"Our members worry about reciprocity from foreign posts if the United States were not to abide by the Acts. Prices for U.S. exports would increase," the letter said.
No Easy Solution
Yet, not acting on this problem would be of significant concern to the 14,000-member National Association of Manufacturers, the vast majority of them small- and medium-sized businesses, NAM's Hedren said.
On April 16, Rep. Kenny Marchant (R-Texas), who has been focusing on the issue on Capitol Hill, introduced a bill (H.R. 5524) to require the U.S. Postal Service to establish rates for the delivery of inbound international mail that do not discriminate between foreign and domestic mailers.
Earlier, on April 10, Sen. Bill Cassidy (R-La.) introduced a bill (S. 2638) that would require the secretary of state to negotiate with the Universal Postal Union to end all subsidies.
"The storm clouds are on the horizon," Hedren said. "This is already a big enough problem that we're focused on it in a big way at the association. It only gets dramatically worse from here," he said.
"But the key for us is, this problem is a today problem—we need to deal with it as quickly as we possibly can," Hedren said.