Drone industry groups are heading to Detroit today to weigh in on the drafting of model state legislation they say could cripple the commercial drone industry and flout the Federal Aviation Administration authority.
"There is a tremendous amount of industry interest in this proposal," Joshua Turner, an attorney with Wiley Rein LLP who represents the drone trade group Association for Unmanned Vehicle Systems International, told Bloomberg Government.
The Uniform Law Commission is considering potential alternatives to a July proposal that would allow property owners to sue drone operators for trespassing if they fly within 200 feet over their land. The 126-year-old Uniform Law Commission consists of state-appointed legal specialists, judges, and others who write bill templates that states can then adopt.
The new proposal is the latest attempt by local authorities to assert their authority to regulate the millions of drones now flying in U.S. airspace, an area that has traditionally been controlled by the FAA.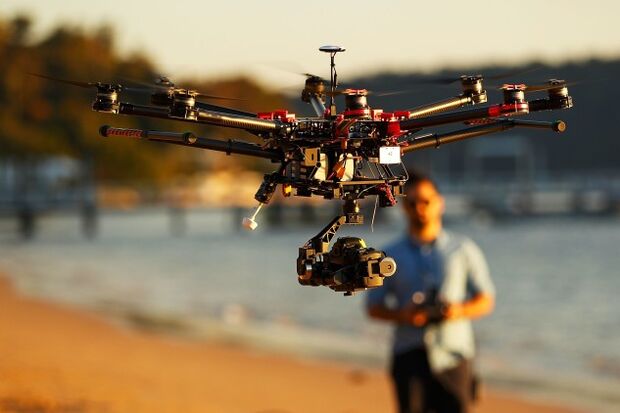 The commission's executive director, Steve Willborn, said a committee will discuss three potential alternatives to the July proposal during the weekend meeting. One committee-devised alternative would allow drone operators to rebut any suit and another would allow states to set their own altitude limits for trespassing suits.
Additionally, an industry-led version submitted this month, will be considered, he said. That proposal would require property owners to prove the operator flew over their land and caused harm, he said.
Willborn said the model legislation should benefit industry and operators by clarifying trespassing laws for the new tech and standardizing them across states.
Industry Pushback
Industry players, however, including Amazon.com Inc. and Verizon Communications Inc. have pushed back vehemently against the proposal, saying it could lead to a wave of meritless lawsuits and curtail legitimate drone use. Gretchen West, co-director of the Commercial Drone Alliance, told Bloomberg Law the new committee alternatives would still make it difficult for operators to function.
Media groups such as the News Media Coalition have also raised concerns that it would keep journalists from taking low-altitude videos.
The Uniform Law Commission's newest proposal also would not rescind language that the general counsels of the FAA and Transportation Department have taken issue with. In a July letter, the counsels asked the commission to strike language that stated the FAA had been consulted, and stated that the agency did not endorse the draft "or the logic that underlies it."
A spokesperson from the FAA told Bloomberg Government Oct. 25 the July letter speaks for itself.
The Transportation Department is overseeing a pilot program established in part to parse out the role for local and state government in setting drone regulations.
The ULC's Willborn said a final draft would be created in coming months before the proposal could be adopted by the full commission. States then have the option to adopt part or all of the model legislation.
To contact the reporter on this story: Michaela Ross in Washington at mross@bgov.com
To contact the editors responsible for this story: Paul Hendrie at phendrie@bgov.com; Jonathan Nicholson at jnicholson@bgov.com