As more "Baby Boomers" leave the workforce, the Social Security Administration is seeking small IT vendors to support one of the nation's largest social welfare programs.
SSA posted a request for proposal for a five-year, indefinite delivery/indefinite quantity contract known as Enterprise Small Business IT Support Services, or ESBITSS, on Oct. 4. The contract will support the modernization of the Old Age, Survivors, and Disability Insurance program, which provides financial assistance to elderly, blind, or disabled adults, and disadvantaged children.
IT modernization is a top priority for SSA's Vision 2025 initiative, aimed at supporting the estimated 70 million Baby Boomers who are reaching retirement age, according to an attached statement of work.
The statement says SSA expects workloads to increase despite flat personnel budgets, and "will continue to rely heavily on increased automation to provide high quality secure services to the public's changing needs."
ESBITSS calls for skilled systems engineering services related to four areas:
Infrastructure, telecommunications environment, and help desk support;
Software engineering, systems security, and management support;
Database and data administration; and
Lifecycle activities and DevOps.
Winning contractors will provide IT capabilities for an enterprise that processes more than 200 million transactions each day.
ESBITSS will replace two previous SSA IT services contracts. The first, IT Engineering Support Services (ESS), has generated about $117.9 million for two small businesses since fiscal 2013, Obxtek Inc. ($88.3 million) and Zolon Tech Inc. ($29.6 million). The second, SSA's Blanket Purchase Agreement for Information Technology Support Services (BITSSC), has generated $17.6 million for It Concepts Inc. and $2.2 million for About Web LLC since fiscal 2013.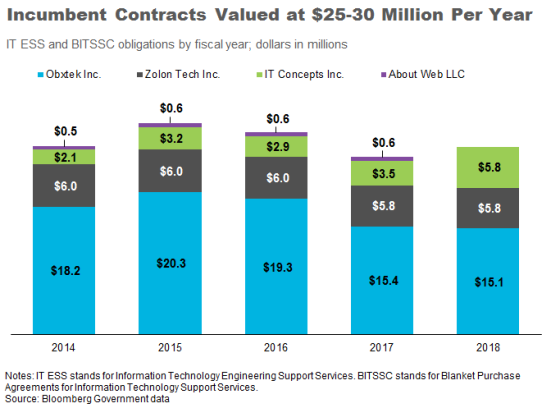 Like the vehicles that preceded it, ESBITSS obligations will be set aside for small businesses. The agency hasn't yet attached a maximum ceiling value for ESBITSS, but given the scope of services required, it could be as high as $250 million over the contract's five-year ordering period.
Past performance will factor more heavily into SSA's evaluation process than will other criteria, such as technical rating and price, according to the RFP. Emphasis on past performance could prove advantageous for incumbents. However, some firms, such as Obxtek, have become victims of their own success, as they're now too large to compete under the small business size standard of $27.5 million. This should open the door for new competitors
Interested parties have until Nov. 11 to respond to the RFP on FedConnect.
Chris Cornillie is a federal market analyst with Bloomberg Government.
To contact the analyst on this story: Chris Cornillie in Washington at ccornillie@bgov.com
To contact the editors responsible for this story: Daniel Snyder at dsnyder@bgov.com; Jodie Morris at jmorris@bgov.com