Group spent more than Chamber of Commerce and AFP combined
Donor disclosure due next week to the Federal Election Commission
 Buying $20 million in advertising in one short month was enough to make a group backing Democratic candidates the new No. 1 among campaign bankrollers that keep their money sources secret.
The Democratic-allied nonprofit Majority Forward has bought nearly $30 million worth of campaign ads this year, surpassing similar groups helping Republicans.
Majority Forward has spent more than the combined campaign total of the U.S. Chamber of Commerce, the nation's largest business lobby, and Americans for Prosperity, which is linked to the so-called Koch network of conservative donors.
All three organizations have declared themselves exempt from campaign finance laws requiring disclosure of funding sources and have never reported their donors to the Federal Election Commission — a requirement for most other spending, so that voters can learn who paid to influence them and who a candidate might be beholden to.
Critics call them "dark money" groups.
`Dark Money' in Congressional Campaigns: BGOV Q&A
Recent court rulings struck down an FEC rule permitting some categories of organizations to keep donors secret. The first test of those court rulings comes Oct. 15, when quarterly disclosure reports are due.
Majority Forward in the past has told the FEC that it doesn't have to disclose who gives money because it "does not accept contributions earmarked for a specific political purpose."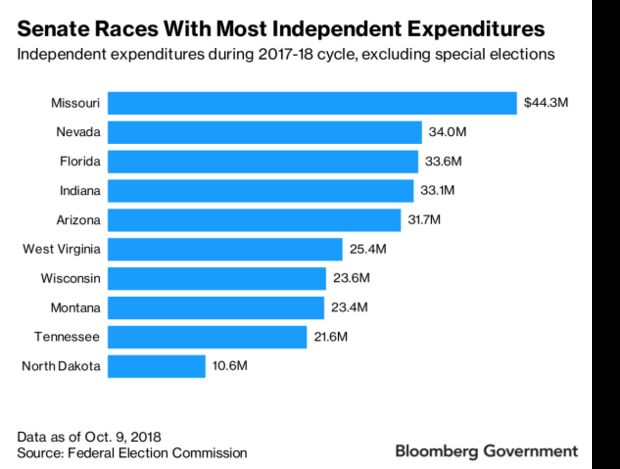 Who's Funding Elections?
Federal law has "a broad requirement to ensure voters know who is funding their elections," said Stuart McPhail, an attorney for the watchdog group Citizens for Responsibility and Ethics in Washington. CREW has spearheaded disclosure litigation to eliminate loopholes it says were created by the FEC.
Continued campaign spending by Majority Forward and other groups could provide a test for the FEC about how it will enforce the new court rulings on donor disclosure.
Groups to Reveal Donors in October Reports After Court Ruling
New FEC guidelines apply to money donated for political purposes after Aug. 3 and independent expenditures made after Sept. 18, when the recent court rulings were finalized.
"It would have been great if this were the end of dark money, but it's not, because the underlying statute doesn't require these groups to disclose all donors," FEC Vice Chairwoman Ellen Weintraub (D) said on Twitter.
Key Races
Majority Forward's total independent expenditures of $28.9 million through Oct. 9 includes more than $20 million spent in the last month for television ads in races likely to determine control of the Senate. The nonprofit is spending in Florida, Indiana, Arizona, Nevada, Tennessee, Missouri, Montana and West Virginia, according to reports filed with the FEC.
The group has reported an additional $5 million in "electioneering communications" – ads that refer to candidates without explicitly telling viewers how they should vote.
On its website Majority Forward says it's is a nonprofit governed by Section 501(c)(4) of the tax code whose "primary mission is to encourage full participation of voters in our elections."
In its political work, the nonprofit says it's affiliated with Senate Majority PAC, which is the main super PAC linked to Senate Democrats. That same PAC has been promised $20 million from former New York City Mayor Michael R. Bloomberg, the Washington Post reported. Bloomberg is the majority owner of Bloomberg Government's parent company.
A Republican super PAC, Senate Leadership PAC, also has an affiliated nonprofit, called One Nation. One Nation has acknowledged spending millions of dollars in key Senate battleground states, running ads that avoid explicit calls to vote for or against a candidate.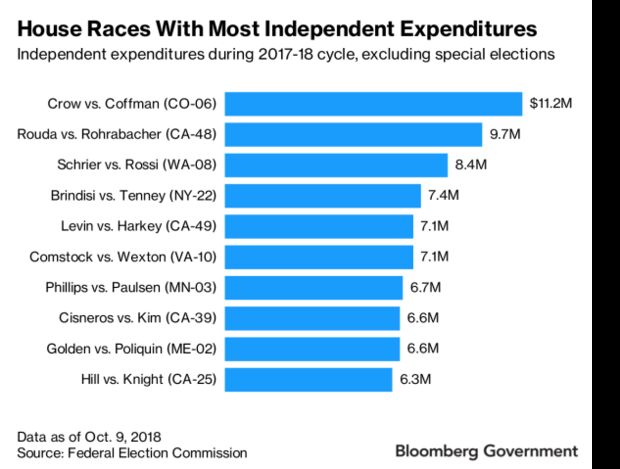 Spending Pause
The Chamber has reported nearly $12 million in independent expenditures in the 2018 election cycle, while AFP has reported nearly $9 million.
After the court rulings, both groups stopped making new independent expenditures, according to FEC reports.
AFP, the nonprofit launched by Charles and David Koch of Koch Industries, has registered a new super PAC called Americans for Prosperity Action, which has spent more than $4 million since its formation last month. Its initial spending has been concentrated on Senate races in Florida and Tennessee.
Senate Races to Watch: BGOV OnPoint
House Races to Watch: BGOV OnPoint
The new super PAC is obligated to report all its contributors to the FEC. Its first disclosure report is due later this month.
The Chamber has continued to sponsor "issue ads" that discuss candidates but stop short of asking for votes.
The Chamber recently reported to the FEC $1.2 million in spending for such ads as "electioneering communications," defined as targeted broadcast ads mentioning candidates that run in the period 60 days before a general election. By changing the wording of its ads to drop references to voting, the Chamber is able to skirt disclosure rules that apply to groups making independent campaign expenditures – defined by the FEC as spending on messages that support or oppose candidates.
Overall, more than $500 million has been spent by super PACs and other independent groups in the 2018 elections, according to FEC reports analyzed by the nonprofit Center for Responsive Politics. There are no legal maximums on how much those groups can raise and spend.
Spending in House races has nearly doubled from 2016, according to an Oct. 9 analysis by the nonprofit research group Campaign Finance Institute. Meanwhile, total independent expenditures in Senate races has dropped somewhat.
To contact the reporter on this story: Kenneth P. Doyle in Washington at kdoyle@bgov.com
To contact the editors responsible for this story: Paul Hendrie at phendrie@bgov.com; Katherine Rizzo at krizzo@bgov.com; Bennett Roth at broth@bgov.com