Six Vietnam vets aren't seeking re-election
Ex-POW Johnson is final Korean War vet
The death of John McCain leaves the Senate with just one Vietnam veteran: Delaware's Tom Carper.
It's part of a generational change that soon will include the departure of the last Korean War veteran in Congress: Rep. Sam Johnson (R-Texas) isn't running for re-election.
Johnson, who will be 88 in October, was a cellmate of McCain (R-Ariz.) when both were prisoners of war. McCain, 81, died of brain cancer Aug 25.
Other Vietnam vets getting ready to leave Congress include Rep. Rodney Frelinghuysen (R-N.J.), who was drafted after college and became an Army engineer in Vietnam, and three congressmen who served in the National Guard or Air Force Reserve during that war: John J. "Jimmy" Duncan (R-Tenn.), Ted Poe (R-Texas) and David Reichert (R-Wash.).
Rep. Steve Pearce(R-N.M.), an Air Force combat pilot in Vietnam, is running for governor.
This "signals an end of an era," said Joe Davis, communications director for the Veterans of Foreign Wars. "It's a time to mark, but it's also time to pass the baton to the new generation."
The veterans of the Vietnam generation, including those who went on to serve in Congress, taught an important lesson, Davis said: "They were able to help America disassociate the politics of war from the warrior fighting the war and that carries through today."
Based on their age and sex, 102 of the current members of Congress would have been eligible for the Vietnam draft because they were born between 1944 and 1952, according to data compiled by Bloomberg Government.
That figure doesn't include McCain and Johnson. Both born in the 1930s, McCain was in the Navy and Johnson was in the Air Force before U.S. troops were sent to Vietnam.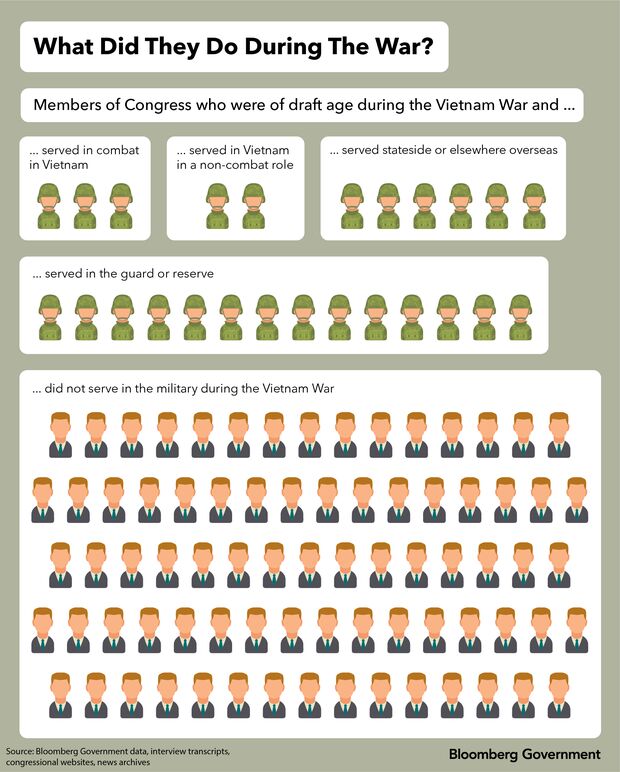 Looking just at the Vietnam draft-age cohort in Congress, 25 of the 102 were in the armed forces during that conflict. The chart above shows the number of current members of Congress who were of draft age and whether they served. The Selective Service System assigned draft numbers to men born from 1953–1957. No draft orders were issued after 1972.
Of those 25 lawmakers, three are combat veterans: Pearce, Rep. Jack Bergman (R-Mich.), and Rep. Mike Thompson (D-Calif.), who was awarded a Purple Heart for his service in the war.
Two others served in Vietnam in support roles: Frelinghuysen and Carper.
Six were active-duty military stationed stateside or overseas but weren't among the 2.7 million deployed to Vietnam: Reps. Sanford Bishop (D-Ga.), G.K. Butterfield (D-N.C.), Mike Conaway (R-Texas), Phil Roe (R-Tenn.), Bobby Rush (D-Ill.), and Sen. Jack Reed(D-R.I.).
Another 14 joined the National Guard or reserve. The remaining 77 didn't serve in any branch of the military in the Vietnam era.
While Carper, a pilot who served three six-month tours, is the final senator who can speak from experience about service in Southeast Asia during the Vietnam years, he has colleagues in the chamber who served stateside during that period.
In an interview, Carper recalled returning to the region as part of an American delegation that met with Do Muoi, the general secretary of Vietnam's Communist Party, in 1991.
"I found out that Do Muoi, like a member of our delegation, Congressman Wayne Gilchrest, had been at one time in his youth a house painter, both of them," Carper said. "They'd both been shot and they'd both ended up as leaders of their country. And I explained all this to Do Muoi when we met with him privately."
"It was a very emotional meeting," Carper said. "He stopped and stood up and he embraced Wayne Gilchrest."
Former Rep. Gilchrest (R-Md.) served in the House for nine terms.
The Ex-Cadet
Military intervention in Vietnam was unpopular, and the longer the war went on the more protests against it were staged on college campuses and in public spaces across the country. The congressmen who were at risk of fighting and dying there reflect the same range of feelings and experiences as the country as a whole.
Rep. Jerry McNerney (D-Calif.) was at the U.S. Military Academy at West Point when he changed his mind and concluded he couldn't support the war.
"Leading American soldiers into a war that you're morally opposed to didn't seem like a good idea to me," he said. "It seemed like it would be detrimental to myself and to the country."
He quit the academy after two years.
McNerney now serves alongside the highest-ranking combat veteran ever elected to Congress. Bergman, a helicopter pilot and retired three-star Marine Corps lieutenant general, brought South Vietnamese infantry troops into battle zones and evacuated injured soldiers.
"The most bullet holes I ever came back with after one mission was 25 in the aircraft," he said in an interview.
As much as he values his military training, Bergman said it takes more than that to succeed on Capitol Hill.
"The best veterans that I've seen here in Congress have experience outside of uniform," he said. "It takes some good life experience to make a productive member of Congress."
As for former POW, Johnson reflected on his lifetime bond with McCain in an interview earlier this year.
The two tried to meet for breakfast at least once a month with no particular legislative agenda on the menu—they'd "just shoot the breeze between the House and the Senate," Johnson told Bloomberg Government.
"I don't think there are a lot of people that can do that," he said. "I'm not sure the Senate and House are that close together in most of the things we do up here."
Johnson endorsed McCain for president in 2008 (even though he once accused his fellow Republican of being too liberal) and defended McCain after then-candidate Donald Trump said, "I like people who weren't captured."
Trump's comments, wrote Johnson, were "not only misguided—they are ungrateful and naïve."
Trump was of age to be drafted but didn't serve because of deferments.
With assistance from Katherine Scott
To contact the reporter on this story: Madi Alexander in Washington at malexander@bgov.com
To contact the editors responsible for this story: Paul Hendrie at phendrie@bgov.com; Katherine Rizzo at krizzo@bgov.com