Justice Department advisory letters offer complex guidelines
`Bona fide commercial interests' trump foreign ownership
A $39 billion merger needed U.S. government approval, so executives of Germany's Deutsche Telekom asked for guidance on staying on the right side of American laws requiring agents of foreign government to file disclosure reports.
The Justice Department told the Deutsche Telekom officials they didn't meet the standards to be considered foreign agents.
The opposite advice went to an advertising agency hired to lure American tourists overseas. That kind of tourism work does require a filing under the Foreign Agent Registration Act, the Justice Department said.
Those are just two examples of the guidance that in-house experts at the department are offering on administering FARA. Until recently, those and other advisory letters were kept confidential. Now that more than 50 of them have been made public, the trove of documents shows how complicated it is to hew to the disclosure law.
Is there an easy explanation of who's a foreign agent?
"The short answer is no," said attorney Jason Abel, who specializes in lobbying and ethics law at the firm Steptoe & Johnson.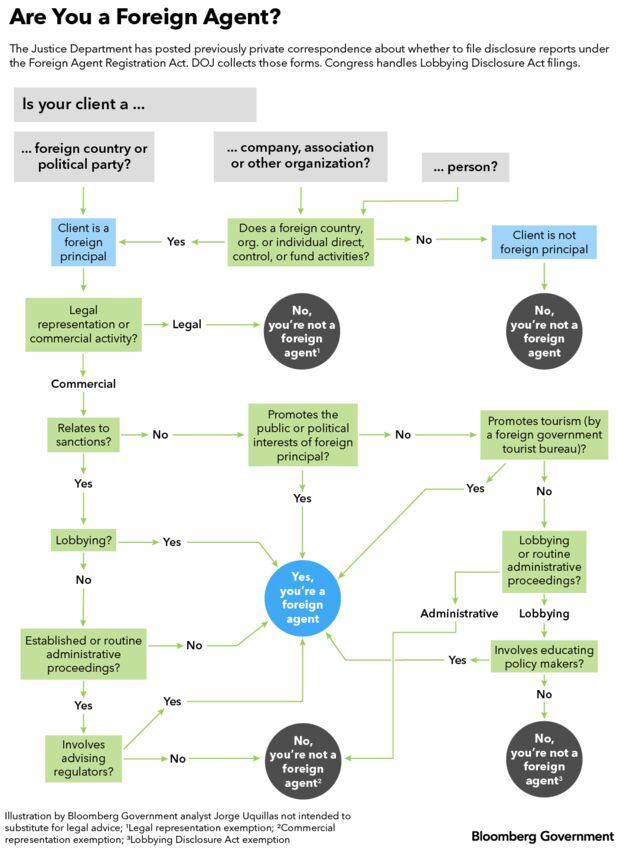 Click here to download a PDF of the graphic.
Tourism`Obviously Political'
"Tourism creates an influx of capital and a host of jobs for the indigenous population, both of which are obviously in the political and public interests" of the destination country, Justice Department analysts told an ad agency that asked for advice in 1984.
Calling the ads political rather than a commercial activity meant that the ad agency couldn't get an exemption from filing under FARA.
The names of the ad agency and the country involved were redacted from the document before it was posted online.
Names also were redacted from the 2011 ruling issued regarding advocacy for a $39 billion telecommunications merger, but there was enough information to identify one of the biggest deals of the decade. The proposed sale of T-Mobile US Inc. to AT&T Inc. by T Mobile's parent, Germany's Deutsche Telekom AG, ultimately was blocked by U.S. regulators.
AT&T Ends Merger Effort on Regulatory Opposition
The Justice Department said the company's meetings with U.S. officials were exempt from FARA disclosure because the activities didn't "promote the public or political interests of a foreign government or foreign political party, but rather are directly in furtherance of the bona fide commercial, industrial, or financial operations of the foreign corporation."
Such an exemption could apply even to a company owned by a foreign government, the department concluded in another advisory opinion.
In 2018 correspondence, the Justice Department said a firm that registered under the federal Lobbying Disclosure Act to represent a company incorporated in Delaware was exempt from FARA. The exemption was granted even though that company was a subsidiary whose parent was 51.1 percent owned by a foreign government.
The Delaware company said it was working on a "derivatives project" and planned for U.S. construction "commencing in 2018 and lasting four to five years at a cost up to $8 billion."
The FARA office said the firm's plan addressed "bona fide commercial interests" and didn't require registration despite the foreign government's ownership interest in a parent company.
Economic Sanctions
There's no ambiguity about companies seeking relief from U.S. economic sanctions, the correspondence shows.
U.S. advocates for those foreign companies must register as foreign agents, according to letters in which the Justice Department turned down requests for FARA exemptions.
A firm working for a bank subject to sanctions over Iran's nuclear program was told the punishment was "part of an unequivocal framework of present day U.S. foreign policy." The ruling said the firm's work represented "an attempt to promote, within the United States, the political or public interests, policies, and relations" of a foreign country.
In a case from 2010, a firm representing a foreign trade association was required to register under FARA instead of filing with Congress under the Lobbying Disclosure Act.
The trade association client had received $10 million from a foreign government, meaning the lobbying firm worked to "promote the political or public interests" of that government, FARA office analysts concluded.
Eight of the newly released documents addressed the interplay between the 80-year-old FARA — — initially enacted to combat Nazi propaganda — and the Lobbying Disclosure Act, which has jurisdiction over the routine petitioning of the government.
Legislation awaiting House floor action (H.R. 4170) would end an exemption from FARA for those who register as lobbyists with the House Clerk's Office and Secretary of the Senate. It also would give the Justice Department new subpoena power to investigate possible FARA violations. Democrats said they supported the goal of increasing FARA enforcement but called for changes in the bill before it goes to the House floor.
The Judiciary Committee approved that bill on a 15-6 party-line vote.
In the Senate, Judiciary Committee Chairman Chuck Grassley (R-Iowa) has introduced a companion measure (S. 2039).
The congressional interest in updating FARA comes as Special Counsel Robert Mueller brings high-profile criminal cases against Paul Manafort, President Donald Trump's former campaign manager, and Michael Flynn, Trump's former national security adviser, including FARA-related charges of undisclosed advocacy for foreign interests.
Abel, the lobbying-law practicioner, said the new guidance documents left him with one major takeaway: advocates working for foreign interests will need a lawyer.
Jorge Uquillas in Washington also contributed to this story.
With assistance from Madi Alexander.
To contact the reporter on this story: Kenneth P. Doyle in Washington at kdoyle@bgov.com
To contact the editors responsible for this story: Paul Hendrie at phendrie@bgov.com; Katherine Rizzo at krizzo@bgov.com; Robin Meszoly at rmeszoly@bgov.com