Appropriators hope to hold conference meeting next week
VA health-care funding shortfall still isn't settled
A spending package covering energy, nuclear security, the Veterans Affairs Department and the legislative branch could be sent to the president early next month if lawmakers can settle the last few differences between House and Senate appropriations bills.
Senators hope to hold a formal conference meeting with their House counterparts next week on a measure covering Military Construction-VA, Energy and Water, and Legislative Branch funds, Senate Appropriations Chairman Richard Shelby (R-Ala.) and the committee's Energy and Water Subcommittee Chairman Lamar Alexander (R-Tenn.) said Tuesday.
It would be the first fiscal 2019 spending legislation sent to President Donald Trump for his signature.
"Our goal is to finish—to have a conference—shortly after we come back," Alexander said.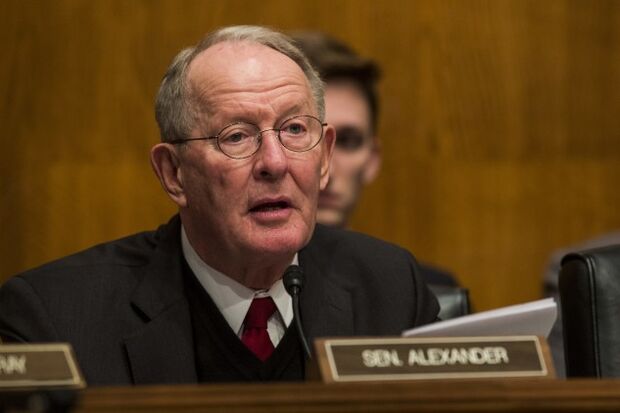 The House has passed six appropriations bills and the Senate nine. The measures passed in one chamber all differ at least slightly from their counterparts. The two sides have yet to hold a conference meeting to reconcile the differences.
Senate Majority Leader Mitch McConnell (R-Ky.) has said that he wants to send Trump nine appropriations bills by Sept. 30, the end of the fiscal year.
Shelby said he and House Appropriations Chairman Rodney Frelinghuysen (R-N.J.) , during a Tuesday meeting, focused mainly on how to pass the first "minibus" that each of the chambers passed, covering Military Construction-VA, Energy and Water and Legislative Branch.
"We've got four good weeks," Shelby told reporters Tuesday. "And we're going to hopefully meet the deadline, but we can't meet it without their help."
Appropriators scheduled a conference committee meeting for the energy and veterans minibus in July, but that was postponed. Frelinghuysen cited scheduling conflicts, but lawmakers were still debating a few major issues.
One sticking point was how to come up with an additional $1.7 billion in the Military Construction-VA bill to fund the VA MISSION Act (Pub. Law 115-182), which gives veterans more flexibility to seek health-care in non-VA facilities.
Shelby said negotiators are close to an agreement on that front, but it isn't final. He declined to share details, other than that lawmakers won't surpass statutory spending limits.
"We think we have a way to work that out, but we haven't crystallized it yet with the other side," Shelby said.
Lawmakers also struggled to hash out differences in their Energy and Water bills, including environmental policy riders included in the House bill but absent in the Senate version. The House legislation would also fund the controversial Yucca Mountain nuclear waste repository, while the Senate measure wouldn't.
The differences won't be settled until the House returns to Washington next week, Shelby said.
"It's not squared away because they're not here yet," Shelby said.
Rescissions
The White House won't send Congress a second request to rescind old, unspent funds, Senate Appropriations ranking member Patrick Leahy (D-Vt.) said in a statement Tuesday. The Trump administration had notified lawmakers about its decision in the afternoon, Leahy spokesman Jay Tilton said.
A rumored rescissions request to cut the State Department's foreign aid funding "would have set a terrible precedent and harmed programs that further United States interests around the world," Leahy's statement said.
An earlier rescissions request for about $15 billion in clawbacks failed in the Senate.
A new rescissions request could "poison the well" as lawmakers negotiate spending bills, Shelby said shortly before Leahy's statement.
A rescissions package might be a wasted effort, Senate Majority Whip John Cornyn (R-Texas) said this month.
"What justifies floor time is the ability to get a result, not just to go through a ritual that is condemned to failure," Cornyn said.
Read BGOV's Bill Summaries on four of the appropriations measures in the House and Senate:
The Bloomberg Government Budget and Appropriations e-brief will resume publication on Sept. 4.
To contact the reporter on this story: Jack Fitzpatrick in Washington at jfitzpatrick@bgov.com
To contact the editors responsible for this story: Katherine Rizzo at krizzo@bgov.com; Brandon Lee at blee@bgov.com