What to Know in Washington: Schumer Grasps for Democratic Unity
Top Senate Democrat faces slim majority and looming midterm in second year
Biden brings CEOs to White House to boost stalled economic agenda bill
Senate Majority Leader Chuck Schumer (D-N.Y.) began his second year as majority leader staring down the possibility that it may be his last.
The midterm elections in November could end the New Yorker's tenure leading a Democratic majority in the Senate — a distinct possibility given the history of midterm losses for the president's party, especially one with sagging poll numbers.
To aid his vulnerable incumbents, Schumer will look to push through big-ticket must-pass items, including legislation stalled by intraparty differences and Republican opposition. He'll also seek to confirm as many administration officials and judges as possible to notch wins for his party while it controls both chambers of Congress and the White House.
His tallest task remains the same: trying to keep every member of his tenuous 50-50 majority together.
"He's got a tough job," said Sen. Michael Bennet (D-Colo.), a former Democratic Senatorial Campaign Committee chairman who's up for re-election. "I certainly wouldn't want it."
Senators and aides say his successes reflect a light-touch approach that hinges more on constant accessibility to his caucus members rather than on ruling with an iron fist.
But some high profile struggles have brought criticism that Schumer has misjudged his caucus' ability to follow through on the ambitious agenda being pushed by Biden. Read more from Zach Cohen and Nancy Ognanovich.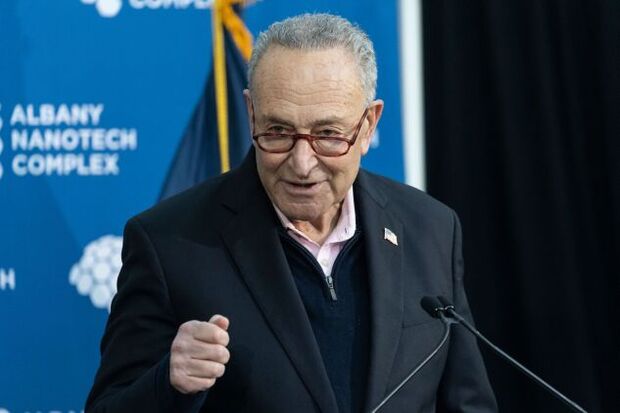 Speaker Nancy Pelosi is running for re-election to her San Francisco-area congressional seat although she has previously indicated this would be her last term as the chamber's top Democrat. In a video released by her campaign, Pelosi (D-Calif.) ticked off a list of unfinished business like "justice for immigrants" and issues related to education, housing, and other goals. She said voting rights and even Democracy itself are under assault, pointing to the Jan. 6, 2021, attack on the U.S. Capitol and its political repercussions.
Her announcement would appear to delay what had widely been anticipated to be the close of a trailblazing career for the first and only woman to serve as House speaker and the opening of a new era of congressional Democratic politics. Pelosi's silence on whether she will also seek to remain in Democratic leadership leaves the party to decide whether to reshape its hierarchy — particularly if it loses the House majority this fall. Pelosi, a fierce political and legislative tactician, is also a superstar fundraiser.
She had been signaling for months that her time in Congress was soon ending and that she was intending to keep a deal with younger party members that this term as speaker would be her last. Pelosi offered recently that shepherding President Joe Biden's massive infrastructure and social spending packages to passage with a narrow House majority would be a culmination of her congressional service. The social spending measure, however, remains stalled in the Senate, where an intra-party rift threatens to sink it or force it to be dramatically scaled back. Read more from Billy House.
ALSO ON LAWMAKERS RADAR:
The House yesterday unveiled its legislation to bolster U.S. research and development to better compete with China. It includes almost $52 billion in grants and incentives for the domestic semiconductor industry. Rep.

Ro Khanna

(D-Calif.) predicted the House would vote on the bill by mid-February. Sen.

Todd Young

(R-Ind.) told Punchbowl News yesterday that he hoped the bill would pass both houses of Congress by the Memorial Day holiday in late May. Several Republicans signaled they would oppose the released bill over several objections, calling the legislation no more than a futile messaging attempt. Read more from Daniel Flatley.
Two Republicans are pressing NBC on how it'll highlight China's human rights abuses while also airing the Beijing Olympics. In a letter to Jeff Shell, NBCUniversal's CEO, and Gary Zenkel, the company's president of Olympics and business, the Republicans, Reps.

Cathy McMorris Rodgers

(Wash.) and

Robert Latta

(Ohio), also asked for a response to questions of possible influence of the Chinese Communist Party and the International Olympic Committee on its Olympics coverage. Read more from Laura Litvan.
Sen. Mark Warner tested positive for Covid-19, his office said in a statement last night.

Warner

(D-Va.) was experiencing mild symptoms, Lauren Dezenski reports.
Biden Invites CEOs to Promote Stalled Bill
President Biden today will enlist executives from General Motors, Microsoft and pension giant TIAA, among others, to promote his signature economic legislation that stalled in Congress late last year. Biden seeks to show he's following through on his pledge to continue fighting for the legislation, called Build Back Better, according to a White House official. The bill would direct billions to fight climate change and to social programs including child care and early education.
Ten business leaders who support the bill will join the president at the White House to explain how they see the measure boosting American businesses and the economy, the official said. Read more from Jennifer Epstein.
A group of Senate Democrats is lobbying Biden to keep the expanded monthly child tax credit payment as the "centerpiece" of any revived bill, despite the president's suggestion it may need to be dropped. The senators, led by Bennet, said in a letter to Biden today that the now-expired tax credit was a "signature domestic policy achievement of this administration" and and that it kept 3.7 million children out of poverty in December alone.
Their plea is another sign that Democrats still have a way to go to finding agreement on a new version of Biden's economic agenda that can secure 50 votes in the evenly divided chamber. Biden last week conceded that he might not be able to get an expanded child tax credit in the package, as well as several other priorities. Read more from Erik Wasson.
Another Senate Democrat said the legislation can be revived around two key areas: reducing prescription drug costs and boosting clean energy tax credits. Senate Finance Chairman Ron Wyden (D-Ore.) yesterday told reporters that Democrats agree broadly on expanding access to health care, empowering the government to negotiate with drugmakers and offering incentives for clean energy, and hope to clear a package soon built around such policies. "The reality is there is a lot of common ground right now," Wyden said. Read more from Alex Ruoff.
Nearly 8 in 10 Americans expect inflation to increase over the next six months, according to a Gallup poll released today. Half of the adults surveyed Jan. 3-16 predicted inflation would go up by "a lot" over the period. When asked about the U.S. economy more broadly, two-thirds of respondents say it's getting worse, not better. Gallup says respondents have always been more likely to say inflation will rise rather than fall, but the current reading of 79% is the highest in data back to 2001. Still, just 8% of respondents named inflation as the nation's top problem — well behind concerns about the government and the Covid-19 pandemic. Even so, that's the highest share since 1985. Read more from Reade Pickert.
Federal Reserve policy makers are poised to signal plans for their first interest rate hike since 2018 and discuss shrinking their bloated balance sheet as they seek to restrain the hottest inflation in nearly 40 years. The Federal Open Market Committee is all but certain to hold its benchmark rate near zero after a two-day policy meeting today, while sticking to its plan to taper asset purchases and end them in March. The committee will release a statement at 2 p.m. in Washington and Chair Jerome Powell will hold a press conference 30 minutes later, Steve Matthews reports.
A barrage of upcoming data on the U.S. economy, wage growth and prices is poised to turn up the temperature of an already-heated debate about the persistence of inflation. The employment cost index, which Powell cited in December as a key reason for the central bank's pivot to a more aggressive stance on inflation, is seen registering a fourth-quarter gain nearly on par with the record increase in the prior three months, Reade Pickert reports.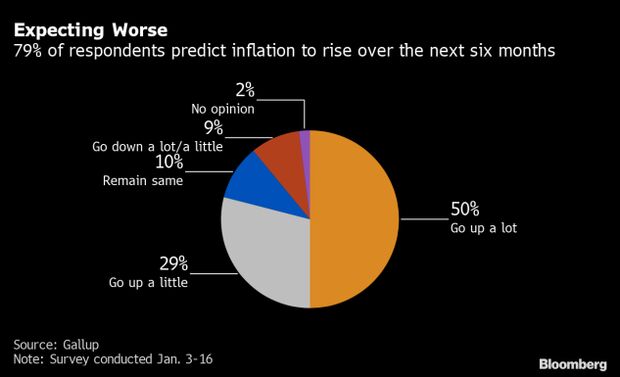 BIDEN'S SCHEDULE:
Biden today at 1 p.m. will meet with private sector CEOs to discuss the Build Back Better legislation.
At 3:30 p.m. the president will sign an executive order to make sexual harassment an offense in the uniform code of military justice. The order will also strengthen the military's response to domestic violence and the wrongful broadcast or distribution of intimate visual images, Kasia Klimasinska reports.
The White House Covid-19 response team will hold a press briefing at 11 a.m., and Press Secretary Jen Psaki will hold a briefing at 2 p.m.
Russia Warns of Response to 'Aggressive' Acts
Biden said he would consider personally sanctioning Vladimir Putin if he orders an invasion of Ukraine, escalating the U.S. effort to deter the Russian leader from war. "Yes," Biden said yesterday, in answer to a reporter's question about whether he could see Putin facing U.S. sanctions. "I would see that."
The U.S. rarely levels sanctions directly against heads of state. But Biden has threatened some of the most severe economic penalties the U.S. and its allies can muster if Putin orders more than 100,000 troops massed outside Ukraine to cross the country's border.
Kremlin spokesman Dmitry Peskov said personal sanctions on Putin would be "politically destructive" for the signal they sent but wouldn't have any economic impact on the Russian leader, who is banned by law from holding foreign assets. Peskov said earlier such restrictions would be tantamount to breaking off relations, Josh Wingrove and Justin Sink report.
Lavrov also signaled that Moscow will respond to any "aggressive" action by the U.S. and its European allies as Germany and France pursue efforts to broker a peaceful resolution to the tensions over Ukraine. Top political advisers from Russia and Ukraine, and their counterparts from Berlin and Paris are holding talks in the French capital today in the so-called Normandy format, Henry Meyer and Agatha Cantrill report. Follow all of today's updates on Ukraine here.
ALSO AROUND THE ADMINISTRATION:
To contact the reporters on this story: Zachary Sherwood in Washington at zsherwood@bgov.com; Brandon Lee in Washington at blee@bgov.com
To contact the editors responsible for this story: Giuseppe Macri at gmacri@bgov.com; Loren Duggan at lduggan@bgov.com; Michaela Ross at mross@bgov.com