What to Know in Washington: Roe Opinion to Define Alito's Legacy
Roe ruling will be legacy-defining for Alito, watchers say
Biden China policy comes into view with Hikvision threat
Justice Samuel Alito mostly avoided the limelight for 16 years, even while being arguably the most conservative member of the U.S. Supreme Court. But that low profile is changing after he authored a draft opinion that would overturn the landmark abortion-rights ruling Roe v. Wade.
The opinion, if finalized, promises to be one of the most momentous in U.S. history, toppling a 1973 decision that has since allowed tens of millions of women to legally end pregnancies. The leaked draft also raises questions about Supreme Court precedents that protect other rights, including same-sex marriage and contraception.
And it could catapult Alito, once best known for mouthing "not true" during President Barack Obama's 2010 State of the Union address, to a new level of prominence: despised by some, revered by others.
Supporters describe Alito, 72, as a man whose core beliefs haven't changed much since he was tapped in 2005 by President George W. Bush to succeed the retiring Justice Sandra Day O'Connor. Alito's confirmation the following year instantly shifted the court to the right.
"He's known from the start that he would never be accepted by kind of the mainstream liberal society and he's never tried for that kind of acceptance," said Alexander Volokh, a former Alito law clerk who teaches at Emory University School of Law. "So he's basically proud of staking out what he believes in as a conservative opinion."
What's changed since his appointment is the court has grown more conservative around him, giving Alito the votes as well as the seniority to write far-reaching opinions. He wrote the 2018 decision that said government employees have a constitutional right not to pay union fees and the 2014 ruling that said closely held companies can refuse on religious grounds to offer their workers birth-control coverage.
"He remains the most consistently conservative justice on a court that now includes six incredibly conservative justices," said Brianne Gorod, chief counsel of the progressive Constitutional Accountability Center. "Whereas other justices will occasionally vote in ways that are seemingly at odds with their ideological preferences, Justice Alito almost never does." Read more from Greg Stohr.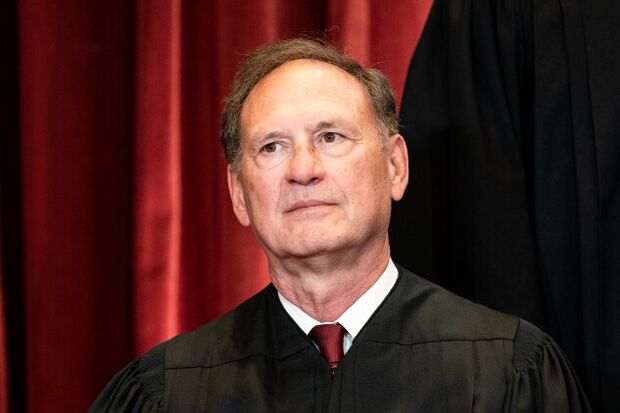 Happening on the Hill
CONGRESSIONAL SCHEDULE:
The Senate returns at 11 a.m. with one vote scheduled later on Kathryn Huff's nomination to be assistant secretary of nuclear energy for the Energy Department.
The U.S. Supreme Court draft opinion that would strike down Roe v. Wade opens the door for Republican attempts to ban abortion in the District of Columbia, a debate that could play out via the appropriations process, Del. Eleanor Holmes Norton (D-D.C.) said in a Wednesday phone interview. Jack Fitzpatrick explains how.
The Pentagon lacks a "good grasp" on how inflation can hurt U.S. troops and the defense industrial base after using an estimate calculation that is "way off," the top Republicans on the Senate and House Armed Services Committees said Wednesday. Roxana Tiron has the details.
Homeland Security Secretary Alejandro Mayorkas struggled to quell a political uproar over border security in the latest of a series of Capitol Hill appearances. The secretary appeared Wednesday before two Senate panels, following three House hearings last week in which he became a political punching bag for Republicans. Lawmakers from both parties have argued the Department of Homeland Security isn't prepared for an impending increase in migrant arrivals the agency expects when pandemic-related border restrictions end. Read more from Ellen Gilmer.
Researchers are imploring Congress to force social media companies to share data showing the platforms' effect on users, especially children. Lawmakers in both parties have expressed concern over whether social media harms mental health among youth. They're weighing whether and how to require greater transparency from companies without jeopardizing user privacy. Maria Curi reports on the hearing.
The Biden administration is under-funding the biggest U.S. nuclear cleanup site and moving too slowly in finding nuclear waste storage solutions, two Democratic senators told Energy Secretary Jennifer Granholm at a hearing Wednesday. Daniel Moore details the hearing.
The FDA could remove from the market any drugs that obtained accelerated approval if they fail to show a clinical benefit under a proposed package reauthorizing must-pass user fee legislation. The bipartisan proposal, unveiled Wednesday by leaders of the House Energy and Commerce Committee, would push sponsors of drugs approved through the accelerated pathway to complete required postmarket studies. Celine Castronuovo and Jeannie Baumann have more.
Sen. Cynthia Lummis (R-Wyo.) has lifted her hold on the nomination of David Uhlmann to lead the EPA's enforcement office, one of her aides said Wednesday, Stephen Lee reports.
A bipartisan panel of U.S. senators agreed that a lack of competition and rising swipe fees are problems within the credit and debit card industry. "Credit and debit card systems aren't competitive marketplaces and when you don't have real competition you get higher costs, less innovation, weaker security," Senate Judiciary Chairman Dick Durbin (D-Ill.) said during a subcommittee hearing on the issue on Wednesday. Brianna Jackson has more.
A legislative maneuver to keep space technology company Blue Origin from potentially picking up a lucrative NASA contract failed to gain support from many of Sen. Bernie Sanders's (I-Vt.) colleagues Wednesday night. Josh Axelrod and Maria Curi have more.
The Senate passed 53-43 a motion that instructs conferees on the China competition bill to push for a process that would exclude certain articles from punitive tariffs, Maeve Sheehey reports. The non-binding motion from Sen. Pat Toomey (R-Pa.) urges conferees on the measure to create a process to exclude some Chinese imports from tariffs under Section 301 of the Trade Act of 1974. Toomey has raised concerns about the tariffs, which then-President Donald Trump used against Chinese goods in 2018.
Elections & Politics
House Republican Leader Kevin McCarthy (R-Calif.) rejected as taking "too long" the process of invoking a constitutional amendment to remove then-President Donald Trump from office after the Jan. 6, 2021, attack on the U.S. Capitol, a previously released audio obtained by two New York Times reporters shows. Billy House has the story.
Donald Trump Jr. was interviewed Tuesday as part of a House select committee's investigation of last year's riot at the U.S. Capitol, the latest member of former President Donald Trump's family to be questioned. The private, virtual session lasted between two and three hours, according to a person familiar with the matter. The younger Trump appeared voluntarily and was not under subpoena, the person added. Read the latest from Billy House.
Rep. Ted Budd appears on track to become the Republican Senate nominee in North Carolina, with a cushion that has eluded Donald Trump's endorsees in the two other competitive GOP Senate primaries being held this month in states the party is defending. Despite a similarly crowded primary, Budd appears to be having an easier time than did JD Vance, the author and venture capitalist who won Tuesday's primary in Ohio by an 8-point margin after a late surge. He's also far better positioned than celebrity physician Mehmet Oz, who faces a narrow race in Pennsylvania. Kenneth P. Doyle has more on Budd's prospects.
Stacey Abrams, who is poised to become Georgia's Democratic nominee for governor, temporarily suspended campaign fundraising to focus on collecting money for abortion-rights groups in the state. Abrams said she will commit her fundraising to the Feminist Women's Health Center, SisterSong, ARC Southeast, Planned Parenthood Southeast and NARAL Pro-Choice Georgia. Read more from Margaret Newkirk.
Abortion advocacy groups said they saw their donations grow exponentially after a draft opinion leaked revealing that the U.S. Supreme Court soon intended to reverse its landmark Roe v. Wade decision. Ella Ceron and Paulina Cachero have more.
Around the Administration
BIDEN'S AGENDA:
The president and First Lady Jill Biden will host a Cinco de Mayo reception with Beatriz Gutiérrez Mueller de López Obrador, wife of Mexican President Andres Manuel Lopez Obrador, at the White House shortly after 4 p.m.
Press Secretary Jen Psaki holds a press conference at 2 p.m.
The fate of a Chinese technology giant at risk of unprecedented U.S. sanctions will show whether the Biden administration intends to significantly ramp up tensions with the world's second-biggest economy. The U.S. is weighing whether to add Hangzhou Hikvision Digital Technology, which makes cameras and surveillance systems, to its Specially Designated Nationals and Blocked Persons List, according to people familiar with the situation. Its shares tumbled by the 10% daily limit on Thursday on news of the potential sanctions tied to alleged human-rights violations by China against mostly Muslim minorities in its far-Western region of Xinjiang.
While Hikvision and seven other Chinese tech companies already face U.S. restrictions, the move would mark the first time a Chinese company faces more severe Treasury Department sanctions that risk curbing its business around the globe. The measure—used for terrorists, drug kingpins and Russian banks—would dramatically restrict its ability to work with companies, financial institutions and governments. More broadly, the sanctions would mark an escalation in how the U.S. uses its dominant position in the global financial system to target Chinese companies, at a time when both governments are starting to curb business ties due to national-security concerns.
The emphasis on human rights also exposes potentially any company that deals with the Communist Party's vast security apparatus to similar penalties. "That would be a very, very broad category of companies," said Jon Bateman, a fellow at the Carnegie Endowment for International Peace, adding that the U.S. was struggling to clarify its China policy. "The Biden administration hasn't yet defined what kind of relationship it does want with China," he added. "This indicates that human rights will be a focal point." Read more from Bloomberg News.
S&P Global should "carefully consider" a proposed tweak to how it assesses the creditworthiness of bonds owned by insurance companies, the Justice Department said, warning that such a change "could raise significant concerns" under U.S. antitrust law. The Justice Department's antitrust division said in a letter dated last Friday that a proposed methodology change by S&P — the world's largest credit ratings company — could raise barriers for its rivals. The changes could end up hurting the credit grades of insurance companies that invest in bonds that aren't rated by S&P. Leah Nylen has more.
The White House Office of Information and Regulatory Affairs is reviewing a rule authorizing the issuance of 35,000 additional temporary non-farm work visas, a key step before the measure can be published in the Federal Register. Read more from Andrew Kreighbaum.
The U.S. gave Sweden and Finland assurances of assistance if they're threatened by Russia in the interim period between an expected application to join defense alliance NATO and an eventual entry under the bloc's collective security umbrella. Read more from Kati Pohjanpalo and Morten Buttler.
The U.S. rushed cyber forces to Lithuania to help defend against online threats that have risen since Russia's invasion of Ukraine, an Army general said Wednesday. Katrina Manson has the latest.
To contact the reporters on this story: Giuseppe Macri in Washington at gmacri@bgov.com; Brandon Lee in Washington at blee@bgov.com
To contact the editors responsible for this story: Loren Duggan at lduggan@bgov.com; Michaela Ross at mross@bgov.com