What to Know in Washington: Inquiry Moves to Judiciary Committee
The impeachment of President Donald Trump moves to one of the most polarized committees in Congress where Republicans known for their combativeness will pose a test of Judiciary Chairman Jerry Nadler's ability to keep the proceedings under control.
Nadler's committee will ultimately be the one that draws up articles of impeachment — based on the Intelligence Committee investigation of Trump's interactions with Ukraine — that almost certainly will be presented to the full House for a vote.
In contrast with the relative decorum seen in the Intelligence panel hearings last month, the Judiciary members reflect Congress's widest cultural and ideological extremes and are "a bunch of brawlers," said Rep. Andy Biggs (R-Ariz.).
"It should get pretty, pretty hot and under the collar as we go along," Biggs, chairman of the conservative House Freedom Caucus, said Sunday on Fox News. He predicted that the Judiciary sessions will become "much more feisty, I would say, than the Intel Committee was."
The Intelligence Committee's report on its investigation, released yesterday, said the president abused his office by pressuring Ukraine's government to deliver a political favor, then seeking to hide his conduct and obstruct a congressional investigation. His conduct, the report said, compromised national security, and he continued seeking foreign assistance to investigate a 2020 election rival, former Vice President Joe Biden.
"This continued solicitation of foreign interference in a U.S. election presents a clear and present danger that the president will continue to use the power of his office for his personal political gain," the report's summary said.
The report didn't recommend whether Trump should be impeached, and Intelligence Chairman Adam Schiff (D-Calif.) said that decision should be made by the full House.
The Judiciary panel will hear today from four prominent law professors — three called by the Democrats and one by the Republicans — on the constitutional standards for impeaching the president. The hearing is scheduled to begin at 10 a.m.
Nadler hasn't said whether he'll hold further hearings before the committee decides on drafting impeachment articles to present to the full House for a vote Democrats intend to come before Christmas. Read more from Billy House.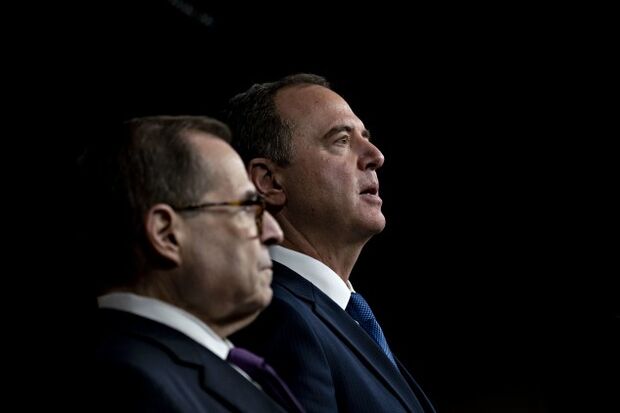 Democrats Lay Path to Quick Impeachment Vote: The report by the the House Intelligence Committee on the Democrats' months-long investigation concluded that Trump abused his power, compromised national security and then tried to cover it up, findings that make a formal House impeachment vote all but certain.
The report, which was approved by the committee last night on a party-line vote, acknowledges that more information may still come to light in their inquiry. But it tries to make the case that Trump's actions require urgent attention by Congress. Democratic leaders are pushing for a formal impeachment vote by the full House by the end of the year to avoid pushing that debate deep into the 2020 presidential campaign. Billy House and Steven T. Dennis have more on the report.
Records of Giuliani Calls Cited: Democrats' report puts Trump personal lawyer Rudy Giuliani at the center of a scheme to oust the U.S. ambassador to Ukraine and pressure that country's government to investigate Biden's family and a conspiracy theory that Ukraine interfered in the 2016 U.S. election. The House obtained AT&T call records showing Giuliani in contact with numbers associated with the White House, Intelligence Committee ranking member Devin Nunes (R-Calif.), and Giuliani associate Lev Parnas.
Schiff said the phone call records show that "there was considerable coordination among the parties including the White House" in a smear campaign against U.S. Ambassador Marie Yovanovitch. The committee also found Giuliani in contact on Aug. 8 with numbers associated with the Trump administration amid negotiations with Ukrainian officials about announcing investigations. Read more from Dennis and House.
Also Happening on the Hill
Senators Will Press Trump Official on Delay in Aid to Lebanon: Two senators plan to confront the Trump administration today over delays in sending military aid to Lebanon amid mass demonstrations and financial turmoil in that country. The $105 million was released last week after being held up without public explanation by the White House, despite support from Congress and national security officials.
"I don't immediately ascribe malevolent or mistaken intent on the part of the administration," said Sen. Mitt Romney (R-Utah), the chairman of the Foreign Relations subcommittee holding a hearing on the protests in Lebanon and Iraq. "But that's something we will learn in the hearing." Read more from Daniel Flatley.
Confirmation Expected for 'Unqualified' Judge Pick: A Trump judicial nominee criticized for her anti-abortion advocacy and considered unqualified by the American Bar Association is poised for confirmation by the Republican-led Senate. The Senate voted 50 to 43 yesterday to invoke cloture, or end debate, on Sarah Pitlyk's nomination to the U.S. District Court for the Eastern District of Missouri. Her confirmation vote is scheduled for today, along with several other nominees.
The votes are part of the Senate's push to confirm more nominees in the next few weeks, and are included in Trump's goal of surpassing 180 judicial appointments by the end of the year. So far, he's appointed more than 160, including Supreme Court Justices Brett Kavanaugh and Neil Gorsuch. Read more from Madison Alder.
Senators voted 86 to 4 to confirm Eric R. Komitee to the U.S. District Court for the Eastern District of New York, which includes Brooklyn. Komitee became only the second district court nominee in New York confirmed under Trump after Rachel Kovner, also to the Eastern District. Komitee is a former federal prosecutor and the general counsel for Viking Global Investors. Read more.
Veto Threat on Voting Rights Bill: The Trump administration yesterday issued a veto threat of H.R. 4, which would require federal approval for places with a history of voter discrimination to be able to implement new voting laws. The measure violates "principles of federalism and exceed the powers granted to Congress by the Constitution, and these provisions would likely be found unlawful if challenged," the administration said in a statement. The House Rules Committee will meet to discuss the bill today, with floor action likely as soon as this week, Megan Howard reports.
House Passes Xinjiang Bill: The House yesterday overwhelmingly approved legislation that would impose sanctions on Chinese officials over human rights abuses against Muslim minorities, prompting Beijing to threaten possible retaliation just as the world's two largest economies seek to close a trade deal. The bill—an amended version of the Senate's S. 178 to support the Uighurs, a Muslim ethnic group in western China—was passed on a vote of 407 to 1. China's foreign ministry today urged the U.S. to stop the bill and vowed to further respond if the legislation progresses, without providing any details. Read more from Daniel Flatley.
Historically Black College Funding: A bipartisan group of senators released an amendment to make permanent $255 million in annual funding for historically black colleges and universities, according to a statement. The amendment is for the House-passed H.R. 2486. A stalemate had blocked a deal in the Senate after funds expired Sept. 30. The agreement also carries language to help streamline the application for federal student aid, according to a statement from the group led by Senate Health, Education, Labor and Pensions Chairman Lamar Alexander (R-Tenn.) and ranking member Patty Murray (D-Wash.), Andrew Kreighbaum reports.
Ways and Means Eyes SALT Markup: The House Ways and Means Committee is looking at the week of Dec. 9 for a potential markup of legislation that would ease the $10,000 cap on federal deductions for state taxes paid. A final decision may be made during a planned meeting today of Democrats on the tax-writing panel. Members interviewed yesterday by Bloomberg Tax believed a markup would occur this month, if not next week. "I wouldn't be surprised if we do it before the end of the year," said Rep. Dan Kildee (D-Mich.), a member of the committee. Read more from Colin Wilhelm.
Defense & Foreign Affairs
Draft Declaration Shows NATO Leaders Want Trump Happy: If today's NATO declaration doesn't change from the draft Bloomberg has seen, it really says one thing: Leaders of the alliance are a whole lot more worried about keeping the president of the U.S. happy, than the president of France. The draft is short, a fraction of the length of a normal summit communique, but at a largely ceremonial meeting that was by design. After the boilerplate on NATO's importance, is Trump's priority: Burden sharing, for which he has been claiming a victory lap, on Twitter and in person. In terms of the threats faced by the alliance, Russia again got top billing; terrorism was in its usual secondary spot, along with hybrid warfare, cyber security and –- another new Trump focus –- space. Jonathan Stearns, Kitty Donaldson and Patrick Donahue have more from today's summit.
Biologic Drugs in USMCA: Mexico is considering a U.S. proposal to remove protections for biologic drugs from a renegotiated NAFTA trade deal, a plan that could help clear a hurdle to an agreement and deal a blow to brand-name pharmaceutical companies. The proposed change would drop language in the U.S.-Mexico-Canada Agreement offering 10 years of market protection for drug makers from cheaper generic spinoffs, according to half a dozen sources familiar with the talks who asked not to be named because the negotiations are private. The move would leave it up to the individual countries to set their own laws on biologics, which are made from living organisms rather than chemical compounds.
It could help win approval of the deal in the U.S. Congress. Ways and Means Chairman Richard Neal (D-Mass.), who's in charge of the negotiations in the House, said it's "possible" that Democrats would agree to a deal this week. He said he would like the House to vote on the implementing legislation by the end of the year. Eric Martin and Jenny Leonard have more.
U.S., China Move Closer to Trade Deal: The U.S. and China are moving closer to agreeing on the amount of tariffs that would be rolled back in a phase-one trade deal despite tensions over Hong Kong and Xinjiang, people familiar with the talks said. The people, who asked not to be identified, said that Trump's comments yesterday downplaying the urgency of a deal shouldn't be understood to mean the talks were stalling, as he was speaking off the cuff. Recent U.S. legislation seeking to sanction Chinese officials over human-rights issues in Hong Kong and Xinjiang are unlikely to impact the talks, one person familiar with Beijing's thinking said. Read more from Jenny Leonard and Niu Shuping.
Steel Import Tariffs Draw Suit: Trump's national security-justified tariffs on steel imports from around the globe are unlawful and should be enjoined, according to a new suit at the U.S. Court of International Trade. Trump in 2018 hit imports of steel and aluminum with tariffs and quotas under Section 232 of the Trade Expansion Act, which gives the president power to temporarily restrict imports in the name of national security. Trump claimed that a global steel glut was threatening to undermine the U.S. steel industry to the point where it wouldn't be able to meet production requirements in the event of a national emergency. Read more from Brian Flood.
Trump Revives Threat of Force Against North Korea: Trump revived both his "Rocket Man" nickname for Kim Jong Un and the threat of military force against North Korea, in the latest sign of rising tensions ahead of Pyongyang's year-end deadline. Trump revisited the name he once used to mock Kim just hours after North Korea said it was preparing a "Christmas gift" for the U.S. if the administration failed to meet its demands by year-end for concessions in nuclear talks. Kim has repeatedly warned in recent months he could take a "new path" in relations with the U.S., while resuming ballistic missile launches. Read more from Jihye Lee.
Elections & Politics
Harris' Exit Preserves Viability as VP: Sen. Kamala Harris's (D-Calif.) decision to end her sinking White House campaign yesterday is an attempt by the rising Democratic star to preserve her future prospects, including as a pick for vice president, strategists say. "Getting out now actually preserves a lot of her strength as a vice-presidential candidate," said Democratic strategist Max Burns. "The last thing she wanted to do was come in sixth or seventh place in Iowa and then worst-case scenario, go on to South Carolina and finish second or third there." The prospect of Harris as a running mate has been the subject of much speculation given her unique profile as a woman of Jamaican and Indian heritage in a party that's becoming more female and less white. Sahil Kapur and Emma Kinery have more.
Biden to Target Tax-Avoiding Companies: Democratic presidential candidate Joe Biden plans to pay for $3.2 trillion in policy proposals with new and higher taxes on the wealthy and corporations, including a measure targeting companies like Amazon and Netflix that have reported paying no federal income taxes in recent years. The minimum book tax, which his team estimates would raise $400 billion over a decade, would be coupled with increases in the top individual and corporate rates that Biden has already promised, according to a copy of the proposal obtained by Bloomberg News. Read more from Jennifer Epstein.
Sanders, Buttigieg Spar Over Free Tuition: Sanders' presidential campaign criticized Pete Buttigieg after the Indiana mayor attacked Sanders' plan for tuition-free colleges, arguing it would unfairly subsidize education for the rich. "The truth of the matter is that the type of attitude that Mayor Pete is exhibiting here is in fact elitist in itself," Sanders adviser Jeff Weaver said in a call with reporters yesterday. "The reason why people aren't going to college is because not everybody can afford to go to college." He was responding to Buttigieg's comments Monday that taxpayers shouldn't pay to educate people who can afford to pay tuition. Misyrlena Egkolfopoulou has more.
Around the Administration
Ending Food Stamps for 750,000: The Trump administration will announce a plan today to end food stamps benefits for about 750,000 Americans, issuing a new regulation that makes it harder for states to gain waivers from a requirement that beneficiaries work or participate in a vocational training program, according to people familiar with the matter. Conservatives have long sought cuts in the federal food assistance program for the poor. House Republicans tried to impose similar restrictions last year when Congress renewed the program but were rebuffed in the Senate. Read more from Jennifer Jacobs and Mike Dorning.
Trade War Bailout Is Overpaying Many Farmers: Trump's $28 billion farm bailout may be paying many growers more than the trade war with China has cost them. The U.S. Department of Agriculture's calculations overshot the impact of the trade conflict on American soybean prices, according to six academic studies, a conclusion that is likely to add to criticism that the bailout has generated distortions and inequalities in the farm economy. Read more from Mike Dorning.
Trump's Fight to Hide Finances Heads to Supreme Court: Trump's next stop in his years-long fight to keep his finances private is the Supreme Court. A federal appellate panel in New York yesterday ordered two major banks to hand over a wide range of the president's financial records to Congress — and gave Trump a week to take his case to the highest U.S. court. The ruling is the latest legal loss for an administration claiming broad executive power to thwart the demands of lawmakers.
Trump's bid for a Supreme Court review in one of those cases — in which the Manhattan District Attorney is seeking his tax records — is already scheduled to come before the justices at their private conference on Dec. 13. It's not clear whether the court will elect to hear any or all of the cases at a time when congressional Democrats are weighing impeachment of the president. Read more from Bob Van Voris and Christian Berthelsen.
To contact the reporters on this story: Zachary Sherwood in Washington at zsherwood@bgov.com; Brandon Lee in Washington at blee@bgov.com
To contact the editors responsible for this story: Giuseppe Macri at gmacri@bgov.com; Loren Duggan at lduggan@bgov.com