Ohio Redistricting Commission Fails Again: Ballots & Boundaries

The bipartisan commission responsible for drawing Ohio's congressional districts blew its deadline to adopt a new map over the weekend, striking another blow against Ohio's fledgling redistricting process.
Republicans on the GOP-controlled Ohio Redistricting Commission didn't introduce a map or propose amendments to one proposed by the Democrats. Instead, they opted to miss the Oct. 31 deadline, moving the process into legislative committees controlled by GOP lawmakers.
In the past decade, Ohio voters approved state constitutional amendments creating the commission in hopes the group would serve as a middle ground between an independent map-drawing commission and a GOP legislature bent on gerrymandering. But this was the second time in as many months that the commission failed to live up to that hope.
In September, Republican commission members House Speaker Bob Cupp and Senate President Matt Huffman froze other commission members out of the map-drawing of state House and Senate maps, according to documents filed in the Ohio Supreme Court. Anti-gerrymandering activists are suing the commission, claiming the state House and Senate lines were drawn to favor Republicans in violation of the state constitution. — Alex Ebert
(Were you forwarded this newsletter? Subscribe for free.)
TEXAS: GOP EYES HISPANIC-MAJORITY BATTLEGROUND DISTRICT
A new congressional map in Texas gives Republicans an uncommon opportunity to capture a House district next year in the Rio Grande Valley—a heavily Hispanic area that was a Democratic bastion until Donald Trump and other Republicans made surprising gains in the 2020 election.
Texas' 15th District, which runs from near San Antonio south to the Mexico border, is more than 80% Hispanic. After Republican legislators in charge of redistricting revised the district's boundaries to make the 15th a district that would have backed Trump in 2020, Rep. Vicente Gonzalez (D) decided to seek re-election in a more Democratic district where no incumbent is running.
The leading Republican candidate is Monica De La Cruz, a businesswoman who came close to defeating Gonzalez in 2020 and has a head start over Democrats running in 2022. — Greg Giroux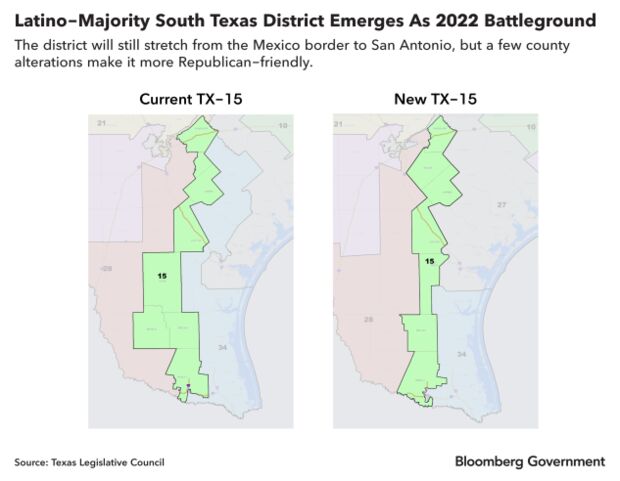 OREGON: NOW THREE LAWSUITS CHALLENGE REDISTRICTING
Oregon's redrawn maps have brought two more lawsuits, this time challenging the state's legislative boundaries.
Two voters, including a former Republican state lawmaker, are asking a judge to review House and Senate districts adopted under an Oregon Supreme Court-ordered Sept. 27 deadline. The process the Oregon Legislature used "limited testimony to partisan maps, resulted in partisan outcomes, and did not follow the hearing requirements," according to the filing.
A second lawsuit argues that one district line is "indefensible. That line was not based upon consideration of any permissible districting criteria, but was the result of an effort by Legislative Assembly leadership to protect one incumbent from a primary challenge, by surgically jutting a district line around a different, disfavored legislator's home."
A statehouse Democrat and Lane County voters "were caught up in this intraparty powerplay, and ended up drawn into two districts whose boundaries make no statutory sense," according to the suit that asks a court to order the secretary of state to correct the lines.
The filings are in addition to a challenge by four former Republican office holders, including former Oregon Secretary of State Beverly Clarno, seeking to block implementation of congressional maps the Democratic-majority Legislature approved. — Joyce E. Cutler
CALIFORNIA: NON-CITIZENS COULD VOTE IN SAN FRANCISCO RECALL
The San Francisco Board of Supervisors unanimously approved allowing non-U.S. citizens to vote in an upcoming recall election of three Board of Education members scheduled for Feb. 15. The measure in a sense closes a loop—five years ago voters approved allowing the same individuals to vote in Board of Education elections. The ordinance returns for a final, implementing vote on Tuesday and, if approved, heads to Mayor London Breed for her consideration. — Joyce E. Cutler
NEW YORK: DRAWING THE LINE ON LOCAL REDISTRICTING
County legislative line drawing in New York State must follow state and federal redistricting requirements under a law signed by Gov. Kathy Hochul (D). The measure (S.5160B/A.229C) states that local law does not supersede state and federal requirements, and aims to promote the fair and non-partisan drawing of county lines, according to the governor's office. The law ensures "the right to equal participation in our political process," Hochul said in a statement. — Keshia Clukey
CALIFORNIA: DON'T CALL THEM DISTRICTS
The California Citizens Redistricting Commission found out last week just how hard it is to juggle public input, legal obligations, and population counts as they presented "visualizations" of the state's congressional and state legislative maps.
The trickiest region to draw could be Los Angeles. Population growth has been much slower than in the rest of the state, and California's loss of a congressional district could come from Los Angeles County. The racially diverse region also is home to the two California districts with the densest Black populations, and some fear their voting power could be diluted as commissioners move boundaries.
If the commission doesn't consider the possibility of losing a Black congressional district, they will "lock themselves into an architecture that makes any future attempt to draw the second Black district into a zero sum game with Latino districts," data consultant Paul Mitchell wrote on Twitter.
The visualizations are not official maps and can continue to change shape until the Dec. 27 deadline for final district maps. — Tiffany Stecker
ARIZONA: LAST CHANCE FOR CHANGES
Arizona's maps are taking shape after the state's independent redistricting commission approved draft districts. Four out of nine congressional districts would be competitive, with two of those designated as highly competitive.
Organizations weighing in on the process will be pushing for changes during a 30-day public comment period. The draft maps don't represent the input of Latino and indigenous communities, Kendra Alvarez, Arizona state director of the Democrat-aligned organization All On The Line, said in a statement.
"During the November public hearings, ample opportunities for participation and transparency from all Arizona communities—especially those of color—will be an absolute must," she said. — Brenna Goth
IOWA: LEGISLATURE OKS CONGRESSIONAL MAP FAVORING REPUBLICANS
Republicans would have an opportunity to win all four Iowa congressional districts in the 2022 election under a map adopted by the GOP-controlled state legislature, though three of the districts are highly competitive. The map was sent to Gov. Kim Reynolds (R) for her consideration.
Rep. Mariannette Miller-Meeks (R) was paired with Rep. Cindy Axne (D) in a district that includes Axne's political base of Polk County in and around Des Moines, though Miller-Meeks could instead seek re-election in a southeastern district that includes most of her current constituents. Axne hasn't said if she will run again.
Rep. Ashley Hinson (R) said she will seek a second term in the reconfigured 2nd District, which retains most of her current district in northeastern Iowa. Rep. Randy Feenstra (R) is a shoo-in to win again in the 4th District, a Republican bastion in the west and north.
The map, which the state House and state Senate approved overwhelmingly, was the second one drawn by Iowa's nonpartisan Legislative Services Agency. The legislature rejected the agency's first map, which drew Hinson into a Democratic-leaning district. Democrats and Republicans have hailed Iowa's system of redrawing lines as a model of nonpartisan redistricting. — Greg Giroux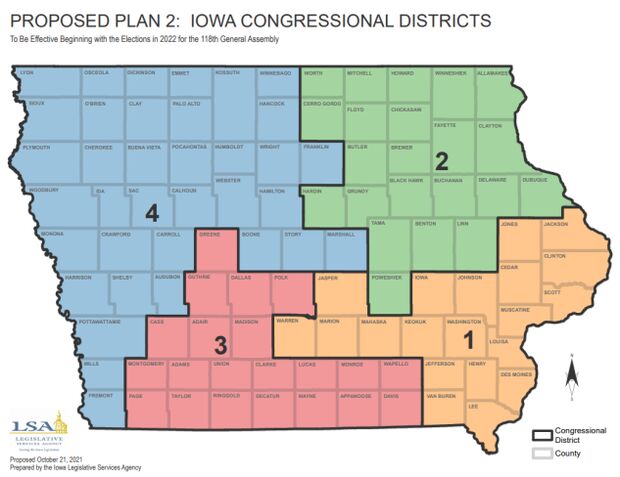 FLORIDA: ELECTIONS EXPERTS CONTROVERSY
The University of Florida now says three political science professors are free to serve as expert witnesses in lawsuits challenging the state's new restrictions on ballot access, so long as they're testifying pro bono.
Court documents filed Friday showed the school had sent the professors notices that their testimony may pose a conflict of interest for the university and the state's executive branch. Lawyers for the voting rights groups who sued say they want to ask Gov. Ron DeSantis (R) whether he was involved in that decision.
In a Monday statement, university officials said they're appointing a task force to review the school's conflict of interest policy. — Jennifer Kay
WISCONSIN: SPEAKER CALLS ON ELECTIONS OFFICIAL TO RESIGN
Wisconsin Assembly Speaker Robin Vos (R) called for the resignation of Wisconsin Elections Commission Administrator Meagan Wolfe following Racine County Sheriff Christopher Schmaling's assertion he uncovered eight instances of voter fraud or illegal behavior in casting ballots since March 2020.
The alleged behavior involved the certification of absentee ballots and actions of special voting deputies working in elderly and infirm-care facilities.
"People's trust in Wisconsin's elections has been tested. Many Wisconsinites feel elections are not safe and secure," Vos said in a statement. Vos hired former Wisconsin Supreme Court Justice Michael Gableman to investigate the November 2020 presidential election and approved subpoenas sent to municipal clerks seeking information about the election. Vos has authorized spending more than $650,000 for Gableman's efforts. — Stephen Joyce
COLORADO: CONGRESSIONAL MAPS EARN FINAL APPROVAL
Colorado on Monday became the seventh state to secure final approval of its congressional districts for the next decade. The Colorado Supreme Court OK'd the state redistricting commission's congressional map, setting aside objections that the new districts dilute the electoral voice of Latino voters.
The final plan, approved by the commission on Sept. 28, will now go to the Secretary of State for filing by Dec. 15. Colorado picked up an eighth district in reapportionment—Democrats are favored in four districts and Republicans in three, while the new seat will be competitive. — Tripp Baltz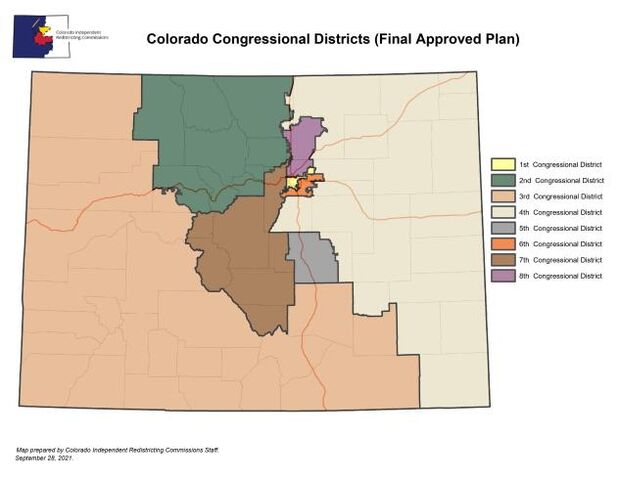 Caught Our Eye
New independent commissions in California are drawing election districts in cities and counties that could change representation and priorities. (CalMatters)
Mississippians testified how it's easier for people convicted of felonies to regain their gun rights than their voting rights. (Mississippi Today)
Pennsylvania voting officials braced for an Election Day on Tuesday where any minor glitch could spark more stress and threats. (The Philadelphia Inquirer)
Resources
Add Us to Your Inbox
Click HERE to sign up for Ballots & Boundaries, your weekly check-in as states change voting laws and revise political districts, influencing power and policy for the next decade.
To contact the reporters on this story: Joyce E. Cutler in San Francisco at jcutler@bloomberglaw.com; Tiffany Stecker in Sacramento, Calif. at tstecker@bgov.com; Alex Ebert in Columbus, Ohio at aebert@bloomberglaw.com; Greg Giroux in Washington at ggiroux@bgov.com; Keshia Clukey in Albany, N.Y. at kclukey@bloomberglaw.com; Stephen Joyce in Chicago at sjoyce@bloomberglaw.com; Tripp Baltz in Denver at abaltz@bloomberglaw.com; Jennifer Kay in Miami at jkay@bloomberglaw.com
To contact the editors responsible for this story: Tina May at tmay@bloomberglaw.com; Heather Rothman at hrothman@bgov.com