Endangered Lawmakers Tout Millions in Earmarks Directed Home
Previously prohibited funding process now campaign feature
17 House incumbents in top races secured at least $10 million
The ink had barely dried on a $1.5 trillion government funding bill before Sen. Mark Kelly was back in Glendale, Ariz., touting the $2 million carve-out he secured for a project connecting water plants between parched Phoenix suburbs.
The Democrat told local officials that kind of "fault tolerance" assures people get clean water even if something breaks somewhere else.
"For me, a guy who used to fly a spaceship, redundancy is important," said Kelly, a former NASA astronaut.
He's one of dozens of members of Congress facing competitive re-election races this fall who secured money for projects in their state or district in the recent government funding bill (Public Law 117-103). Many of those members in the weeks since have started touting those projects on the campaign trail.
"If you're not, you're missing a trick," Rep. Matt Cartwright (D-Pa.), an appropriations subcommittee chair, said in an interview. "Because that is part of what people understand to be an effective member of Congress, somebody that makes sure that our fair share of federal tax money comes back to us."
Senior appropriators for the first time in over a decade allowed lawmakers to officially request funding for specific projects in their states or districts. Lawmakers prohibited those earmarks in 2011 after corruption scandals shined a light on the abuses of the process.
Read More: Colleges, Cops, Airports Among Earmark Winners in 2022 Funding
Lawmakers in races determining control of Congress this fall have embraced it as a way to deliver for voters they're wooing. That includes Cartwright and Rep. Henry Cuellar (D-Texas), who secured more than $19 million apiece for their respective districts
"For a lot of members, they haven't seen" earmarks in action, said Cuellar, an appropriator who faces a primary runoff next month and, if victorious, another challenge in November. "But if you do this in a transparent way, you talk to your local community, you see what the needs are, they can be very beneficial."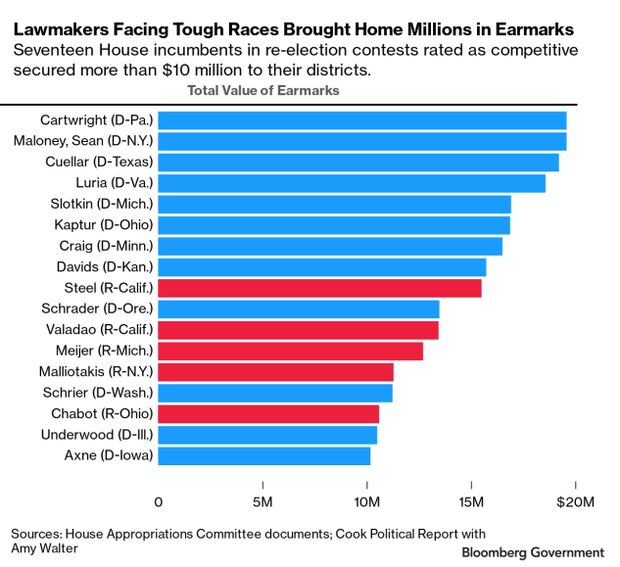 Breaking Ground
Incumbents in the Democratic Congressional Campaign Committee's Frontline program, which supports those in the most competitive races, have been vocal about the funding they secured for projects in their districts.
Rep. Tom Malinowski (D-N.J.) trekked to towns getting money from his earmarks for a drainage project and a pedestrian walkway. Rep. Josh Gottheimer (D-N.J.) in a virtual town hall touted the "major investments" included in his $8.5 million in earmarks.
Rep. Marcy Kaptur (D-Ohio) visited an auto mechanic training program in Toledo getting $1.25 million. Rep. Kim Schrier (D-Wash.) last month broke ground on a Tacoma-area high school's new health center getting $3.5 million and went to a village in the Cascade Mountains that got over $941,000 for affordable housing.
Rep. Elissa Slotkin (D-Mich.) stopped in Lansing, Mich., to highlight the $1.3 million she secured for the police department's new team for cases involving mental illness, substance abuse, or trauma.
"In Washington, some of my peers like to throw around slogans like 'defund the police,'" Slotkin said alongside the city's police chief and community leaders. "I want to be very clear today: That is the wrong approach."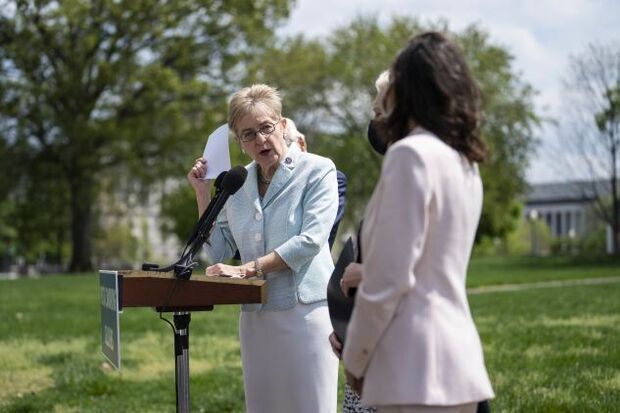 Republicans have projects to tout as well. Rep. David Valadao (R-Calif.), whose race the Cook Political Report with Amy Walter rates as a Tossup, said in an interview the $13.5 million in earmarks he secured covered "important" infrastructure improvements. But he said he prefers to talk about congressional action in "broader terms" ahead of midterms that nationally favor his party.
"Obviously, they have an impact in certain parts," Valadao said. "But talking about something that helped one part of the district doesn't help another."
Across the Capitol
Senators in tough races brought in many more millions for their much larger constituencies. Sen. Raphael Warnock (D-Ga.) in a brief interview acknowledged "we got quite a few" earmarks in the omnibus, some in concert with Sen. Jon Ossoff (D-Ga.). They totaled $95.6 million to fund highways, bridges, broadband access, military installations, and other projects.
"I'm doing the job I told them I'd do," Warnock said.
Sen. Catherine Cortez Masto (D-Nev.) worked with Sen. Jacky Rosen (D-Nev.) to get $94.3 million in earmarks for 52 projects that infuse at least $2 million apiece into infrastructure projects, police departments, and water works.
"My focus is just on the needs of Nevada," said Cortez Masto said in a brief interview.
Not every vulnerable incumbent took advantage of the process. Laura Epstein, a spokeswoman for Sen. Maggie Hassan (D-N.H.), said Hassan didn't make any requests for earmarks because she wanted to see whether safeguards on their abuse work as intended.
Sens. Ron Johnson (R-Wis.) and Marco Rubio (R-Fla.), who are seeking re-election this fall, declined to make any earmark requests and voted against the overall bill's final passage. In brief interviews, Rubio said he doesn't "believe in the earmark process," and Johnson said Democrats "don't care about the fact that we're mortgaging our kids' future."
Rep. Cindy Axne (D-Iowa), who toured a Des Moines health center last month that got a tenth of the $10.2 million she secured in earmarks, acknowledged in an interview that she had reservations about requesting earmarks at first, "especially those of us who came in here saying things in this place need to change." But Axne and other Frontline members emphasized that the addition of transparency and accountability requirements over the last year made it something they could pursue.
Lawmakers are already preparing for the next round of earmark requests, which could be honored in another annual government funding bill as soon as this fall. Rep. Antonio Delgado (D-N.Y.) last week opened a nearly three-week window for constituents to apply for the next round of federal grants.
At her townhall last month in Bethlehem, Rep. Susan Wild (D-Pa.) wasn't able to mention the $9.8 million she secured before a constituent asked about the process of applying for the next round.
"People are talking about it and asking about it," Wild said, "And now we've got a lot of organizations that didn't know about it last year that do."
Andrew Small and Jack Fitzpatrick in Washington also contributed to this story.
To contact the reporter on this story: Zach C. Cohen in Washington at zcohen@bloombergindustry.com
To contact the editors responsible for this story: Kyle Trygstad at ktrygstad@bloombergindustry.com; Bennett Roth at broth@bgov.com