Cash Advantage Not Enough for Democratic Repeat Wins on Red Turf
More than 30 GOP winners outraised in competitive races
Two Democrats won despite funding disadvantage
Nearly three dozen Republicans in competitive races defeated better-funded Democratic opponents who in some cases outraised them by millions of dollars.
Democrats hoped their fundraising advantage would help protect their most vulnerable seats and even expand their majority. Their majority is intact, but the party's hold on the House has thinned.
Seats they won in traditionally Republican areas in New Mexico, Oklahoma, and South Carolina flipped back to the GOP. The party has also failed to win any of its offensive targets in similarly challenging terrain, though it added a GOP-held open seat in Georgia's booming Gwinnett County, an Atlanta suburb that continues to trend blue.
So far, 34 Republicans have won despite funding disparities. The Democratic losses illustrate that the surge in small-dollar donations from across the country — and the onslaught of ads that money funded — couldn't help the party replicate in this presidential year the midterm wave dynamics that provided a net gain of 40 seats in 2018.
The presidential race put in stark relief the rural-urban partisan split. But David Wasserman, House editor of the Cook Political Report, noted in a post-election analysis that some of the remaining Republican House incumbents in suburban population-centered districts, where Democrats hoped to add seats, outperformed President Donald Trump.
"It may have helped that unlike 2018, when those voters' only opportunity to express displeasure with Trump was in congressional races, they were able to split their tickets this year," he wrote.
The six Democratic incumbents who've lost so far all raised more than their challengers as of Oct. 14, the end of the Federal Election Commission's pre-general election fundraising period. They include Rep. Debbie Mucarsel-Powell in Florida, who unseated a Republican incumbent in 2018 but fell in the southern Miami-Dade district as Democratic presidential nominee Joe Biden greatly underperformed in the county.
Agriculture Committee Chairman Collin Peterson (D) had one of the closest fundraising margins, raising $87,000 more than former Lt. Gov. Michelle Fischbach, a top Republican recruit. But the 15-term incumbent, long a white whale target for GOP strategists, couldn't withstand the top-of-the-ticket drag in the largely rural western Minnesota district, where Trump is popular. He was struggling to reach 40% of the vote as of Friday.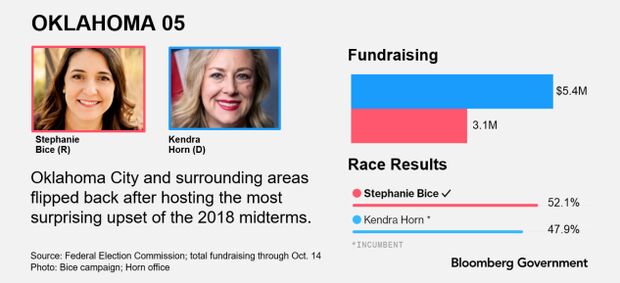 Republicans were also aided by Congressional Leadership Fund, the super PAC aligned with House Minority Leader Kevin McCarthy (R-Calif.), which helped make up for some of the disparities.
Some were larger than others. Reps. Rodney Davis (R-Ill.), Don Bacon (R-Neb.), and Mike Turner (R-Ohio) came within a few hundred thousand dollars of matching their challengers' total funds.
Wendy Davis (D), the former Texas state senator who in 2013 gained national notice for an 11-hour filibuster of an abortion bill, had one of the largest fundraising advantages — $8.8 million to Rep. Chip Roy's (R-Texas) $4.5 million — but lost by 7 percentage points. Also in Texas, Gina Ortiz Jones lost one of the party's top pickup opportunities despite outraising her opponent, Tony Gonzales (R), in the open-seat race by $4 million. They were indicative of Democrats' big hopes and disappointing results up and down the ticket in the Lone Star State.
In a test for how deep into Republican territory Democrats could go, Cameron Webb (D) boasted a $3 million fundraising edge but lost by 5 points to Bob Good (R), a conservative who unseated the rural Virginia district's more moderate GOP incumbent in a drive-thru party convention.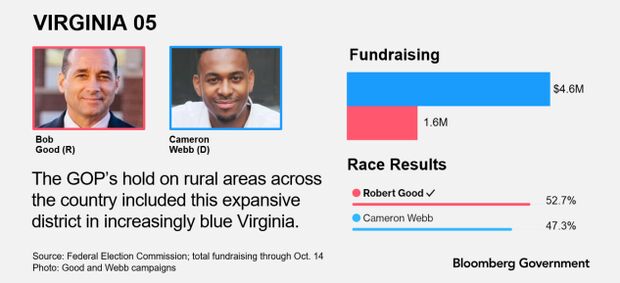 Fewer than two dozen races rated at varying levels of competitiveness by the Cook Political Report remain outstanding. Democrats are projected to retain control of the majority. Reflective of the party's financial edge, so far only two Democrats who won competitive races were outraised: Reps. Peter DeFazio (D-Ore.) and Lizzie Fletcher (D-Texas).
DeFazio faced an unexpectedly tough challenge from Alek Skarlatos, who raised $4.4 million to DeFazio's $3.8 million. Wesley Hunt (R) outraised Fletcher by about $600,000 in a race that was a top target of national Republicans.
To contact the reporter on this story: Samantha Handler in Washington at shandler@bloombergindustry.com
To contact the editors responsible for this story: Kyle Trygstad at ktrygstad@bgov.com; Bennett Roth at broth@bgov.com