Trump executive order has not significantly cut existing rules
Number of new rules from agencies has dropped dramatically
Conservative regulatory experts are among those expecting the Trump administration to again say this fall that it's met its goal of cutting two government regulations for every new one created—though many predict that claim will largely be based, like last year, on smoke and mirrors.
Their hope that President Donald Trump's 2017 executive order mandating the one-in, two-out approach would be a powerful force in clearing out decades worth of old rules has been dashed. Still, new rulemaking by agencies has dropped dramatically, which some scholars see as a positive side effect.
"The two-for-one order is as gimmicky as it sounds, and as a consequence, just doesn't have that kind of deep, useful prospect for changing the system," said Michael Livermore, professor of law at the University of Virginia School of Law.
That has not kept Trump from repeating claims he has slashed more regulations than his predecessors.
"We had a record number of regulations eliminated," Trump said recently to business leaders at his golf club in Bedminster, N.J.
The second year of Trump's deregulatory effort was expected to be a tougher one in which to show progress. Only now are agencies attempting to overturn a few of the bigger existing rules, such as fuel economy standards or health insurance provisions, that are more substantive, Bridget Dooling, research professor at the George Washington University Regulatory Studies Center, told Bloomberg Government.
"Those proposals did take a while to get rolling, but you're seeing more of them now," she said.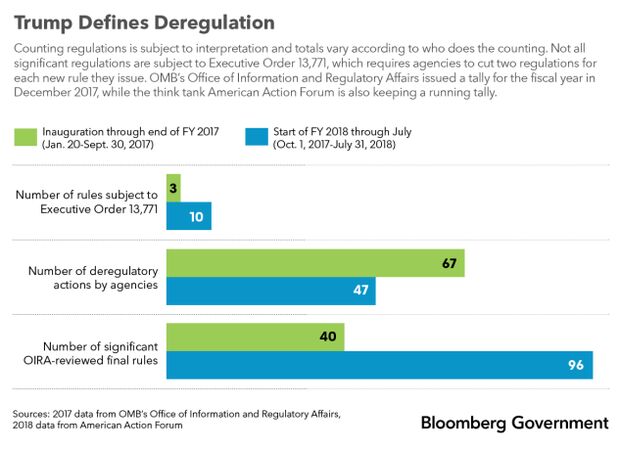 Narrow Subset
Trump signed Executive Order 13,771 shortly after taking office, on Jan. 30, 2017, for the purpose of managing the private sector costs of complying with federal regulations. The order states that for every new regulation issued, at least two prior regulations be identified for elimination.
In his first year, Trump administration officials claimed just three new significant regulations had been issued—that is, subject to the two-for-one mandate in the executive order—and agencies took 67 deregulatory actions. That allowed Trump to say his ratio was closer to 22-for-one instead of two-for-one.
While mathematically correct, that claim overlooked aspects that undermined the spirit of the order, if not the letter of it, according to critics.
Subsequent guidance to ensure agencies could more easily meet the goals of the order was crafted by the Office of Information and Regulatory Affairs, the agency within the Office of Management and Budget that enforces the president's regulatory policies.
First, it narrowed the definition of a regulation to significant final rules or guidance documents, such as those imposing at least $100 million in costs on the economy or raising a novel legal or policy issue. It also created a number of exemptions to the order, such as for statutorily or judicially required rules, or for national security.
At the same time, it expanded the definition of a deregulatory action to include a broad range of categories, including the elimination of a rule in whole or in part, or a guidance document, or a reduction in recordkeeping or reporting requirements.
For 2018, the administration will again likely be able to claim success, according to data compiled by the conservative American Action Forum. The think tank estimates that since the start of fiscal year 2018, agencies have issued 10 new rules subject to Executive Order 13,771 and taken 47 deregulatory actions.
But that's a small subset of the more than 2,900 regulations, mostly minor, that have been issued by agencies since the start of the fiscal year. It's also a small subset of the 96 significant final regulations that agencies sent to OIRA for review this year.
'Easily Achievable'
OIRA,which tracks regulations for the administration, will release in the fall its tally of regulatory and deregulatory actions in conjunction with its twice-a-year unified agenda, according to a spokesman.
"Just the way it's structured, looking at it from the two-for-one perspective, it's sort of an easily achievable goal based on how it's set up, with how few regulatory actions actually meet the definition of a regulatory action for the executive order," said Dan Bosch, director of regulatory policy at the American Action Forum.
Bosch said he suspects that at the end of this fiscal year, similar to what happened last year, the administration is going to have a huge number of deregulatory actions compared with a much smaller number of regulatory actions.
The mandate itself doesn't make any sense, which is the fundamental problem with it, University of Virginia's Livermore said. For starters, defining a regulation when any rule can be subdivided into different components raises problems, he said.
This is a logical problem, but it creates so much flexibility in how the executive order can be implemented that it doesn't direct anyone's behavior, Livermore said.
New Rulemaking Down
The libertarian Mercatus Center at George Mason University, which tracks regulatory restrictions, found that since the start of the Trump administration there has been some growth in regulation, but it slowed and essentially flatlined since mid-2017, according to Patrick McLaughlin, director of the program for economic research on regulation.
"We haven't seen a huge decrease, in fact we really haven't seen much of a decrease, but the deviation from trend is substantial," McLaughlin said.
Traditionally, there is 2 percent to 4 percent growth annually in the number of regulatory restrictions on the books, no matter which political party is in the White House, McLaughlin said. But under Trump, there has been close to zero percent growth, he said.
"There is so much existing regulation that even if they've chipped away here or there it still barely registers in the big picture," he said.
More evidence of the dramatic slowdown in new regulations was seen by George Washington University's Dooling.
Significant regulatory activity declined by 74 percent during the Trump administration's first full year in office, compared to the same period in the Obama administration, Dooling said in a paper released Aug. 1.
To contact the reporter on this story: Cheryl Bolen in Washington at cbolen@bgov.com
To contact the editors responsible for this story: Paul Hendrie at phendrie@bgov.com; Jonathan Nicholson at jnicholson@bgov.com