"Shadow parties," outside groups allied with Democratic and Republican leaders, are eclipsing traditional political parties, according to two new studies of campaign spending in the 2018 midterm elections.
The reason is simple: groups not formally tied to candidates can raise more money under current campaign finance rules.
The shadow parties rely almost exclusively on megadonors giving at least $100,000 each or on undisclosed donors, researchers found.
"Presumably, the party leaders raising the money know where it comes from," said Ian Vandewalker, the author of one of the studies, which was released by the Brennan Center for Justice at New York University Law School.
Super political action committees and other groups aligned with top Democratic and Republican leaders in the House and Senate have become the predominant campaign money source in the current midterms, outraising the traditional party committees they're assisting in three of four instances, the Brennan Center found.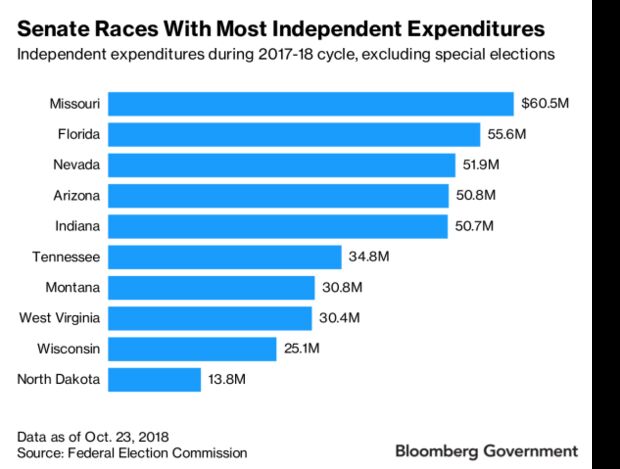 Outside spending is highly concentrated in the most competitive Senate and House races, on which control of Congress hinges.
The Senate race in Missouri between Democratic incumbent Claire McCaskill and Republican Josh Hawley has had the most outside money — a total of $60.5 million through Oct. 23, according to independent expenditure reports filed with the FEC. The race is rated as a toss-up, according to polls compiled and averaged on the Real Clear Politics website.
Toss-up Senate races in four other states – Florida, Nevada Arizona and Indiana – had more that $50 million each in outside spending reported to the FEC with two weeks left until the election. The Florida and Indiana races involve Democratic-held seats, while the Arizona and Nevada races involve seats currently held by Republicans.
Coffman's Seat
In the House, eight races have had more than $10 million in outside spending, according to FEC independent expenditure reports.
Spending is concentrated almost exclusively in races for seats currently held by Republicans, as Democrats see good prospects to flip control of the House and Republicans continue to furiously defend their majority.
The biggest target for outside money is a Colorado contest, in which Rep. Mike Coffman(R), a 10-year House veteran, is defending his seat against Democrat Jason Crow. More than $14.2 million has been spent there by outside groups.
A pair of California races involving Republican incumbents are close behind. More than had $12.6 million in outside money has been spent in a race in which Rep. Dana Rohrabacher's is defending the seat he's held for 30 years. Meanwhile, $12.2 million has been spent in the race in which Rep. Mimi Waltersdefending the seat she's held since 2014.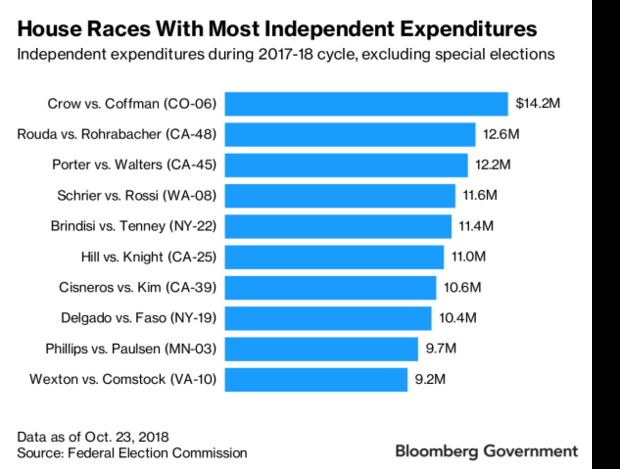 Other top independent expenditure races involve Republican-held House seats in California, New York and Minnesota.
None of the top 10 House races for independent expenditures involves a seat currently held by Democrats.
$700 Million, So Far
Overall, more than $700 million in independent expenditures had already been reported to the Federal Election Commission by Oct. 23, according to analysis by the nonprofit Center for Responsive Politics.
That was more almost $160 million above the total spent in the last midterms in 2014, with hundreds of millions more expected before the Nov. 6 election.
The biggest source of outside spending is super PACs and other groups allied with Democratic and Republican leaders. These include the Senate Majority PAC and House Majority PAC on the Democratic side and Senate Leadership Fund and Congressional Leadership Fund for the Republicans.
Each of the super PACs, except for the House Majority PAC, is linked to a nonprofit group that helps provide money for key congressional races but doesn't reveal its donors, according to the Brennan Center study.
The leadership-related entities have been responsible for $265 million in total 2018 midterm spending, so far, while the formal party committees spent a combined $144 million, the Campaign Finance Institute (CFI) found.
The party committees include the Democratic Senatorial Campaign Committee, the National Republican Senatorial Committee, the Democratic Congressional Campaign Committee and the National Republican Congressional Committee.
Independent expenditures are divided almost exactly evenly between Democrats and Republicans, the CFI study found. Republican candidates have benefited from 51 percent of this spending, while 49 percent has favored Democrats.
Democratic and Republican leadership-allied entities have almost doubled the spending total of the traditional party committees, which must abide by contribution limits. A study by the nonprofit Campaign Finance Institute noted that, in the last midterms in 2014, those outside groups spent only about half as much as the traditional parties.
Nonprofit groups allied with each party's super PACs claim exemption from disclosure rules and don't report any funding sources to the public. A major portion of the spending isn't reported, either, because groups sponsor ads that avoid a direct call for votes or air outside the time periods when reporting is required.
Adelson Gives $112 Million
The biggest overall donor this election cycle is Las Vegas Sands Corp. casino owner Sheldon Adelson, who along with his wife, Miriam, has provided almost $113 million to House and Senate Republican super PACs, according to FEC reports.
Adelsons Add $25 Million to Their Midterm Campaign Spending
Adelson has been a major Republican donor for years, but he's given more for the 2018 midterms than he – or anyone else – has contributed before. In 2016, Adelson's $77.9 million in contributions to GOP groups was second only to the $89.8 million provided by Tom Steyer, a California financier and activist who supports Democrats, according to the Center for Responsive Politics.
To contact the reporter on this story: Kenneth P. Doyle in Washington at kdoyle@bgov.com
To contact the editors responsible for this story: Katherine Rizzo at krizzo@bgov.com; Bennett Roth at broth@bgov.com