Democrats are vying to reverse a decade of diminishing power in state capitals by building on special-election victories and capitalizing on discontent with President Donald Trump.
The stakes are high for party leaders who must expand their state clout if they want more say in the redistricting of congressional and legislative seats following the 2020 Census.
If Democrats run strong in November, they could end Republican control of chambers in Alaska, Arizona, Colorado, New Hampshire and Wisconsin. They also have a shot at taking the majority in what's now a tied state Senate in Connecticut.
In Pennsylvania and Missouri, Republicans are at risk of losing state Senate supermajorities.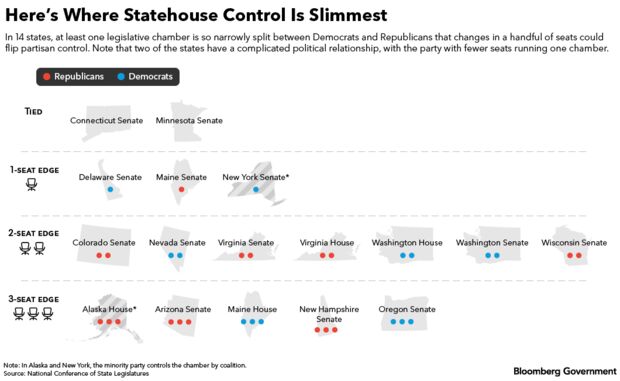 "These races have become increasingly nationalized in ways never before seen in our country's history," said Greg Shufeldt, a professor of political science at Butler University in Indianapolis.
"So if things don't look good for Republicans – and by many accounts they don't – that is actually good for Democrats at the local level," he said. "Ten, 20 even 50 years ago, there wouldn't have been much of a relationship."
Trump Drag
Since his election, President Trump's approval rating has remained below 50 percent and stood at 42 percent at the beginning of July, according to the Gallup Poll. In a further sign of public frustration, for the first time since Gallup starting asking 17 years ago whether people were extremely proud to be Americans, fewer than 50 percent said yes. That poll was conducted June 1-13.
"My research shows presidential approval has over three times the impact on their state legislative vote choice than what they think of the state legislature itself," said Steven Rogers, a professor of political science at Saint Louis University.
"People are largely not happy with Trump and the Democrats are running candidates for more than 80 percent of the seats," Rogers said. "That's a recipe for Democrats to ride a wave at the state legislative level."
Democrats have a lot of ground to make up as a result of strong Republican gains during President Barack Obama's tenure.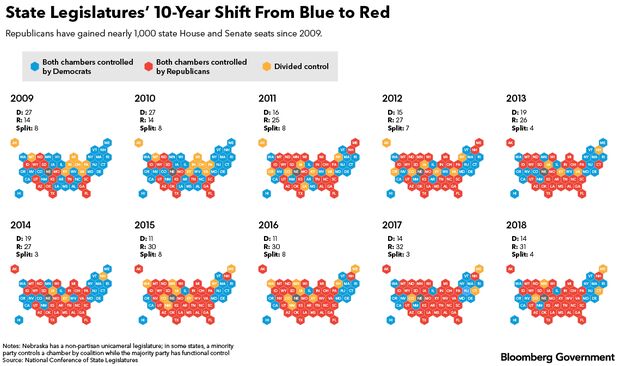 Republicans currently hold 56.8 percent of all state legislative seats, and they command majorities in 65 chambers, compared to 31 for Democrats, according to data maintained by the National Conference of State Legislatures..
Following Obama's first election in 2008, Democrats held 55.9 percent of all state House and Senate seats.
Obama's party then held majorities in 60 of the 98 state House and Senate chambers and tied Republicans in two chambers.
Republican strategists Karl Rove, Ed Gillespie and Chris Jankowski set up what they called a REDMAP initiative, investing time, money and attention to change that.
In 2010, control of 20 legislative bodies flipped in the GOP's favor. Republican led-redistricting created boundaries that helped the party add to its gains.
"The timing was especially bad for Democrats because the next round of redistricting happened, so the electoral advantage was baked into these states for years," said Patrick Flavin, a professor of political science at Baylor University in Waco, Texas.
"Our candidates win by earning votes on the right message and the right issues, which led to Republicans flipping nearly 1,000 state legislative seats in the past decade, on district lines drawn largely by Democrats," said said Matt Walter, president of the Republican State Leadership Committee.
Strategic Spending
This time around, both parties have organizations ready to invest in statehouse candidates.
During an annual fundraising and political action forum earlier this year, the leadership of Americans for Prosperity, which is funded by the conservative Koch brothers, said they were preparing to spend as much as $400 million in the midterm elections to support candidates for Congress, governor and state legislatures.
Koch Network to Tap $400 Million Lode for Ads to Sway 2018 Vote
How the Koch Brothers Plan to Keep America Red: CBS
On the other side, former Attorney General Eric Holder's National Democratic Redistricting Committee will be backing that party's statehouse candidates. The group has said it's targeting races in Colorado, Georgia, Florida, Michigan, Minnesota, Nevada, North Carolina, Ohio, Pennsylvania, Texas and Wisconsin.
That list could expand to include some races in other states such as Arizona, Maine, Missouri, New Hampshire, New York, South Carolina and Utah, according to the group.
In some states all legislative seats are at stake this year while in others only part of those chambers are up for grabs. In Virginia, where Republicans hold slim margins in both chambers, the next legislative election is in November 2019.
The Democratic Legislative Campaign Committee has a campaign it calls Flip Everything.
"The stakes in this election couldn't be higher," Sen. Cory Booker(D-N.J.), the public face of the DLCC campaign, said in a video. "Democrats are just 16 seats away from flipping eight of these chambers. And almost 800 seats are up for election this year that will be directly responsible for redistricting in 2020."
Democrats say they have reason to be optimistic, since 44 state legislative districts have changed from red to blue since the 2016 general election.
Wisconsin Win
The party's most recent success came on June 12, when Democrat Caleb Frostman won a long-shot special election for the Wisconsin Senate. Frostman's district in northern Wisconsin had been held by a Republican for more than 40 years.
Voters in that district previously favored Trump by 18 points in 2016 and Gov. Scott Walker (R) by 23 points in 2014.
"Caleb's victory in a key redistricting state on our 2018 target list is a perfect example of how the DLCC's expertise and strategic planning, paired with our crucial state partners, has led to so many Democratic wins at the state level," DLCC executive director Jessica Post said in a statement.
Republicans respond that they too have candidates who held onto traditionally GOP seats in special election.
"With special election wins and losses being on parity for both sides in 2018, recent congressional generic ballot polling and a presidential approval rating at its highest yet, we feel very good about how Republicans will do in the fall," said Walter.
Walter said that in the 71 special elections this year, 36 have been won by Democrats and 35 by Republicans.
Click here to download a PDF of the graphics.
With assistance from Madi Alexander and Andrew M. Ballard and Aaron Nicodemusand Leslie A. Pappas and Alex Ebert and Gerald B. Silverman and Tripp Baltz
To contact the reporter on this story: Michael J. Bologna in Chicago at mbologna@bloomberglaw.com
To contact the editors responsible for this story: Paul Hendrie at phendrie@bgov.com; Katherine Rizzo at krizzo@bgov.com; Bennett Roth at broth@bgov.com