When federal chief information officers want to understand how much their agencies are spending on cybersecurity, cloud infrastructure, or digital services, they're confronted with a metaphorical blank space on the map.
According to a White House estimate, as recently as fiscal 2016, 84 percent of federal IT spending was uncategorized, or marked as "other," which renders an in-depth analysis of costs and performance impossible.
"Here be dragons," the data might as well say.
That figure has since improved to 35 percent, but with federal agencies planning to spend more than $92 billion on IT in fiscal 2019, lack of categorization remains a huge problem.
The General Services Administration and Office of Management and Budget want to change that. On June 18, GSA launched a request for industry input on how to create a standardized view of federal IT spending.
According to the solicitation, GSA wants to use advanced business intelligence tools, including artificial intelligence, robotic process automation, data mining, machine learning, and predictive analytics to "help inform spending and consumption-based transparency."
"Our goal is to gather information around existing capabilities to automate the collection of data from multiple, disparate sources of data containing both structured and unstructured data elements," said Deputy OMB Director Margaret Weichert in a June 18 blog post. The ultimate goal, she added, is to support the federal government's adoption of an IT management framework used by many private-sector companies.
Understanding the Technology Business Management Framework
The framework, known as Technology Business Management, or TBM, provides "a standard taxonomy to describe cost sources, technologies, IT resources, applications, and services," according to a 2017 report from the TBM Council, a best practices organization.
The Technology Business Management Taxonomy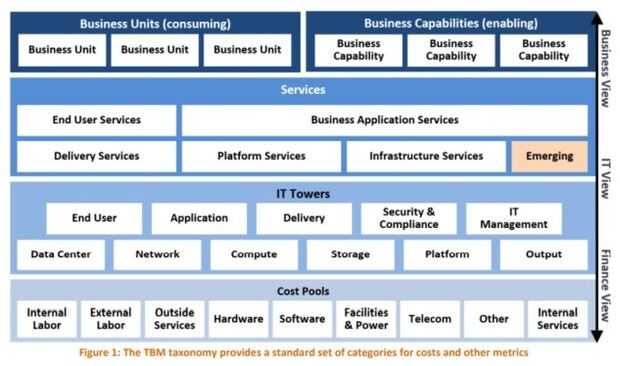 Read from bottom to top, the taxonomy framework starts with a finance-centric view of capital and operating expenditures, such as hardware and software, personnel, and contracting expenditures. Above that sit IT cost centers, or "towers," that represent the building blocks of IT projects, including application development, data centers, and IT security. At the very top sit business units and capabilities – essentially, the IT projects and services the underlying resources support.
According the TBM Council, CIOs, CTOs, and other technology leaders can use the framework for a range of management activities:
To understand trade-offs between spending categories;
To compare existing capabilities against third-party options, such as commercial cloud;
To benchmark spending to understand how costs change over time; and
To communicate their decision making to nontechnical stakeholders and agency leadership.
The White House estimates that implementing TBM government-wide could generate a 7 percent savings on IT – or about $6 billion per year.
"GSA was one of the first federal agencies to implement TBM and is pleased to co-lead this effort to increase data accountability and transparency government-wide," said GSA Administrator Emily Murphy in a statement. "Increasing transparency on IT spending will empower federal leaders to make better informed, data-driven decisions and provide greater accountability when investing taxpayer dollars on needed IT solutions."
What's Ahead
GSA will use a two-step process to gather input from the private sector on how to use analytics to implement TBM. In the first phase, it will hold a virtual industry day on June 26 to share the specifics of its strategy. In the second phase, it will hold reverse industry days on July 27 and 30 where candidates can present their software and service offerings. Interested vendors have until July 9 to respond to the RFI.
Although GSA has yet to announce price estimates for the TBM project, its high profile could make it a competitive bidding process for companies eager to showcase their tools on a government-wide stage.
For government leaders, standardizing around the TBM framework provides an opportunity to learn from their peers. With greater spending transparency, CIOs and their teams will have greater insight into what works, what doesn't, how other agencies have done more with less, and hopefully, how to deliver the kind of innovation that changes the way citizens and customers see government.