Drones are increasingly used for terrorism, drug smuggling, and other crimes, so the government wants more authority to intercept them.
Congress has given the Defense and Energy departments limited authority to identify and intercept threatening drones. The Homeland Security and Justice departments want that power too.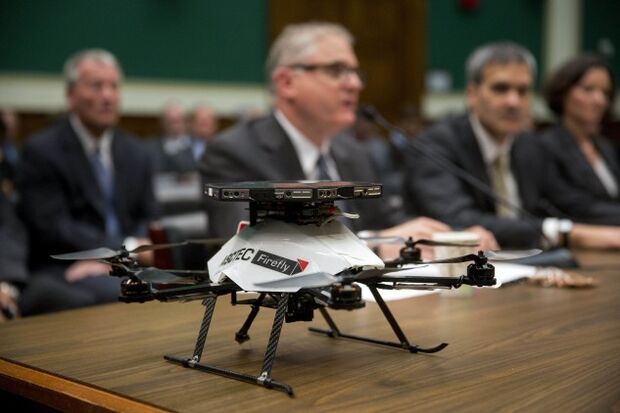 Sen. John Thune (R-S.D.) is weighing whether to attach a measure (S. 2836) to his FAA reauthorization bill (S. 1405; see BGOV Bill Summary) that would provide drone interception authority to DHS and DOJ, Bloomberg Government's Shaun Courtney reported. The Senate might take up the FAA measure as soon as the week of Aug. 13.
Drones can be used to "drop explosive payloads, deliver harmful substances, disrupt communications, and conduct illicit surveillance both domestically and internationally," said Homeland Security Secretary Kirstjen Nielsen in a June 6 letter to Congress.
The counterdrone bill, introduced by Sen. Ron Johnson (R-Wis.), is bipartisan and was opposed by only Sen. Kamala Harris (D-Calif.) at a Homeland Security and Governmental Affairs Committee markup on June 13.
It would authorize DHS and DOJ to develop, test, and deploy equipment to counter drones, in coordination with the Transportation Department. It would exempt DHS and DOJ counterdrone activities from the federal criminal code, including the Wiretap Act, the Computer Fraud and Abuse Act, and other statutes they could violate.
If enacted, DHS and DOJ may have to wait to use their new authority because drone disruption technology is still in development, and because it's hard to identify which drones pose a threat.
Federal Authority
Under the bill, several DHS and DOJ agencies — including the Coast Guard, FBI, and Secret Service — could deploy counterdrone technologies at their buildings and other high-risk facilities, at events, or for investigations or emergency response. They could use them when drones threaten bodily harm, loss of national security information, or severe economic damage.
DHS and DOJ could detect and track drones without consent, including by intercepting electronic or oral communications. The department could then warn operators and disrupt or takeover the drones' controls.
The departments would have to comply with the Fourth Amendment, which protects against unreasonable search and seizure. They could intercept communications only when necessary, which they would have to destroy as soon as possible.
Alternatively, agencies could confiscate and destroy drones using reasonable force.
Counterdrone Technology
There are at least 235 commercially available counterdrone products, though they're mostly designed for military use, according to a memo from the House Transportation and Infrastructure Committee. In a civilian environment, physically intercepting drones presents safety risks. Interfering with their communications could disrupt other signals — such as emergency response communications — or infringe on safe operators' privacy.
DOD is the only federal agency that has funded the development and acquisition of counterdrone technology, according to Bloomberg Government data. That technology is in use at two facilities, Steven Mucklow, a DOD representative, said at a House Transportation and Infrastructure Committee hearing on July 11. The department has awarded almost $19.5 million in contracts for counterdrone equipment since 2015, including to BAE Systems PLC, SRC Inc., and WS Darley & Co.
Under S. 2836, DHS and DOJ could also research and test counterdrone equipment.
Detection Challenges
Before a drone can be intercepted, it needs to be detected, but so far the FAA says available technology needs work.
The FAA has tested drone detection around at least six airports, although it doesn't have the authority to intercept drones. None of the technologies it tried — including radar, electrical optical infrared, and radio frequency — met the challenges of an airport environment, said Angela Stubblefield, an FAA representative, at the House Transportation and Infrastructure Committee hearing. It's unclear whether those technologies would be sufficient for DHS and DOJ's needs.
Additionally, it's still hard to figure out which drones are actually a danger. DOD observed at least 75 incursions into prohibited airspace last year, but it doesn't know if any of them were hostile, Mucklow and Stubblefield said.
The FAA is preparing a rule that would require all or most small drones to broadcast their identity, Bloomberg's Alan Levin reported. The agency has been hobbled by a provision in the 2012 FAA reauthorization law (Public Law 112-95) that bars the FAA from regulating recreational drones if they meet certain conditions, although it leaves an exception for enforcement actions against dangerous drones.
When the FAA tried to compel recreational drones to register, a court vacated the requirement, although Congress later reinstated it.
A July 6 court ruling, however, reaffirmed the FAA's right to regulate hobby drones within the parameters set by the 2012 law, which could open the door to a remote ID rule. If not, the FAA could get more regulatory authority from pending reauthorization bills (H.R. 4 and S. 1405), although Congress hasn't decided how that authority should be structured. The House-passed measure (see BGOV Bill Summary) incorporated two conflicting approaches to recreational drone regulation, and the Senate measure includes a third approach.
To contact the analyst: Sarah Babbage in Washington at sbabbage@bgov.com
To contact the editors responsible: Adam Schank at aschank@bgov.com; Danielle Parnass at dparnass@bgov.com