Democrats are mobilizing to break GOP majorities
Bleeding money in Missouri as McCaskill battles to hold seat
Super political action committees and other independent groups are spending more than $10 million a day to influence key races as the battle for control of Congress enters its final weeks.
In Missouri, almost $3.5 million was spent over the latest week to try to sway voters in a Senate contest pitting incumbent Democrat Claire McCaskillagainst Republican challenger Josh Hawley.Among House races, a Colorado contest in which Republican Rep. Mike Coffman faces a challenge from Democrat Jason Crow has become one of the most expensive contests in the nation, with almost $7.4 million in reported independent expenditures.The increased spending reflects the high stakes of an election in which the House and Senate could flip from Republican to Democratic control.Total independent expenditures during the current election cycle – almost $385 million, so far – are 50 percent more than at the same point in the last midterm election cycle in 2014, according to Federal Election Commission reports analyzed by the nonprofit Center for Responsive Politics.

Independent campaign spending increased in congressional primaries the year, even though ideological battles between the Tea Party and "establishment" wings of the Republican Party have eased from previous elections, according to the new analysis from the nonprofit Campaign Finance Institute. Now that the primaries are over, groups are likely to weigh in heavily for the fight over majority control of Congress.

"The stakes this election will be huge," the institute said. "The odds are that potential mega-donors who can underwrite Super PACs will see it that way too."
Super PAC Splurge
The money is going for broadcast and digital ads, mailings and other voter mobilization. It's coming from Democratic and Republican super-PACs and allied groups, as well as conservative and liberal organizations interested in drug prices, gun control, womens' rights and a range of other issues.
Total spending reached nearly $80 million for the week ending Sept. 26, according to independent expenditure reports filed with the Federal Election Commission.
Groups not formally linked to candidates can raise and spend unlimited amounts to sway key congressional races and try to determine which party will control the House and Senate. Independent expenditure reports filed daily with the FEC provide a roadmap to where the big money is moving in the runup to the Nov. 6 election.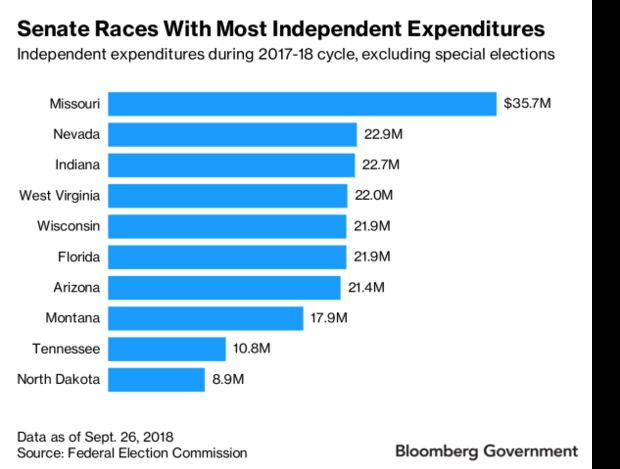 Missouri Match
Total outside spending in the Missouri Senate race has reached more than $35 million – more than $10 million more than any other race in the country.
The candidates are virtually tied, according to polling data analyzed by the website RealClearPolitics.
The biggest spenders in the race include the Senate Leadership Fund, a super-PAC linked to Senate Republican leaders, and Majority Forward, a nonprofit aligned with SMP, the main super-PAC linked to Democratic Senate leaders. The Republican and Democratic groups combined for more than $2 million of the Missouri spending.
A new big spender in the Missouri race is Patients for Affordable Drugs Action, a super PAC that says pharmaceutical companies are responsible for inflated drug prices.
The PAC's ads in Missouri support McCaskill for "tireless efforts to lower drug prices." An FEC report filed Sept. 22 said the group is spending almost $600,000 for radio ads in the Senate race.
The super-PAC's only cash contribution reported to the FEC was $3.1 million from a nonprofit advocacy group called the Action Now Initiative. The group is funded by John Arnold, a former hedge fund manager, and his wife, Laura, a former energy industry executive.
Meet the Group Working to Make 2018 Elections a Pharma Referendum
Meanwhile, spending in another key Senate race in Wisconsin pitting incumbent Democrat Tammy Baldwin against Republican Leah Vukmir has cooled somewhat.
Total outside spending in the Wisconsin race has reached close to $22 million, but only about $120,000 of this has trickled into the contest since Sept. 20.
Baldwin has a significant lead in the race over Vukmir, according to RealClearPolitics polling data.
Other Senate races with more than $20 million in total outside spending include Florida, West Virginia and Indiana, Nevada and Arizona.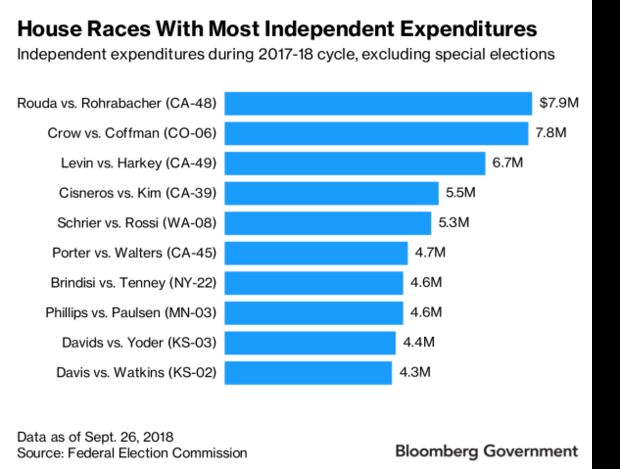 Gun-Control Ads
Among House races, the Coffman-Crow in Colorado race is now the second most expensive behind a California contest between Republican Rep. Dana Rohrabacherand Democrat Harley Rouda.
A $1.5 million TV ad buy from Giffords PAC, a gun-control group, reported Sept. 24, boosted spending in the Colorado contest. The ad faulted Coffman's support from the National Rifle Association, featuring text messages between a girl called "Emily" and her mother during a school shooting.
Coffman criticized the ad for exploiting a real-life tragedy. The PAC said afterward it would change the ad to remove the girl's name, the Denver Post reported.
Giffords PAC is linked to former Rep. Gabby Giffords, an Arizona Democrat who was wounded in a mass shooting in 2011. The PAC has received contributions as high as $30,000 but gets almost all its money from those giving $5,000 or less, FEC reports show.
Giffords PAC has contributed more than $265,000 directly to candidates and made more than $1 million in independent expenditures, so far, in the current election cycle. Its latest FEC quarterly report said the PAC had more than $5.2 million in cash at the end of August.
Another gun-control group, Everytown for Gun Safety, announced Sept. 26 that it would spend a total of $5 million on TV campaign ads in 15 key House races in California, Colorado Georgia, Kansas, Minnesota, Nevada, Michigan, New Jersey, Virginia and Washington. The group said its spending was focused on electing Democrats to Republican-held seats in districts expected to determine control of the House.
Everytown for Gun Safety advocates for universal background checks and other gun control measures. Michael R. Bloomberg, the former mayor of New York City, is the majority owner of Bloomberg Government's parent company and serves as a member of Everytown's advisory board.
Madi Alexander in Washington also contributed to this story.
To contact the reporter on this story: Kenneth P. Doyle in Washington at kdoyle@bgov.com
To contact the editors responsible for this story: Paul Hendrie at phendrie@bgov.com; Katherine Rizzo at krizzo@bgov.com; Robin Meszoly at rmeszoly@bgov.com; Bennett Roth at broth@bgov.com