What to Know in Washington: Trump Urges Calm as House Vote Set
The America First presidency collided with a global pandemic last night and the result did not appear to reassure skittish markets or a nervous nation.
President Donald Trump relied on a familiar playbook as he spoke in a prime-time address from the Oval Office, announcing sweeping new restrictions on travel from Europe and scattered executive actions to help workers and businesses rocked by what he labeled a "foreign virus."
He blamed allies for not adopting tough immigration measures that he said had prevented a wider outbreak in the U.S. But the combative approach and small-bore measures seemed only to highlight the president's struggles to confront the most consequential moment of his presidency.
He overstated the European travel restrictions, saying he was "suspending all travel" from the continent, and suggested they would also apply to trade. He tweeted later that trade wouldn't be affected, and the Department of Homeland Security clarified that the restriction applies generally to foreigners who've been in Europe within 14 days.
He said U.S. health insurers had agreed to waive co-payments for coronavirus treatment. A spokeswoman for America's Health Insurance Plans, a trade group, said its members had agreed only to waive co-payments for testing.
Trump's most ambitious proposals include a suspension of U.S. payroll taxes, paid sick leave for hourly workers and $50 billion in additional loans for small businesses. Both Democrats and Republicans have expressed reticence about a payroll tax cut, and about three hours after his address, House Democrats released their own plan to fight economic fallout from the virus that served to highlight how modest Trump's offering sounded.
The Democratic plan includes free coronavirus testing, paid emergency leave for workers, food security assistance and other measures to help ordinary Americans weather the outbreak.
The address demonstrated that for the president, the coronavirus remains a foreign problem that can be resolved with a characteristically Trump approach: Closing U.S. borders. He hardly acknowledged the spread of the virus within the country, where there are now more than 1,300 cases and 38 people have died.
The White House said after his speech that Trump had canceled plans to travel this week to Nevada and Colorado, and his campaign said an event with Roman Catholics planned for Milwaukee — announced just a day earlier — has also been canceled. Read more from Justin Sink.
House to Vote on Emergency Response: House Democrats will vote on their multibillion-dollar response to the economic dislocations caused by the coronavirus outbreak, legislation that would provide emergency paid sick leave, enhanced unemployment benefits, and free coronavirus testing. Speaker Nancy Pelosi (D-Calif.) plans to have the chamber vote on the bill today, a day after Trump announced his own plan to try to contain the virus and deal with the economic impact. While the House plans to act today, the Senate is unlikely to consider any legislation on the coronavirus outbreak before Congress goes on a week-long break.
Democrats said their plan was focused on the effects on workers who might face layoffs or loss of income if they get sick. It also would expand eligibility for food stamps, school lunches, infant feeding programs to aid those affected by the virus or the economic downturn and temporarily significantly increase federal spending on state Medicaid programs. Read more on what's in the bill from Erik Wasson and Laura Davison.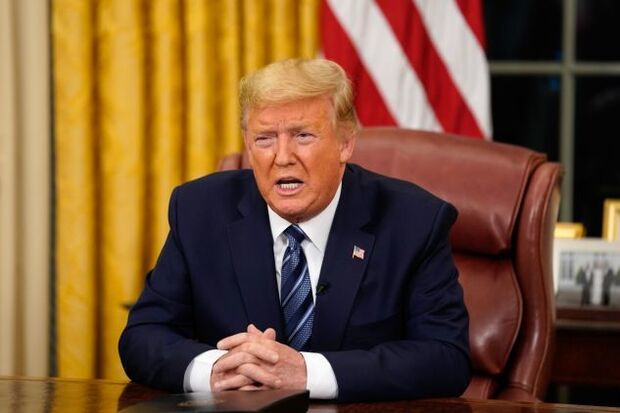 MORE ON THE HEALTH RESPONSE:
With the number of cases in the U.S. now in four figures, public-health experts have harsh criticism for how the White House has responded. "This is an unmitigated disaster that the administration has brought upon the population, and I don't say this lightly," says Ashish Jha, director of the Harvard Global Health Institute. "We have had a much worse response than Iran, than Italy, than China and South Korea." The few weeks of time the U.S. bought with the original travel restriction were frittered away, experts say. What other countries have done, and what the U.S. didn't do, is immediate and widespread testing for the virus, which Jha says is the single most important step in containing the spread of disease. Read more from Margaret Newkirk and Paula Dwyer.
The U.S. Centers for Disease Control and Prevention has long had a reputation as the global leader in managing disease outbreaks. That's now in question as the CDC is under increasing heat to defend a shaky rollout of crucial testing kits. Amid the growing criticism, Robert Redfield, the CDC's top official, testified before lawmakers on Capitol Hill yesterday to defend the agency's performance. In a heated exchange, he called the CDC's response to the virus "aggressive" and responded to reports of contaminated test kits. Read more from Emma Court.
Meanwhile, hospitals, state public-health labs and doctors say overall testing capacity around the U.S. is growing, but not fast enough. In recent days, commercial labs have started offering screening, and the CDC said the country's public-health labs can test a cumulative total of 75,000 people. But even as more testing options come online, the country remains far short of the 1.5 million tests Vice President Mike Pence said last week would soon be available. Read more from John Tozzi and Emma Court.
MORE ON THE ECONOMIC RESPONSE:
The sell-off sweeping global equities gathered pace today, putting a gauge of world stocks on course for a bear market as European shares plunged, U.S. futures pointed to more heavy losses on Wall Street and Asian benchmarks tumbled. Treasuries and haven currencies rallied. Sam Potter has the latest.
Trump's proposals to cushion the U.S. economy from the coronavirus's shock are likely to provide some relief but face an uphill battle to stave off the risk of the nation's first recession in more than a decade. The series of proposed measures didn't go far enough to bolster confidence or the markets in the hours after the speech, though some saw it as a good first step. "The president's proposals fall well short of what will be needed to avoid an economic downturn," said Mark Zandi, chief economist with Moody's Analytics. "And on net, the proposals he put forward today are probably a wash at best. You have the benefit of some of the tax proposals washed out by the negative of the travel ban with Europe." Read more from Katia Dmitrieva and Max Reyes.
From Nobel prizewinning economists to the biggest money managers, everyone is demanding fiscal stimulus, and fast, to fill what may soon be a gaping hole in the economy. Instead, there's likely to be a lag and a political fight. The Federal Reserve — the chief firefighter in past crises — can take action with just a handful of people making the call, and it already delivered an emergency cut in interest rates. But for the government to deploy the power of the purse requires bargaining among hundreds of lawmakers, from parties deeply hostile to each other. One ominous precedent, which highlights the pitfalls of trying to do fiscal policy on the fly, dates back to the 2008 crisis. Ben Holland has more.
WHAT ELSE TO KNOW:
WHO's special envoy on Covid-19 David Nabarro warned there could be some "very serious problems" in the U.S. and that the country should pay careful attention to what's happening domestically, to ensure the outbreak is understood. "I'm very pleased to see the U.S. administration is really taking the outbreak seriously," Nabarro said, but added it wasn't clear to him why certain countries had been selected for the travel ban. "As far as I'm concerned what really matters is that the U.S. administration is taking this far more seriously than they have been." Bloomberg News is following the latest developments on the pandemic.
Public tours of the U.S. Capitol will be suspended because of the coronavirus pandemic, a person familiar with the plans said yesterday. Last night, Sen. Maria Cantwell (D-Wash.) said a staffer in her Washington, D.C., office tested positive for the coronavirus. The individual had no known contact with Cantwell or other members of Congress.
Oscar-winning actor Tom Hanks said he and his wife have the pathogen. The National Basketball Association canceled all games until further notice after a player tested positive for the virus.
Happening on the Hill
House Sends FISA Bill to Senate: The House passed a bipartisan bill yesterday to extend provisions of a law authorizing surveillance of suspected spies and terrorists, overcoming criticism in both parties that it doesn't adequately insulate Americans from abuses. The 278-136 vote came as congressional leaders scramble to avoid a lapse of the national security provisions after Sunday's deadline. Attorney General William Barr, who led negotiations with House members, announced before the vote that he supported the bill.
Soon after the House vote, the bill was endorsed by top Senate Republicans including Majority Leader Mitch McConnell (R-Ky.), Thune, Graham and Intelligence Chairman Richard Burr (R-N.C.). Still, efforts to pass the bill this week could be complicated if two Republican dissidents stick to their pledge to oppose the effort. Read more from Billy House.
House Votes to Curb Trump Iran War Power: The House voted yesterday to restrict Trump's ability to take military action against Iran, following earlier Senate action on the measure. The measure comes after a U.S. air strike killed a top Iranian general in January. The bipartisan resolution, adopted 227-186, would bar U.S. troops from engaging in hostilities against Iran or any part of its government or military without authorization from Congress. The president has said he will veto the measure, and the votes in each chamber were far short of the two-thirds majorities needed to override. Read more from Daniel Flatley.
Secure 5G Bill Heads to Trump: The House yesterday passed legislation that would require the president to ensure next generation mobile telecommunications systems and infrastructure security in the U.S., and to assist allies in maximizing the security of next generation mobile telecommunications systems. The Senate passed the bill on March 4. For more on the measure, read the BGOV Bill Summary by Naoreen Chowdhury.
Murkowski Mulls Flexing Muscle on Conservation Bill: Sen. Lisa Murkowski (R-Alaska), whose big energy package this week was stalled by squabbling over a single amendment, said yesterday she won't exact revenge by gumming up a conservation bill heading to the Senate floor. But she will have plenty of leverage to make the bill more to her liking, as Murkowski chairs both the Senate Energy and Natural Resources Committee and the Appropriations subcommittee on Interior and EPA spending.
"Just being nasty to be nasty is not my deal," she said in an interview. "But there are leverage points" that she can use to make the conservation funding bill more to her liking, she added. Read more from Dean Scott.
Committee Delays Subpoena Related to Burisma: Senate Homeland Security Chairman Ron Johnson (R-Wis.) said he is postponing a committee vote to subpoena a witness linked to the Ukrainian energy company Burisma Holdings when former Vice President Joe Biden's son served on its board. The decision is a reversal from Johnson's announcement last week that he was moving to compel the testimony of a former consultant to a U.S.-based firm that represented Burisma when Hunter Biden was a well-paid board member, at a time his father oversaw U.S. policy on Ukraine.
Without providing precise reasons, Johnson told fellow members of the Homeland Security and Governmental Affairs Committee that he planned to postpone the subpoena "out of an abundance of caution." The committee had been scheduled to vote yesterday. Read more from Billy House.
Moran Unveils Federal Privacy Bill: Months-long bipartisan negotiations over a federal privacy bill have hit a rough patch in the Senate, as Sen. Jerry Moran (R-Kan.) releases his own measure after disagreements with Sen. Richard Blumenthal (D-Conn.) over whether to allow individuals to sue over privacy violations. Legislation to be unveiled by Moran today would create a national privacy standard that preempts most state laws, according to text obtained by Bloomberg Government. Missing from the measure is a private right of action—a provision to allow consumers to sue companies over privacy violations that has become a key sticking point in negotiations. Read more from Rebecca Kern and Daniel R. Stoller.
Graham Threatens Big Tech Over Child Exploitation: Tech companies drew fire yesterday over the issue of online child exploitation from a key Senate panel that's threatening a provision protecting online platforms from legal liability. Sen. Lindsey Graham (R-S.C.) has proposed the bipartisan EARN IT Act, which would establish a commission to set up voluntary best practices for the tech industry to prevent child sexual exploitation or abuse on their platforms. But Graham went further at a hearing yesterday, offering to make a separate proposal that would take away tech's liability protections and make them vulnerable to civil lawsuits if Congress can't pass his bill. Read more from Rebeccca Kern and Ben Brody.
Elections & Politics
2020 Election Outlook: Bloomberg Government provides the latest news and announcements about the 2020 elections by highlighting some key races, dates to watch and fundraising statistics. The presentation also provides maps of Senate and gubernatorial races; does the math for winning the House, Senate and presidency; and includes a delegate allocation update with graphics to illustrate the fight for the Democratic nomination. Read more.
Bullock Aims to Join Senators Who Won After Initially Saying No: Steve Bullock this week became the latest Senate contender with the luxury of jumping into a race late thanks to a history of statewide election wins and an extensive support network. Not all of them won, but there are a few recent examples of success now serving in the chamber. "You can afford to make a late announcement if you bring name ID and an infrastructure to the race," said Martha McKenna, a Democratic media consultant and a former political director of the Democratic Senatorial Campaign Committee. Read more from Greg Giroux.
Biden Team Sees No Path for Sanders to Win: Joe Biden's campaign said it would be "nearly impossible" for Sen. Bernie Sanders (I-Vt.) to make up his shortfall in delegates in the remaining months of the Democratic primary calendar. "Should our broad base of support remain — and we have seen no signs that would indicate otherwise — it will be nearly impossible for Sanders to recoup his current delegate disadvantage," the Biden campaign said in a memo that was obtained by Bloomberg News.
Even though more than half of all the pledged delegates have yet to be decided, the math is not in Sanders's favor. The count from a series of races Tuesday was incomplete as of Wednesday evening, but the Biden campaign expects the candidate to have a lead of about 160 delegates over Sanders going into next week's primaries in Arizona, Florida, Illinois and Ohio — states where he is also expected to reap the majority of delegates. Read more from Ryan Teague Beckwith and Jennifer Epstein.
(Michael Bloomberg, the majority owner of Bloomberg Government's parent company, also sought the Democratic presidential nomination. He endorsed Joe Biden on March 4.)
What Else to Know
Trump's Answer to the Oil Crash Could Be a Tax on Saudi Crude: If Trump wanted to shield U.S. shale from oil's crash, he could unleash a familiar weapon against rival producers such as Saudi Arabia: tariffs. The U.S. president's trade war with China that spawned tit-for-tat levies has shown his administration is willing to break with precedent to combat economic adversaries. Now, with Harold Hamm — a shale industry titan and Trump confidant — seeking to file a complaint against the Saudi plan to flood the market, the White House could take action.
While it's highly unlikely that any action on the tariff front against Saudi Arabia would succeed or even work, that doesn't mean that Trump won't give it a go, said energy consultant Phil Verleger. "This administration has shown that it can defy economics and the law and get away with it," he said in an interview. Read more from Pratish Narayanan, Stephen Cunningham and Jennifer A. Dlouhy.
'Forever Chemicals' Cleanup Cost: The cost to clean up a family of toxic "forever chemicals" that have polluted military bases across the country is expected to increase to at least $3 billion, a Defense Department official told House lawmakers yesterday. The Pentagon has estimated that 401 bases may be affected by the chemicals used in military firefighting foam, and cited $2 billion as the initial cost of fixing the problems.
The Defense Department will stop using the foam by the deadline of 2024 imposed by law and will "choose to accept risk" if alternatives aren't ready by that time, said Maureen Sullivan, deputy assistant secretary of defense for environment. Travis J. Tritten and Roxana Tiron have more on the hearing.
Huawei Bets Big on European 5G Patents: Even as the Trump administration pressures European countries to stop using Huawei gear, the Chinese telecommunications giant is increasing its footprint there, filing more patent applications in Europe than any other company last year. Huawei filed 3,524 patent applications, far more than the 2,858 applications filed by No. 2 Samsung Electronics, according to a report by the European Patent Office. Two thirds of Huawei's applications were in the field of digital communications, which includes the next generation of wireless communications known as 5G. Read more from Susan Decker.
To contact the reporters on this story: Zachary Sherwood in Washington at zsherwood@bgov.com; Brandon Lee in Washington at blee@bgov.com
To contact the editors responsible for this story: Giuseppe Macri at gmacri@bgov.com; Loren Duggan at lduggan@bgov.com