What to Know in Washington: Trump Looks to Regroup in Arizona
Bloomberg Government subscribers get the stories like this first. Act now and gain unlimited access to everything you need to know. Learn more.
President Donald Trump is looking to put the setback of his poorly attended Oklahoma rally behind him with a visit to Arizona today, where he'll return to a familiar issue that helped him win the White House in 2016: border security.
Trump's schedule includes a stop to tout progress building his promised border wall and an address to young supporters at a Phoenix church. The state was once a reliably Republican stronghold, but polls show that both Trump and incumbent Sen. Martha McSally (R-Ariz.) trail their Democratic rivals.
And despite the president's push to reopen the economy and downplay the coronavirus outbreak, the number of sick in Arizona is again rising. Weekly case counts are up 284% since Gov. Doug Ducey (R) lifted his stay-at-home order in mid-May, according Joe Gerald, an associate professor of public health policy and management at the University of Arizona who works with the state and colleagues to analyze Covid-19 data.
The Arizona visit follows an embarrassment for the president on Saturday, when thousands of empty seats greeted him at his first campaign rally in three months in Tulsa, Okla. He also endured reports last week from a damaging new book by his former national security adviser, John Bolton, that will go on sale today.
Trump can ill afford further erosion of his political standing, particularly in a state so crucial to his re-election efforts. Trump won Arizona by about 3.5 percentage points in 2016 but now trails presumptive Democratic nominee Joe Biden by about four points, according to an average of polling by RealClearPolitics. A loss in the state may cripple the president's hopes of re-election.
In Yuma, he'll commemorate the completion of 200 miles of border wall built during his administration, an effort to recapture momentum by revisiting his promises to stop illegal immigration. But the visit also highlights Trump's retreat from promises earlier in his presidency that 500 miles of border wall would be completed by the end of 2020. The construction project was a trademark of the president's first campaign, and Trump has begun to again champion the milestone in recent weeks. He's also claimed the wall has played a crucial role in stopping the spread of coronavirus in the U.S. Read more from Justin Sink.
Meanwhile, Vice President Mike Pence travels to Wisconsin today with Education Secretary Betsy DeVos for a roundtable on school choice.
Protests and Policing
Police Prevent Andrew Jackson Statue Pull-Down Near White House: Law enforcement in Washington D.C. deployed a pepper spray-like substance and pushed protesters away from a statue of Andrew Jackson near the White House, which demonstrators tried to tear down. Photos from reporters on scene showed ropes slung around part of the statue of the seventh U.S. president on horseback as protesters pulled in an effort to topple it. The statue sits in the middle of Lafayette Square just north of the White House. Police pushed the line of protesters back, and the statue still stands. Jackson's role in the removal of American Indian tribes from their ancestral lands has in recent years led to a reassessment of his image. Read more from Derek Wallbank.
Trump tweeted this morning he has "authorized the Federal Government to arrest anyone who vandalizes or destroys any monument, statue or other such Federal property in the U.S. with up to 10 years in prison, per the Veteran's Memorial Preservation Act, or such other laws that may be pertinent."
After Violence, Seattle Mayor Says Police to Return to Precinct: After late-night shootings inside a protest zone in Seattle left a 19-year-old dead and injured others over the weekend, Mayor Jenny Durkan said yesterday that the police department would return to a precinct building they vacated earlier this month. The roughly six-block protest zone—known as Capitol Hill Organized Protest, or CHOP—has attracted worldwide media attention and barbs from Trump since police departed on June 8, following days of escalating clashes with demonstrators after the killing of George Floyd at the hands of Minneapolis police. Read more from Noah Buhayar.
Google Employees Petition CEO to End Company's Work With Police: More than 1,600 Google employees demanded CEO Sundar Pichai end the sale of the company's technology to law enforcement, in a move they say would provide action to buttress statements against police brutality. Read more from Mark Gurman.
Happening on the Hill
Agriculture Policy—BGOV Hill Watch Live: Join Deputy Agriculture Secretary Stephen Censky, National Association of State Departments of Agriculture CEO Barbara Glenn, and BGOV's Megan Boyanton for the Spring 2020 Hill Watch Live Part II: A Deep Dive Into the State of Agriculture Policy on Thursday at 1 p.m. Panelists are set to discuss the USDA's 2020 priorities and the Coronavirus Food Assistance Program, among other issues. Register here.
State Officials to Testify in Linick Probe: two top State Department officials, Lisa Kenna and Mike Miller, are among those who will testify before two House panels for a joint investigation into Trump's firing of State Department Inspector General Steve Linick. The panels are probing whether Trump removed Linick in order to halt his office's work looking into Secretary Michael Pompeo's conduct, Ben Livesey reports.
House Republicans Urge Trump to Keep Troops in Germany: Several Republicans on the House Foreign Affairs Committee are urging Trump to reconsider his plan to cut the number of U.S. troops in Germany, arguing that the move would harm national security and weaken the deterrent to Russia and China. In a letter to the president, the lawmakers said Russian troops invaded Ukraine and annexed the Crimean peninsula after President Barack Obama withdrew some U.S. troops from Germany in 2012. They warned Trump against taking any action that would give Russia reason to question the U.S. commitment to the North Atlantic Treaty Organization. Read more from Daniel Flatley.
Lockheed F-35 Parts Aren't Ready to Use: Air crews maintaining the F-35 say they're working extra hours to keep the Pentagon's costliest aircraft flying because Lockheed Martin continues to provide parts that aren't ready to install, according to leaders of a congressional committee. The House Oversight and Reform Committee is examining Lockheed's "failure to provide F-35 spare parts that meet contract requirements," Rep. Carolyn Maloney (D-N.Y.), the committee's chairwoman, and Rep. Stephen Lynch (D-Mass.), who heads its national security panel, said in a letter to James Taiclet, Lockheed's new chief executive officer, dated June 18. Read more from Tony Capaccio.
Wicker Offers Measure to Expand Broadband: Senate Commerce Chairman Roger Wicker (R-Miss.) introduced a bill that seeks to create a fund at the Federal Communications Commission to incentivize a broadband build out, according to a committee aide. Wicker introduced his bill along with Republican co-sponsors Marsha Blackburn (R-Tenn.) and Shelley Moore Capito (R-W.Va.). It would create the Accelerating Broadband Connectivity Fund at the FCC, Rebecca Kern reports.
Coronavirus & the Economy
Pence Warns of Young People Being Infected: Vice President Mike Pence told governors yesterday that federal government health experts were worried that more young people are testing positive for the coronavirus around the country. Pence's comments echoed concerns voiced by Texas Gov. Greg Abbott (R), who signaled he may halt or reverse the state's economic reopening if the Covid-19 virus continues to expand at what he called an "unacceptable rate." Read more from Joe Carroll and Jennifer Kay.
Trump Says Virus Tests Make U.S. 'Look Bad': Trump said coronavirus testing makes the U.S. "look bad" but that they're the right thing to do, and that he was mostly joking on Saturday in saying at his Oklahoma rally that he had asked his administration to slow down the diagnostics. The remark, he told the Christian Broadcasting Network, was "semi-tongue in cheek." Read more from Justin Sink, Josh Wingrove and Jordan Fabian.
House Majority Whip James Clyburn (D-S.C.), responding to the president's Saturday remarks, asked Pence, HHS Secretary

Alex Azar

and Centers for Disease Control Director Robert Redfield if the White House has attempted to stymie virus testing efforts, Laura Davison reports.
Black Covid-19 Medicare Patients Likelier to Be Hospitalized: Black Medicare beneficiaries are hospitalized with the coronavirus at almost four times the rate of Whites, Centers for Medicare and Medicaid Services data show. The new data show that more than 325,000 Medicare beneficiaries were infected with the new coronavirus between Jan. 1 and May 16, and 110,000 were hospitalized, reports Tony Pugh.
Fearful Commuters Hold One Key to Recovery: Masks are mandatory on subways and buses in Washington. San Francisco is betting longer trains will help riders social distance. Crews disinfect New York's trains daily — stations twice a day — and are testing ultraviolet light devices to see if they kill Covid-19 on surfaces. As states gradually reopen, transit agencies are taking steps to coax back passengers who've been told for months to avoid just such tight quarters with strangers — an effort that will ultimately influence the economic recovery.
Especially in urban areas, where many people don't own cars, mass transit will be crucial to reviving economies. But enticing passengers back on board may require adding trains and buses so people can space themselves further apart — adding stress to agencies already reeling from declining ridership and rising cleaning costs. Read more from Ryan Beene.
Father's Day Delivers Boost to Restaurants: Restaurants in the U.S. had their strongest day in months as Father's Day pulled a new wave of in-house diners, according to data from online reservation company OpenTable, even in areas where coronavirus cases have skyrocketed. Seated diners were down 41% from a year earlier on June 21, compared to a 59% drop just one day earlier, according to data compiled by Bloomberg. Read more from Drew Hutchinson.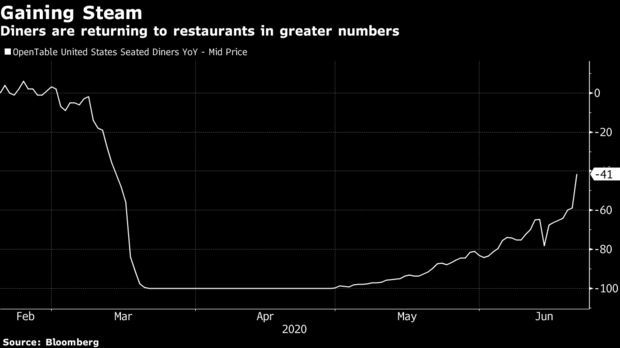 Elections & Politics
Don't Count Trump Out Despite Polls: With the nation reeling from the Covid-19 pandemic, a recession that's thrown 20 million people out of work, and waves of protests against police violence, nearly every recent poll shows Trump headed to defeat in November. And Trump's sparsely attended rally in Tulsa did little to indicate those polls are missing a hidden groundswell of support. The RealClearPolitics average of general election polls finds Joe Biden with a commanding lead that's grown to 9.5 points. A similar polling average from FiveThirtyEight puts Biden ahead by 9.2 points and leading Trump in every battleground state. On June 10, Gallup found that Trump's approval rating plummeted 10 points, to 39%.
Turning it around before Election Day will be tough. While candidate Trump recovered from a series of campaign crises to prevail in 2016, presidents have historically struggled to improve their poll numbers six months out from an election. A CNN study examining incumbent approval ratings going back to 1944 found an average shift of just 3 points between June and November of an election year. Does this mean Trump is toast? Not necessarily. Joshua Green explains why.
Trump Risks Scaring Off GOP Voters on Mail-In Ballots: Trump has repeatedly said vote-by-mail could cost him re-election. Some Republican strategists think he's right, but more because the president's words risk scaring away his own voters than because of fraud. Trump argues, without citing evidence, that mail-in balloting is open to manipulation, vulnerable to foreign forgeries and beneficial to rival Joe Biden. Yesterday, Trump tweeted, without evidence, that "millions of mail-in ballots will be printed by foreign countries" and that the election will be "rigged" against him if voting by mail persists. Experts say it would be extremely difficult to forge mail-in ballots given security measures in place in local and state elections offices.
But although research has shown that vote-by-mail gives no inherent advantage to either party, some Republican strategists say Trump's repeated attacks are turning off GOP voters at a time when coronavirus adds risk to in-person voting, giving Democrats an opening to organize this fall. Read more from Ryan Teague Beckwith.
University of Michigan Cancels October Debate: The University of Michigan is withdrawing its offer to host the second presidential debate in October over coronavirus concerns, the Detroit Free Press reported yesterday. Trump and Democratic nominee Joe Biden were slated to face off in Ann Arbor on Oct. 15. The Free Press, which cited unnamed sources, said an official announcement would be released today. Read more from Emma Kinery.
What Else to Know Today
Trump Says China Deal 'Fully Intact' After Navarro Roils Markets: Trump tweeted the phase one trade deal with China is "fully intact," after his adviser Peter Navarro sowed confusion and spurred a temporary stock slump with comments interpreted as a decision to end the agreement. Navarro responded to a long question by Fox News interviewer Martha MacCallum asking whether aspects of the deal were "over" by saying: "It's over. Yes." Read more from Chelsea Mes and Jeffrey Black.
Treasury Secretary

Steven Mnuchin

rejected John Bolton's assertion in a new book that he's afraid of imposing economic sanctions on adversaries. Read more from Saleha Mohsin.
Nuclear-Arms Talks Between U.S. and Russia May Reconvene in July: The U.S. and Russia may resume arms-control talks as early as July after discussions in Vienna yielded enough progress to continue negotiating over nuclear-weapons stockpiles. The New START treaty between Washington and Moscow is set to expire in February and a failure to extend the nuclear pact or agree to a new one could raise risks posed by atomic arms. The Trump administration has insisted that China take part in the talks so that they can move forward, a condition that Moscow has rejected. Read more from Boris Groendahl and Jonathan Tirone.
DeVos Expands Foreign Gift Reporting: Education Secretary DeVos released a document yesterday significantly adding to the data schools must report on contracts or gifts from foreign organizations. U.S. law currently requires colleges to report income of $250,000 or more in a calendar year from any overseas source to the federal government. DeVos's document raises the number of questions colleges must answer from 6 to 31 and requires them to share the names of people or entities providing funding, Andrew Kreighbaum reports.
U.S. Seeks Indefinite Arms Embargo on Iran: The U.S. has shared a draft resolution with members of the United Nations Security Council that would extend an arms embargo on Iran indefinitely, according to diplomats. With the ban on arms transactions with Iran set to expire in October under terms of the 2015 nuclear deal, the U.S. draft calls on all countries to "prevent the direct or indirect supply, sale, or transfer" of weapons to and from the Islamic Republic unless a Security Council committee approves it at least 30 days in advance on a case-by-case basis, according to a copy of the text obtained by Bloomberg News. Read more from David Wainer.
Trump's Incoming Work Visa Freeze Will Be Hit With Lawsuits: The Trump administration's impending action to temporarily bar foreign guestworkers from entering the U.S. likely will be met with litigation arguing that the order violates federal immigration and administrative laws, attorneys told Bloomberg Law. Read more from Genevieve Douglas.
Murdoch Looks for Win Against Google: Media mogul Rupert Murdoch is on the cusp of his biggest win yet in his war against Google: a Justice Department antitrust lawsuit against the internet giant. Media companies have long griped about Google's dominance of the digital advertising market, but few are as outspoken — or as influential — as Murdoch's News Corp, David McLaughlin reports.
To contact the reporters on this story: Zachary Sherwood in Washington at zsherwood@bgov.com; Brandon Lee in Washington at blee@bgov.com
To contact the editors responsible for this story: Giuseppe Macri at gmacri@bgov.com; Loren Duggan at lduggan@bgov.com; Michaela Ross at mross@bgov.com
Stay informed with more news like this – from the largest team of reporters on Capitol Hill – subscribe to Bloomberg Government today. Learn more.