What to Know in Washington: Trump Divides GOP on Stimulus
Less than a week after Senate Republicans united behind a slimmed-down fiscal stimulus package, President Donald Trump renewed divisions in the party over how much Covid-19 relief the U.S. economy needs.
Trump urged the GOP in a tweet yesterday to "Go for the much higher numbers" in new coronavirus stimulus. He followed up at a White House news conference by saying he liked "the larger numbers" in a compromise $1.5 trillion stimulus plan from a bipartisan group of House lawmakers.
"I agree with a lot of it," Trump said of that proposal.
It's well above the $1.1 trillion the White House previously backed and much higher than the $650 billion Senate Republicans more recently proposed. White House Chief of Staff Mark Meadows said the $1.5 trillion figure wasn't a "show-stopper," but it appeared that way to some Republicans.
Sen. John Thune (R-S.D.), the party's No. 2 in the chamber, said $1.5 trillion would cause "a lot of heartburn" for GOP members. His colleague Sen. Ron Johnson (R-Wis.) underlined last Thursday's $650 billion bill was the right size. That legislation was blocked by Democrats who called it insufficient.
The Republican rifts drew focus away from infighting on the Democratic side, with Speaker Nancy Pelosi (D-Calif.) rejecting moves within her caucus to vote on something smaller than the $3.4 trillion initiative the House backed in May. She and Senate Minority Leader Chuck Schumer (D-N.Y.), who now favor $2.2 trillion in relief, quickly applauded Trump's new flexibility on the top-line number, issuing a joint statement expressing encouragement.
While the parties struggle to keep a united front, the impasse between the main negotiators remains. While Pelosi and Treasury Secretary Steven Mnuchin conferred yesterday on a vital stopgap spending bill to keep the government open past the Oct. 1 start of a new fiscal year, they didn't discuss stimulus. Read more from Erik Wasson and Laura Litvan.
U.S. Recovery Lags Europe: Economic activity is stabilizing across most advanced economies, though still far below pre-Covid levels, according to Bloomberg Economics gauges that integrate high-frequency data such as credit-card use, travel and location information. Norway, Germany and Japan remain at the forefront of the recovery. After a temporary downturn in France, Italy, and Spain on concern about fresh outbreaks, activity there has increased in the past two weeks. Sweden has recently joined the group of the laggards — the U.S., U.K., and Canada.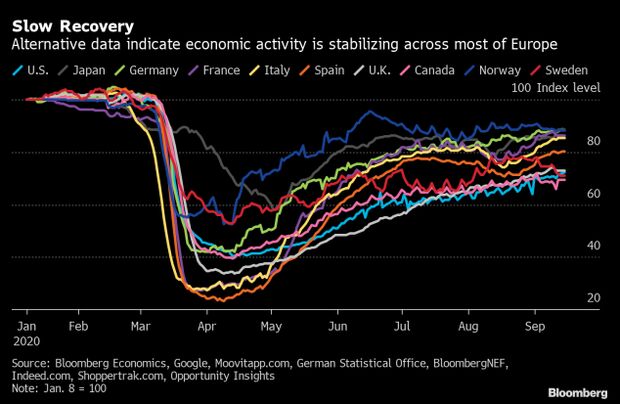 Fed Plans Changes to Main Street Program: Federal Reserve Chairman Jerome Powell said the Fed will be making some changes to its Main Street Lending Program, which is aimed at helping small- to mid-sized companies and nonprofits that have struggled during the pandemic. Currently banks that make the loans in the program, and subsequently sell 95% of each loan to the Fed, are applying the same underwriting standards that they would to their regular loans, Powell said. The Fed is working to make sure banks understand the terms of the program clearly and that it's meant for borrowers that don't have access to borrowing under normal terms right now. Read more from Catarina Saraiva.
Fed officials held interest rates near zero and signaled they would stay there for at least three years, vowing to delay tightening until the U.S. gets back to maximum employment and 2% inflation. The U.S. central bank "expects to maintain an accommodative stance" until those outcomes are achieved, it said in a statement yesterday following a two-day meeting that beefed up its description of future policy, Catarina Saraiva and Christopher Condon report.
Probe of Jobless-Aid System Hints at Long-Term Fix: The U.S. Labor Department watchdog is developing a comprehensive report on how some of the country's most-populous states have processed unemployment insurance claims during the pandemic, a study poised to inform legislative discussions about whether to reinstate enhanced benefits. The review, part of the DOL Office of Inspector General's effort to evaluate pandemic response, is wide-ranging and extends beyond a traditional focus on rooting out fraud and improper payments, according to a copy of a notification letter Bloomberg Law obtained and interviews with eight state employment officials and outside experts. Read more from Ben Penn and Chris Marr.
Tax Credits Would Aid Companies: As Congress debates extending the Paycheck Protection Program for small businesses, a new Brookings Institution report proposes just scrapping the rescue loan program and replacing it with more targeted tax credit measures. Under its proposal, small firms that have seen a revenue drop of 30% in a given quarter would be eligible for two tax credits that could provide them with as much as $17,000 per employee, per quarter. The funds could go toward both payroll and non-payroll expenses, according to the report from the Hamilton Project, an economic policy initiative at the Brookings think tank. Read more from Michael Sasso.
Also Happening on the Hill
Senate Passes Bipartisan Conservation Bill : The Senate last night on a voice vote passed legislation that would reauthorize several important conservation programs and expand resources to study chronic wasting disease in deer, elk, and moose. America's Conservation Enforcement Act (S. 3051), sponsored by Sens. John Barrasso (R-Wyo.), Tom Carper (D-Del.), and Martin Heinrich (D-N.M.), would reauthorize until 2025 the North American Wetlands Act, Chesapeake Bay program, and National Fish and Wildlife Foundation Act. Action on the legislation now moves to the House.
Bipartisan House Plan to Combat Climate Change: A House bipartisan proposal expected this week aims to invest significantly in clean energy infrastructure, technology, and tax incentives to reduce greenhouse gas emissions over the next 30 years. The discussion draft, obtained by Bloomberg Government, would create a clean electricity standard for the power sector to reduce carbon dioxide emissions by 80% by 2050. The measure also calls for expanded resources for technology for carbon capture, use and storage, and would establish a revamped regulatory framework to modernize the energy grid. Kellie Lunney has more.
Bill Focuses on 'Immediate' Wildfire Causes: Bipartisan legislation would seek to address the most immediate causes of extreme wildfires in the West even as climate change is understood to be driving their severity. Sens. Dianne Feinstein (D-Calif.) and Steve Daines (R-Mont.) introduced a measure that would provide funding for commercial timber harvesters to cut down dead trees killed by drought and insects that create fire fuels. Bobby Magill has more.
Richmond to Join Ways and Means: Rep. Cedric Richmond (D-La.) will join the House Ways and Means Committee, filling the spot vacated by the late Rep. John Lewis (D-Ga.), who died in July. "Richmond will honor Congressman Lewis's legacy and commitment to justice as he takes on this new responsibility," Chairman Richard Neal (D-Mass.) said in a statement, Laura Davison reports.
Speaker

Nancy Pelosi

(D-Calif.) also in a statement announced Rep. Nanette Barragan (D-Calif.) will join the House Committee on Natural Resources.
Nominations: The White House announced yesterday it sent to the Senate the nominations of Michael Rigas to be deputy director for management for the Office of Management and Budget, Nathan Simington to be an FCC commissioner and Allen Dickerson to be a member of the Federal Election Commission.
Elections & Politics
Democrats on Path to Gain Arizona Seat: The Arizona race for the U.S. Senate gives Democrats their biggest opportunity to pick up a crucial seat in their drive to retake the majority, in an election dogfight between two former combat pilots. Sen. Martha McSally (R-Ariz.), an Air Force veteran with a mixed record of hard-fought election campaigns in the Southwest state, has failed to translate her two years as an appointed member of the Senate into a convincing poll lead in the final weeks of the campaign.
She's up against Mark Kelly, a Navy veteran who went on to become a space shuttle pilot. The two are well known to each other: McSally ran for the U.S. House twice against a top aide to Kelly's wife, Gabrielle Giffords, a representative who survived a 2011 assassination attempt. McSally won the second of those contests, in 2014, but then came up short in a 2018 run for the Senate—only to enter the upper chamber care of an appointment by the governor, a fellow Republican. Read more from Steven Dennis and Allison McCartney.
Biden Warns of Brexit Impact: Biden said that a U.K.-U.S. trade deal depends on the continued respect for the Northern Ireland peace process, a warning to Prime Minister Boris Johnson as he seeks to break international law over Brexit and Belfast. "We can't allow the Good Friday Agreement that brought peace to Northern Ireland to become a casualty of Brexit," he said on Twitter. Joe Mayes has more.
Biden Quest for Latino Votes: Biden's latest Spanish-language television ad is deliberately unlike any his campaign has produced, a vivid departure from the traditional formula of simply translating English ads. The ads mock Trump with a satirical twist not seen in Biden's slow-moving, dramatic English-language ads, targeting a crucial voting bloc in must-win Florida. The Biden campaign has employed native Spanish speakers to craft their own ads steeped in cultural references and even the regional accents that resonate with diverse Hispanic audiences. Different ads are targeted to Cuban Americans in South Florida, Puerto Ricans in North Florida, and Mexican Americans in Arizona and Nevada. Read more from Gregory Korte and Bill Allison.
FBI Aids Twitter, Facebook Against Russia: The FBI hasn't seen evidence that foreign adversaries have attempted to tamper with U.S. voting systems but has alerted social media platforms about malign influence operations, especially by Russia, Director Christopher Wray said. "We haven't seen cyber attacks to date this year on voter registration databases or on any systems involved" in voting, Wray told a cybersecurity conference. Read more from Chris Strohm.
Democrats Win Louisiana Bid to Extend Mail Vote: A federal judge yesterday halted a push by Louisiana's Republican secretary of state to roll back absentee and early voting expansions that were adopted for the primary elections due to the coronavirus. Chief Judge Shelly Dick of the U.S. District Court for the Middle District of Louisiana described Secretary of State Kyle Ardoin's (R) proposals to undo the plans enacted in the summer as "bumbling attempts to fix what was not broken." Read more from Jennifer Kay.
Ohio GOP Escalate Bid to Curb Drop Boxes: Ohio's Republican leaders plan to challenge a finding that a rule limiting each county to one ballot drop box during the election regardless of population size is "arbitrary and unreasonable." Ohio Secretary of State Frank LaRose yesterday asked state court Judge Richard Frye in Columbus to allow an immediate appeal of his opinion a day earlier, in which LaRose's justification for the cap was deemed "nonsense." Erik Larson has more.
Obama Readies Memoir: Former President Barack Obama has written a two-volume memoir he calls "an honest accounting of my presidency, the forces we grapple with as a nation, and how we can heal our divisions and make democracy work for everybody." The first volume will be released after the election, on Nov. 17, 2020, according to a tweet from Obama.
The Coronavirus Pandemic
Trump Rebuts Doctors on Vaccine: A coronavirus vaccine could be distributed widely to the public as early as October, Trump said yesterday, contradicting statements by some of his top health officials that ranged from the end of March to the end of 2021. "What we've done with the streamlining" has "been incredible," Trump said during a news conference. The administration's goal is to have 100 million vaccine doses available by Dec. 31, Vice President Mike Pence said in an interview on Fox News late yesterday. Read more from Josh Wingrove, Riley Griffin and Michelle Fay Cortez.
HHS Steered $700 Million From CDC: Trump administration officials steered $700 million from the CDC to fund Operation Warp Speed to develop Covid-19 drugs and vaccines, according to people familiar with the matter. The funding came from money Congress appropriated to the agency in stimulus legislation earlier this year, said the people. Read more from John Tozzi.
Biden Says He Would Order Masks Nationwide: Biden said he would issue an executive order requiring people to wear face masks in public if it were deemed legal, after first urging governors to do so in their states. Biden urged Americans to wear masks and continue social distancing, as public health experts warn the spread of the virus will accelerate as the weather cools. Biden's comments came after he received a lengthy briefing on vaccine development, and he said Trump is trying to interfere in the process for political purposes. Tyler Pager has more.
Coughing Dummies Help Track Virus on Planes: Over the past four months, United Airlines and Boeing have been flying jetliners loaded with mannequins, aerosol sprays, sensors and scientists in an effort to understand how diseases move through air on passenger planes. The research is just one small part of a sweeping global campaign to figure out the threats posed by the coronavirus. But for the airline industry, the results could help determine how quickly they'll be able to rebound from the edge of financial disaster, Justin Bachman reports.
What Else to Know Today
Branstad Says Deputy to Act As U.S. Ambassador to China: Terry Branstad, the retiring U.S. ambassador to China, said his deputy, Rob Forden, will step into the job, according to the text of a speech posted on the embassy's Weibo. Branstad says he is confident that Forden and other staff will continue their important jobs. Branstad is retiring in early October, the embassy confirmed Monday, after Trump touted the former Iowa governor's expected campaign help in a key swing state.
Meanwhile, one of the U.S. State Department's most senior officials landed in Taipei amid increased tensions between Washington and Beijing over Taiwan, including a sustained series of Chinese military activities close to the island. Undersecretary Keith Krach landed Thursday evening in Taiwan, said the American Institute in Taiwan, the U.S.'s de facto embassy. Krach, who's responsible for economic growth, energy and the environment, is the second senior U.S. official to visit Taipei in the past two months after an August trip by Health and Human Services Secretary Alex Azar. Samson Ellis has more.
Trump Unhappy With TikTok Deal So Far: Trump said he's unhappy with what he's heard about the terms of Oracle's bid for the Chinese-owned TikTok but added he won't be briefed on details until later this morning. "Just conceptually, I can tell you I don't like that," Trump said after a reporter told him that TikTok's Chinese owner, Bytedance, would hold a majority of the company's assets, with Oracle acquiring a minority stake. "I'm not prepared to sign off on anything," he said. Read more from Jordan Fabian and Mario Parker.
Barr Says 'Black Lives Matter' Doesn't Care About Black Lives: The Black Lives Matter movement doesn't care about Black lives but instead wants to use African Americans who were killed at the hands of police as "props" to advance its political agenda, Attorney General William Barr said. "They're not interested in Black lives, they're interested in props," Barr said last night while speaking at an event on constitutional law in Arlington, Va. "A small number of Blacks were killed by police during conflict with police — usually less than a dozen a year — who they can use as props to achieve a much broader political agenda." Read more from Chris Strohm.
To contact the reporters on this story: Zachary Sherwood in Washington at zsherwood@bgov.com; Brandon Lee in Washington at blee@bgov.com
To contact the editors responsible for this story: Giuseppe Macri at gmacri@bgov.com; Loren Duggan at lduggan@bgov.com; Michaela Ross at mross@bgov.com