What to Know in Washington: Small Business Fund Talks Near Deal
Congressional leaders are on the brink of a deal to bring a fresh round of pandemic relief to small businesses, seeking to overcome partisan squabbling less than a week after the $349 billion Paycheck Protection Program ran out of funds.
The Senate scheduled a late afternoon session today in anticipation of approving an agreement on a nearly $500 billion stimulus bill, including $310 billion to replenish the small business program. But negotiations with the Trump administration ended last night without a deal being reached.
House Majority Leader Steny Hoyer (D-Md.) said in a statement to representatives released shortly afterward that a House vote could occur "as early as Thursday."
Passage would allow the government take new applicants for the program, which provides forgivable loans to small business that keep employees on the payroll for eight weeks.
"Republicans have been trying to secure more funding for this critical program for a week and a half," Majority Leader Mitch McConnell (R-Ky.) said on the Senate floor yesterday. "Colleagues, it's past time, past time, to get this done for the country."
Speaker Nancy Pelosi (D-Calif.) said on CNN Monday night there was an agreement on the principles of the aid package and that negotiations were "down to the fine print."
The basic outline of the plan was announced Sunday after Democrats secured additional funds: $50 billion to $60 billion for a separate Economic Injury Disaster Loan program; $75 billion for hospitals, with a significant portion aimed at those in rural areas; and $25 billion for virus testing. Read more from Erik Wasson.
Lobbyists Complain About Handling of Loans: Political consulting firms and lobbying groups argue the Trump administration isn't making sense about why they've been deemed ineligible for pandemic-related rescue aid. Lobbying and consulting firms are entitled to Paycheck Protection Program loans because the money would be paid back and therefore isn't a subsidy of political views that's barred by federal regulations, the American Association of Political Consultants said in a filing yesterday in the suit filed last week. Read more from Erik Larson.
Small Firms Say They Haven't Gotten Loans: Most U.S. small businesses that applied for two federal coronavirus relief programs haven't received any money yet, with most still planning to apply when funds ran out last week, a new survey shows. Only around 20% of small businesses that applied for a loan under the Paycheck Protection Program had money deposited in their account as of April 17, according to a survey that the National Federation of Independent Business conducted of its members. Few members received money under the Economic Injury Disaster Loan initiative, a virus aid program that's separate from PPP, the survey showed. Read more from Mark Niquette.
What to Watch Today
The Senate will meet for a pro forma session at 4 p.m., where it could vote on emergency coronavirus supplemental legislation. The House holds a pro forma at 10:30 a.m.
President Donald Trump meets with New York Gov. Andrew Cuomo (D) at 4 p.m.
The White House holds a Coronavirus Task Force briefing at 5 p.m.
House Homeland Security Chairman Bennie Thompson (D-Miss.) will host a conversation at 2 p.m. today with former Homeland Security Secretary Jeh Johnson on the coronavirus and homeland security. The YouTube livestream will be moderated by CNN political analyst April Ryan.
Economic Actions & Industry Pains
Job Losses to Hit Harder for Black, Hispanic Families: The millions of coronavirus-caused job losses will disproportionately impact the spending patterns of families of color, according to a study today from the JPMorgan Chase Institute. Black and Hispanic families will likely experience larger income declines than white families because they're slightly more likely to be paid hourly wages and less likely to have access to paid leave, the authors wrote in a companion paper published by the institute. Such families already tend to have have lower incomes than white families. Read more from Reade Pickert.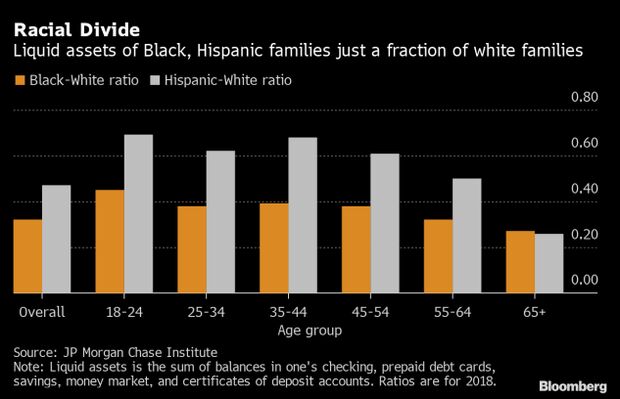 Trump Wants 75 Million Barrels for Strategic Reserve: Trump said he plans to add up to 75 million barrels of oil to the country's Strategic Petroleum Reserve, taking advantage of record low prices for crude. Oil is at "a level very interesting to a lot of people right now," Trump said yesterday. "That would be the first time in a long time it's been topped out. We'll get it for the right price." The president has sought to help U.S. oil companies from record low prices. But with demand hurt by the global coronavirus shut down, crude has continued to plunge. Read more from Justin Sink and Josh Wingrove.
Homeowners Grab at Forbearance: Almost 6% of mortgage borrowers in the U.S. have stopped making their payments following the enactment of the latest stimulus package, which allows for easy forbearance. The share of home loans in forbearance jumped to 5.95% during the week ended April 12, up from 3.74% the previous week, according to a poll from the Mortgage Bankers Association. Only 0.25% of all loans were in forbearance during the week of March 2. Read more from Christopher Maloney and Prashant Gopal.
Businesses Fearing Exclusion From Fed Loans Push For Change: A substantial number of businesses may be barred from the $2.3 trillion business-loan program created by Congress and operated by Treasury and the Federal Reserve. The latest economic relief law authorizes the Fed to extend low interest loans to a variety of businesses. But because of a wrinkle in the law, some businesses organized as S corporations may be excluded from accessing that assistance, highlighting the political tightrope the Trump administration and Congress have to walk in making aid accessible to large employers while ensuring those funds aren't abused. Read more from Colin Wilhelm.
Student Borrower Benefits Sought by Lobbyists: College groups called on top lawmakers to extend through 2021 new benefits for student borrowers created in response to the coronavirus pandemic. They also called for lowering interest rates for new student borrowers, so they aren't deterred from entering college. Those groups said Congress should restore bankruptcy protections for debtors and make sure those pursuing federal loan forgiveness aren't hit with tax bills. Read more from Andrew Kreighbaum.
Treasury Hands Out $2.9 Billion to Airlines: The Treasury Department disbursed $2.9 billion to passenger airlines in the first round of payroll assistance to an industry suffering financially from a pandemic-induced shutdown. The assistance that's been handed out so far went to two "major" airlines and 54 smaller passenger carriers, the department said in a statement late yesterday. More payments will be sent out on a rolling basis, it said.
The Treasury Department didn't say which carriers received the money yet. However, it said American Airlines, Delta Air Lines, Southwest Airlines and United Airlines, have struck agreements for aid. Read more from Saleha Mohsin.
Travel Group Projects $520 Billion Loss: A U.S. travel industry group estimates that lost revenue as a result of the coronavirus pandemic could approach $520 billion by the end of the year, with much of the tourism industry still depressed in December. The U.S. Travel Association—which represents airlines and other transportation companies, local attractions, tourism bureaus and other parts of the industry—released an economic analysis yesterday that said the sector is on track to lose 6.9 million jobs and $83 billion in revenue in April alone. Read more from Ben Brody.
White House May Suspend Small Business Federal Regulations (WaPo): White House and Trump administration officials plan to suspend or repeal federal regulations affecting small businesses and expand a program that mandates agencies to annul two regulations for every additional one they issue, Washington Post reports, citing two unidentified people familiar. Read more from Sarah Jacob.
Iowa Sends National Guard to Protect Hog Supplies: Hundreds of National Guard personnel are being activated in Iowa as the coronavirus sweeps through meat-processing plants in a state that accounts for about a third of U.S. pork supply. Iowa Gov. Kim Reynolds (R) said 250 National Guard members have been moved to full-time federal duty status and could help with testing and contact tracing for workers at plants operated by Tyson Foods and National Beef Packing Co. Stephen Joyce, Michael Hirtzer, and Jen Skerritt have more.
Research, Treatment & Coordination
Pence Says U.S. Has Virus Test Capacity for States to Reopen: The Trump administration declared yesterday the U.S. has enough laboratory testing capacity for states to begin reopening economies shuttered to fight the coronavirus outbreak, though governors say they still lack supplies such as swabs needed to diagnose sick people. Trump and U.S. governors have sparred for days over who is responsible for expanding testing for coronavirus infections, which public health experts say isn't sufficient to begin relaxing the social-distancing practices adopted to curb the outbreak.
"We told the governors once again today, that by our best estimates, we have enough testing capacity today for every state in America to go to phase one" of the White House's reopening plan, Vice President Mike Pence said at a news conference. They also need to "meet the other criteria of 14 days of reduced cases and sufficient hospital capacity to prepare for any eventuality that may occur."
Pence also said the Centers for Disease Control and Prevention will dispatch teams of 10-12 people to each state to help with "contact tracing" — identifying people who have had contact with the infected and testing them for infection as well. Read more from Emma Court and Josh Wingrove.
Southern Republican governors who were among the last to institute shelter-at-home orders are now pushing to become the first to lift them. Tattoo parlors, movie theaters and nail salons in Georgia will begin opening up this week along with beaches, florists and shoe shops in South Carolina.
The announcements came yesterday after Georgia Gov. Brian Kemp spent the weekend talking to his fellow Republican governors in the South about how best to re-open their economies in response to guidelines issued last week by the White House. South Carolina Gov. Henry McMaster said he was forming an "Accelerate South Carolina" task force to look at quickly and safely opening up the state's economy. "We must be ready to stomp on the gas when the green light comes up," McMaster said. Read more from Margaret Newkirk and Polly Mosendz.
Trump Says He'll Suspend Immigration Over Virus: Trump said he'll sign an executive order temporarily suspending immigration into the U.S. as the country tries to contain the spread of the coronavirus. Trump made the announcement by tweet late last night, and did not offer specifics, such as the time frame or the scope of who would be affected. The White House did not immediately respond to a request for comment. He tweeted that he made the decision, "in light of the attack from the Invisible Enemy, as well as the need to protect the jobs of our GREAT American Citizens."
It's the latest measure taken by Trump and his administration to restrict the U.S. border amid the pandemic. Trump has imposed broad travel restrictions on China, Europe, Canada and Mexico to curb the virus's spread, and the State Department last month temporarily suspended routine visa services at embassies and consulates. The U.S. Citizenship and Immigration Services already suspended routine in-person services, but is still offering some emergency services. Read more from Josh Wingrove.
Printer Fights to Make N95 Masks: The nation's largest industrial 3-D printer is getting a crash course in federal bureaucracy as it scrambles to make millions of critically needed N95 respirators for essential workers. Edward Dominion, head of D6 Inc., is feeling optimistic he'll win quick approval from the Food and Drug Administration for a new N95 respirator the Portland-based company designed to meet or exceed federal safety standards. If approved, he said his D6 facilities could manufacture up to 7.2 million masks a day. But there's a lot of regulatory hurdles in the way. Read more from Cheryl Bolen.
Gilead Drug Virus Response to Open Data Floodgates: The first look at how well Gilead's Ebola drug treats Covid-19 patients in an NIH clinical trial should come in a matter of weeks, the agency's head said yesterday. If available, that initial analysis would come a little more than two months after the trial began. It's also the first wave in a deluge of data the National Institutes of Health and the FDA will need to assess as they aggressively shepherd in new medicines to treat the viral outbreak. Read more from Jeannie Baumann.
Lobbying Update
Airlines, Amazon Upped Lobbying During Virus: U.S. industries including airlines, pharmaceutical firms and Big Tech boosted their lobbying in the first three months of 2020 as the coronavirus went from a regional concern to a worldwide pandemic that prompted governments to spend trillions of dollars in aid.
The airline trade association Airlines for America spent nearly $2 million in the first quarter, up more than 50% from almost $1.3 million in the same period a year earlier, and secured financial assistance as demand for air travel plunged, according to lobbying disclosures filed with Congress yesterday. Amazon and Facebook set spending records in the quarter, as did Gilead, which is developing a drug being tested to treat coronavirus infections. Read more from Ben Brody and Mark Niquette.
Ligado Triumphs With Hired Hands Close to Trump: Ligado Networks overcame powerful opposition to its proposed broadband network with some help from inside-the-Beltway figures close to Trump's White House.
As late as Friday, the Defense and Transportation departments said they were "strongly opposed" to Ligado's plan to use airwaves they feared would interfere with global positioning system navigation. The Democratic and Republican leaders of both armed services committees also called last week for rejecting Ligado's plan. And in March, agencies including the departments of Interior, Commerce, Justice, Energy and Homeland Security all signed a letter opposing the company's plan.
But yesterday the Federal Communications Commission, led by a Trump-appointed chairman, Ajit Pai, reversed itself and signed off on the plan anyway, realizing a vision set out by hedge fund manager Philip Falcone a decade ago. Read more from Todd Shields and Megan Wilson.
Politics & Elections
Biden Posts His Best Fundraising Month, Narrowing Trump Gap: Former Vice President Joe Biden raised $46.7 million in March, his best monthly haul of the U.S. presidential campaign. Biden ended March with $26.4 million in cash on hand, according to his latest filing with the Federal Election Commission. He still lags behind Trump's fundraising juggernaut, but coupled with a strong showing by the Democratic National Committee, he's started to gain ground. Biden and the DNC brought in $79.4 million, topping the $63 million Trump, the Republican National Committee and two supporting committees raised. The GOP still has more cash on hand — $240 million at the end of March — than the combined $62.2 million Biden and the DNC had. Read more from Bill Allison and Misyrlena Egkolfopoulou.
UAW Backs Biden Reopening Plan: The United Auto Workers endorsed a plan to re-open the economy proposed by Biden after the union was left off Trump's White House task force on the topic. The labor group, which represents hourly workers at General Motors, Ford and Fiat Chrysler, has yet to officially back a presidential candidate. But UAW President Rory Gamble, who is pressuring automakers not to resume production until it's safe to do so, said Biden's plan is a "nonpartisan, science-based approach." Read more from Keith Naughton.
Bloomberg Spent More Than $1 Billion: Michael Bloomberg put $1 billion into his short-lived Democratic presidential bid, a record-shattering amount for any campaign, let alone one that lasted four months, according to his latest filing to the FEC. The former New York mayor also spent $176 million in March as he wound down his operation, including $18 million that he transferred to the Democratic National Committee. His campaign ended March with $11 million in the bank and $14.8 million in debt. Bloomberg is the founder of Bloomberg Government's parent company. Read more from Bill Allison and Misyrlena Egkolfopoulou.
RNC Official Joins Melania Trump Team: First Lady Melania Trump announced yesterday that Marcia Lee Kelly, chief executive of the 2020 Republican National Convention Committee, would be joining her staff as a senior adviser. Kelly, who will be designated a special government employee, will continue working on the Charlotte, N.C., convention set for Aug. 24, in addition to her duties at the White House, according to RNC spokesman Steve Guest. The appointment formalizes the post for Kelly, who has been advising the first lady in recent months. Read more from Justin Sink.
What Else to Know Today
House to Consider Proxy Voting Proposal This Week: The House will vote this week on a rule change to let members cast future votes by proxy for colleagues who don't travel to Washington because of coronavirus-related concerns. Hoyer said in a statement to representatives released last night the chamber was "expected to vote on a rule change related to remote voting by proxy."
The matter will be brought up for approval on the same day House members vote on an expected deal to provide more economic stimulus funds for small businesses and other needs resulting from the coronavirus pandemic. Hoyer made the announcement as part of an update on voting for the coronavirus package. An agreement with the Trump administration and Senate leaders was not reached on Monday, and Hoyer said a House vote could occur "as early as Thursday." Read more from Billy House.
Move to Cut WHO Funding Prompts Fierce Debate: Trump's decision to halt funding to the World Health Organization has sown confusion within his administration, as staff argue over what the decision means and whether some programs that the agency oversees should be protected from the cut. In the days since Trump suspended funding to the WHO for a review period of "60 to 90 days," some administration officials have argued that, no matter what, the organization should get far less than the $400 million to $500 million it receives each year from the U.S. They see the review as a way to redirect money permanently to other organizations focused on health-care issues.
Others insist the halt is aimed — as the president said when he announced the cuts last week — at seeking reforms from the WHO and cleaning up what the administration sees as the pro-China bias it showed during the early stages of the coronavirus pandemic. They believe the agency has a crucial role to play fighting the virus and also in programs that receive the bulk of the U.S. funding, such as eradicating polio, fighting HIV and combating measles. Read more from Nick Wadhams.
Trump Signals Talks Over Troops in Korea Still Stalled: Trump said yesterday he's pleased the party of South Korea's president did well in recent elections but signaled that talks over how much the U.S. ally pays to host troops there are still stalled. "South Korea's a very wealthy nation," Trump told reporters at the White House yesterday. "We're asking them to pay for a big percentage of what we're doing, it's not fair." A one-year cost-sharing agreement with South Korea expired on Dec. 31 and the two countries have struggled to reach a new accord, with the U.S. initially seeking a five-fold increase in the amount that Seoul contributes for American forces. Read more from Justin Sink and Josh Wingrove.
Mystery Surrounds Kim Jong Un's Health: Mystery surrounded Kim Jong Un's health after U.S. and South Korean officials gave differing accounts of the North Korean leader's condition following his unusual absence from recent holiday celebrations. Kim was in critical condition after undergoing cardiovascular surgery last week and the Trump administration wasn't sure of his current health, said U.S. officials, who asked not to be identified. One of the officials said the White House was told Kim took a turn for the worse after the procedure, while CNN earlier cited a U.S. official with direct knowledge saying the 36-year-old leader may be in "grave danger." The White House declined to comment.
South Korean President Moon Jae-in's office said Kim was conducting "normal activities" in a rural part of the country assisted by close aides and no special movements were detected. Moon spokesman Kang Min-seok said earlier there was nothing to confirm on the speculation over Kim's health. Read more from Jennifer Jacobs and Shinhye Kang.
The mystery surrounding Kim's health exposes deep uncertainty about North Korea's line of succession more than eight years after he took power. While the Kim family has ruled for seven decades by passing power between male heirs like other hereditary dynasties, the 36-year-old Kim has named no successor. His own children are still young and the ruling family's surviving adults all face potential barriers to their rise. Kanga Kong and Jon Herskovitz list the possible successors.
To contact the reporters on this story: Zachary Sherwood in Washington at zsherwood@bgov.com; Brandon Lee in Washington at blee@bgov.com
To contact the editors responsible for this story: Giuseppe Macri at gmacri@bgov.com; Loren Duggan at lduggan@bgov.com