What to Know in Washington: Senate Eyes $10 Billion in Covid Aid
Schumer, Romney reach agreement on $10 billion Covid relief bill
Jackson's nomination to high court gets two more GOP supporters
Senate Democrats and Republicans struck a deal to provide $10 billion for Covid-19 vaccines and therapeutics after Democrats pulled a last-minute attempt to include global vaccination funds in the bill.
Senate Majority Leader Chuck Schumer (D-N.Y.) and Sen. Mitt Romney (R-Utah), the leaders of negotiations on the legislation, announced the agreement on Monday. It meets GOP demands that any new Covid funds be paid for with unspent cash from earlier pandemic aid packages.
The bill would provide far less money than the $22.5 billion the Biden administration sought early last month, though lawmakers widely expect another infusion of funding will be needed in the coming months, particularly if a new variant of the virus spreads. The accord would give the Biden administration $5 billion to buy Covid therapeutics and antivirals and another $4.75 billion that could be used for a wider range of purchases, such as tests and vaccines. It would also provide $750 million for research projects for future Covid vaccines and therapeutics.
BGOV Bill Summary: Senate Bipartisan Covid Aid Deal
The deal would re-purpose unspent money from a variety of pandemic relief efforts. Those include programs to protect aviation jobs and funnel money to music and theater venues. Funds will also be redirected from higher education aid and small business credit programs, along with Agriculture Department funds.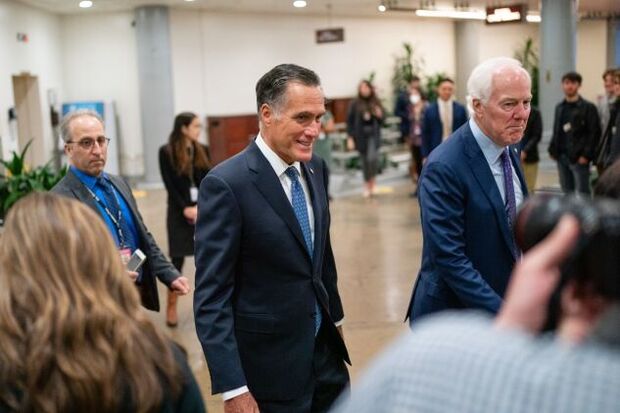 Schumer in a statement said he is committed to trying to win approval of the global aid in the coming months. "While we were unable to reach an agreement on international aid in this new agreement, many Democrats and Republicans are committed to pursuing a second supplemental later this spring," Schumer said. In the House, Majority Leader Steny Hoyer (D-Md.) said Democrats would have to accept a partial victory on Covid funding. Hoyer added he wants to move a second package that targets global funding and lawmakers "absolutely ought to be spending money overseas as well."
A few Republicans are interested in providing international vaccine aid, but it would also need to be offset, Rep. Tom Cole (R-Okla.), ranking member of the House Appropriations Labor-HHS-Education Subcommittee, said yesterday. "Sooner or later we're just better off if the entire world is vaccinated," Cole said. "A lot of people can't afford it. We can, and we should help them." Erik Wasson and Alex Ruoff have more.
Also Happening on the Hill
CONGRESSIONAL SCHEDULE:
The House meets at 10 a.m. and is scheduled to vote on eight bills under expedited floor procedure.
Senators convene at 10 a.m. to begin debate on Ketanji Brown Jackson's Supreme Court nomination.
Jackson got fresh bipartisan support Monday after Sens. Lisa Murkowski (R-Alaska) and Romney said they'd vote in favor of her nomination to the Supreme Court. "After multiple in-depth conversations with Judge Jackson and deliberative review of her record and recent hearings, I will support her historic nomination to be an associate justice on the U.S. Supreme Court," Murkowski wrote, while Romney called Jackson "a well-qualified jurist and person of honor" who "more than meets the standard of excellence and integrity" for a Supreme Court justice. Read more from Laura Litvan.
Earlier, the Senate voted 53-47 to discharge Jackson's nomination from the Senate Judiciary Committee, a procedural step made necessary hours before when that panel deadlocked on its vote to advance Biden's first Supreme Court pick. Monday's floor vote sets the stage to begin debate on Jackson on Tuesday, with a final vote as early as Thursday. Senate Democrats want to confirm her before leaving for a two-week recess later this week. Read more from Litvan.
Universities, police, and airports were among the most popular items in the 4,975 earmarks tucked in the fiscal 2022 government funding measure, which revived the practice of allowing members to include money for specific local projects. The projects are the first earmarks to be enacted in a government funding bill since they were banned in 2011. They range from two measures totaling a combined $200 million by Sen. Richard Shelby (R-Ala.) for the Alabama State Port Authority to a $4,000 measure by West Virginia's Sen. Shelley Moore Capito (R) and Rep. Carol Miller (R) for the City of Huntington's police department to buy a hydraulic vehicle lift.
The earmarks totaling $9,688,599,148 were included in the $1.5 trillion government funding bill enacted in March, according to a Bloomberg Government analysis of 10 documents published by the House Appropriations Committee. Readers can access a centralized spreadsheet compiled by Bloomberg Government here. For more on the highlights, read the breakdown from Jack Fitzpatrick.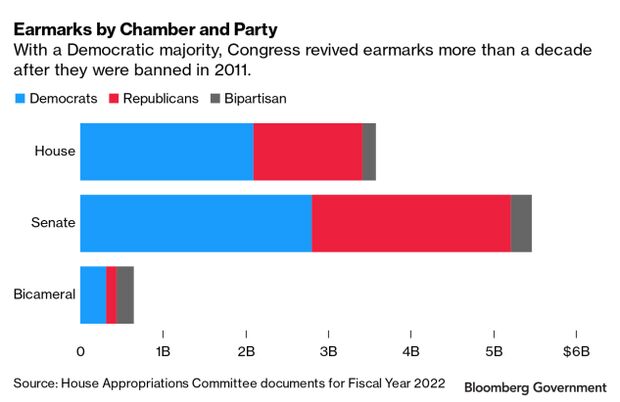 Big Law partner and one-time Trump nominee Jennifer Rearden became the first of the current president's judicial nominees to win unanimous backing by the Senate Judiciary Committee. The panel voted 22-0 on Monday to advance Rearden's nomination to the U.S. District Court for the Southern District of New York, despite opposition from progressives over her record as a private attorney. Read more from Madison Alder.
Senate Republicans are urging the Securities and Exchange Commission to nix a proposal that would require companies to disclose greenhouse gas emissions, arguing the move is outside of the agency's mission. "It is unclear from where the SEC has derived this drastic change in authority," Republicans on the Senate Banking, Housing, and Urban Affairs, and the Environment and Public Works committees wrote in a letter to SEC Chairman Gary Gensler made public Tuesday. "The SEC is not tasked with environmental regulation," they said in the letter. Read more from Kellie Lunney.
China's "breathtaking expansion" of its strategic and nuclear arsenal is a quickly escalating risk for the U.S., the head of U.S. Strategic Command plans to tell lawmakers at a closed-door hearing on Tuesday. China's first test of an intercontinental ballistic missile-launched hypersonic glide vehicle last July is a "technological achievement with serious implications for strategic stability," Admiral Charles Richard wrote in prepared testimony posted on the website of the House Defense Appropriations subcommittee. The hypersonic vehicle flew 25,000 miles for over 100 minutes, Richard wrote in the testimony. Roxana Tiron has more.
The surge in spending to Amtrak from the infrastructure law could hurt the rail company's ability to manage its current resources, according to a new watchdog report. Amtrak will need more staff, updated asset management systems, and better fraud detection as it implements billions of dollars from the recent infrastructure law, Amtrak's Office of the Inspector General found in a report unveiled Monday. Lillianna Byington has more on the report.
Maryland Gov. Larry Hogan signed a new congressional map into law Monday after the Democratic state attorney general's office agreed to drop its court case. The new map will continue to favor Democrats in seven out of eight districts while restoring one strongly Republican district for Rep. Andy Harris (R). It also gives Republicans a shot at unseating Rep. David Trone (D) in November. Both changes improve the prospects for the GOP to capture control of the House. Read more from Greg Giroux.
Around the Administration
BIDEN'S SCHEDULE:
Biden delivers remarks with former President Barack Obama on the Affordable Care Act at 1:30 p.m at the White House.
Press Secretary Jen Psaki holds a press briefing at 3:30 p.m.
The administration plans to adjust how the Treasury Department determines who is eligible for a health insurance subsidy through the Affordable Care Act, addressing a longtime issue for millions of families. This problem, known as the "family glitch," happens when a worker has employer-based coverage that's deemed "affordable" by the Treasury Department where they pay less than 9.83% of household income. But that determination doesn't take into consideration if the cost would increase beyond that by adding family members to the plan. Read more from Shira Stein and Josh Wingrove.
The CDC plans to conduct a review after facing a wave of criticism for its response to the Covid pandemic. In an agency-wide message to her leadership team and staff Monday, Director Rochelle Walensky shared her plans to review the agency's structure, saying that "never in its 75 years history has CDC had to make decisions so quickly based on often limited, real-time and evolving science." Walensky added an external senior federal health official was hired for an evaluation of the agency's structure, systems and processes, according to an earlier report published by the Washington Post. Read more from Fiona Rutherford.
The U.S. Treasury halted dollar debt payments from Russian government accounts at U.S. banks, increasing pressure on Moscow to find alternative funding sources to pay bond investors and avoid a default. The decision adds another complication to Russia's attempts to keep meeting debt obligations amid the sanctions imposed after it invaded Ukraine. While the government is so far making payments, some have been delayed by banks doing lengthy checks that they aren't breaching any restrictions. Read more from Daniel Flatley.
A call between top diplomats from China and Ukraine sends a fresh signal that President Xi Jinping could soon speak with Volodymyr Zelenskiy for the first time since Russia's invasion over a month ago. Foreign Minster Wang Yi reiterated China's desire for a cease-fire in talks Monday with Ukraine counterpart Dmytro Kuleba, their first such exchange since March 1, according to the official Xinhua News Agency. The conversation came days after European leaders urged Xi to make greater efforts to halt the attack initiated by his close diplomatic partner, Vladmir Putin. Brendan Scott has more.
Zelenskiy, in his nightly video address, said he would speak to the UN Security Council on Tuesday. He also plans to deliver an address to the Spanish Parliament. The U.N. speech is scheduled to begin at 10 a.m. New York time. Follow the latest in the Bloomberg News Ukraine Update.
The U.S. is seeking to realign its commercial ties with China rather than seek a "divorce" between the world's biggest economies, trade chief Katherine Tai said on Tuesday. Asked in an interview whether U.S.-China tensions could lead to decoupling, Tai said the Biden administration's policy was focused instead on "realignment in the global economy." That includes addressing the lack of visibility, accountability and diversity in supply chains that has led to disruptions in recent years, she told Bloomberg Television's Haslinda Amin in Singapore. Read more from Philip J. Heijmans, Eric Martin and Haslinda Amin.
To contact the reporters on this story: Giuseppe Macri in Washington at gmacri@bgov.com; Brandon Lee in Washington at blee@bgov.com
To contact the editors responsible for this story: Loren Duggan at lduggan@bgov.com; Michaela Ross at mross@bgov.com