What to Know in Washington: Pelosi, Mnuchin to Talk Again on Aid
Treasury Secretary Steven Mnuchin and Speaker Nancy Pelosi (D-Calif.) will try today to bridge remaining gaps in their talks over comprehensive coronavirus relief, blowing past Pelosi's self-imposed deadline yesterday amid signs of progress toward a pre-election deal.
But Senate Majority Leader Mitch McConnell (R-Ky.), who is pressing ahead with his own, more targeted plan, warned the White House against agreeing to anything akin to Pelosi's more sweeping proposal.
The speaker agreed to continue talking beyond her original cut-off yesterday, saying an agreement with the Trump administration needs to be done by the weekend to get a bill passed by the end of next week, ahead of Election Day Nov. 3.
"Today's deadline enabled us to see that decisions could be reached and language could be exchanged, demonstrating that both sides are serious about finding a compromise," Pelosi wrote to fellow House Democrats last night.
White House Chief of Staff Mark Meadows said, "We're not just down to a difference of language and a few dollars. We still have a ways to go," but enough progress has been made to go ahead with another round of talks Wednesday afternoon.
Senate Republicans, however, remain on an entirely different track. Sen. Mitt Romney (R-Utah) added his voice to the number of GOP members saying they'd vote against anything on the order of $1.8 trillion. Mnuchin has put forward $1.88 trillion, while Pelosi wants $2.2 trillion.
Given the risk of a damaging public split in the party just days before they face voters, McConnell has warned the White House not to rush into an agreement before the election, according to a person familiar with the matter.
McConnell plans to seek a vote on a scaled-down package today — a maneuver he tried last month only to be blocked by Democrats insisting on a comprehensive bill.
The Senate Republican effort of $500 billion includes items that both sides support, but is stripped of the elements many GOP members oppose — including large-scale assistance to state and local authorities, tax credits for working families and relief for airlines. Read more from Billy House and Erik Wasson.
Senate GOP Passes Small Business Aid: Senate Democrats yesterday opposed a GOP standalone bill providing coronavirus aid to U.S. small businesses, saying it was a political ploy that failed to provide the comprehensive aid the pandemic-ravaged U.S. economy needs. The bill was put forward as a procedural test vote by Republicans, who staged it to press Democrats to allow piecemeal pandemic stimulus to advance in the absence of a wider stimulus deal. Democrats demonstrated on the motion that they had the votes to block a standalone Paycheck Protection Program bill. Read more from Erik Wasson.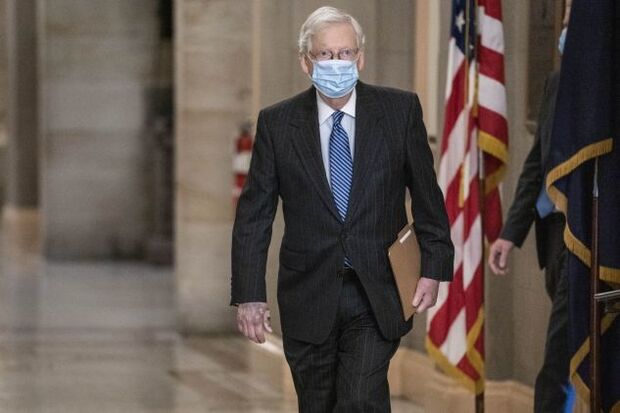 What to Watch in Congress
Senate Floor: The Senate will meet at noon to resume consideration of the nomination of Michael Newman to serve as a federal district court judge for the Southern District of Ohio.
The Senate at 1 p.m. is slated to begin a live quorum and hold a roll call vote on the motion to invoke cloture, or limit debate on McConnell's stimulus measure offered as an amendment to an unrelated bill (S. 178) already passed by both chambers. Additional procedural votes are expected.
House Floor: The House is not scheduled to meet again until a pro forma session on Friday at 11:30 a.m.
TODAY'S HEARINGS:
Amtrak CEO Testifies: The Senate Commerce, Science and Transportation Committee is scheduled to hear testimony from Amtrak CEO William Flynn and others from the rail industry during a hearing on passenger and freight rail.
VA Mission Act Oversight: The Senate Veterans' Affairs Committee plans a hearing on implementation of the VA Mission Act.
Biden Looks to Aide Ron Klain as Chief of Staff
Longtime Democratic aide Ron Klain is the leading candidate to be Biden's chief of staff if he wins on Nov. 3, according to several people familiar with the situation. Klain was Biden's vice presidential chief of staff and played a lead role in the Obama administration's economic recovery and the Ebola crisis response.
Allies point to Klain's Ebola-response and economic-recovery work as especially relevant, given that Biden would be tackling coronavirus and the resulting economic downturn upon taking office. He's widely respected by Democrats across the party's ideological spectrum and progressives say they would be comfortable with him in that role.
Others under consideration include Steve Ricchetti, also a former Biden vice presidential chief of staff and chairman of his presidential campaign, and Jeff Zients, a co-chair of Biden's transition team. But Klain, who first worked for Biden during his short-lived 1987 presidential campaign, has the candidate's trust and more pertinent experience than anyone else who might be considered for the job, the people said. Another name that has been floated is Rep. Cedric Richmond (D-La.), an early Biden endorser and campaign co-chair. Read more from Jennifer Epstein and Tyler Pager.
Trump Nemesis Nichols on List to Run Biden EPA: If Biden wins, his EPA chief could be a clean air champion from California who has fought Trump on automobile pollution or an environmental justice activist from Mississippi. Biden's campaign has heard recommendations for both California air regulator Mary Nichols and Mississippi's Heather McTeer Toney to lead the Environmental Protection Agency, among others, according to people familiar with the matter. Environmental advocates call the post crucial to advancing Biden's aggressive plans for fighting climate change, while simultaneously bolstering scientific integrity at the agency and reversing President Donald Trump's moves to undercut limits on pollution. Read more from Jennifer A. Dlouhy.
Auto Lobby Eyes Impact of Biden: Four years of trade wars, tweets and fights over emissions regulations under Trump have fractured the auto industry's once-reliable unified front. Now, facing a potential Biden presidency that promises more onerous policies on climate change and other issues, automakers are being urged to come together in defense of common interests. "The industry is more divided than I've seen it in my lifetime," Rep. Debbie Dingell (D-Mich.), who has endorsed Biden, said in an interview. "There's competitive issues that drive that, but if they're not together on those issues, they're going to be in trouble."
A Biden administration would be likely to restore aggressive Obama-era emission targets that Trump has tried to roll back. In addition, the former vice president would likely put more of Washington's focus on electric and autonomous cars going forward to ensure American autoworkers build "the vehicle of the future." An extension of the $7,500 per EV tax credit is more likely if Biden becomes president, according to Bloomberg Intelligence. Read more from Keith Laing.
Businesses Speed Up Deals Over Biden Tax Hike Fears: Some business owners looking to sell their companies are accelerating deal timelines to avoid a potentially bigger tax bite in case Democrats win the White House and Senate in November. Biden wants to raise the current 20% tax rate on long-term capital gains to the rate applied to ordinary income for those making more than $1 million. His proposal would also increase the top rate on ordinary income to 39.6%, up from 37%.
Sellers have been hastening deals that would have otherwise happened in three, six, or even 12 months, said Winston Shows, a senior vice president at investment bank and financial services firm Houlihan Lokey. Conversations on the topic started to pick up over the summer, with pressure increasing as the election draws near, tax professionals said. Read more from Lydia O'Neal.
More Elections & Politics
Trump Seeks to Make Up Ground With Final Debate: Trump has some ground to make up in the final campaign debate tomorrow against Joe Biden after a widely panned performance in a face-off days before he tested positive for coronavirus and ended up in the hospital. But rather than spend much time preparing, Trump has been angrily complaining at daily rallies that the deck is stacked against him. He claims the moderator, NBC's Kristen Welker, won't treat him fairly, that the topics aren't to his liking and that a decision to mute the microphones at times when the other candidate is speaking is unfair. Biden has been out of the public eye so far this week to prepare for the debate.
The nonpartisan Commission on Presidential Debates took steps to avoid a repeat of the chaos at the first debate on Sept. 29 when Trump consistently interrupted Biden and spoke over him, blowing through the timing rules the campaigns had meticulously negotiated with the commission. Now, each candidate will have two minutes of uninterrupted time to speak at the beginning of each of the debate's six segments while their opponent's microphone will be muted. The forum will begin at 9 p.m. Washington time from Nashville and last for 90 minutes. Read more from Jennifer Epstein and Mario Parker.
Biden Enters Last Stretch With Cash Edge: Biden's campaign entered October with a war chest that was almost three times larger than Trump's, solidifying the Democratic nominee's advantage in the final weeks of the campaign. The campaigns' latest filings with the Federal Election Commission show Biden had $177.3 million in the bank at the end of last month. By contrast, Trump burned through almost half his cash in September, ending the month with $63.1 million, even though he cut expenses by pulling back on planned advertising buys starting in late August. Read more from Bill Allison.
Trump's campaign burned through almost half of its cash in September, as his re-election effort cut back on advertising in some key battleground states and he lags in the polls behind a better-funded Biden. The latest filing with the FEC showed that Trump entered the final 34 days of the presidential election with $63.1 million in the bank, down from $121.1 million at the end of August, Allison reports.
California AG Demands GOP Explain Illegal Ballot Drop Boxes: California's attorney general said he's asked a judge in Sacramento to order the state Republican Party to explain its alleged role in setting up unauthorized drop boxes for ballots. Xavier Becerra said in a statement yesterday that he sought a court order for the party to comply with his demands for information as part of an effort to "protect the integrity of our elections." California's GOP party has acknowledged it owns the drop boxes, which officials said were illegal. Read more from Joel Rosenblatt.
USPS Cuts Not Backed by Analysis, IG Says: The U.S. Postal Service didn't analyze how changes would impact service as it modified procedures that slowed mail delivery, the agency's watchdog said in a report posted on its website, Todd Shields reports. House Oversight and Reform Chairwoman Carolyn Maloney (D-N.Y.) and Government Operations Subcommittee Chairman Gerald Connolly (D-Va.) said in a statement Postmaster General Louis DeJoy, a Trump donor, misled the committee and took no steps to ensure changes he implemented wouldn't harm delivery times. "I'm particularly concerned with the IG finding that the Postmaster General was aware of the reduction and elimination of overtime—despite his testimony before our Committee that this was not taking place," Maloney said.
The Coronavirus Pandemic
Drop in Airfares Shows Depth of Pandemic: Domestic U.S. airfares plummeted by the most on record in the second quarter, another illustration of how the coronavirus pandemic gutted demand for flights. Average one-way ticket prices plummeted 26% from the same period last year to $151, including taxes and fees, according to 20 years of figures compiled by Cirium. Previously, the largest decline was 14% in late 2001, following the Sept. 11 terrorist attacks, the aviation-data provider said. Read more from Justin Bachman.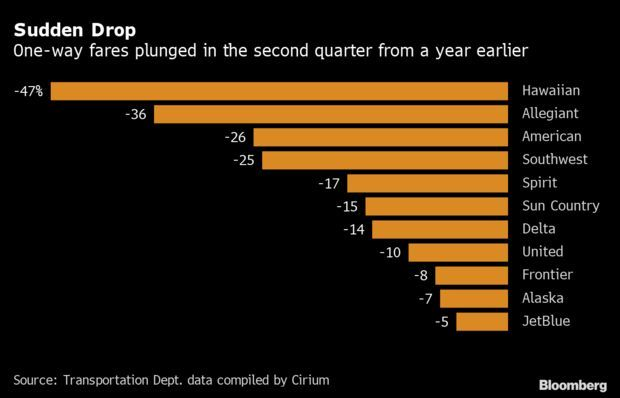 Louisiana Moves to Curb Governor's Emergency Powers: The Republican-led Louisiana Legislature voted yesterday to curb the emergency powers of the state's governor, citing a desire to give more people a voice in how emergencies such as the coronavirus pandemic are managed. Essentially, lawmakers could pick and choose whether restrictions such as mask mandates or restaurant closures would continue. Read more from Jennifer Kay.
Lilly Covid Drug Plant Flagged Again by FDA for Quality Issues: U.S. drug-safety inspectors have found continuing quality-control problems at a New Jersey plant Eli Lilly & Co. is using to help produce its Covid-19 antibody therapy, posing a potential obstacle to the company meeting its goal of producing 1 million doses by year-end. Read more from Anna Edney.
Defense & Foreign Affairs
Afghanistan Reconstruction Funds Wasted: A new report by a government watchdog shows that $19 billion that was appropriated by Congress for Afghanistan reconstruction was lost to "waste, fraud, and abuse." Approximately $3.4 billion of those losses were identified in reports and investigations conducted between Jan. 1, 2018 and Dec. 21, 2019. The Special Inspector General for Afghanistan Reconstruction has only reviewed $63 billion of the $134 billion Congress has appropriated for the effort since fiscal 2002, Max Reyes reports.
'Five Eyes' Spy Alliance Focuses on China: The Western world's premiere spy alliance is finding its mission expanding as nations from the U.S. to Australia clash with China and seek better intelligence on everything from Covid-19 to child trafficking. The Five Eyes network, made up of the U.S., U.K., Canada, Australia and New Zealand, is also facing renewed requests to take on additional member nations as divisions between China and the West deepen. The moves — emerging from interviews with a dozen current and former intelligence officials from across Five Eyes nations — comes despite Trump's repeated questioning of his own intelligence community's findings and his persistent criticism of key allies. Read more from Peter Martin, Kitty Donaldson and Kait Bolongaro.
Meanwhile, the National Security Agency detailed 25 cyber vulnerabilities frequently used by Chinese state-sponsored hackers in an effort to alert computer security officials to update their systems. Most vulnerabilities "can be exploited to gain initial access to victim networks using products that are directly accessible from the internet and act as gateways to internal networks," according to the NSA's statement. Read more from William Turton.
WTO Race Hits Key Stage: The U.S. and Europe are heading for a clash over their preferred candidates to lead the World Trade Organization as the selection of the first woman to run the referee of global commerce enters a pivotal phase. The European Union is inclined to support Nigeria's Ngozi Okonjo-Iweala and may sign off on that position today, people familiar with the process said. Other observers say the Trump administration is leaning toward South Korea's Yoo Myung-hee. Read more from Bryce Baschuk, Jonathan Stearns and Shawn Donnan.
U.S. Says Forced Labor Behind Stevia: The U.S. said it found "conclusive evidence" that a Chinese company used forced labor to make extracts of the sweetener stevia, with American ports now directed to seize any shipments. Customs and Border Protection has "conclusive evidence" that Inner Mongolia Hengzheng Group Baoanzhao Agriculture, Industry and Trade Co. used convict, forced or indentured labor to make the products and that they're being or are likely to be imported to the U.S., the agency said in a statement yesterday. Read more from Ana Monteiro.
What Else to Know Today
Barrett Says She Lacked Details of White House Event: Amy Coney Barrett said she didn't have detailed advance knowledge of what Democrats say became a coronavirus "super-spreader" event when Trump announced her Supreme Court nomination at a crowded White House ceremony last month. Answering written questions from senators on the committee that is poised to advance her nomination, Barrett refused to say whether she expressed reservations about the White House plans or considered refusing to participate. "My decision to attend the announcement of my nomination was a personal one," Barrett said. She added that she was "not aware of the particular details of the event in advance."
Over the course of 184 pages released late yesterday, Barrett sidestepped any questions that touched on Trump-related political controversies. She declined to say whether a president could unilaterally delay an election or has authority to deploy local law enforcement officials to monitor polling places. As she did at her confirmation hearing last week, Barrett also passed on a chance to say a president should make a commitment to the peaceful transition of power. Read more from Greg Stohr.
Court-Packing Alternatives Start Gaining Traction With Democrats: Democrats have pushed Biden to support expanding the number of justices on the Supreme Court, the presidential nominee has approached the idea warily, saying last week he is "not a fan" of so-called court packing. Yet Biden signaled that he could support making other changes to the high court. If Democrats take both the White House and Senate, they would have a wide array of options to consider. The idea with the most momentum is expanding the number of seats on the court. The Constitution has never specified the number, and it has changed over time. A handful of high-profile Democrats have voiced support for the proposal, including House Judiciary Committee Chairman Jerrold Nadler (D-N.Y.) and former Attorney General Eric Holder. David Yaffe-Bellany and Jennifer Epstein detail five other proposals gaining traction with Democrats.
Related: Why Nine Justices? Court Packing's History and Future (Video)
Case Against Google Mimics Lawsuit That Weakened Microsoft: The U.S. government's antitrust case against Google follows a similar path to its attack on Microsoft more than 20 years ago — and that should make the internet giant nervous. The suit focuses on payments Google makes to ensure its search engine is the default on mobile phones and web browsers. Google's dominant market share and massive revenue allows it to spend billions of dollars a year on these deals, blocking out competitors from the valuable placements and limiting consumer choice, the Justice Department alleged. Read more from Gerrit De Vynck and David McLaughlin.
Tech Spent Millions Lobbying Last Quarter: Technology giants such as Amazon and Google spent millions on lobbying in the third quarter of 2020 as they braced for an eruption of antitrust scrutiny in Washington that saw top executives summoned to testify before Congress. Amazon spent more than $4.4 million, a company record, while Google spent more than $1.9 million on federal lobbying in the three months ending Sept. 30, according to disclosures filed with Congress. Amazon's spending jumped nearly 10% from the same period a year earlier as it faced stepped-up scrutiny in Washington. Read more from Ben Brody and Josyana Joshua.
Trump 'Has Zero Ties to China,' Campaign Says: A Chinese account controlled by Trump International Hotels Management paid $188,561 in taxes in China while pursuing licensing deals in the country from 2013-2015, the New York Times reported yesterday, citing the president's tax records, which it obtained. "President Trump has zero ties to China," campaign spokesman Tim Murtaugh said in response to the report. Murtaugh said the report is "covering" for Biden and his own ties to China, Derek Wallbank and Jordan Fabian report.
With assistance from Nancy Ognanovich
To contact the reporters on this story: Zachary Sherwood in Washington at zsherwood@bgov.com; Brandon Lee in Washington at blee@bgov.com
To contact the editors responsible for this story: Giuseppe Macri at gmacri@bgov.com; Loren Duggan at lduggan@bgov.com; Michaela Ross at mross@bgov.com