What to Know in Washington: Pelosi, Mnuchin Signal Aid Progress
Speaker Nancy Pelosi and Treasury Secretary Steven Mnuchin head into another round of negotiations on a new virus relief package after talks yesterday yielded "a little bit" of progress despite the gap remaining between Republicans and Democrats.
It was the first glimmer of optimism that the talks over the past week made some progress, as pressure grows among lawmakers in both parties to get a deal. But there's still no resolution on some of the most critical issues, including an extension of supplemental unemployment insurance that's now expired.
With talks dragging on, President Donald Trump yesterday said he's considering executive action to restore a moratorium on evictions that also expired, and the White House is looking at other steps the administration could take without action by Congress.
Trump also said he's discussing action to suspend payroll taxes, something lawmakers in both parties have rebuffed.
"We made a little bit of progress," Mnuchin said after yesterday's two-hour meeting that included Senate Minority Leader Chuck Schumer (D-N.Y.) and White House Chief of Staff Mark Meadows. "The president wants us to get a deal."
Schumer said there were a lot of issues still outstanding, "But I think there is a desire to get something done as soon as we can."
There were enough hopeful signs coming out of the meeting that Trump said the talks were going well and Senate Majority Leader Mitch McConnell (R-Ky.) held off for now on a plan to set up votes on short term extensions of unemployment insurance in order to put pressure on Democrats.
Pelosi told House Democrats on a conference call yesterday that there was the potential to strike a deal in the coming days, according to a lawmaker who took part. However, Pelosi also said the White House and Republicans haven't offered any money for some top Democratic priorities: aid to state and local governments and funding for the November election and the U.S. Postal Service, which will play a key role in the vote as the number of mail-in ballots is likely to skyrocket, according to the lawmaker, who asked for anonymity to discuss the private call. Read more from Erik Wasson, Daniel Flatley and Billy House.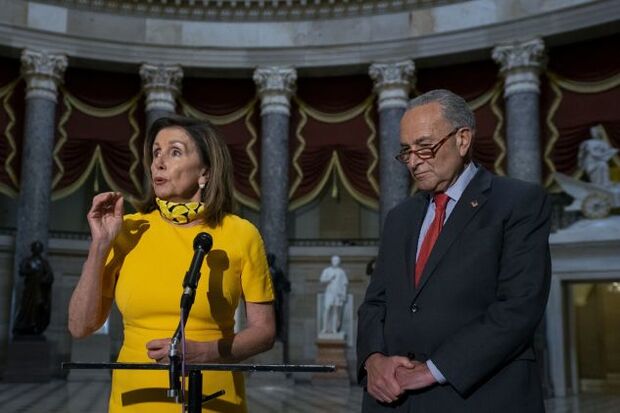 Lobbying Efforts Intensify: Companies and trade groups reported major benefits from provisions in the late-March virus relief package, and their lobbying efforts continued after the law's enactment. The next relief legislation may not be as sweeping as the $2 trillion CARES Act, but Senate Republicans last week called for continuation of some elements, including checks for American families and forgivable loans for businesses.
Which tax breaks will make it into final legislation that the Democrat-controlled House and Republican-controlled Senate can pass remains unclear, but lobbying disclosure forms indicate the private sector is pushing for more benefits along the lines of those enacted in March. "There's a natural tendency to take existing programs and enhance them, as opposed to creating new programs," said Sage Eastman, a senior Republican strategist at Mehlman Catagnetti Rosen & Thomas and former senior counselor to the Ways and Means Committee. "You're prudent to find a path of least resistance, and creating something out of whole cloth is a little harder to do, given all of the policy questions and unintended consequences policy makers want to think through." Read more from Lydia O'Neal.
Virus Watchdog Presses Treasury for Transparency: The special inspector general for pandemic recovery urged the Treasury Department to provide more transparency and quick access to documents regarding a loan to a shipping company that has already drawn scrutiny from another watchdog group.
In his first report, submitted yesterday to the Senate Banking Committee, inspector general Brian Miller said his office had yet to receive documents related to the $700 million loan to YRC Worldwide, the first business to receive funding from $17 billion in coronavirus relief set aside for national security companies. Miller's panel called on Treasury to provide "timely and unrestricted access" to the loan documents, calling it "critical to effective oversight." The panel is required to issue public reports monthly. The Treasury Department took a 30% stake in YRC in exchange for the loan, the agency announced last month. Read more from Saleha Mohsin.
Trump Signs Jobless Relief Bill for Ex-Workers: The White House announced yesterday that Trump signed into law legislation that allows nonprofit groups and state and local government agencies to pay only half the cost of the jobless benefits of their former employees. Read the BGOV Bill Summary by Naoreen Chowdhury.
The Coronavirus Pandemic
Trump Preps Boost for Rural Health Care: Doctors treating patients virtually can offer new services, such as emergency visits, eye exams, and certain mental health visits, after the pandemic subsides under an executive order announced yesterday. As part of the order, the Department of Agriculture and the Federal Communications Commission are partnering to boost access to broadband for rural communities, bolstering telehealth efforts beyond the pandemic.
The telehealth order offers some peace of mind for both doctors and patients. The move boosts treatment options for patients in rural areas who might have to drive miles for treatment. It also brings certainty to doctors who feared that some telehealth services allowed under temporary orders would be labeled as fraud when the public health emergency is over. Read more from Jacquie Lee and Shira Stein.
Fauci Says Face Shields Good Idea for Teachers: Children ages 10 to 19 can spread Covid-19 as easily as adults, and it might be a good idea for teachers to wear face shields if they return to the classroom, Anthony Fauci said in an interview yesterday. Fauci, director of the National Institute of Allergies and Infectious Diseases, said data clearly shows older children can be spreaders and that there is "a reasonable assumption" to be made that the high viral loads seen in some very young children means they too can transmit the virus, even though they're less likely to get seriously ill. Read more from Aysha Diallo.
Original Hot Spots Crack Down on Parties: Blow-out parties and rising cases nationally prompted New Jersey to lower crowd caps and New York to call for stricter distancing enforcement or risk resurgence of the coronavirus in the pandemic's early U.S. epicenter. In Houston, Mayor Sylvester Turner told police to start issuing warnings and citations for anyone without a mask on. Read more from Elise Young, Olivia Raimonde and Keshia Clukey.
California's second round of coronavirus-related shutdowns, among the nation's strictest measures, are already causing pain for the most populous state's labor market and portend a deterioration in the overall U.S. employment picture for July. When Gov. Gavin Newsom (D) announced on July 13 that indoor operations at businesses including salons and gyms would close to curb the resurgent virus, owners scrambled to figure out whether they could stay open. Read more from Olivia Rockeman and Sophie Alexander.
Hurricane warnings for Isaias are complicating virus efforts. North Carolina Gov. Roy Cooper said anyone fleeing the storm and coming to a shelter will be screened for Covid-19 symptoms, and anyone who tests positive will be sent to another location to be isolated and get treatment, Bloomberg News reports.
NFL's Plan to Forge Ahead: The National Football League, a little over a month from the start of its 2020 season, has a plan to avoid the kind of coronavirus-driven game cancellations that have plagued the start of Major League Baseball. The NFL's approach is to rely on contact tracing to stem the spread of the virus, using devices that can be worn on the wrist or even sewn into jerseys.
Unlike the National Basketball Association, which is successfully playing in a single-site "bubble" environment, the NFL plans to play at stadiums around the country as usual. And baseball's struggles to keep its season on course show how quickly the virus that has killed more than 150,000 Americans can derail a sport when players, coaches and staff aren't sequestered from the world. Read more from Brandon Kochkodin.
Meanwhile, there are no good options for the National Collegiate Athletic Association. The NCAA's decision on whether to go ahead with fall seasons for every sport except football is expected as soon as today. If the organization opts to sponsor competition in soccer, cross country and field hockey, among others, critics will say it's jeopardizing the health of scholar-athletes as a resurgent coronavirus outbreak rages. But if the NCAA cancels the seasons, it risks angering the five biggest football conferences, four of which have already announced plans to go ahead with modified schedules starting next month. Read more from Brandon Kochkodin and Janet Lorin.
Elections & Politics
Biden Promises to Spend: Joe Biden, who's spent decades warning about the dangers of budget deficits, will inherit one of the biggest in U.S. history if he becomes president—and he'll be in no rush to pare it back. That's the signal the Democratic candidate is sending after his campaign rolled out a $3.5 trillion economic program over the past month. It promises to invest in clean energy and caregiving, buy more made-in-America goods, and start narrowing the country's racial wealth gaps.
The bill for this agenda is modest in comparison with the universal health-care and student loan forgiveness plans backed by some of Biden's primary season rivals. Still, it would come right after the U.S.'s multitrillion-dollar fight to pull its economy out of a pandemic slump. This year's budget shortfall is forecast to exceed 17% of gross domestic product, the most since the country mobilized to fight World War II. Read more from Jenny Leonard and Tyler Pager.
Nevada Governor Signs Mail-In Voting Expansion: Nevada voters will automatically receive mail-in ballots during states of emergency and disaster declarations under a law Gov. Steve Sisolak (D) signed yesterday. The Nevada Legislature passed the measure (A.B. 4) during a special session to address issues related to the coronavirus pandemic. Trump threatened litigation against the measure in a tweet yesterday and said it would make it "impossible for Republicans to win the state." Read more from Brenna Goth.
Task Force to Issue Voting Guidelines, Maloney Says: House Oversight and Reform Chairwoman Carolyn Maloney (D-N.Y.) wrote on Twitter the White House Coronavirus Task Force has committed to draft safety guidelines for the November election amid the pandemic. "We MUST have guidelines for our November elections," Maloney wrote, Kasia Klimasinska reports. Maloney on Friday called on the task force at a Select Coronavirus Crisis Subcommittee hearing to publish such guidelines.
A Guide to Voting Terms: Trump frequently says there's a difference between absentee voting, which he once called "good" in a tweet, and mail-in voting, which he has called "inaccurate and fraudulent." But the people who run elections don't make that distinction. Though the terms vary from state-to-state, as do the laws, the terms "absentee voting," "mail-in voting" and even "universal vote by mail" have different meanings than the ones Trump has assigned to them, causing some confusion about the November election. Ryan Teague Beckwith has a quick guide to how the terms are most commonly used by elections officials.
Trump Spending on Ads in D.C. Market: Trump will be getting some positive reinforcement even during the commercial breaks on one of his favorite cable-television channels for the next two weeks. His campaign has booked $38,000 worth of ad time on Fox News Channel in the Washington market starting this week, according to advertising firm Medium Buying. Although Trump has little chance of capturing the District's three electoral votes, he has spent more than $600,000 on ads there this year, according to Advertising Analytics. Read more from Bill Allison.
China Tensions
China Roils a Reluctant NATO: China is broadening its strategic footprint on NATO's doorstep, from cyberattacks and intellectual property theft to strategic investment through its Belt and Road Initiative. And its actions are prodding the North Atlantic Treaty Organization to pivot to Asia, a potential sea change that's roiling an alliance that was created to protect Europe against the Soviet Union and then Russia. China's growing influence in the Balkans, for example, mirrors its push into other areas previously dominated by Russia. The Belt and Road enterprise already has made it a major player in Central Asian politics.
The moves could bolster the case made by the U.S., which has struggled to persuade allies to join it in confronting an increasingly assertive China. But other NATO members are cool to that prospect, inclined to keep doing business with China — and disinclined to follow Trump's lead. Read more from Peter Martin, Gordana Filipovic and Alan Crawford.
American Journalists in Hong Kong Could Be a Target: China could take aim at American journalists in Hong Kong, if the U.S. doesn't renew visas for Chinese journalists, Global Times Editor-in-Chief Hu Xijin said. "From what I know, given that the US side hasn't renewed visa of Chinese journalists, Chinese side has prepared for the worst scenario that all Chinese journalists have to leave the US," Hu said today on Twitter. "If that's the case, Chinese side will retaliate, including targeting US journalists based in HK." Read more.
Trump Seeks TikTok Payment to U.S., Despite No Clear Authority: Trump repeatedly insisted yesterday that any sale of TikTok's U.S. operations would have to include a substantial payment to the U.S. — but it wasn't clear under what authority he can extract a payout. It would be unprecedented, based on recent history, for the U.S. government to collect a cut of a transaction involving companies in which it doesn't hold a stake. Trump said the money would come from China or an American buyer such as Microsoft. "The United States should get a very large percentage of that price, because we're making it possible," Trump told reporters at a news conference yesterday evening. Read more from Justin Sink.
A U.S. investigation into TikTok is really intended to smother a Chinese-owned app that's become a sensation with Americans, ByteDance founder Zhang Yiming told employees in China today. In his second missive to the troops in as many days, the billionaire entrepreneur said a government probe into the company's 2017 purchase of Musical.ly, — TikTok's progenitor — was intended to spur a complete shutout. Read more.
GOP Wants College Records on China Gifts: Top Republicans on three House committees wrote to several colleges in the U.S. seeking "to further understand the effects of adversarial foreign direct investment in the U.S. higher education system." The ranking Republicans of the Judiciary, Oversight, and Education and Labor panels sent the request to Harvard University, Yale University, University of Chicago, and others. They demanded universities provide unredacted details of donor contracts with foreign governments including China and Saudi Arabia, Billy House and Greg Sullivan report.
U.S. Posts Alert About Chinese Malware: The U.S. government issued an alert yesterday that a type of malware seen frequently by security researchers over the last decade is tied to the Chinese government, the latest in a series of American warnings about Beijing's cyber capabilities this summer. The Homeland Security Department, Federal Bureau of Investigation, and the Pentagon have "identified a malware variant used by Chinese government cyber actors, which is known as TAIDOOR," according to the alert. Read more from Alyza Sebenius.
South Korea and Japan Flap Could Hit Trump's Plans on China: A South Korean court is set to start liquidating assets of a Japanese company to compensate Koreans conscripted to work during colonial occupation, straining ties between two key U.S. partners just as the Trump administration needs their help in countering China. The two countries have seen threats to their enmeshed economies and their joint security efforts following South Korea's Supreme Court ruling in 2018 that Nippon Steel and Mitsubishi Heavy Industries were liable to compensate for forced labor during the 1910-1945 colonial period. Read more from Jeong-Ho Lee.
Around the Administration
LWCF, Parks Bill Signing with Endangered Republicans: Sens. Steve Daines (R-Mont.) and Cory Gardner (R-Colo.) will join Trump this morning at the White House as he signs into law the (Great American Outdoors Act). The two Republicans, who face tough re-election races this year, were big boosters of the bipartisan conservation legislation, along with Democratic Sens. Joe Manchin (W.Va.), Martin Heinrich (N.M.), Maria Cantwell (D-Wash.), and Angus King (I-Maine).
The bill, passed by the Senate in June and House in July, would permanently fund the Land and Water Conservation Fund and create a five-year $9.5 billion trust fund to tackle the maintenance backlog in national parks and on public lands. The decades-long effort was the product of many lawmakers, as well as conservation and sportsmen's groups. But Daines and Gardner are getting top billing from the White House.
Trump Pulls FCC O'Rielly's Nomination: The Trump administration withdrew the nomination of Michael O'Rielly, who's expressed doubt about Trump's plan to cut down legal shields for social media firms, for another term at the Federal Communications Commission. The administration announced the withdrawal in a notice sent to the Senate yesterday. The notice didn't provide a reason for the decision. Read more from Todd Shields.
USAID Official Departs After Tweets: The deputy White House liaison for the U.S. Agency for International Development stepped down hours after writing a barrage of tweets claiming "gay marriage isn't marriage" and that the U.S. gives aid only to countries that "celebrate sexual deviancy." Merrit Corrigan said she had remained silent in the face of media criticism for her Christian beliefs. She was no longer working at USAID as of yesterday, an acting spokeswoman said. Read more from Nick Wadhams.
Puerto Ricans Are Ignoring the Census: As Americans are being asked to stand up and be counted in the 2020 Census, Puerto Ricans are taking a pass. The U.S. commonwealth has a census self-response rate of just 27%—the lowest of any U.S. jurisdiction and well behind the national average of 63%. Alaska, the other national laggard, has a comparatively robust response rate of 49%. Read more from Jim Wyss.
Amazon Target of Joint Antitrust Scrutiny: Attorneys general from New York and California are partnering with the Federal Trade Commission to investigate Amazon's internet marketplace, people familiar with the matter said, ratcheting up scrutiny of the world's largest e-commerce company. The three agencies will work together to interview witnesses in coming weeks on joint conference calls, the people said. Read more from Spencer Soper.
To contact the reporters on this story: Zachary Sherwood in Washington at zsherwood@bgov.com; Brandon Lee in Washington at blee@bgov.com
To contact the editors responsible for this story: Giuseppe Macri at gmacri@bgov.com; Loren Duggan at lduggan@bgov.com; Michaela Ross at mross@bgov.com