What to Know in Washington: Midterms Brutal For Self-Funded Bids
Bloomberg Government subscribers get the stories like this first. Act now and gain unlimited access to everything you need to know. Learn more.
In an election where Republicans flipped the House and Democrats narrowly held onto the Senate, the biggest losers in 2022 were self-funding candidates.
Of the eight congressional contenders who loaned or contributed $10 million or more to their campaigns this year, only one heavy spender will be seated in January.
Democratic Representative David Trone of Maryland was the only top spender to win his race as he scored a narrow victory. Trone, co-founder of Total Wine & More and the sole incumbent among the self-funders, invested more than $12 million of his own money into the contest. That's nearly 15 times the amount raised by his Republican opponent Neil Parrott, according to data compiled by OpenSecrets, a nonpartisan group that tracks campaign finance.
But other heavy spending candidates, like celebrity physician Mehmet Oz and Missouri Democrat Trudy Busch Valentine, were defeated. Oz, who shelled out more of his own money than any other congressional candidate this year, lost to Democrat John Fetterman in one of the country's most closely-watched contests. Oz poured $23 million of his fortune into his campaign through October, including a $2 million donation on Oct. 25, the day of his highly-publicized debate with Fetterman.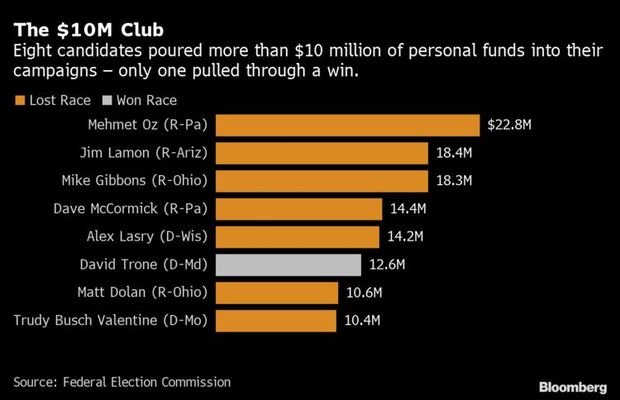 Valentine, an heiress to the Anheuser-Busch beer fortune, lost her bid for a Missouri US Senate seat by double digits after contributing $10.4 million of her own money. Her opponent raised roughly half that amount, according to OpenSecrets. The remaining six big-spending candidates didn't make it to the general election, having flamed out in primaries.
Self-funded candidates face difficult odds in part because they're often political outsiders trying to find a shortcut to the national stage, according to a 2016 study by the National Institute of Money in Politics, which has since merged with OpenSecrets. The surge in self-funding comes as more people are running for Congress in recent years, according to Sheila Krumholz, executive director of OpenSecrets. Read more.
Also On Lawmakers' Radars
The GOP race to lead the House Ways and Means Committee is wide open as the three Republicans make their final pitches to members on why they should lead the tax-writing panel.
Scientists in charge of deploying a NASA mission to search for dangerous asteroids are preparing for a year-and-a-half delay after lawmakers and the Biden administration sought a budget cut.
Two US senators—Mark Warner (D-Va.) and Tom Cotton (R-Ark.)—called TikTok a Chinese surveillance tool, issuing a bipartisan warning as the Biden administration weighs a deal that could let the video-sharing app keep operating in the US.
Republican lawmakers and state attorneys general are preparing to make their most aggressive assaults on environmental, social and governance investing to date after victories in the House and courts.
State Medicaid directors want Congress to provide clarity on when the continuous enrollment requirements put in place during the Covid-19 pandemic will end.
Elections & Politics
Ron DeSantis painted a picture of his conservative governorship of Florida as a nationwide model for Republican faithful, seeking to reaffirm a burgeoning GOP wing calling for him to take the party's reins from Donald Trump.
A House inquiry into the Capitol insurrection helped focus voters' attention before the midterms on the risk that election deniers posed to democracy, potentially tipping key races away from GOP candidates backed by Trump.
Trump summed up Attorney General Merrick Garland's appointment Friday of a special counsel to oversee criminal investigations related to the former president as "the worst politicization of justice in our country."
The special counsel investigating Trump alleged mishandling of classified documents and the Jan. 6 insurrection honed his investigative and trial skills over 30 years of fighting cases involving corruption, crimes and police brutality.
Trump said he sees "a lot of problems at Twitter" and will stick to his own social-media platform, offering an initial response to Elon Musk's poll on whether to reinstate the former president's account.
Joe Biden turned 80 on Sunday, a milestone for the already-oldest president in US history as some Democrats question his intention to run for reelection in two years.
Georgia Governor Brian Kemp, who won re-election this month, campaigned for the first time with fellow Republican Hershel Walker in a tight runoff race for US Senate.
A Georgia state court judge ruled that voters can go to the polls on the Saturday after Thanksgiving, handing a victory to Walker's opponent US Senator Raphael Warnock and the Democratic Party.
A former anti-abortion leader says he learned in advance about the outcome of a major 2014 US Supreme Court case involving religious rights and contraceptives shortly after two allies had dinner at the home of Justice Samuel Alito, the New York Times reported.
Around the Administration
PRESIDENT'S SCHEDULE
At 11:15 a.m., Biden is scheduled to pardon the National Thanksgiving turkey
At 6 p.m., he is scheduled to join a Thanksgiving dinner with military families in North Carolina
At 4 a.m. on Sunday morning, climate negotiators in Egypt walked back from the abyss and struck an historic deal that resets the relationship between rich and poor countries. Approved without a single opposing voice, the agreement to create a fund to help developing nations face the devastation of climate change is a precedent-setting moment that's been three decades in the making.
The US and Chinese defense chiefs are likely to meet for their first talks since Beijing suspended dialog with Washington over House Speaker Nancy Pelosi's August visit to Taiwan — the latest sign that ties between the two nations are stabilizing.
US Vice President Kamala Harris and China's Xi Jinping met briefly on the sidelines of an Asian summit, in another signal of easing tensions between the world's two largest economies.
San Francisco will be the site of next year's Asia-Pacific Economic Cooperation summit, Harris announced, giving the US a high-profile chance to showcase its vision for the region's future.
The Justice Department is probing Live Nation Entertainment and its Ticketmaster unit over whether the entertainment giant is abusing its power over the live music industry, three people familiar with the investigation said.
The Biden administration's sustained focus on strengthening the cybersecurity of critical infrastructure is a sign that more regulatory action may soon follow, attorneys say.
President Joe Biden and First Lady Jill Biden hosted a private White House wedding for his granddaughter, welcoming about 250 guests on the South Lawn and opening the State Dining Room for a celebratory lunch.
Biden declared an emergency in the state of New York and ordered federal assistance to supplement local response efforts due to a severe winter storm, the White House said in statement.
A 22-year-old gunman opened fire inside an LGBTQ nightclub in Colorado Springs, killing five people and wounding 25 others in a mass shooting being investigated as a possible hate crime, police and city officials said on Sunday.
To contact the reporters on this story: Brandon Lee in Washington at blee@bgov.com; Michaela Ross in Washington at mross@bgov.com
To contact the editors responsible for this story: Michaela Ross at mross@bgov.com; Giuseppe Macri at gmacri@bgov.com
Stay informed with more news like this – from the largest team of reporters on Capitol Hill – subscribe to Bloomberg Government today. Learn more.