What to Know in Washington: McConnell Floats Backing Gun Bill
Bill could get top Republican's support if it reflects deal
GOP notches first House flip with Flores victory in Texas
Senate Minority Leader Mitch McConnell said he's inclined to support a bipartisan outline of new gun-safety legislation that senators announced on Sunday, an indication that a final bill could gain widespread backing in the Senate.
"If it reflects what the framework indicates, I'll be supportive," the Kentucky Republican told reporters on Tuesday.
The package—which includes federal monies to boost mental health and school safety, some enhanced background checks for younger gun buyers and money to help states implement so-called red flag laws—already has early support from the 10 Republicans needed to avert a filibuster in the evenly divided Senate.
Senators are still working out the details of the legislation, including how to pay for provisions in the bill, which is expected to cost billions of dollars. Supporters aim to have legislation ready for consideration in the full Senate before a July 4 recess, although it could hit snags in coming days.
In another sign such legislation is gaining ground, Sen. Lisa Murkowski (R-Alaska) on Tuesday tweeted that the tentative deal reached by 20 other senators "appears to be fairly reasonable" and that she looks forward to seeing the details. Read more from Laura Litvan and Steven T. Dennis.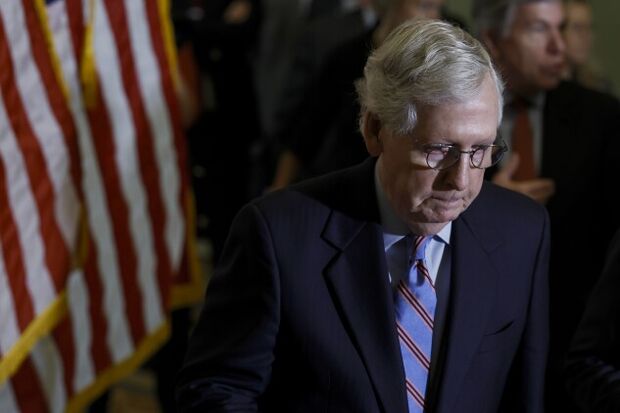 Happening on the Hill
CONGRESSIONAL SCHEDULE:
The Senate convenes at 10 a.m. with a procedural vote later on legislation to expand VA benefits.
House members gather at noon to take up a bill to boost financial institutions' diversity and equity.
The House cleared a Supreme Court security bill on Tuesday, sending it to President Joe Biden for his signature just days after an armed man was arrested near the home of Justice Brett Kavanaugh and charged with attempted murder. The vote on the bill was 396 to 27. Erik Wasson has more.
House lawmakers passed bipartisan wildlife conservation legislation which would establish roughly $14 billion over the next decade for species recovery and habitat. The vote on Tuesday was 231-190. The measure would dedicate approximately $1.4 billion per year for states, tribes, and territories to identify and manage conservation projects. Read more from Kellie Lunney.
The Agriculture Department, Food and Drug Administration, and related agencies would get $27.2 billion in fiscal 2023, 8% above the previous year, under a proposed House spending bill scheduled for a subcommittee markup today. The bill includes $3.65 billion in discretionary funding for the FDA, $341 million above the previous year and slightly above the president's request. Maeve Sheehey covers the details.
The Senate Health, Education, Labor, and Pensions Committee Tuesday advanced a proposal to reauthorize the industry user fees that help fund the FDA, paving the way for a vote in the full chamber. The bipartisan legislation would revamp the agency's accelerated approval pathway, boost oversight on lab-developed tests and aim to improve infant formula oversight amid the nationwide shortage. Read more from Celine Castronuovo and Alex Ruoff.
Antitrust legislation to rein in the largest US tech companies could pass as soon as next week, the House lawmaker leading the bills said Tuesday. The legislation "is ready to be brought to the floor for a vote in both the House and Senate," Rep. David Cicilline (D-R.I.), chair of the House Judiciary antitrust panel, told reporters on the sidelines of a briefing for congressional staff about the bills. Read more from Leah Nylen.
Separately, the Senate Tuesday passed by unanimous consent legislation to allow state attorneys general to pick the location where their federal antitrust suits are heard, a blow to Alphabet's Google, which had opposed the bill, Leah Nylen reports. House companion legislation was approved by that chamber's Judiciary panel last year.
Persuading the American public to tune in to the Capitol insurrection hearings came down to one thing: making them more like a limited-edition Netflix show. So elaborate is the portrayal that the third hearing, scheduled for Wednesday, had to be postponed due to technical difficulties. Read more from Billy House.
Sen. Ed Markey is urging Amazon to provide more details on how data collected from its Ring doorbells and cameras is shared with police and other agencies, including private security firms. Markey (D-Mass.) raised concerns with Ring's "invasive data collection and problematic engagement with police departments" in a Tuesday letter to Amazon CEO Andy Jassy, Andrea Vittorio reports.
Small business contractors may get better opportunities to bid on federal contracts if House Small Business Chair Nydia Velázquez (D-N.Y.) succeeds at overhauling federal contracting initiatives designed to streamline procurement. Read more from Patty Nieberg.
Republicans and railroads urged Biden's rail chief Tuesday against a rule that could require at least two crew members on freight trains. The administration is weighing a rule that would address potential safety concerns for trains with only one crew member, Amit Bose, administrator of the Federal Railroad Administration, testified to the House Transportation and Infrastructure panel Tuesday. Lillianna Byington recaps the hearing.
Meanwhile, major railroads, including Union Pacific and BNSF Railway, and their unions remain at an impasse after a government board ended efforts to mediate a settlement, a move which will likely force Biden's administration or Congress to intervene and prevent a strike that could cripple an already-strained US supply chain. Read more from Thomas Black
Labor Secretary Marty Walsh doubled down on the Biden administration's pro-worker agenda on Capitol Hill, reiterating his commitments to addressing worker misclassification and to protecting an employee's choice to join a union. Walsh appeared before the House Education and Labor Committee as the agency is poised to begin the rulemaking process to determine whether and how workers should be classified as employees, Paige Smith and Jalen Brown report.
Tackling methane emissions from oil and gas wells requires federal rules and investments, New Mexico's Governor Michelle Lujan Grisham (D) said Tuesday in a House Special Committee on the Climate Crisis hearing on how states are trying to reduce the release of the potent greenhouse gas. Read more from Zach Bright.
A landmark data privacy draft bill still lacks adequate protections for minors and marginalized communities, advocates and one key lawmaker say. The proposal includes a prohibition on targeted advertising if companies have "actual knowledge" that an individual is under 17 years old. The term "has been a huge loophole for big tech companies to claim ignorance," Rep. Kathy Castor (D-Fla.) said during an Energy and Commerce subcommittee hearing Tuesday. Maria Curi has the story.
Elections & Politics
Mayra Flores, a Mexican-born Republican activist, defeated Democrat Dan Sanchez in Texas' Hispanic-majority 34th District on the southern border, marking the first congressional seat to flip party control in 2022. The Associated Press called the election with Flores, who needed a majority of the vote to win outright Tuesday, leading the four-candidate field with 51% of the vote. The win by Flores, a health-care worker, will fill a vacant seat left by Filemon Vela, while further narrowing House Democrats' minute advantage in the chamber, and providing the GOP a momentum boost ahead of the November elections. Read more from Greg Giroux.
It was a split decision in South Carolina for two leading Republican targets of Trump, with one prevailing and one losing to a primary challenger on Tuesday. Rep. Tom Rice, who voted to impeach the former president, lost to state Rep. Russell Fry, while Rep. Nancy Mace cleared the 50% threshold to avoid a runoff versus Katie Arrington. The contests were key tests of Trump's sway in the GOP. Most of the former president's endorsed candidates have secured wins, but no Trump-backed challenger had ousted an incumbent. Emily Wilkins breaks down the results.
Adam Laxalt, Nevada's former attorney general, captured the Republican nomination for Senate on Tuesday, setting up a high-profile match with Democratic Sen. Catherine Cortez Masto that will be pivotal in determining control of the chamber. Kenneth P. Doyle has more.
MORE FROM ELECTION NIGHT:
Former Rep. Bruce Poliquin won the GOP primary for Maine's 2nd Congressional District, the AP says. Poliquin will face incumbent Democratic Rep.

Jared Golden

. Golden defeated Poliquin in 2018.
Rep. Karen Bass has pulled ahead of billionaire developer Rick Caruso in the first round of the race to be the next mayor of Los Angeles.

Bass

(D-Calif.) got 41% of the votes a week after the primary, while Caruso received 38%, based on the update Tuesday. Read more from Linus Chua.
Donald Trump's bid to halt depositions next month in a New York state probe of his family's real-estate business by New York Attorney General Letitia James (D) was rejected by the state's highest court. New York's Court of Appeals on Tuesday denied a request by Trump, Donald Trump Jr. and Ivanka Trump to block their interviews in the case, which are set to begin July 15. Chris Dolmetsch has more.
Smartmatic's defamation suit against Newsmax Media over false reports that the voting technology company rigged the 2020 presidential election should be dismissed because there was "nothing inherently incredible" about the theory, the network told a judge. At issue is the conservative media outlet's reporting on claims made after the election by Trump's lawyer Rudy Giuliani and former Trump campaign attorney Sidney Powell, among others. Read more from Erik Larson.
Around the Administration
BIDEN'S SCHEDULE:
At 4 p.m., Biden will host a reception and deliver remarks to celebrate Pride Month. First Lady Jill Biden, Vice President Kamala Harris, Second Gentleman Doug Emhoff, Interior Secretary Deb Haaland, and Transportation Secretary Pete Buttigieg are scheduled to attend.
Biden told US oil refiners that unprecedented profit margins are unacceptable and called for "immediate action" to improve capacity as the soaring price of gasoline feeds record inflation and fears of a recession. "At a time of war, refinery profit margins well above normal being passed directly onto American families are not acceptable," Biden said in a letter sent Wednesday to top oil companies. Justin Sink and Jennifer A. Dlouhy have more.
As Federal Reserve officials convened in Washington for the start of their two-day policy meeting, a group of protesters gathered outside their headquarters to remind them that the aggressive interest-rate increases they're considering to combat inflation—potentially including the steepest hike since 1994—have a human cost of rising unemployment. Read more from Jonnelle Marte.
White House officials huddled with solar manufacturers Tuesday on the Biden administration's plan to kick-start domestic panel-making and wean US clean energy projects off foreign imports. The roughly one-hour meeting with more than 20 industry representatives was designed to shed light on Biden's move last week to bolster domestic solar manufacturing under the Defense Production Act, said several people familiar with the session, Jennifer A. Dlouhy reports.
The port of Los Angeles, the busiest in the US, has enlisted the help of the White House to clear a backlog of rail-bound containers that's tripled since February, taking up space on its docks and causing congestion as the operation prepares for an early peak season, Ana Monteiro reports.
Separately, more than 250 West Coast port truckers have the right to form a union, according to a federal labor board official, potentially setting a favorable precedent for gig workers nationwide. Read more from Ian Kullgren.
Former Atlanta Mayor Keisha Lance Bottoms will replace Cedric Richmond as director of the White House Office of Public Engagement, according to a White House official, Justin Sink and Chelsea Mes report.
The Biden administration, applying lessons from the Covid-19 pandemic, will soon unveil a new defense strategy against biological threats that puts the White House at the center of any future US response. A senior administration official, speaking under the condition of anonymity as the strategy has not yet been released, said that the government has paid close attention to research that suggests there's a 50/50 chance of another Covid-like pandemic — or one that is more deadly — over the next 25 years. Read more from Riley Griffin.
Moderna's Covid vaccine for children and teens gained the support of a panel of US regulatory advisers, putting the shot on track for likely clearance. The Food and Drug Administration's 22-member vaccines advisory committee voted unanimously to back authorization of the immunization, intended for children and adolescents 6 to 17 years old. Fiona Rutherford has more.
The technology and collaboration used to develop and deliver Covid-19 vaccines could serve as a model for ramping up shots for other vaccine-preventable diseases, Matthew Hepburn, who is currently a senior adviser to the director of the White House Office of Science and Technology Policy for pandemic preparedness, said, Jeannie Baumann reports.
To contact the reporters on this story: Michaela Ross in Washington at mross@bgov.com; Brandon Lee in Washington at blee@bgov.com
To contact the editors responsible for this story: Giuseppe Macri at gmacri@bgov.com; Loren Duggan at lduggan@bgov.com