What to Know in Washington: McCarthy's Strategy for GOP Factions
Bloomberg Government subscribers get the stories like this first. Act now and gain unlimited access to everything you need to know. Learn more.
Speaker Kevin McCarthy is making an offer his fellow Republicans can't refuse. He's given five competing groups—some of whom almost came to blows during the drawn-out speaker's race—a seat at the leadership table.
McCarthy has dubbed them "The Five Families," a nod to New York's major Mafia clans and popularized by "The Godfather." His plan would be a marked contrast to the approach of his predecessors, especially former Speaker Nancy Pelosi (D-Calif.) who held a tight rein on power, was heavily involved in setting the legislative agenda, and moved to quash disputes among the moderate and liberal wings of her party.
By giving the sometimes warring GOP factions more of a voice, McCarthy (R-Calif.) is betting he'll be better able to navigate a five-vote margin and ensure major legislation isn't shot down by partisan infighting. And the success of his speakership may rise and fall on whether his decentralized approach ultimately gives him the room he needs to maneuver atop a fractious caucus.
Each of the 'five families' aren't only planning meetings among themselves and with conferences leaders, but will each have a representative to the weekly Elected Leadership Committee, which is headed by Rep. Garret Graves (R-La.). Graves said that the diverse views within the party came to the forefront during the speaker's race, which was only decided after much drama and multiple votes.
Having the five groups on the committee will help "identity landmines" before a bill hits the floor, Graves said in an interview. Unlike the whip operation, which focuses on more immediate floor action, Graves' committee looks several months down the road on broader issues like the southern border, energy security and inflation, said Majority Leader Steve Scalise (R-La.).
"What we're trying to do is get all of the different philosophical viewpoints within our conference together talking about the challenges that the country and the Congress face, in advance of when the deadlines hit," Scalise said. "There are deadlines coming on certain things. You don't want to wait till the midnight hour." Read more from Emily Wilkins.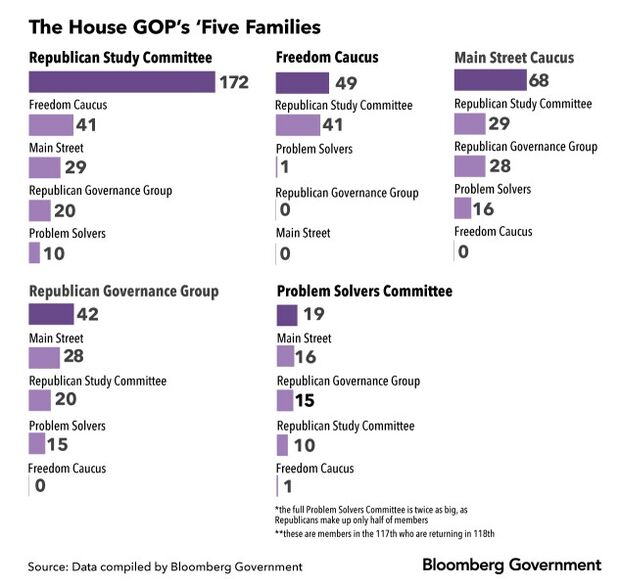 Also on Lawmakers' Radars
CONGRESS' SCHEDULE
The House meets at 10 a.m. and plans to take up a measures on inflation and the Labor Department's ESG rule.
The Senate returns at 10 a.m. for several judicial nomination votes.
The latest congressional effort to validate the disputed Equal Rights Amendment as part of the US Constitution is set for a Senate committee hearing, as a federal appeals court prepares to rule on the ERA controversy any day.
A group of Fortune 500 companies, including Ford Motor, Intel, and Pacific Gas and Electric, will soon launch a coordinated lobbying effort of congressional lawmakers and the Biden administration, pushing for a wide set of environmental priorities.
Top Republicans on the House Homeland Security Committee are demanding information about any plans to overhaul the Department of Homeland Security's troubled intelligence office.
Sen. John Fetterman (D-Pa.), a stroke survivor who is hospitalized as he undergoes treatment for clinical depression, is "doing well" and "remains on a path to recovery," his spokesman said in a statement.
House Republicans, leery of Democrats' climate policies, are pushing an alternative agenda: reducing US reliance on foreign-sourced critical minerals for everything from green energy to military equipment.
The Senate Foreign Relations Committee's planned meeting to consider former Los Angeles Mayor Eric Garcetti for US ambassador to India has been moved to next week, Politico reports, citing two unidentified aides.
Danny Werfel's nomination to be commissioner of the Internal Revenue Service is moving forward, after he submitted written responses to senators' questions.
Elections, Politics & Probes
A select group of congressional leaders today will hear from US officials about classified documents found in the possession of President Joe Biden, former President Donald Trump and former Vice President Mike Pence, people familiar with the matter said.
Members of Congress from both parties have been calling for such briefings. The Justice Department has appointed special counsels to investigate how records with classification markings ended up at private residences of Biden and Trump.
The 4 p.m. private briefing at the Capitol is for the so-called "Gang of Eight" lawmakers who have the most access to the nation's secrets. That includes Senate Majority Leader Chuck Schumer (D-N.Y.) and Speaker McCarthy, as well as the top Republicans and Democrats on the intelligence committees in both chambers.
Fox Chairman Rupert Murdoch testified that Fox News's popular commentators "endorsed" Trump's false claim the 2020 election was rigged, even though Murdoch said he doubted the theory right away, according to a filing in a defamation lawsuit.
Former Brazilian President Jair Bolsonaro—who's spent the last two months in the US—plans to speak at this week's Conservative Political Action Conference as he faces investigations back home after riots by supporters who refused to accept his election loss.
Rep. Nick LaLota (R-N.Y.) said Monday he hopes Rep. George Santos, a fellow New York Republican, will soon be expelled from the House for fraud over his serial fabrications to voters.
Around the Administration
BIDEN'S AGENDA
At 3 p.m., Biden is scheduled to deliver remarks in Virginia Beach, Va., on affordable health care for seniors.
The Biden administration warned companies lining up for funding from the US Chips and Science Act that the money will come with major strings attached, including restrictions on investing in other countries and a limit on much-prized stock buybacks.
The Commerce Department released the rules Tuesday ahead of doling out $39 billion in incentives, which are aimed at helping pay for semiconductor factories in the US. Some of the biggest chip producers such as Intel had lobbied for the funding package, which passed last year, but now they're learning the consequences and risks of taking the cash.
That includes having to return the money if projects don't meet certain milestones or don't get completed as planned. Companies also have to limit funding production in "countries of concern"—implicitly, China—for a decade.
The Biden administration's push to stop private health plans from using moral objections to avoid covering contraceptive services is stirring strong opposition from a coalition of familiar foes.
The FDA has left as much as $39 billion in uncollected penalties on the table, according to a student activist group that's calling on the agency to step up its enforcement of a clinical trial transparency law.
The top energy officials from the US and UK are set to meet Tuesday to discuss issues including energy security and the shift to renewables amid trans-Atlantic tension over green subsidies.
Thailand kicked off an international military exercise with the biggest US attendance in a decade as Washington seeks to build on ties with a key security partner at a time of rising global geopolitical competition with Beijing.
To contact the reporter on this story: Brandon Lee in Washington at blee@bgov.com
To contact the editor responsible for this story: Michaela Ross at mross@bgov.com
Stay informed with more news like this – from the largest team of reporters on Capitol Hill – subscribe to Bloomberg Government today. Learn more.