What to Know in Washington: Jan. 6 Hearings to Focus on Trump
Future hearings to focus on Trump's response to attack
China competition bill likely to survive GOP threat
A House committee investigating the assault on the US Capitol promised revelations in the televised hearings that began last month.
It has so far delivered.
From then-President Donald Trump demanding to join the mob attacking the Capitol to even his daughter doubting his claims of election fraud, the revelations have become must-see television. Viewership topped 20 million during the prime-time debut and 10 million in subsequent sessions.
Hearings on are hold while Congress is in recess but future sessions are expected to focus on the role of the extremist groups that participated in the attack and what Trump was doing for the 187 minutes before calling for the mob to go home. Billy House has a rundown of the most notable revelations in the six sessions that have been held so far. Read more.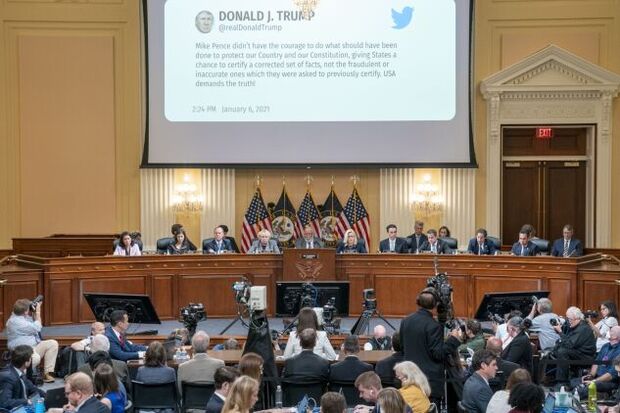 Members of the committee promised further revelations, after an ex-White House staffer portrayed the former president's outbursts of rage. "We are following additional leads," Rep. Adam Schiff (D-Calif.) said on CBS's "Face the Nation." "I think those leads will lead to new testimony." Read the latest from Victoria Cavaliere and Billy House.
Also on Lawmakers' Radars
A $52 billion package of incentives and subsidies to bolster domestic semiconductor manufacturing to counter China's own manufacturing prowess is far from dead, despite Senate Republican leader Mitch McConnell's (R-Ky.) threat to scuttle the legislation containing it in order to stall passage of President Joe Biden's economic agenda. Democrats have several paths to get the chips money, which has broad bipartisan support, through Congress.
While McConnell's ploy is aimed at stopping the partisan package—which contains tax hikes on the rich and corporations, clean energy incentives, and drug price limits—it comes as Republicans have been prodding Democrats to ditch plans to add big-ticket items to the China bill, which has been under talks for months. Secretary of Commerce Gina Raimondo told the Washington Post that the threat is a mere "bump in the road." Read more from Erik Wasson and Steven T. Dennis.
Rep. John Yarmuth said he was completely blindsided by the White House's plan to nominate anti-abortion Republican Chad Meredith to a federal trial court seat in his state. The possibility of nominating Meredith stunned Yarmuth (D-Ky.) and others dissatisfied by the pace of Biden judicial nominations, and such a nomination in the wake of the death of Roe v. Wade could also undermine support for Democrats among women.
Yarmuth said Biden appears to be trying to strike a deal with McConnell to stop him from holding up future federal nominations. He said McConnell has been pushing for Meredith for a while to get an appointment and is close to Caldwell personally. Madison Alder and Erik Wasson have more.
Sen. Marsha Blackburn said TikTok executives need to testify before lawmakers and explain its relationship to the ruling Chinese Communist Party, or CCP. "Americans need to know if they are on TikTok, Communist China has their information," Blackburn (R-Tenn.) told Bloomberg. TikTok earlier in a letter to nine senators said some Chinese employees can access Americans' data, stoking more criticism from lawmakers who have raised alarms about the social network's practices. Read more from Todd Shields and Jennifer Jacobs.
Sen. Pat Toomey is stepping up his criticism of the SEC after the regulator refused to permit Grayscale Investments to offer America's first Bitcoin exchange-traded fund. Toomey, the Senate Banking Committee's top Republican, said Friday that he looked forward to the SEC position being challenged in court, without naming Grayscale. Separately, Toomey disclosed last July that he took a position worth between $1,001 and $15,000 in the Grayscale Bitcoin Trust. Allyson Versprille and Immanual John Milton have more.
House members are seeking to leverage their funding powers to demand the Energy Department speed up work on nuclear waste disposal and cleanup, while more quickly developing new domestic sources of nuclear fuel. The fiscal 2023 energy and water funding bill advanced by the House Appropriations Committee last week committed to spending $120 million on development of a specialized fuel for advanced reactors that is currently supplied by Russia. Read more from Daniel Moore.
Elections & Politics
The Biden administration is drawing a link between states moving to outlaw abortion and those limiting voting rights. That's the pitch Vice President Kamala Harris made to an audience mostly of Black women at the annual Essence Festival in New Orleans over the weekend. Overturning of Roe v. Wade "requires all of us to speak up," she said. "At least 11 states are doing both at the same time." Akayla Gardner has more.
The chief security officer for the Supreme Court demanded that Virginia and Maryland officials enforce laws against picketing in front of private houses, saying that "threatening activity" at justices' homes has increased in recent weeks, Ian Fisher reports.
Lawmakers in New York took the first step toward codifying reproductive rights into the state's constitution in response to the Supreme Court's abortion ruling. The legislature passed a measure to expand the list of classes protected by the state's constitution. The broad equal rights language expands those classes to include women making decisions about pregnancy, pregnancy outcomes, and reproductive health care. Read more from Keshia Clukey.
New York also passed gun legislation that would severely limit where guns can be carried and require background checks to buy ammunition. Gov. Kathy Hochul (D) negotiated the legislation with leaders and said she would sign quickly. The bill is almost certain to draw a lawsuit. Keshia Clukey explains.
Supreme Court Justice Sonia Sotomayor is now positioned to be the lead dissenter on a liberal wing that's powerless to stop the court's conservative majority from pushing federal law to the right. She's already the most prolific dissenter. Sotomayor joined the majority 57% of the time this term, compared to 75% in the previous one. Justice Stephen Breyer's retirement means the first Latina justice who joined the court in 2009 is now the liberal bloc's most senior member with the power to assign dissenting opinions when the court splits along ideological lines, which it did in 13 cases this term. Read more from Lydia Wheeler.
Californians will decide this November whether to tax millionaires to boost electric vehicle ownership. The wealth tax measure will appear on the Nov. 8 ballot alongside proposals to allow sports betting in the state for the first time, enshrine the right to an abortion in the state Constitution, and tighten regulations on kidney dialysis clinics, California's secretary of state's office announced. Tiffany Stecker has more.
Prosecutors urged a judge to reject former Trump adviser Steve Bannon's request to delay his July criminal contempt trial, saying there's no evidence that publicity of the House Jan. 6 committee hearings would hurt his defense. Steve Stroth provides an update.
Around the Administration
PRESIDENT'S SCHEDULE:
Biden is scheduled at 11:15 a.m. to award the Medal of Honor to four Vietnam War veterans of the U.S. Army.
Biden celebrated the Fourth of July with a cookout at the White House, noting that the nation has made great strides but also taken "a few steps backward."
"As it's been before in our history, in times of war and division, of growth and change, the Fourth of July comes at a critical moment," Biden said in a late-afternoon event on the lawn of the executive mansion, surrounded by members of the armed forces, their families and other guests. Akayla Gardner covers the event.
Biden said he spoke with officials in Illinois after a mass shooting in a suburb of Chicago and pledged federal law enforcement assistance in finding the gunman. Six were killed and dozens injured in an attack on an Independence Day parade in Highland Park, according to the Lake County Sheriff's office. Read more from Akayla Gardner. A suspect is in custody, according to the Associated Press.
It will be weeks before Biden can end the Trump-era "remain-in-Mexico" policy, according to Homeland Security Secretary Alejandro Mayorkas. The administration has to wait until last week's Supreme Court decision is communicated to the federal district court in Texas, "and once that occurs, the district court should lift its injunction that is preventing us from ending the program," Mayorkas said over the weekend, Reade Pickert reports.
The Biden administration is proposing selling new oil and gas drilling leases in the Gulf of Mexico and Alaska in a move likely to anger climate activists pushing to see a domestic ramp down for fossil fuels. The Interior Department is proposing as many as 11 lease sales over the next five years. They include 10 in the Gulf of Mexico and one in the Cook Inlet off the Alaskan coast. The plan also includes an option to conduct no lease sales. Ari Natter has the latest on the plan.
White House plans to create a high-skilled, diverse workforce to finish the billions of dollars of infrastructure projects over the next decade has largely hinged on siphoning federal funds toward contractors and grant applicants partnering with labor groups. But Biden also will need buy-in from businesses and GOP-led states, which say some of the steps he's taken could limit access for women- and minority-owned businesses. Rebecca Rainey has more.
Senior US and Chinese officials discussed US economic sanctions and tariffs Tuesday amid reports the Biden administration is close to rolling back some of the trade levies imposed by Trump.
The lifting of tariffs and sanctions and the fair treatment of Chinese enterprises are areas of concern to China, Vice Premier Liu He told US Treasury Secretary Janet Yellen in a video call Tuesday morning Beijing time, according to a statement from China's Ministry of Commerce. The two officials last spoke in October. Read more.
The US ambassador to China called on the Foreign Ministry in Beijing to stop spreading Russia's "lies," in an unusually direct and public rebuke by the top American diplomat in the country. Ambassador Nicholas Burns made the "request" in response to a question at a government-backed forum Monday about what China could do to resolve the crisis over Russia's invasion of Ukraine. Read more.
The competition between the US and China to explore outer space turned prickly after Chinese diplomats blasted the head of NASA and encouraged neighboring countries to support Beijing's plan for exploring the moon. China's Ministry of Foreign Affairs spokesman Zhao Lijian on Monday accused NASA Administrator Bill Nelson of lying "through his teeth" in response to reported comments in a German tabloid about the space competition between the two countries. Read more.
The Palestinian Authority rejected the inconclusive findings of a US investigation into the killing of Palestinian-American reporter Shireen Abu Akleh. The US Statement Department said Monday an American investigation had found the bullet that killed the Al Jazeera television journalist was too badly damaged to offer a definitive conclusion as to who was responsible for her death, Fadwa Hodali and Daniel Avis report.
With assistance from Brandon Lee
To contact the reporter on this story: Michaela Ross in Washington at mross@bgov.com
To contact the editors responsible for this story: Giuseppe Macri at gmacri@bgov.com; Loren Duggan at lduggan@bgov.com