What to Know in Washington: House to Vote on Landmark Gun Deal
Congress set to clear new gun regs today, send to Biden
Republicans sought pardons from Trump after Jan. 6
The House is expected today to clear bipartisan gun-safety legislation hailed as the biggest breakthrough on the issue in three decades, sending it to President Joe Biden's desk before leaving for a two-week recess.
Senators voted 65-33 last night to approve the bill before departing for their own recess. The vote followed a Supreme Court ruling striking down a New York law that required people to show a special need to carry a handgun in public, ruling for the first time that the Second Amendment protects gun rights outside the home, Laura Litvan reports.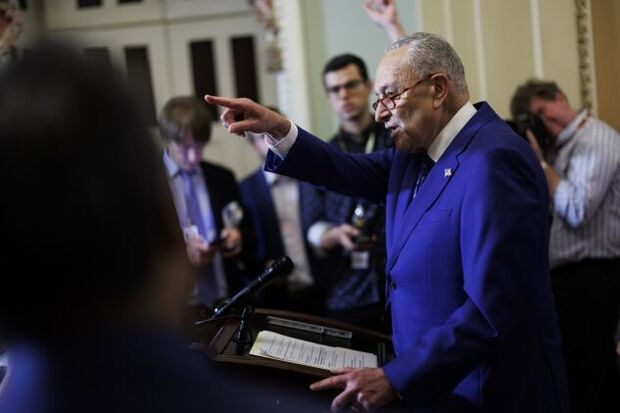 The ruling is spurring public officials in New York and other liberal states to explore new options to restrict permits and clamp down on where people can carry concealed firearms. Leaders from New York, New Jersey and California said they are exploring new legislation and regulations to combat the court's action, which has the potential to offer Americans easier access to guns. Read more from Neil Weinberg.
Justice Brett Kavanaugh's concurring opinion to Thursday's decision striking down New York's conceal carry gun law might provide liberal lower court judges a way to uphold state gun control laws. How much weight the concurrence, which Chief Justice John Roberts joined, will carry depends on the court that's hearing future cases. Lydia Wheeler and Kimberly Strawbridge Robinson explain.
The decision establishing for the first time a constitutional right to carry a handgun outside the home for self-defense is a bright spot in what's been a bleak time for the National Rifle Association. The gun rights group has faced unprecedented challenges in recent years. They include financial strain and an investigation and lawsuit brought by the New York State attorney general alleging fraud and misuse of the nonprofit's funds by Wayne LaPierre, and other senior executives.Read more from Lydia Wheeler.
Americans' confidence in the U.S. Supreme Court has reached a new low, according to a Gallup poll measuring faith in institutions over 50 years. While many societal pillars are having a bad year, the 11-point drop for the nation's highest court is about double that of the decline experienced by other institutions included in the survey, Joel Rosenblatt reports.
Happening on the Hill
CONGRESSIONAL SCHEDULE:
House members meet at 9 a.m. to vote on the gun bill and another extending child nutrition programs.
The Senate holds a pro forma session at 10:30 a.m.
The Senate passed a bill to extend Covid-19-related school meal accommodations Thursday with bipartisan support. The Senate voted by unanimous consent to amend and pass the Keep Kids Fed Act (S. 2089), which the House passed earlier in the day by a 376-42 vote. The Senate-passed bill will now go back to the House for another vote. Read more from Maeve Sheehey.
Agriculture, rural development, and Food and Drug Administrations programs are in line for an 8% increase in the year starting Oct. 1 under legislation House appropriators approved Thursday. The Appropriations Committee House voted 31-26 to advance the fiscal 2023 spending bill, which would provide $27.2 billion for the program, an increase of $2.075 billion over the current year. Read more from Celine Castronuovo, Maeve Sheehey and Jack Fitzpatrick.
A bill to expand a ban on the modification of horses' gaits received bipartisan support during a subcommittee markup Thursday. The measure targets horse soring — a practice that uses devices or chemicals to exaggerate the gait of horses — which is often used for entertainment. Read more from Mia McCarthy.
The Senate anticipates to vote in July on a bill expanding benefits for veterans grappling with health issues because of toxic substance exposures, Senate Veterans' Affairs Committee Chairman Jon Tester (D-Mont.) said. Read more from David Hood.
As Senate Democrats work on a slimmed-down version of Biden's long-term economic package, a move to expand the federal deduction for state and local taxes looms again as a potential late-stage hurdle. House Democrats representing high-tax states are still prepared to block any deal on a climate, tax-hike and deficit reduction bill if the legislation doesn't include an expansion of the valuable write-off, known as SALT. Read more from Laura Davison.
GOP Lawmakers Sought Pardons After Election, Jan. 6 Panel Told
House GOP Representatives Matt Gaetz (Fla.), Scott Perry (Pa.), Andy Biggs (Ariz.), Louie Gohmert (Texas) and Mo Brooks (Ala.) all contacted White House staffers seeking pardons from Donald Trump, according to video testimony played Thursday by the committee investigating the Jan. 6 insurrection at the US Capitol.
Cassidy Hutchinson, a former aide to then-White House Chief of Staff Mark Meadows, said in video testimony played Thursday that Gaetz, Gohmert, Biggs, Brooks and Perry had asked for pardons. She also said she heard that Rep. Marjorie Taylor Greene (Ga.), who was newly sworn-in at the time, had asked for a pardon from the White House counsel's office, a statement that the Georgia Republican promptly labeled "gossip and lies."
There was also video testimony of former White House lawyer Eric Herschmann saying Gaetz had requested a pardon that would cover a broad number of unnamed activities. And former White House official John McEntee said Gaetz told him he had asked Meadows for a pardon.
Rep. Jim Jordan (Ohio), the top Republican on the Judiciary Committee, also inquired about the status of pardons but did not specifically ask for one, Hutchinson said. Read more from Steven T. Dennis and Billy House.
Trump spent the weeks before Jan. 6, 2021, flailing for ways to get the Justice Department to bolster false claims of election fraud, badgering his acting attorney general on a near-daily basis and attempting to replace him when he refused to comply.
Three former top Trump Justice Department officials including the acting attorney general, Jeffrey Rosen, testified Thursday to a relentless pressure campaign that veered into unsubstantiated conspiracy theories one of them described as "pure insanity." The effort culminated in a heated Oval Office confrontation in which senior department leaders threatened a mass resignation. Read more from By Mike Dorning, Chris Strohm and Billy House.
Around the Administration
BIDEN'S AGENDA:
At 2 p.m., Press Secretary Karine Jean-Pierre is scheduled to give a briefing. The president has no public events.
Biden's political fortunes have changed dramatically since his first Group of Seven summit last summer, or even his last visit to Europe in March. It couldn't come at a worse time for his international allies as Russia settles into a long war with Ukraine.
German Chancellor Olaf Scholz, who will welcome G-7 leaders in the Bavarian Alps, views Biden as a driving force in sustaining pressure on Moscow and believes that unity among allies could fray once again if Republicans win back the White House in 2024, according to a German government official who requested anonymity to discuss internal thinking.
Biden departs Saturday for the G-7 summit in Elmau, Germany, which starts Sunday and runs through June 28. Jordan Fabian and Jenny Leonard have more.
The US said it will provide another $450 million in advanced weaponry and aid to Ukraine, the latest tranche in what has become a multibillion-dollar effort to help push back Russia's invasion. The new package includes patrol boats, cannon shells, rocket systems and additional ammunition to "help Ukraine defend its democracy in the face of unprovoked Russian aggression," National Security Council spokesman John Kirby told reporters Thursday. Kirby said US security assistance since the war began now totals about $6.1 billion. Read more from Josh Wingrove and Akayla Gardner.
The Biden administration marked the 50th anniversary of Title IX by proposing sweeping changes to the landmark law that aim to strengthen discrimination protections for transgender and nonbinary students, boost protections for pregnant students, and undo Trump-era rules governing sexual misconduct allegations at schools and universities. Read more from Ella Ceron and Akayla Gardner.
US health officials are looking to expand use of the monkeypox vaccine for children as the outbreak continues to spread across the US and in countries around the world, with more than 3,300 cases reported globally. The US Centers for Disease Control and Prevention is developing a protocol aimed at allowing use of Bavarian Nordic A/S's Jynneos vaccine in children, if needed. Read more from Madison Muller and Riley Griffin.
The US is preparing to escalate its complaints that Mexico's state-favoring energy policies violate the nations' free-trade agreement, people familiar with the matter said, a move that would risk exacerbating tensions between the countries' governments. Read more from Eric Martin.
The US energy chief struck a conciliatory tone in a high-stakes meeting with top oil executives to discuss soaring gasoline prices Thursday, though the huddle yielded little progress on a plan to tackle the supply crunch. Energy Secretary Jennifer Granholm met in Washington for more than an hour with leaders of some of the nation's top petroleum companies, discussing possible fuel-specification waivers and other changes that could help ease pump prices. Read more from Jennifer A. Dlouhy and Ari Natter.
To contact the reporter on this story: Michaela Ross in Washington at mross@bgov.com
To contact the editors responsible for this story: Giuseppe Macri at gmacri@bgov.com; Loren Duggan at lduggan@bgov.com