What to Know in Washington: House GOP Prepares Payback for Biden
Bloomberg Government subscribers get the stories like this first. Act now and gain unlimited access to everything you need to know. Learn more.
The new Republican majority in the US House is readying a fusillade of investigations into President Joe Biden, his family and his administration, upholding a key promise of the midterm election campaigns following Democratic-led inquiries of former President Donald Trump.
The GOP probes will be spread among several existing House committees as well as newly created panels, including one focused on the Justice Department and intelligence agencies that conservatives accuse of targeting them. In the runup to the 2024 presidential race, Biden and his allies will be forced to counter attacks broadcast during numerous televised hearings.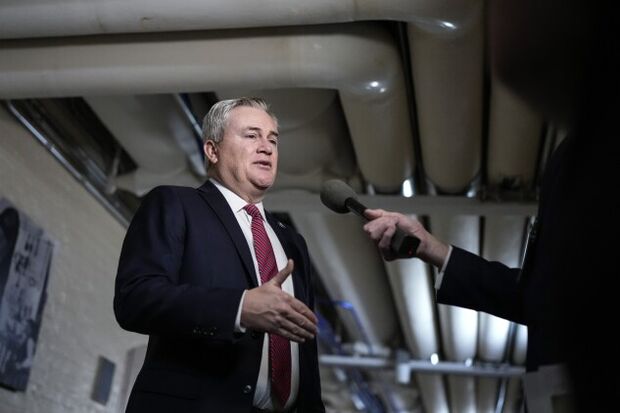 Those targets for Republicans include:
Hunter Biden: The House Oversight Committee, led by James Comer (R-Ky.), is examining the Biden family's domestic and international business dealings to determine if they pose a threat to national security. Biden's son Hunter Biden is at the center of the investigation.
Justice Department: House Republicans voted Tuesday to establish a subcommittee to scrutinize what they call the "weaponization" of the federal government. The panel, led by Judiciary Chair Jim Jordan (R-Ohio), will examine Justice Department investigations, potentially including the current one into Trump.
Afghanistan Withdrawal: The House Oversight Committee and the Foreign Affairs Committee, led by Rep. Michael McCaul (R-Texas), is expected to continue probes into the August 2021 withdrawal of US troops from Afghanistan.
US-Mexico Border: Republicans have blamed the Biden administration's border policies for the increasing number of migrants at the US-Mexico border and have singled out Homeland Security Secretary Alejandro Mayorkas.
Internal Revenue Service: House Ways and Means Chairman Jason Smith (R-Mo.) has repeatedly pledged to investigate the Internal Revenue Service.
Coronavirus Origins: Republicans are directing a special committee on the Covid-19 pandemic on longstanding complaints about the nation's response.
US Flights Disrupted After Outage of FAA Pilot Advisory System
The failure of a key pilot notification system operated by the Federal Aviation Administration disrupted air travel in the US early on Wednesday morning, with scores of passengers due to fly domestically reporting delays on social media and multiple airlines grounding flights, Siddharth Phillip reports.
Happening on the Hill
CONGRESS' SCHEDULE:
The House meets at 10 a.m. to consider two abortion-related measures.
House members can claim reimbursement for lodging, meals and incidentals this year, a major change for lawmakers who have struggled to keep a residence both in their district and in Washington.
A member and three senior congressional aides confirmed the change on condition of anonymity as the guidance is still being hammered out.
The House's chief administrative officer notified members and staffers of the change Tuesday in an email obtained by Bloomberg Government. Read more from Emily Wilkins
The House set up a new select committee Tuesday to come up with ways the US can counter China's growing economic and strategic power, reflecting the broad sentiment in Congress for taking a confrontational approach in dealing with the world's second largest economy.
Health research funding will face some of the steepest cuts in a decade if the House Republicans' agreement sets next year's spending at 2022 levels, potentially slashing billions of dollars in medical research.
FTX lead bankruptcy counsel Sullivan & Cromwell is wrong for its role because the firm's prior work for the crypto exchange raises impartiality concerns, four US senators said.
Rep. Carol Miller (R-W.Va.) reintroduced a bill that would end a tax reporting requirement for e-commerce sellers like Venmo, PayPal, and Etsy to send tax forms to users with more than $600 in transactions.
Rep. George Santos (R-N.Y.) said he's "done nothing unethical" as two House Democratic asked the Ethics Committee to investigate whether the New York congressman filed vague and possibly illegal financial disclosures.
Sen. Chuck Grassley (R-Iowa) hurt his hip and will have surgery this week, his office says in press release.
All airport travelers in the US should "immediately" be required to undergo identity checks by the Transportation Security Administration after the discovery of vulnerabilities in the biometric vetting service operated by Clear Secure, lawmakers said in a December letter.
Elections & Politics
The largest agricultural lobbying group in the US is urging the Agriculture Department to oppose Mexico's proposed ban on genetically modified corn imports.
The Washington Center for Equitable Growth appointed Shayna Strom as chief executive officer of the left-leaning think tank that's provided a steady stream of personnel to the White House.
Rapper and record producer Dr. Dre made clear that he doesn't want his music being used by controversial Rep. Marjorie Taylor Greene (R-Ga.), whose political video featuring his 1999 hit "Still D.R.E." was removed from Twitter following a copyright takedown request.
Allen Weisselberg, who oversaw the finances at Donald Trump's companies for decades, was led out of a Manhattan courtroom in handcuffs after being sentenced to 5 months in jail for tax fraud, and will finally part ways with the Trump Organization.
Around the Administration
BIDEN'S SCHEDULE:
The president has no public events scheduled. At 2 p.m., White House Press Secretary Karine Jean-Pierre gives a briefing.
President Biden said he was surprised that classified documents were discovered in an office he used before he was elected.
Vice President Kamala Harris is convening dozens of environmental leaders Wednesday, as the Biden administration seeks to build on enactment of last year's sweeping climate law and move more urgently to address the crisis.
The question was about migration. But Mexican President Andres Manuel Lopez Obrador had a lot to say on just about everything else.
A joint committee will work on finding substitutes for North American imports, said Lopez Obrador at a press briefing for the North American Leaders' Summit on Tuesday.
The faithful once again gathered early Tuesday outside the 3,600 square-foot house with the Disney-themed bedrooms near Orlando, where former Brazilian President Jair Bolsonaro had sought refuge from a re-election defeat.
China said the rising number of warplanes it sends toward Taiwan were due to the island's "military collusion" with the US, shedding light on its motives for the threatening activity.
The European Union is skeptical that the US will make any meaningful changes to the $370 billion green investment plan that the bloc says unfairly subsidizes American companies.
To contact the reporter on this story: Michaela Ross in Washington at mross@bgov.com
To contact the editors responsible for this story: Andrew Small at asmall@bgov.com
Stay informed with more news like this – from the largest team of reporters on Capitol Hill – subscribe to Bloomberg Government today. Learn more.