What to Know in Washington: House GOP Election Chief Optimistic
Bloomberg Government subscribers get the stories like this first. Act now and gain unlimited access to everything you need to know. Learn more.
Richard Hudson has no margin for mistakes.
As National Republican Congressional Committee chair, Hudson is responsible for not only expanding the party's House majority in 2024, but protecting the 18 Republicans who won in districts carried by President Joe Biden.
Republicans hold a nine-seat majority after the 2022 midterm election in which the party performed more poorly than projected, in part because Democrats rallied their base angry over the Supreme Court decision to overturn the federal right to an abortion and the nomination of Trump-backed GOP candidates viewed as too extreme.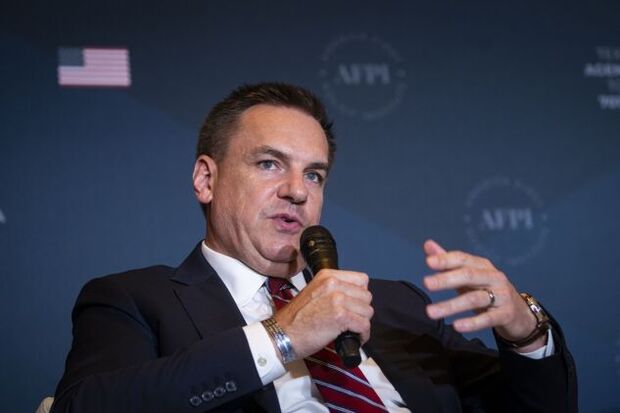 Even with the pressure, Hudson (N.C.) said he's optimistic he'll find high-quality candidates. He says things will work out despite the distraction of Rep. George Santos, the newly elected Republican from New York who faces ethics probes after it was revealed he fabricated most of his resume.
Hudson also said that if Donald Trump does become the Republican nominee for president, it will boost turnout for House Republicans even though the former president is facing legal woes and challenges from GOP rivals.
Hudson said he's done a "thorough, deep dive" of the 51 targeted races last year. He presented some of those findings at the recent Republican issues conference in Orlando, emphasizing the need for the NRCC to be more involved with campaigns. That includes extending assistance to candidates in open primaries so whoever becomes the nominee is ready to hit the ground running.
"Our plan is to go recruit strong candidates, just like we did the last two cycles, but then build really strong campaigns around them," Hudson said in an interview with Bloomberg Government. "You'll see the NRCC more involved in that, spending more resources on ground game, making sure we're turning out the vote." Read the full interview from Emily Wilkins.
Happening of the Hill
CONGRESS' AGENDA
The House gathers at 10 a.m. to consider parental rights and overriding a presidential veto of a block on an ESG investing rule.
Senators meets at 10 a.m. to continue considering a repeal war authorizations for the US military invasion of Iraq.
The Republican chair of the committee that will hear from TikTok's chief executive officer on Thursday plans to tell him that his app should be banned in the US and its popularity exposes a vulnerability that could be exploited by China.
TikTok's ownership by a Chinese company, and the national security risk that could pose to the viral video app's users, have drawn most of the attention ahead of the CEO's testimony. But

Shou Chew

is prepared for a variety of questions, including about kids' mental health. Read more.
Sen.

John Thune

(R-S.D.), who cosponsored the leading bill that could ban TikTok in the US, said he's working with both the Biden administration and House Republicans to smooth the passage of his legislation. Read more.
Senators pressed Moderna's chief executive Wednesday for clarity on how patients can benefit from the company's assistance program to help patients access the Covid-19 vaccine once the public health emergency ends.
US regulators, coping with more than 100 drug shortages, don't have enough information to predict which medications will run low next, according to an analysis discussed in a Senate committee Wednesday.
The Food and Drug Administration has quietly removed deadlines for setting guidelines on heavy metals in baby food from its website, sparking more concerns from lawmakers who have long faulted the agency's slow response to the issue.
Natural gas pipeline developers are pressing Congress and US energy regulators to speed up the permitting process as a way to build more projects that deliver energy to the Eastern states.
More data about federal contractors would be available under a bill Rep. Joaquin Castro (D-Texas) plans to introduce Thursday that lines up with a White House push to increase diversity among small businesses selling to agencies.
A South Carolina firm with 13 lawyers spent at least $1.9 million lobbying lawmakers as they weighed a bill that approved payouts for veterans sickened by toxic waters at the Marine base but dropped a provision to cap legal fees. That investment could be worth hundreds of millions of dollars, and reflects the money and behind-the-scenes jockeying to shape a case that could rival the largest mass tort cases in history.
Yellen, Powell Address Bank Crisis
Treasury Secretary Janet Yellen said regulators aren't looking to provide "blanket" deposit insurance to stabilize the US banking system without working with lawmakers, and that the heads of recently failed American lender should be held accountable.
The Federal Reserve's latest rate increase drew rebukes from Sen. Elizabeth Warren (D-Mass.), Senate Majority Leader Chuck Schumer (D-N.Y.) and a senior House Democrat on Wednesday, showing the party's anxiety about a potential recession before the 2024 presidential election.
Warren was focused before the banking turmoil on getting Biden to name a Federal Reserve vice chair who would resist Jerome Powell's rate increases. Now, she wants a nominee who wants tougher bank regulation, too.
Powell conceded that top officials were stumped at the sudden collapse of Silicon Valley Bank earlier this month, which spurred widespread panic of a deeper banking crisis and in turn upended global financial markets.
The Federal Reserve raised interest rates at a ninth straight meeting and indicated there may be more hikes to come in a clear sign it's confident that its bid to quell inflation won't deepen a nascent banking crisis.
Biden's top economic adviser Lael Brainard met with JPMorgan Chase Chief Executive Jamie Dimon on Wednesday, as financial services executives and government officials seek to shore up troubled regional banks.
Elections, Politics & Probes
Trump lost a critical court battle to keep legal details secret from the Justice Department about his alleged mishandling of classified information and obstruction of justice after he left the White House.
Fox News TV hosts including Tucker Carlson and Maria Bartiromo, along with Fox Executive Chairman Rupert Murdoch, will likely be forced to testify during a trial next month over more than $1 billion in defamation claims against the network by Dominion Voting Systems.
Around the Administration
BIDEN'S AGENDA
Biden at 1 p.m. hosts an anniversary event for the Affordable Care Act at the White House.
At 6:25 p.m., the president arrives in Ottawa, Canada and will be hosted at a private gathering by Prime Minister Justin Trudeau at 8:25 p.m.
Amazon faces a host of federal labor board allegations that it illegally refused to bargain with a union representing workers at a New York City warehouse, disciplined a union leader, restricted access to its facilities, and committed other unfair labor practices.
Delta Air Lines and United Airlines are offering to trim flights by as much as 10% at some of the country's busiest airports this summer to ease congestion and delays — but only in return for a promise from federal regulators that they can get them back.
Xi Jinping's meetings in Moscow with Vladimir Putin put the Biden administration in an uncomfortable position: on the sidelines as two adversaries discuss a Ukraine peace proposal that the US has deemed unacceptable.
To contact the reporters on this story: Brandon Lee in Washington at blee@bgov.com; Michaela Ross in Washington at mross@bgov.com
To contact the editor responsible for this story: Giuseppe Macri at gmacri@bgov.com
Stay informed with more news like this – from the largest team of reporters on Capitol Hill – subscribe to Bloomberg Government today. Learn more.