What to Know in Washington: GOP Pushing Transgender Sports Ban
Bloomberg Government subscribers get the stories like this first. Act now and gain unlimited access to everything you need to know. Learn more.
House Republicans are poised to weigh in on transgender student athletes today, engaging in a cultural hot-button issue that has fired up their base. But they are also avoiding some of the thornier issues around LGBTQ rights that risks alienating moderate and independent voters.
Transgender rights have been an increasing Republican target across the country as the party looks for a wedge issue to excite social conservatives before the 2024 election. This year alone, 10 Republican-led state legislatures have banned gender affirming care or surgery for minors. And Bud Light faced a recent backlash after partnering with transgender influencer Dylan Mulvaney.
Congressional Republicans plan to vote on legislation (H.R. 734) that would ban schools that receive federal funding from allowing transgender students assigned male at birth from playing on female sports teams in public elementary and secondary schools as well as colleges and universities. The bill wouldn't prohibit transgender students from practicing or training with a program designated for women or girls.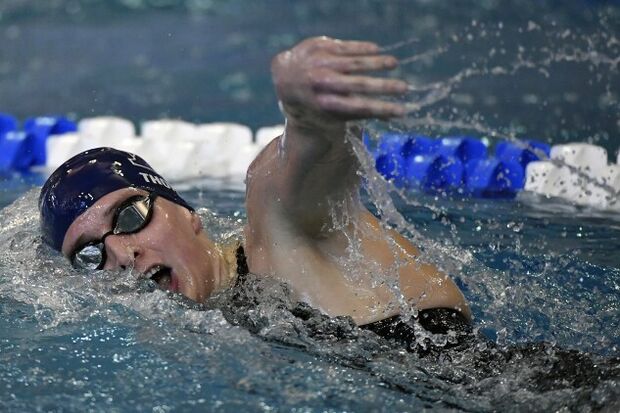 The bill has virtually no chance of becoming law, with the Senate Democrats unlikely to bring it up and President Joe Biden promising to veto it.
But Republicans believe they can make inroads with moderate and women voters who could be swayed by a message questioning the fairness of allowing transgender individuals to compete in women's sports.
"Everybody has a right to be whoever the hell they want to be," said Rep. Kelly Armstrong (R-N.D.), but added that as a former baseball and softball coach "there's a reason we have separate boys and girls sports." Emily Wilkins polls more lawmakers ahead of the vote.
BIDEN'S AGENDA
President Joe Biden at 8:30 a.m. convenes the Major Economies Forum on Energy and Climate virtually from the White House.
At 2:30 p.m., Biden meets with President Gustavo Petro of Colombia.
White House Press Secretary Karine Jean-Pierre gives a briefing at 1 p.m.
CONGRESS' SCHEDULE
The House is in at 9 a.m. to consider the transgender athlete bill.
Senators return at 10 a.m. to vote on reauthorizing firefighter grants.
More From Capitol Hill
The pot lobby, still reeling from a major setback last year, will push its case on Capitol Hill as part of 420 Day. Senate Majority Leader Chuck Schumer (D-N.Y.) and other lawmakers plan to speak at the National Cannabis Policy Summit's congressional forum today, a nod to its designation as an unofficial pot holiday.
Senators from both parties called for changes to the US government's system for classifying secret information after a closed-door briefing Wednesday on the biggest leak of closely held documents in a decade.
The House on Wednesday passed legislation that would block a Washington, D.C. law that overhauls the capital city's police practices, the latest example of Republicans using the Democratic-controlled city to amplify its anti-crime message.
House Republicans are running headlong into an ugly floor fight as they push a hotly contested border and immigration bill that has already divided the GOP conference.
The head of US Customs and Border Protection identified "deficiencies" in the Biden administration's funding proposal for next fiscal year, the latest wrinkle in a complicated appropriations cycle for the Department of Homeland Security. Read more.
The Senate on Wednesday blocked a resolution to end the Department of Veterans Affairs' ability to provide abortions under limited circumstances, even in states that restricted the procedure after the Supreme Court overturned Roe v. Wade.
The FDA plans to follow any court rulings on the abortion pill mifepristone, the agency's head said Wednesday while also highlighting the potential dangers of a lower court injunction that sits before the Supreme Court. Read more.
Artificial intelligence is the next technology that could get support — and new guardrails — from the US government, Schumer said.
Hackers accessed the personal information of over 56,000 health insurance customers, affecting House members and staffers when they recently hit DC Health Link, executive director Mila Kofman told a House joint hearing Wednesday.
Debt Ceiling Latest
The White House accused House Republicans of "holding the American economy hostage" with their proposal tying a debt ceiling increase to budget cuts, intensifying the discord between Biden and the lawmakers as a crucial deadline approaches.
House Republican leaders unveiled a bill that would raise the debt limit by $1.5 trillion while cutting discretionary spending and making changes to social safety net and energy programs.
Foreign Affairs
Cocaine, migration and Venezuela will be high on the agenda when Biden hosts Colombian leader Gustavo Petro at the White House today.
Treasury Secretary Janet Yellen said the Biden administration was prepared to accept economic costs as it sought to protect US national security interests from threats posed by China, even as she appealed to Beijing to cooperate on shared global concerns.
US Ambassador Nicholas Burns had his first known meeting with a senior Chinese official since mid-February, a sign that the world's two largest economies may be taking early tentative steps to mend ties.
Politics, Probes and 2024
A former prosecutor must face congressional questioning about the criminal case against Donald Trump, after a New York judge rejected arguments by Manhattan District Attorney Alvin Bragg to prevent the inquiry.
The prospect of a fired Fox News producer's secret recordings being played during trial helped push the conservative network to its $787.5 million settlement of a defamation suit by Dominion Voting Systems over the broadcasting of false 2020 election-fraud claims, people familiar with the matter said.
Ron DeSantis pulled off another assault against ESG. Florida's Republican-controlled Senate approved on Wednesday a bill that bans state and local governments from using environmental, social, governance criteria when selling debt or investing public money. The legislation, which had already cleared the state's House of Representatives last month, will now be brought to DeSantis for his signature.
To contact the reporters on this story: Brandon Lee in Washington at blee@bgov.com; Michaela Ross in Washington at mross@bgov.com
To contact the editors responsible for this story: Giuseppe Macri at gmacri@bgov.com; Kayla Sharpe at ksharpe@bloombergindustry.com
Stay informed with more news like this – from the largest team of reporters on Capitol Hill – subscribe to Bloomberg Government today. Learn more.