What to Know in Washington: DOD Brass Reels After Kabul Collapse
Bloomberg Government subscribers get the stories like this first. Act now and gain unlimited access to everything you need to know. Learn more.
American intelligence assessments didn't foresee such a rapid collapse of Afghanistan's military, and the U.S. now has a limited ability to aid allies stuck in Kabul, the Pentagon's top leaders said yesterday.
"There are not reports that I am aware of that predicted a security force of 300,000 would evaporate in 11 days," Gen. Mark Milley, chairman of the Joint Chiefs of Staff, said yesterday at a news conference alongside Defense Secretary Lloyd Austin.
Pressed on what the U.S. could do to help thousands of Afghan allies seeking to evacuate but unable to get to the airport because of Taliban checkpoints and threats, Austin signaled that the U.S. is largely dependent on negotiating with the militant group to let people with the right credentials get through.
"I don't have a capability to go out and extend operations currently into Kabul. We don't have the capability to go out and collect large numbers of people," Austin said yesterday. "We will continue to coordinate, de-conflict with the Taliban and make sure that those people that need to get to the airfield have the right credentials to ensure passage" through checkpoints.
The two said the situation in Kabul remains dangerous and fluid, and the focus of American troops are on security of the airfield. The 4,500 U.S. military personnel now deployed to secure the airport and assist evacuations is nearly double the troop levels that were in the country when Biden took office. The president has authorized an increase of up to 6,000 troops.
Senate Minority Leader Mitch McConnell (R-Ky.), who opposed former President Donald Trump's plan to withdraw from Afghanistan, said the U.S. should have maintained a force of about 2,500 military personnel in the country to bolster a U.S.-backed government. But now, even more may be needed to rescue Americans and allies. "Whatever needs to be done, the administration needs to do it," he said at an event yesterday. Read more from Peter Martin, Roxana Tiron and Sophia Cai.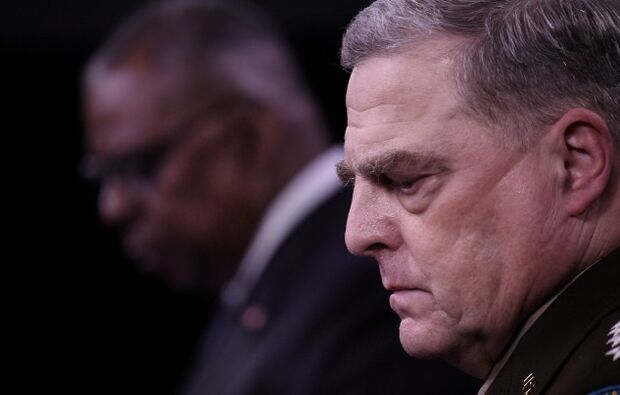 Today's Agenda: Biden and Vice President Kamala Harris are slated to meet with their national security team at 10 a.m. on updates to the the situation in Afghanistan.
How U.S. Blew Money in Afghanistan: The swift collapse of the Afghan government to the Taliban fueled fears of a humanitarian disaster and caused scenes of desperation at Kabul's airport. It's also raised questions about what happened to the over $1 trillion the U.S. spent trying to bring stability to a country wracked by generations of war. While most went to the U.S. military, billions got wasted along the way, in some cases aggravating efforts to build up ties with the Afghan people. Read more from Tony Cappacio.
U.S. Grapples With Financial Pressure on Taliban: The U.S. is grappling with how to exert financial pressure on the Taliban to ensure Afghanistan doesn't return to its role as a safe harbor for international terrorist groups, but a dearth of formal banking channels is complicating efforts. The Taliban have long craved international recognition, and status on the world stage will become key to the nation's economic survival. Saleha Mohsin has more.
Johnson Defends Afghanistan Withdrawal: Prime Minister Boris Johnson defended his decision to follow the U.S. in withdrawing troops from Afghanistan, even as he faced intense criticism from members of his own Conservative Party in Parliament. "The West could not continue this U.S.-led mission," Johnson said yesterday. "It is an illusion to believe that there is appetite amongst any of our partners for a continued military presence." Read more from Kitty Donaldson.
FAA Restricts U.S. Airlines From Flying Over Afghanistan: U.S. airlines will need special permission to fly over Afghan airspace because there are no longer air-traffic controllers overseeing the skies under the new Taliban leadership, aviation regulators said yesterday. The Federal Aviation Administration issued a legally binding notice to U.S.-licensed operators requiring that they notify the agency before flying over Afghan territory. Read more from Alan Levin.
Ghani Says Taliban Was Coming to Kill Him: Former Afghanistan leader Ashraf Ghani defended his decision to flee Kabul ahead of his government's collapse, saying in a new video that he chose to leave to prevent "bloodshed and destruction." He added that security officials warned him Taliban fighters wanted to execute Afghan officials in the same way as former president Mohammad Najibullah, whose body was hanged from a traffic light by Taliban fighters in 1996, Eltaf Najafizada and Archana Chaudhary report.
Iran Braces for Taliban Next Door Again: Like the rest of the world, Iran's looking for signs of how the Taliban intend to wield power in Afghanistan. As an immediate neighbor, it has valuable experience navigating the fundamentalist movement's prior rule. When the Taliban last reigned, its repression of Afghanistan's Shiite minority and the 1998 killing of 11 Iranian diplomats almost sparked armed conflict. Read more from Golnar Motevalli.
Read live updates on the ongoing situation in Afghanistan from Bloomberg News here.
Also on Lawmakers' Radars
DeFazio Lays Out Timing of Reconciliation Package: Rep. Peter DeFazio (D-Ore.), chair of the House Transportation and Infrastructure Committee, said the deadline to wrap up his portion of the reconciliation package carrying major parts of Biden's agenda is Sept. 14, and "the House intends to act on the full package the next week." That would come after the House reconvenes to vote on the $3.5 trillion budget resolution next week, which DeFazio called a "key test" that "we're going to pass."
"The Senate is hard at work on their version and I would hope that the differences are minimal," DeFazio said at a Washington Post Live event yesterday. DeFazio said that he is working to include more transit and high-speed rail money as well as address wastewater improvements and aviation fuel efficiency in the reconciliation package, Lillianna Byington reports.
Federal, Postal EV Savings Estimated in Billions: Making the federal fleet and postal service vehicles electric would save the federal government billions, a new report found. The U.S. Postal Service electrification could save as much as $4.3 billion, while electrifying other federal vehicles could yield up to $1.18 billion in lifetime savings, according to the new analysis by Atlas Public Policy. Democrats are seeking money for federal fleet electrification to be part of their budget bill. Lillianna Byington has more.
Lew Says GOP Takes 'Dangerous' Stance on Debt Limit: Former Treasury Secretary Jacob Lew said a pledge by most Republican senators not to help Democrats raise the federal debt limit was "extremely dangerous," and called it a "self-inflicted wound if we end up with a crisis that can be completely avoided." Forty-six of 50 Republican senators signed a letter earlier this month vowing they won't vote to increase the limit as Democrats pursue their $3.5 trillion social-spending initiative, Christopher Condon reports.
Democrats' House Grip Relies on Holding Trump Districts: The GOP's path to winning the House majority runs through more than a half-dozen Democratic-held districts Trump won in 2020. Redistricting will help decide how competitive those seven ticket-splitting swing seats will be. So will retirements, with Rep. Ron Kind (D-Wis.) becoming the second of those incumbents to announce he won't seek re-election last week. Read more from Greg Giroux and Emily Wilkins.
Redistricting Reformers Use Mapping Tools: From North Carolina to Michigan, voting rights groups, ethics advocates, and data crunchers are finding new ways into the fight for fairer representation, via informational meetings, mapping contests, testimony workshops and new technologies. The process is receiving significantly more public attention than in past years, observers claim. "Redistricting is an issue that used to put people to sleep," Michael Li at the Brennan Center for Justice said. "No more." Laura Bliss has more.
The Coronavirus Pandemic
Biden Maps Huge Booster Shot Effort: Biden beefed up his administration's response to a national surge in Covid-19 infections yesterday, laying out a series of actions including booster vaccines and possible legal action against governors who have blocked mask requirements in schools. "The threat of the delta virus remains real, but we're prepared," Biden said yesterday at the White House. "This is no time to let our guard down."
The plan to start offering booster shots on Sept. 20 to all vaccinated adults marks a massive expansion to a program previously limited to those with weakened immune systems. He also announced a new requirement that nursing homes ensure their staff are vaccinated to receive federal funding. And he directed Education Secretary Miguel Cardona to weigh legal action to combat governors who have blocked mask mandates in schools. Josh Wingrove, Fiona Rutherford, and Justin Sink have more.
U.S. Drug Authorities Seen Sidelined by Booster Push: The White House's plan to begin offering booster shots next month to vaccinated adults is raising concerns among health experts that the administration is rushing forward without enough data and oversight. The FDA and CDC have not yet publicly said they had fully vetted giving a third shot to the 100 million fully-vaccinated Americans by year's end, even as the U.S. Surgeon General rejected claims Biden is front-running regulators, Rutherford reports.
Cardona Targets States Over Mask-Mandate Bans: Education Secretary Miguel Cardona said yesterday states blocking school district mask mandates are "needlessly placing students, families, and educators at risk" and his agency could launch civil rights investigations over the policies. After Cardona warned governors in Texas and Florida against bans on mask mandates last week, his agency has put six additional ones—Oklahoma, South Carolina, Tennessee, Utah, Arizona, and Iowa—on notice, he said.
The Department of Education could investigate any state education agency that it deems is infringing on the rights of students, Cardona said on his blog. The department's Office for Civil Rights, for example, could review potential discrimination stemming from bans on masking policies that put students' learning at risk. Read more from Andrew Kreighbaum.
CDC Creates Center to Predict Disease Outbreaks: The Centers for Disease Control and Prevention will launch a new outbreak analysis and forecasting center, tapping a team of outsiders from academia and the private sector to lead the new initiative. The Center for Forecasting and Outbreak Analytics is meant to help predict how a disease spreads and how to react to it quickly. It is also charged with improving the CDC's data tools, the agency said. Drew Armstrong and Fiona Rutherford have more.
Facebook Pulled 20 Million Pieces of Covid-19 Misinformation: Facebook said it has removed more than 20 million posts on its main social platform and photo-sharing app Instagram for violating rules on Covid-19 misinformation since the beginning of the pandemic. The data, which covers actions taken through June, was released yesterday as part of Facebook's quarterly community standards enforcement report. Read more from Naomi Nix and Kurt Wagner.
Pandemic Prompts Office-Return Suits: Lawsuits tied to workers' mental health, as well as other disabilities, will likely rise as the delta variant fuels a spike in Covid-19 infections and employers push return-to-office mandates, attorneys and other legal observers say. And some could involve tricky legal gray areas under the federal Americans with Disabilities Act, such as when leave or telework can be reasonable disability accommodations. Read more from Erin Mulvaney.
Around the Administration
Biden Seeks to Streamline Asylum Amid Backlog: Biden's administration is taking another step toward overhauling the asylum process for migrants crossing the U.S. border. Under a proposal aimed at speeding the process, officials from the Department of Homeland Security's U.S. Citizenship and Immigration Services would decide claims by those with credible fears of persecution at home, rather than sending them straight to the Justice Department's backlogged immigration court system, Ellen Gilmer reports.
Zelenskiy Says Biden Meeting Delayed: The summit between Biden and his Ukrainian counterpart Volodymyr Zelenskiy in Washington is postponed from Aug. 30 to Aug. 31, Ukrainian Foreign Minister Dmytro Kuleba told reporters, Volodymyr Verbyany reports.
Biden Taps Obama Alum for Commerce Export Job: Biden is nominating a Justice Department veteran from the Obama administration to oversee the enforcement of dual-use export controls at the Commerce Department as he seeks to limit Beijing's access to cutting-edge technology. Matthew Axelrod is the president's choice as assistant secretary for export enforcement within the Bureau of Industry and Security, according to a person familiar with his plans. Read more from Eric Martin.
SBA Announces Key Staff: The Small Business Administration announced several new top leaders and White House appointees yesterday. Daniel Krupnick, who recently served under Connecticut's state treasurer, will serve as counselor to the administrator. Arthur Plews, who has worked at SBA in the past, will take on the role of deputy chief of staff for policy. Kendall Corley will be the deputy chief of staff for external affairs. And Scott Harriford will fill the position of White House liaison, Megan U. Boyanton reports.
NHTSA Mulls Higher Carmaker Fines: The National Traffic Highway Safety Administration is considering reinstatement of higher fines that automakers face for violating federal fuel-efficiency standards postponed by the Trump administration. The agency said in a supplemental notice of proposed rulemaking in the Federal Register it's considering reverting to a December 2016 rule calling for a boost from $5.50 to $14 for each 10th of a mile-per-gallon a carmaker's average fuel economy falls short. Keith Laing has more.
Death Threats, Chaos Prompt Record FAA Enforcement: In the largest wave of enforcement cases since the epidemic of unruly airline passengers began this year, U.S. regulators hit 34 people with civil charges that could total more than $531,000 in fines. The cases include passengers who made death threats and physically assaulted flight attendants and fellow flyers, the FAA said today in a news release. Many involved people who refused to wear mandatory face masks and were drinking alcohol illegally. Read more from Alan Levin.
Hezbollah Warns Israel, U.S. as Iranian Fuel Sails: Militant group Hezbollah appeared to warn Israel and the U.S. against intercepting an Iranian ship carrying fuel for Lebanon as the country reels from a crippling power crisis. The vessel would sail "in hours," the Iran-backed group's leader Hassan Nasrallah was cited as saying by Al Jazeera today. More such ships would follow, he said. Read more from Abbas Al Lawati.
With assistance from Megan U. Boyanton and Lillianna Byington
To contact the reporters on this story: Michaela Ross in Washington at mross@bgov.com; Brandon Lee in Washington at blee@bgov.com
To contact the editors responsible for this story: Giuseppe Macri at gmacri@bgov.com; Loren Duggan at zsherwood@bgov.com
Stay informed with more news like this – from the largest team of reporters on Capitol Hill – subscribe to Bloomberg Government today. Learn more.