What to Know in Washington: Democrats Warn Trump Not Above Law (1)
House impeachment managers launched their case for removing Donald Trump from office by depicting him as a president who is vindictive, untruthful, unbound by the law and above all, willing to abuse his power at the expense of U.S. national security.
Democrats will resume arguments at 1 p.m. today in the Senate trial of Trump by focusing on the impeachment article charging him with abuse of power, while also working to persuade moderate Republicans that they should subpoena witnesses such as former National Security Adviser John Bolton.
Then Trump will get his turn, likely starting on Saturday, when his lawyers are expected to mount a vigorous defense against an investigation they have labeled as rushed and biased.
Over more than nine hours yesterday, House Intelligence Chairman Adam Schiff (D-Calif.) and the other managers walked the Senate through a step-by-step chronology aimed at portraying a president who sought to pressure Ukraine into investigating his main political rival, former Vice President Joe Biden.
"If impeachment and removal cannot hold him accountable, then he truly is above the law," Schiff said. "Impeachment and a fair trial, impartial consideration of all the evidence against the president, is how we keep our republic."
The House managers case is being made explicitly with two juries in mind: the senators in the chamber sitting silently at their desks who will vote on the articles of impeachment, and the American public, who will decide in less than 10 months on whether to return Trump to office.
Schiff said most of the Senate and the public were unlikely to have watched or paid attention to all of the hearings that were held in the House from October through November.
"We cannot assume that the senators were able to do that — let alone the American people were able to do that," he said during a break in the trial.
Still, there were no signs that the Democrats had swayed many Republicans, and Trump's acquittal in the GOP-controlled chamber is all but assured. Read more from Billy House, Laura Litvan and Steven T. Dennis.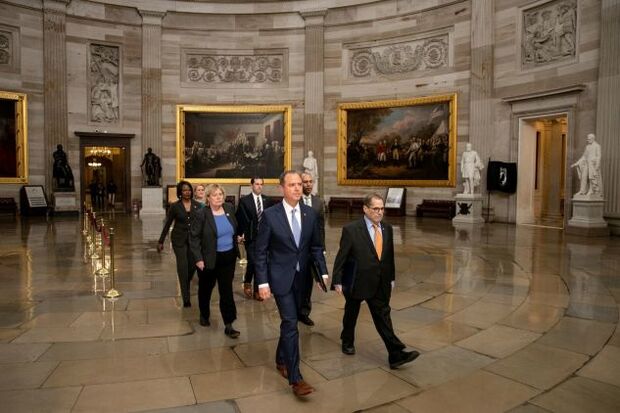 Trump Team to Challenge Case 'Aggressively': Trump's attorney Jay Sekulow said the president's defense team plans to "challenge aggressively" the case for his impeachment after House Democratic managers conclude their arguments. "There's a lot of things that I'd like to rebut and we will rebut," Sekulow said after Schiff's opening presentation. Laura Litvan and Laura Davison have more.
No Witness Deal With GOP Sought: Senate Minority Leader Chuck Schumer (D-N.Y.) has ruled out horse-trading with Republicans on whether to call witnesses during the Senate trial, moving to protect Biden from a possibly politically damaging appearance there. Some Republicans have suggested they could be open to calling in witnesses such as acting White House Chief of Staff Mick Mulvaney and Bolton if Republicans are allowed to to call in Joe and Hunter Biden and the unidentified intelligence community whistleblower. Read more from Erik Wasson and Jennifer Epstein.
Parnas Traces Part of Money Trail to Ukraine: From fine whiskey to European flights to cigar bars, the tab for the Ukraine mission was starting to add up. Even one of Trump's wealthiest contributors sounded peeved. "Just becoming expensive flying u guys everywhere LEV," wrote Harry Sargeant III, a Florida energy tycoon, in a pointed text to Lev Parnas, Rudy Giuliani's advance man on the Ukraine operation.
A trove of documents recently released by Parnas, including that text from April, provides some new details about the money web that helped support Giuliani's work in Ukraine as Trump's personal lawyer. The group's apparent wish list included discrediting a Trump rival, tying Ukraine to 2016 election meddling and pushing for the ouster of a U.S. ambassador — the propriety of which is now at the heart of impeachment proceedings. Read more from Greg Farrell, Stephanie Baker, Ben Bartenstein and David Kocieniewski.
Elections, Politics & Policy
Trump to Attend Anti-Abortion March: Trump will become the first sitting U.S. president to address the anti-abortion March for Life in person with a planned trip to the rally on the National Mall on Friday as he courts conservative voters before the November elections. The president has twice addressed the event via satellite from the Rose Garden, and Vice President Mike Pence spoke at the rally last year. Trump announced his planned attendance on Twitter. Organizers for the event said they were excited for Trump to join the protesters, who visit the Capitol each year to mark the anniversary of the U.S. Supreme Court's landmark 1973 Roe v. Wade decision. Read more from Justin Sink and Jordan Fabian.
Biden, Sanders Said to Overstate Tax-Hike Revenue: Democratic presidential candidates Joe Biden and Sen. Bernie Sanders (I-Vt.) have overestimated the amount of revenue their tax proposals would generate by hundreds of billions, or even trillions, of dollars, according to a new study. The former vice president and the senator from Vermont have proposed vastly different tax plans: Biden is calling for rate increases on top earners and corporations, while Sanders wants to raise taxes on wealth, inheritances and financial transactions.
But the discrepancies highlighted by the estimates from the Penn Wharton Budget Model raise questions about the Democratic presidential candidates' plans to finance new programs and policies to reshape the U.S. economy. The huge overshoots also demonstrate the difficulty of generating new tax revenue to fund ambitious proposals. Read more from Laura Davison.
Sanders Once Urged Social Security Changes: Sanders is locked in an escalating feud with Biden over whether Biden has backed cutting Social Security funds, a program considered sacrosanct by many Democrats. But Sanders himself once used language that was very similar to Biden's to describe the need to bolster the U.S. retirement program. While running for re-election in 1996, then-Rep. Sanders said that the Social Security system had "been adjusted before, and adjustments will have to be made again."
The Sanders campaign has assailed Biden for saying Social Security was in need of "adjustments" in a 2018 speech, with Chief Policy Adviser Warren Gunnels yesterday quoting an interest group saying that the term was a "euphemism" for cuts. Neither candidate is calling for cuts to Social Security in the 2020 race. But Sanders' campaign is trying to use some of Biden's past statements to cut into the former vice president's strong support among older voters. Read more from Jennifer Epstein.
Warren Says Bloomberg Should Divest From News Division: Sen. Elizabeth Warren (D-Mass.) called on fellow Democratic presidential candidate Michael Bloomberg to divest from the news division of his company "so there's no question about his influence" over its coverage of 2020 candidates. "If Michael Bloomberg wants to be the Democratic nominee, he should let reporters do their jobs and report on him, and everyone else, as they see fit," Warren said in a series of tweets yesterday. Bloomberg is the founder and majority owner of Bloomberg LP, the parent company of Bloomberg News. He has said he'll put his company in a trust or sell it if he wins the election. A spokesperson for Bloomberg News had no comment on Warren's tweets. Read more from Mark Niquette. Bloomberg is also the majority owner of Bloomberg Government's parent company.
Foreign Affairs
World Leaders Gather to Commemorate Holocaust: Surging anti-Semitism, a jailed backpacker and a possible war crimes trial will be the backdrop as Israel hosts the global commemoration of the Holocaust in Jerusalem today. Forty-nine delegations are scheduled to attend the fifth World Holocaust Forum, with U.S. Vice President Mike Pence and Russian President Vladimir Putin among the world leaders participating. The event will mark the 75th anniversary of the liberation of the Auschwitz death camp, the most notorious symbol of Nazi Germany's atrocities. The event, taking place for the first time in Jerusalem, comes at a time of rising anti-Semitism around the world and deepening ignorance about the Holocaust as its memory fades. Read more from Ivan Levingston.
Trump Weighs Expanding Travel Ban: Trump is weighing a Homeland Security Department recommendation he expand one of the most controversial policies of his tenure by banning people from another seven countries from traveling to the U.S. The department suggested the White House expand travel restrictions to Tanzania, Belarus, Eritrea, Kyrgyzstan, Myanmar, Nigeria and Sudan, a person familiar with the review said. The administration's first travel ban, enacted soon after Trump took office, targeted places with large Muslim populations, sparking widespread outrage from Democrats and immigration activists. Read more from Jennifer Jacobs and Justin Sink.
Furlough Threat at U.S. Bases in Korea: The U.S. is warning it'll send furlough notices within weeks to almost 9,000 South Korean workers at U.S. bases if the two countries don't reach agreement on Trump's demand for Seoul to increase dramatically what it pays for American troops. Trump's push for South Korea to contribute much more has put the alliance under strain at a time when North Korean leader Kim Jong Un's regime has said it would no longer be bound by its previous promise to halt the testing of nuclear weapons and long-range ballistic missiles. Read more from Nick Wadhams and Jihye Lee.
U.S.-Europe Trade Tensions Risk Flare-Up: The U.S. and Europe looked set for a renewed clash over everything from car tariffs to digital taxes in a sign that a new American focus was emerging following Trump's trade truce with China. Speaking at the World Economic Forum in Davos, Switzerland, today, Commerce Secretary Wilbur Ross said the U.S. was still considering slapping levies on European auto imports even as it hopes for a "peaceful resolution" of differences. Treasury Secretary Steven Mnuchin declined to say if he was still pushing for an optional digital tax after an agreement for a global framework was reached with France yesterday. Read more from Piotr Skolimowski, Jenny Leonard and Saleha Mohsin.
Trade Deal Hastens China's Retreat From U.S. Farmers: Trump's trade truce with Beijing included a pledge to buy billions of dollars of U.S. foodstuffs over the next two years, reopening one of the most important export markets for America's farm belt. "The farmers are really happy with the new China Trade Deal," the president tweeted the day after a signing ceremony in the White House. The euphoria is fading fast. The dispute with Washington exposed Beijing's vulnerability when it comes to food imports — especially the soybeans needed to feed its massive herd of livestock — and the Communist Party leadership will now do all it can to wean itself off the U.S. Read more from Alfred Cang, Javier Blas and Isis Almeida.
Around the Administration
Toyota, GM Urged to Reject Automobile Mileage Rollback: Environmental and consumer advocacy groups are pressuring automakers that have backed part of the Trump administration's controversial effort to relax fuel economy standards enacted by the Obama administration. Newspapers in Detroit, Sacramento and Washington today will carry an open letter by environmental groups calling out Toyota, General Motors, Fiat Chrysler and other carmakers. Those companies backed the Trump administration in lawsuits that challenged its decision to strip California's authority to set tougher greenhouse gas emissions rules than federal regulators, a key element in Trump's sweeping plan to reshape auto efficiency rules. Read more from Ryan Beene.
Index Fund Giants Draw Antitrust Scrutiny: U.S. antitrust officials have begun asking companies about communications with their biggest shareholders as part of merger investigations, according to people familiar with the matter, adding to the growing scrutiny of the power of giant index funds. The Federal Trade Commission wants buyers and sellers to identify their largest shareholders, the extent of their influence over the companies and any communications they've had, said the people, who declined to be named because the matter is confidential. The requests represent a new development in U.S. antitrust enforcement and could pose yet another hurdle to companies seeking regulatory approval for mergers. Read more from David McLaughlin.
Treasury Must Show Donor Disclosure Records: A federal judge in New York announced that the Department of the Treasury must review and produce 100 documents per month in its battle with two states to remove donor-disclosure requirements for some nonprofits. New York and New Jersey sued the agency in May, seeking a court order to force the agency to more fully comply with their 2018 request under the Freedom of Information Act for documents related to the IRS's Revenue Procedure 2018-38. Read more from Aysha Bagchi.
Wells Fargo Regulator Aims to Punish Former Executives: Wells Fargo's main regulator is preparing civil charges against former managers related to their roles in its retail banking scandals, people familiar with the matter said. The Office of the Comptroller of the Currency has been readying so-called notices of charges against as many as 10 individuals, and may reach settlements with some, the people said, asking not to be identified because the discussions aren't public. Carrie Tolstedt, who ran Wells Fargo's sprawling community bank, former chief administrative officer Hope Hardison and onetime chief auditor David Julian may be among those facing the charges, the people said. Hannah Levitt has more.
Amazon Asks Court to Pause Microsoft Work on Pentagon Cloud Deal: Amazon asked a court to temporarily block Microsoft from working on a $10 billion Pentagon cloud contract until a lawsuit challenging its validity is resolved. The company's cloud unit, Amazon Web Services, said in a statement last night that it was "common practice" to stay contract performance while a protest was pending, adding that it's "important that the numerous evaluation errors and blatant political interference that impacted the JEDI award decision be reviewed." Read more from Chelsea Mes and Naomi Nix.
Federal Cyber Chief Wants More Funds for Local Support: A sharp rise in ransomware attacks on cities and states has spurred the head of the Department of Homeland Security's Cybersecurity and Infrastructure Security Agency to push for more funds and resources to support local and state officials. "It's happening on a daily basis," Chris Krebs, director of CISA, said yesterday at a U.S. Conference of Mayors event in Washington. "If you have not already experienced it, it's really a question of when." Read more from Michaela Ross.
What Else to Know
Judges' Ties to Federalist, American Constitution Societies Eyed: The legal community should weigh in on a draft judicial ethics proposal discouraging judges from membership in the conservative Federalist Society or the progressive American Constitution Society, a legal ethics scholar said. Although seeking outside comment isn't the normal process for the type of change being contemplated to the judicial Code of Conduct, "most advisory opinions don't arouse nearly the interest that this one is arousing," said Arthur D. Hellman, a judicial ethics expert at the University of Pittsburgh School of Law. Read more from Madison Alder.
Poll Says Teachers Still Find Value in Unions: Most teachers, two years after a major defeat for public-sector unions at the U.S. Supreme Court, continue to see value in their unions, according to a new survey released yesterday by the group Educators for Excellence. Janus v. AFSCME found that public-sector unions could no longer collect fees from workers who don't pay membership dues. Organized labor feared the ruling could have a big impact on the finances of those unions. But the Educator for Excellence survey found that new teachers are more likely to opt in to unions (53%) than current members are to opt out (23%). Read more from Andrew Kreighbaum.
Avenatti Jury Can Hear About Trump: Celebrity lawyer Michael Avenatti, who goes on trial Monday in New York on charges that he tried to extort millions of dollars from Nike, will be allowed to tell jurors about the two people who helped make him famous—Stormy Daniels and Donald Trump, a judge ruled. At the same time, prosecutors won't be allowed to detail damaging details about how Avenatti allegedly fell $15 million into debt, which they had hoped to point to as a motive for him to demand as much as $25 million from Nike. Read more from Erik Larson.
Facebook Patent Chief Joins PTO Panel: Facebook's patents chief has joined a government advisory group on patent policy and budget matters, one of several recent appointments to the U.S. Patent and Trademark Office's public advisory committees. Jeremiah Chan, associate general counsel for the social network, is a new member of the Patent Public Advisory Committee. The group, known as PPAC, advises agency director Andrei Iancu on patent operations, performance and other matters. Read more from Ian Lopez.
To contact the reporters on this story: Zachary Sherwood in Washington at zsherwood@bgov.com; Brandon Lee in Washington at blee@bgov.com
To contact the editors responsible for this story: Giuseppe Macri at gmacri@bgov.com; Loren Duggan at lduggan@bgov.com