What to Know in Washington: Democrats Seek $547B for Highways
House Democrats are pushing climate-focused legislation that would authorize $547 billion over five years for surface transportation, including major funding increases for passenger rail, public transit, and carbon reduction.
The bill, proposed today, both aligns with many of President Joe Biden's infrastructure goals and follows in his footsteps by calling for substantial infrastructure spending increases.
The legislation "puts a core piece of President Biden's American Jobs Plan into legislative text," House Transportation and Infrastructure Chair Peter DeFazio (D-Ore.), who introduced the measure, said. DeFazio's committee will consider the bill June 9. It has no Republican cosponsors.
The bill proposes substantially more money than the roughly $500 billion in House Democrats' legislation from last year. Republicans largely opposed that measure and the Senate never considered it. Whether this year's measure will win support from GOP lawmakers who have called for a more tailored package remains to be seen.
Left unresolved so far: how to pay for surface transportation programs. The gasoline tax, the main source of federal revenue for highways and transit, is inadequate for current spending levels. The panels charged with resolving financing questions — the House Ways and Means and Senate Finance committees — have yet to weigh in. Read more from Lillianna Byington.
Biden's Infrastructure Plan Endangered by Shortages: The biggest threat to Biden's vision of energizing the U.S. economy with the largest infrastructure program in decades may not be its challenging path through Congress, but a dire shortage of everything from workers to cement mills. While weeks or months of negotiations will be needed to enact legislation, Republicans and Democrats are united in their support for hundreds of billions of dollars in new spending on infrastructure in coming years. Yet the companies that will be relied on to pave the roads, build the bridges, lay the water pipes and assemble the trains aren't yet planning to meet those needs, economists and industry insiders say.
And that's even as they face immediate shortages — from steel and cement to the supply of labor — stemming from the unprecedented difficulties of a sudden reopening of the economy after last year's shutdowns. Read more from Katia Dmitrieva and Joe Deaux.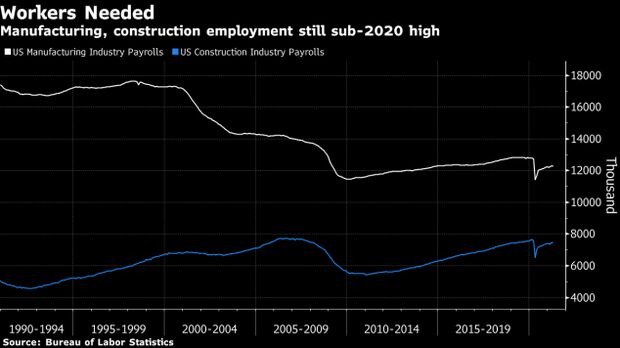 Happening on the Hill
What to Watch Next Week: The Senate returns to action on Monday, with plans to consider the nomination of Julien Xavier Neals to be a judge on the U.S. District Court for the District of New Jersey. The chamber will also resume consideration of broad legislation to boost U.S. competition with China, which stalled last week amid debate about amendments to the measure.
House lawmakers will meet for committee work only next week, with no floor votes planned.
Click here for a complete list of next week's hearings and markups.
Democrats at Crossroads on Clean Energy Plans: The Biden administration's clean energy plan shares common goals with a tax incentive overhaul championed by Senate Finance Chairman Ron Wyden (D-Ore.), with some important differences to resolve as infrastructure negotiations continue. Biden's plan would extend energy-based tax credits for five years or more, including extensions through the end of the decade for wind, solar, nuclear, and electric vehicle chargers. Wyden's legislation is more goal-oriented, extending tax credits for wind, solar, and other energy sources until they essentially hit certain targets for reducing greenhouse gas emissions.
Clean energy advocates are encouraged that the competing proposals both aim to end the current uncertainty around temporary tax incentives as part of an effort to steer the U.S. away from fossil fuels. Read more from Kaustuv Basu and Dean Scott.
Around the Administration
Today's Agenda: Biden will speak this morning from Rehoboth Beach, Del., at 10:15 a.m. on the May jobs report, which will be released at 8:30 a.m. Estimates for May payrolls growth are wide-ranging — from 335,000 to 1 million, according to a Bloomberg survey — after a disappointing April report missed estimates, Olivia Rockeman reports.
After his remarks, Biden will depart Delaware and is due to return to the White House at 12:20 p.m.
Justice Department Targets Ransomware: The Justice Department is vowing to systematically track and prosecute ransomware attacks, making the effort to counter the increasingly dangerous and disruptive online assaults on critical services a top priority. The department will now require federal prosecutors across the country to notify senior officials of any significant new developments in ransomware investigations or when they learn of a new digital extortion attack, according to a directive issued yesterday by Deputy Attorney General Lisa Monaco. Read more from Chris Strohm, Alyza Sebenius, and David Westin.
The chair of the House Agriculture Committee's Risk Management panel says she's looking closely at the threat to the food supply chain after the virtual attack on the world's largest meat producer JBS. "We've got to do what we can to help prevent this going forward," and hearings in Congress are warranted, said Rep. Cheri Bustos (D-Ill.). Read more from Kim Chipman.
Yellen Faces Deal-Making Test at G-7: Treasury Secretary Janet Yellen is facing pressure to move toward a global tax deal by the weekend when she meets her Group of Seven counterparts for the first time as the world's most powerful head of finance at the summit in London. Yellen's team sees the meetings over the next days as a chance to build momentum toward a global tax deal in July, a Treasury official said. Saleha Mohsin, William Horobin, and Alex Morales have more.
Biden to Bolster TSA Workers' Pay, Union Rights: Homeland Security Secretary Alejandro Mayorkas issued an order yesterday expanding the bargaining rights of Transportation Security Administration employees and directing the TSA to create a plan for better pay. The directive complies with an executive order in April from Biden and fits into a wider agenda to boost rights of employees in the workplace. Read more from Andrew Kreighbaum.
DHS IG Needs Sweeping Overhaul: The DHS internal watchdog must reform its organizational structure after a series of blunders in recent years resulted in professional misconduct and low-quality work, the U.S. government's own watchdog found. "Without addressing these and other long-standing management and operational weaknesses, DHS OIG is not well positioned to fulfill its oversight mission," the Government Accountability Office said in its report released yesterday. Read more from Nicole Sadek.
Biden Taps Davis Polk Attorney as Treasury Lawyer: Biden nominated a partner at Davis Polk & Wardwell to serve as general counsel at the Treasury Department. Neil MacBride joined Davis Polk in 2014 after serving in various roles in the Obama administration, including U.S. attorney for the Eastern District of Virginia, the firm says on its website. Read more from Colleen Murphy.
Politics & Influence
Trump's Rally Revival Sparks Fear of Revenge Tour: Donald Trump will be back on stage this month with one mission at the top of his agenda — seeking revenge against Republican incumbents who turned on him by backing their challengers in 2022 primaries. That worries some GOP leaders. As the former president prepares to resume his trademark rallies, they fear another round of grievances about the 2020 election results and championing untested candidates over incumbents could hurt the party more than it helps in next year's midterm elections.
The schedule for the rallies hasn't been released but they will likely begin this month or next, according to senior adviser Jason Miller. Trump is also scheduled to be the keynote speaker tomorrow at the North Carolina Republican Party's convention, which will be live-streamed. Read more from Mark Niquette.
Giuliani, Prosecutors Agree on Ex-Judge to Review Evidence: A retired Manhattan federal judge who once worked as a prosecutor under Rudy Giuliani was nominated to review evidence seized from the former New York mayor and personal lawyer to Trump for materials protected by attorney-client privilege. Giuliani and prosecutors in Manhattan agreed to propose that Barbara Jones, 73, be appointed special master for that purpose. She served in a similar role after search warrants were executed on another Trump lawyer, Michael Cohen, in 2018. Read more from Greg Farrell and Bob Van Voris.
Former Biden Aide to Lobby for Oil Refiner: An aide who worked for Biden when he was a senator has been hired to lobby for Indian refiner Reliance Industries, as it seeks to have restrictions eased on importing Venezuelan oil. Ankit Desai will be a subcontractor to law firm Eversheds Sutherland US, which represents Reliance in matters related to Venezuelan sanctions imposed amid the Trump administration. Read more from Lucia Kassai.
To contact the reporters on this story: Zachary Sherwood in Washington at zsherwood@bgov.com; Brandon Lee in Washington at blee@bgov.com
To contact the editors responsible for this story: Giuseppe Macri at gmacri@bgov.com; Loren Duggan at lduggan@bgov.com; Michaela Ross at mross@bgov.com