What to Know in Washington: Congress Set for Spending, Aid Vote
The House and Senate are set to vote today on a roughly $900 billion pandemic relief bill that would be the second-biggest economic rescue measure in the nation's history.
The aid package will be attached to a $1.4 trillion measure to fund government operations through the end of the fiscal year, and congressional leaders said they expect the legislation to easily pass both chambers. The White House said President Donald Trump would sign it.
Senate Majority Leader Mitch McConnell (R-Ky.), Speaker Nancy Pelosi (D-Calif.) and Senate Minority Leader Chuck Schumer (D-N.Y.) announced the accord yesterday. The deal followed more than a week of furious negotiations sparked by a group of Democratic and Republican senators who drew up their own compromise proposal and urged their leaders to act.
It also came at the last possible moment for Congress to act before lawmakers are set to leave Washington for their year-end break. Both chambers passed, and President Donald Trump signed, a one-day stopgap measure last night. Lawmakers have until midnight to release the text of the deal, secure agreement, and pass the roughly $2.3 trillion measure to avoid a government shutdown. Alternatively, they could pass another short-term funding measure. Erik Wasson, Billy House and Laura Litvan have the latest on the status of the deal.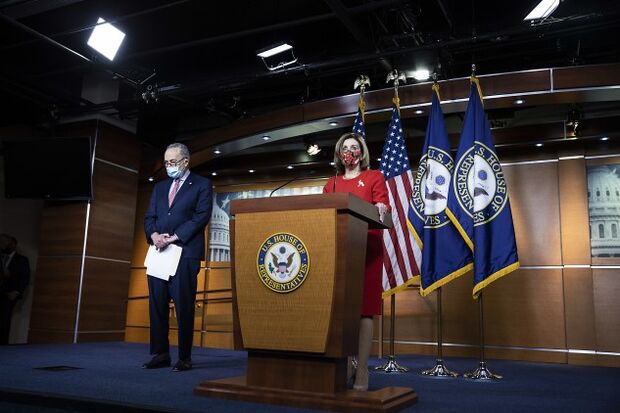 What's in the Omnibus Spending Bill: Some details of the omnibus spending bill have also been detailed in a summary. Lawmakers settled on nearly $1.4 billion for border wall construction, according to the summary. The bill also sticks to the spending caps imposed in 2019, rather than creating exceptions for coronavirus aid or veterans' health funds. Jack Fitzpatrick rounds up those and other details in this morning's Bloomberg Government Budget Briefing.
What's in the Stimulus Deal: The bill includes help for small businesses, the jobless and direct payments to most Americans. It also provides funding for vaccine distribution, food assistance, tax breaks and money for education and child care. Laura Litvan, Laura Davison and Erik Wasson have more details on the stimulus deal.
More Coverage:
The Presidential Transition
Biden Calls Climate Change 'Existential Threat of Our Time': Biden on Saturday welcomed key members of the team that he's assembling to fulfill his pledge to combat climate change. Climate change is "the existential threat of our time," Biden said in Wilmington, and his picks to lead the Environmental Protection Agency, White House Council on Environmental Quality, and the departments of Energy and Interior will be "ready on day one," he said. "We need to meet the moment with the urgency it demands—as we would with any national emergency," Biden said. Read more from Jennifer Dlouhy and Josh Wingrove.
Biden Won't Ask AG Candidates About Probe of Son: Biden hasn't made a decision on who to nominate as attorney general, but won't ask candidates about a probe of his son Hunter, a spokeswoman said. Jen Psaki, who will serve as press secretary in the Biden White House, told "Fox News Sunday" that the president-elect's deliberations are ongoing but that he won't ask about the matter, either before making a pick, or after an AG takes office. "It will be up to the purview of a future attorney general," Psaki said. Josh Wingrove and Reade Pickert have more.
Becerra to Bring Scrutiny on Health Fraud, Hospital Deals: Attorneys are bracing for more enforcement actions in the health-care space in the Biden administration, with an aggressive litigator nominated to lead the Health and Human Services Department. California's attorney general, Xavier Becerra, is expected to steer HHS to work more tightly with the Department of Justice to boost health fraud enforcement efforts. And defense attorneys also anticipate more collaboration with the Federal Trade Commission to more closely scrutinize hospital mergers. Read more from Lydia Wheeler.
Iran Nuclear Deal Signatories to Welcome Back U.S.: The Iran nuclear deal remains the "best instrument" to resolve the dispute over Tehran's atomic program and its signatories are ready to welcome back the U.S. under a Biden administration, according to German Foreign Minister Heiko Maas. Trump pulled the U.S. out of the 2015 accord and reinstated sanctions on Iran, and Maas said the deal has been in a "downward spiral" since, fueled by pressure from Washington and Iranian breaches of the terms. However, he said a "final window" remains to salvage it. Read more from Iain Rogers.
AMLO Talks Migration, Virus With Biden: Mexican President Andres Manuel Lopez Obrador called Biden on Saturday to congratulate him on winning the election, one of the last major world leaders to recognize the future U.S. head of state. Obrador, who struck up a close relationship with Trump, said last month that he didn't want to be "imprudent" and held off a congratulatory message. On the call, the two discussed immigration, Covid-19, and bolstering border security, according to a Biden transition statement. Virginia Van Natta has more.
Biden Will Inherit a Strong Hand Against Xi: Biden will take office next month wielding more leverage over Beijing than he would have ever sought. He can thank Trump and Xi Jinping for that. Biden will be sworn in as president after Trump's administration spent years ramping up pressure on China, including levying tariffs on $370 billion in imports, getting Canada to place a Chinese executive for Huawei under house arrest, threatening access to U.S. capital markets and blaming the Communist Party for the scale of the Covid-19 outbreak. Read more from Peter Martin and Saleha Mohsin.
Trump Suggested Powell as Special Counsel: Trump suggested naming Sidney Powell, the lawyer who helmed some of his campaign's early and unsuccessful legal challenges against November's election outcome, as a special counsel to investigate his voter fraud allegations. Trump made the suggestion during a Friday meeting at the White House that included Rudy Giuliani, his personal attorney, a person familiar with the conversation said. The Trump legal team disavowed Powell last month when her allegations became more and more outlandish. Read more from Justin Sink.
Trump Challenges Pennsylvania Loss: Trump's campaign said it turned to the U.S. Supreme Court to challenge the election results in Pennsylvania, filing yet another long-shot appeal despite weeks of courtroom defeats and an Electoral College vote last week that formalized Biden's victory. The latest filing, announced yesterday, takes the unorthodox step of trying to overturn three separate Pennsylvania Supreme Court decisions with a single appeal. Read more from Greg Stohr.
The Coronavirus Pandemic
Moderna Gets FDA Authorization, Begins Rollout: Moderna's Covid-19 vaccine was cleared by U.S. regulators last week, the second vaccine to gain emergency authorization this month as a historic mass immunization effort ramps up nationwide. The FDA's decision to grant the authorization last week for the shot's use among adults means that two of the six candidates supported by Operation Warp Speed are now available to the public, an unprecedented feat accomplished in less than one year. Shots from AstraZeneca and Johnson & Johnson that are also receiving U.S. support are expected to be submitted for review in 2021. Read more from Anna Edney and Robert Langreth.
Front-Line Workers, Elderly Next for Vaccines: The elderly and front-line essential workers, including firefighters, teachers and grocery store workers, should be next in line for coronavirus vaccines, an advisory committee to the Centers for Disease Control and Prevention voted yesterday. The first round of vaccinations, which started last week, is going mostly to to health-care workers and residents of long-term care facilities. After the so-called Phase 1B group, the third tranche, or Phase 1C, would include those ages 65 to 74, younger people with high-risk medical conditions, and other essential workers, including those who work in the construction, food service and legal fields, the CDC's Advisory Committee on Immunization Practices recommended. Read more from Angelica LaVito.
Perna Cites Miscommunication in Supply Confusion: The general running the U.S. vaccine-distribution effort said a lag between when shots are produced and when they are cleared for shipment led to widespread confusion over how many doses states will receive this week. The chief operations officer for Operation Warp Speed, Gustave Perna, said that after doses of the Pfizer-BioNTech vaccine are manufactured, authorities have to perform a quality check. In the first week of allocations, he said, an inventory of verified shots had built up. But in the second week, new doses had to be checked, meaning states would get fewer than they had expected. Read more from John Tozzi.
London Begins Lockdown Amid Mutation: More than 16 million Britons are now required to stay at home as a lockdown came into force yesterday in London and southeast England, part of Prime Minister Boris Johnson's attempt to control a rapidly spreading new mutation of the coronavirus. Covid-19 case rates almost doubled in London in the past week, with almost 60% of these infections attributed to the strain, officials said. So far, there is no evidence it causes higher mortality, they said. Read more from Tim Ross and Eddie Spence.
What Else to Know Today
Trump Downplays Huge Hack Tied to Moscow: Trump downplayed the severity of a massive cyber-attack on the U.S. government and suggested China may have been responsible—even as other U.S. officials are convinced that the Kremlin was the perpetrator. In doing so through a Twitter post Saturday, the president contradicted assessments from his own administration, whose senior officials, including Secretary of State Mike Pompeo, blamed Russia for the intrusion of at least half a dozen federal agencies. Read more from Justin Sink.
Pentagon Said Erred in Relief Loan to Firm: Congress might have given too much leeway to the Treasury Department and Pentagon to make loans during the pandemic, putting taxpayer dollars at risk, a lawmaker on a congressional oversight committee said. Rep. French Hill (R-Ark.) of the Congressional Oversight Commission said he was concerned the Pentagon did not sufficiently scrutinize YRC Worldwide in deeming it critical to national security, making it eligible to get a $700 million federal loan at favorable rates. Laura Davison has more.
Boeing 'Inappropriately Influenced' Max Tests: A FAA test to gather data on returning the Boeing 737 Max to service was improperly influenced by the company, citing findings from a Senate investigation. The 101-page report, based on a whistle-blower account, alleged that the FAA and Boeing officials were attempting to create "a pre-determined outcome" by essentially coaching pilots before testing their reaction time to a failure similar to what occurred in a pair of crashes involving the Max. Read more from Keith Laing.
U.S. Begins Somalia Withdrawal: American forces under the U.S. Africa Command will begin removing troops from Somalia to an undisclosed location within eastern Africa, according to a statement on its website. Trump earlier this month ordered most U.S. forces to leave Somalia by early next year. About 700 U.S. troops are in Somalia on what is largely a counter-terrorism mission. Read more from Bella Genga.
To contact the reporters on this story: Zachary Sherwood in Washington at zsherwood@bgov.com; Brandon Lee in Washington at blee@bgov.com
To contact the editors responsible for this story: Giuseppe Macri at gmacri@bgov.com; Loren Duggan at lduggan@bgov.com; Michaela Ross at mross@bgov.com