What to Know in Washington: Biden Warns of Trump's Midterm Role
Biden warns that Trump remains a key factor in the November races
Secret Service minimized threats of violence on Jan. 6, records show
President Joe Biden cast Donald Trump as a factor in state-level contests across the country, telling Democrats those were crucial battlegrounds to defend their agenda in November's elections.
"As long as Trump controls the Republican Party, he's going to have an incredible impact on state legislative bodies," said Biden at an event in Portland, Oregon, on Saturday for Tina Kotek, the Democratic candidate for governor in the state.
Biden raised concern about election deniers running for office as Republicans, and questioned whether they would accept the outcome of the vote. "That's never happened before. Never in American history," he said.
Biden said state governors are critical to addressing the issues facing the US, such as abortion rights and climate change. "It's a race that matters well beyond the state of Oregon," he said of Kotek's contest against Republican Christine Drazan and independent candidate Betsy Johnson.
"Think about who you elect governor. Are they prepared for the state to be pro-choice?" said Biden. "It's up to the states now to make these judgments." Read more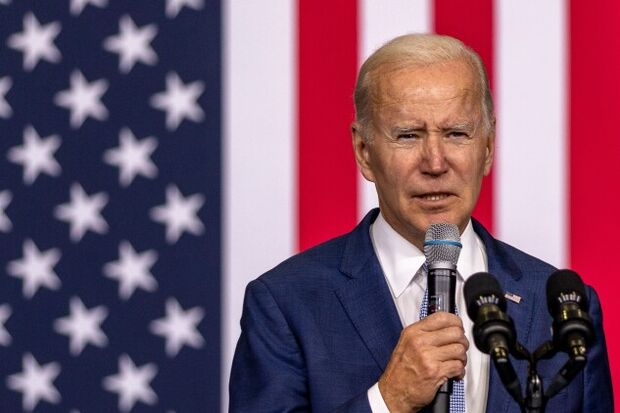 A Secret Service unit responsible for identifying threats repeatedly downplayed advance warnings of potential violence on Jan. 6, 2021, newly released documents show, a lapse that is now part of the House investigation into the attack on the US Capitol.
MORE ON ELECTION DENIERS
Bloomberg News has identified 254 Republicans who have either said the 2020 election was stolen or cast doubt on its legitimacy. They include many incumbents seeking re-election this year. Read more
Rudy Giuliani intends to defend himself against a legal ethics prosecution in Washington by calling a string of witnesses who promoted baseless claims that the 2020 election was marred by widespread fraud. Read more
Pollster Frank Luntz predicted that Democrats would keep the Senate and that Republicans would win the House, but said he's really worried about candidates losing close races and not accepting their defeats. Read more
Elections, Politics & Probes
Join Our Oct. 19 Election Webinar: Bloomberg Government's election guru, Greg Giroux, will be providing a high-level update on the midterm elections and will take your questions on our Oct. 19 webinar. Register here .
Biden and Vice President Kamala Harris will visit Philadelphia on Oct. 28 for an event with the state's Democratic Party, less than two weeks before the crucial midterm elections.
Former President Barack Obama will travel to Georgia, Michigan and Wisconsin at the end of October to rally voters in key battleground states to support Democrats in the Nov. 8 midterm elections that will decide the balance of power in Washington for the next two years. Read more
Trump raised $24 million in the third quarter, a 41% increase over the previous quarter, but he spent $22 million to do it. Read more
The appointment of a special master to review documents seized from Trump's Mar-a-Lago estate was legally unsound and unnecessarily disrupted the criminal probe, Justice Department lawyers told a federal appeals court.
Rep. Steve Scalise (R-La.), the number two House Republican, defended his party's approach to Medicare and Social Security, which has become a campaign issue ahead of US midterm elections in November.
Florida Gov. Ron DeSantis' (R) top aide helped plan flights of undocumented immigrants from Texas to Massachusetts that are now the subject of a criminal investigation, federal probe and lawsuits, newly released public records show.
Republican Senate contender Herschel Walker exceeded expectations in his highly anticipated debate with incumbent Raphael Warnock in Georgia by staying on message and on the attack.
Fueled by $10 million donations from Citadel's Ken Griffin and Blackstone Group's Stephen Schwarzman, a super PAC with close ties to Republican Senate Leader Mitch McConnell raised $111 million in the third quarter, according to its latest filing with the Federal Election Commission.
Parties and PACs are also putting more money into Colorado, where Sen. Michael Bennet (D) is going for a third term, Ken Doyle reports. Majority Forward spent $3 million to support Bennet, according to the report the group filed with the FEC. It went to a "pop-up" group created in late August, called 53 Peaks, that sponsored ads attacking Bennet's Republican challenger, Joe O'Dea, over abortion rights.
Defense & Foreign Affairs
Biden's options for re-evaluating US-Saudi relations include "changes to our approach to security assistance to Saudi Arabia," White House National Security Adviser Jake Sullivan said.
President Xi Jinping declared the dispute over Taiwan a "matter for the Chinese" to resolve, while reaffirming Beijing's willingness to use force to prevent the democratically governed island's independence.
Xi also pledged China prevail in developing strategically important tech, underscoring Beijing's concern over a US campaign to separate it from cutting-edge chip capabilities. Read more
But China's efforts to build a legion of talent and win the battle to develop homegrown technologies ran into new US restrictions issued a week earlier are already undercutting those plans. Read more
Biden weighed into British politics by criticizing Prime Minister Liz Truss's original economic plan that caused turmoil in the markets, saying it was a "mistake."
The US started to expel Venezuelans to Mexico under new rules implemented by the Biden administration aimed at stemming the flow of migrants fleeing a decimated economy and crossing the US border without authorization.
Biden called on Iran to "end the violence against its own citizens," in response to a deadly crackdown by security forces on protests in the country.
The US is deeply concerned over reports of increasing violence and destruction in northern Ethiopia, Secretary of State Antony Blinken said in an emailed statement.
Prime Minister Shehbaz Sharif said Pakistan is "the most responsible nuclear state," pushing back after Biden called the country possibly "one of the most dangerous nations in the world."
Around the Administration
PRESIDENT'S SCHEDULE
Biden is set to return to the White House from Delaware at 12:20 p.m.
At 1:30 p.m., press secretary Karine Jean-Pierre holds a media briefing.
Biden dismissed the risks of a strong US dollar and instead blamed anemic growth and policy missteps in other parts of the world for dragging down the global economy.
The Federal Reserve's interest-rate hikes to bring inflation under control are starting to work, while Biden is doing everything possible to support the US central bank, two US economic advisers said. Read more
The Education Department on Friday night began testing the website for student loan borrowers to apply for debt relief, according to a department spokesperson.
Creation of a $1 billion-plus federal health research agency has touched off a race between deep-pocketed research institutions to bring the new entity to their state or region, lobbying reports show.
The Biden administration's new regulations on the Deferred Action for Childhood Arrivals program are blocked from taking effect, a federal judge in Texas ruled, but the government can continue to process renewal applications from existing beneficiaries.
A Florida senator is calling for action from the Transportation Department and automakers after a series of electric vehicle fires tied to Hurricane Ian.
Authorizations for the government's cloud services compliance program reached an all-time high in fiscal 2022, boosted by the kickoff of an automated validation process that streamlines review of vendors' applications.
Biden's new national climate adviser may not have the high profile of his predecessor, but observers say Ali Zaidi's mix of policy and economic chops are just what the administration needs to execute its agenda.
The food industry is sounding the alarm on a yet-to-be-announced plan that could change package labeling, with companies warning they would oppose new mandates.
With assistance from Kenneth P. Doyle
To contact the reporter on this story: Brandon Lee in Washington at blee@bgov.com
To contact the editors responsible for this story: Michaela Ross at mross@bgov.com; Giuseppe Macri at gmacri@bgov.com