What to Know in Washington: Biden to Speak Amid China, Debt Rows
Bloomberg Government subscribers get the stories like this first. Act now and gain unlimited access to everything you need to know. Learn more.
Joe Biden will speak to a joint session of Congress tonight against the backdrop of renewed tensions with China and a brewing showdown with House Republicans over raising the federal debt ceiling.
The shoot-down of a Chinese surveillance balloon that is hampering efforts to improve ties with Beijing and the specter of a US default that threatens to wreak havoc on the US economy will have investors, diplomats and lawmakers looking for reassurance as the president juggles two challenges with international ramifications.
The president is also expected to highlight the accomplishments of his first two years in office—including his landmark climate, taxation, and health law as well as his bipartisan infrastructure package—and chart his vision for the year ahead in the State of the Union, according to White House officials.
Biden stayed at Camp David over the weekend and into Monday afternoon to work on the speech with a team of senior advisers, and White House officials said he will likely be making changes until it is delivered. "I want to talk to the American people and let them know the state of affairs," the president told reporters Monday. "What's going on, why, what I'm looking forward to working on from this point on, what we've done, and just have a conversation with the American people."
In addition to speaking on averting a federal default and strengthening America's security posture against China, Biden is also poised to address these issues in his speech, as reported by Jordan Fabian.
Economy: The president will nod at the "economic anxiety" many Americans are facing while explaining how his policies will improve their situations, Biden's senior economic adviser, Brian Deese, told reporters Monday.
Tax on Wealthy: Biden plans to call for a minimum tax on billionaires and quadrupling levies on stock buybacks, items that stand little chance of passing through a divided Congress but may resonate with the public.
Ukraine: Biden has also invited Ambassador of Ukraine Oksana Markarova to once again attend, underscoring his intention to press Congress to sustain the flow of aid and arms to her country as Russia's invasion nears its one-year mark.
Social Issues: Other guests hinted at likely legislative priorities Biden will champion during the speech, from abortion rights to an assault weapons ban. And Biden is expected to pitch "unity" efforts, including cancer research.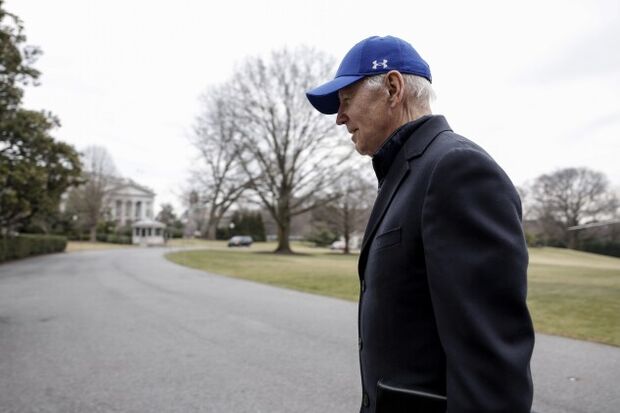 Much of the attention on Capitol Hill these days has been on the GOP-controlled House, where newly emboldened conservatives are eager to thwart Biden's agenda. But when Biden delivers his State of the Union address, his pitch may be more tailored to the other chamber.
Centrist Senate Republicans may be more amenable to enacting a robust legislative agenda this year, while Democrats in tough re-election races will look to bring home wins before 2024. "There's obviously more opportunity than ever before in the Senate for bipartisan compromise," said Sen. Chris Murphy (D-Conn.). "The question is whether Republican senators want to move in the absence of a signal from the House that anything's going to get done."
The ability of Biden to sway senators may determine whether he can enact enough of his remaining legislative agenda to give him a boost heading into a difficult re-election in 2024. Representing larger and often more diverse constituencies than many members of the House, senators are often more prone to compromise and have less need to play to their party's base. Biden may find bipartisan support for some must-pass bills, including legislation on farm policy and military spending.
Senate Minority Whip John Thune (R-S.D.) hopes to hear from the president on policies in his portfolio, including action on the farm bill, legislation targeting larger technology companies, or addressing trade issues. "There's some places he could go if he was looking to try and sound a conciliatory note," Thune said.
The family of Tyre Nichols, who was killed by Memphis police at a traffic stop last month; Paul Pelosi, husband to the former House speaker who was attacked at their San Francisco home; and U2 lead singer Bono will be among First Lady Jill Biden's guests at the president's State of the Union address.
Also Happening on the Hill
CONGRESS' SCHEDULE
The House convenes at 10 a.m., and, after last votes, the chamber will recess and reconvene around 8:30 p.m. for a joint Session of Congress to hear Biden's address.
The Senate returns at 3 p.m. to consider a judicial nomination, and will later join the House for Biden's speech.
Speaker Kevin McCarthy (R-Calif.) urged Biden to enter negotiations with Republicans on a "responsible" debt limit increase that avoids any US payments default while addressing the nation's longer-term fiscal challenges.
"We need a different approach—no drawing lines in the sand and saying 'it's my way or the highway,'" McCarthy said in remarks at the Capitol on Monday. "Most of all, no blank checks for runaway spending." He called the national debt the "greatest threat" facing the US and blamed it for rising prices, such as for eggs.
Less than an hour later, McCarthy made clear in answering a reporter's question that he was drawing at least one line in the sand—no tax increases to address the deficit. The White House struck back at McCarthy in a statement charging the GOP with seeking deficit-worsening tax reductions and the president as presiding over responsible fiscal policy that had already reduced the deficit.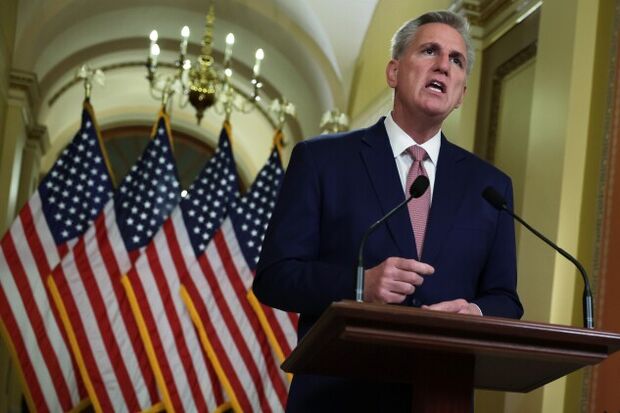 Congressional aides involved in defense and intelligence issues will be briefed on the Chinese spy balloon saga from the Biden administration this morning, according to a person familiar with the plans. There will also be an all-senators classified briefing with US officials on the balloon this Thursday, according to a spokesperson for Senate Majority Leader Chuck Schumer (D-N.Y.).
Meanwhile, alleged Chinese spy balloons were spotted on several occasions during the Trump administration, including three instances where they traveled near US military facilities, people familiar with the matter said. Read more
China boasted about its ability to shoot down spy balloons that strayed into its airspace back in September 2019, three years before complaining that the US "overreacted" by destroying one of its vehicles. Read more
A bipartisan Senate duo expressed their concern to Meta Platforms CEO Mark Zuckerberg over the risk of developers in China and Russia having access to Americans' user data.
Consumer privacy protections are among the top priorities for the 118th Congress as lawmakers gear up to reintroduce proposals that received broad bipartisan support from committees last year.
Elections, Politics & Probes
The first major criminal charges that Donald Trump could face for interfering in the 2020 election might come from Atlanta—and what happens in Georgia isn't expected to stay in Georgia.
The US Supreme Court faces plummeting public opinion, an unresolved leak investigation, and a wave of ethics concerns, but Chief Justice John Roberts has addressed little of it head on.
Former Sen. Richard Burr (R-N.C.) has joined law firm DLA Piper as a member of its regulatory and government affairs group, where he'll lead a newly established health policy consulting practice, the firm said Tuesday.
Florida lawmakers are proposing to give Gov. Ron DeSantis (R) full control over the board overseeing Walt Disney's special district, as the Republican governor escalates his fight with the entertainment giant.
Newsmax lost its bid to end defamation litigation brought by Smartmatic USA, which develops vote-counting technology, over the conservative news network's role in spreading false conspiracy theories about the 2020 election.
Around the Administration
BIDEN'S AGENDA
Biden will deliver the annual State of the Union address at the Capitol at 9 p.m.
Treasury Secretary Janet Yellen discussed the US' Inflation Reduction Act with European Commission Executive Vice President Margrethe Vestager over a call on Feb. 6, according to a Treasury Department statement.
It's too early to tell if the US population will need annual Covid-19 booster shots, infectious disease doctors say. They say they don't yet know how best to respond to the unpredictable patterns of new variants.
California Gov. Gavin Newsom (D) called for federal energy regulators to investigate a recent hike in natural gas prices that has resulted in sky-high utility bills.
Federal Trade Commission officials said they're "pleased" with a ruling last week by a federal judge—even though he shot down the agency's effort to stop a merger between Meta and a virtual reality fitness app.
The Pentagon and Lockheed Martin have reduced the laundry list of deficiencies on the contractor's F-35 with the fighter jet, the world's costliest weapons program, due for a key combat simulation by mid-year.
Rescue teams from overseas began deploying in Turkey on Tuesday after a pair of powerful earthquakes a day earlier killed at least 4,000 people in the country and neighboring Syria, leaving millions without power in the middle of winter.
To contact the reporter on this story: Brandon Lee in Washington at blee@bgov.com
To contact the editors responsible for this story: Michaela Ross at mross@bgov.com; Giuseppe Macri at gmacri@bgov.com
Stay informed with more news like this – from the largest team of reporters on Capitol Hill – subscribe to Bloomberg Government today. Learn more.