What to Know in Washington: Biden to Give Ukraine Rocket Systems
Biden details rocket systems US will send Ukraine
White House grapples with gun-control order, legislation
President Joe Biden said he'll give Ukraine advanced rocket systems and other US weaponry to better hit targets in its war with Russia, ramping up military support as the conflict drags into its fourth month.
"I've decided that we will provide the Ukrainians with more advanced rocket systems and munitions that will enable them to more precisely strike key targets on the battlefield in Ukraine," Biden wrote in a New York Times article published Tuesday evening in Washington.
The package of weapons includes missiles that will allow Ukraine to strike locations as far as 80 kilometers away, a senior US official told reporters on condition of anonymity. World leaders including British Prime Minister Boris Johnson have publicly called for such a move in recent weeks.
The decision comes more than three months after President Vladimir Putin's forces invaded Ukraine, with the conflict now shifting into a brutal town-by-town grind as Russia tries to consolidate territory in the east rather than seize control of the entire country. That change in strategic goals has altered how the war is waged, with longer-range bombardment including by artillery increasingly a part of the fighting.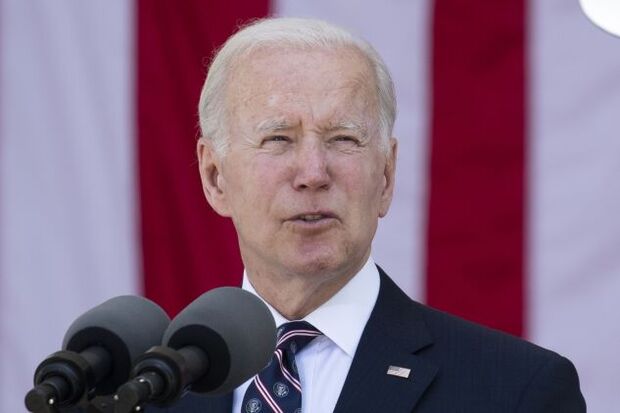 One concern in Washington and some European capitals about supplying longer-range weaponry and munitions was whether Ukraine would use them to strike targets inside Russia. That would risk expanding the war and pulling in NATO nations that have sought to draw a line between delivering defensive aid and engaging more aggressively in the conflict.
The US official said Ukraine's government offered assurances that they won't use the new missile systems to target Russian territory. Read more from Jennifer Jacobs and Chelsea Mes.
More on the War:
Happening on the Hill
Republicans Want Fertilizer Trade Fix: Republican senators asked the U.S. Trade Representative to establish a long-term plan for fertilizer trade on Tuesday, as prices skyrocket following the Russian invasion of Ukraine, Maeve Sheehey reports. In the letter to Katherine Tai, Sens. Roger Marshall (Kan.), Chuck Grassley (Iowa), Joni Ernst (Iowa), and Deb Fischer (Neb.) called on the Biden administration to enhance the U.S.'s trading relationship with Canada and work with China to reduce or eliminate its fertilizer export restrictions.
BGOV OnPoint: China Tariffs Scrutinized by White House, Congress: The Biden administration kicked off the review process for Trump-era duties on imports from China as lawmakers consider legislation that could address tariff exclusions. Meanwhile, trade is one of the sticking points in legislation to boost competitiveness with China (H.R. 4521; see BGOV Bill Summary), including a Senate proposal to reinstate the tariff exclusions and create a new exclusion process. This OnPoint reviews Section 301 trade authorities, Trump administration trade actions, tariff exclusion and review processes, and legislative proposals. Read more from Brittney Washington.
Elections & Politics
Seven of the 10 largest American cities and just over half of the 94 federal court districts overall lack Senate-confirmed US attorneys amid concerns over rising crime.
The vacancies of US attorneys, who function as their region's chief federal law enforcement official, are largely in red states where Republican senators can complicate appointments. Biden has nominated 28% fewer US attorneys than Donald Trump had at this point in their tenures. The slower pace surprises former occupants of the job, particularly as Republicans make crime a focus of efforts to seize control of Congress. Read more from Ben Penn.
Former Bridgewater CEO David McCormick wants a Pennsylvania court to order a hand recount in a dozen counties in his too-close-to-call Republican Senate primary with celebrity physician Mehmet Oz as the US Supreme Court and the state's highest court dealt blows to his bid to get certain mail-in ballots counted. Counties must begin an automatic recount of the race by Wednesday, but McCormick is asking for a hand recount in 12 counties where his campaign still has questions about the results, Mark Niquette reports.
Trump appealed the dismissal of his lawsuit challenging the authority of New York to investigate his real estate business. A notice of the appeal was filed with the 2nd Circuit US Court of Appeals Tuesday. The basis of the appeal wasn't provided in the notice. Trump sued to block New York Attorney General Letitia James's three-year probe, claiming it was politically motivated. Read more from Joe Schneider.
Biden Eyes $2.1 Billion to Boots Food Supply Chain
The Biden administration on Wednesday will announce $2.1 billion in new funding to bolster food supply chains, including initiatives to expand small- and mid-sized processing plants, according to a Department of Agriculture official. Funds will also be used to finance new infrastructure such as cold storage facilities and to assist farmers shifting to organic production, the official said.
A nationwide shortage of baby formula following the shutdown of a single Abbott Labs production facility, empty grocery shelves during early phases of the Covid pandemic and soaring food prices over the past year have underscored weaknesses in the country's food supply chains. Grocery prices in April were up 10.8% from a year earlier, the highest annual increase since November 1980, when Jimmy Carter was in the White House.
Agriculture Secretary Tom Vilsack plans to focus on the importance of moving U.S. food supplies away from dominance by a few highly concentrated businesses and addressing climate change challenges in announcing a "framework" for strengthening supply chains. "A transformed food system is part of how we as a country become more resilient," Vilsack will say, according to prepared remarks.
Vilsack will announce initiatives including $600 million in assistance for independently owned supply-chain infrastructure such as cold storage facilities and refrigerated trucks. The infrastructure aid will come on top of funding Biden announced earlier this year to assist expansion of independent processors in the highly concentrated meatpacking industry. Read more from Mike Dorning.
Around the Administration
BIDEN'S SCHEDULE:
White House officials are examining what additional actions Biden could take unilaterally to address gun control — but fear he may have already exhausted all available options, press secretary Karine Jean-Pierre said Tuesday. Biden wants lawmakers to take a vote on legislation banning the sale of assault weapons and high-capacity magazines, Jean-Pierre said.
Furthermore, the White House said that Biden disagreed with Senate Minority Leader Mitch McConnell's (R-Ky.) assessment that mental illness and school safety were at the root of the issue. Biden does not support legislation hardening schools, as some Republicans have proposed, Jean-Pierre said. Read more from Justin Sink and Josh Wingrove.
Members of K-Pop supergroup BTS, whose global popularity and appeal are often compared to that of The Beatles, said they hoped their meeting Tuesday with Biden would help bring attention to efforts to curb hate crimes in the US and elsewhere. Biden last year signed in to law the Covid-19 Hate Crimes Act (Public Law 117-13), which expedites reviews of hate crimes related to the pandemic, Katia Dmitrieva and Josh Wingrove report.
The Federal Trade Commission has revamped its antitrust probe of Amazon, shaking up the investigative team, re-interviewing potential witnesses and asking questions about the company's recent acquisition of MGM Studios, three people familiar with the probe said. FTC Chair Lina Khan assigned the case to John Newman, an antitrust professor and former Justice Department prosecutor, who joined the FTC as a deputy director of competition in December and has reorganized the team probing Amazon since taking it over, according to the people. Read more from Leah Nylen.
Secretary of Labor Marty Walsh said in a Twitter post he has tested positive for Covid-19. Walsh said he is vaccinated and boosted and experiencing mild symptoms, Chelsea Mes reports.
A statutory "loophole" for keeping temporary government leaders in place was validated last week, as a federal appeals court ruled the application of a law intended to limit the time a temporary official can serve in a Senate-confirmed position is "vanishingly small." The ruling, which stemmed from a surgical device patent dispute involving Arthrex, confirmed the power of interim agency directors, with the US Court of Appeals for the Federal Circuit saying the scope of the 1998 Federal Vacancies Reform Act is extremely limited. Read more from Samantha Handler.
A divided US Supreme Court blocked a Texas law that critics say would fundamentally transform Twitter and Meta Platforms' Facebook by requiring them to allow hate speech and extremism. Over four dissents, the justices on Tuesday put the measure on hold while a constitutional challenge goes forward in a lower court, granting a request from tech groups that said the measure would unconstitutionally bar platforms from removing neo-Nazi and Ku Klux Klan screeds or Russian propaganda about its invasion of Ukraine. Read more from Greg Stohr.
The US Army—facing a potential recruiting crisis not seen since the all-volunteer force was created almost five decades ago—is stepping up its efforts to get Generation Z to sign up. The "Know Your Army" campaign, set to ramp up Wednesday, will court recruits aged 17 to 25 by highlighting the benefits and quality of life that the service can offer to a shrinking number of eligible candidates. The US military's largest service must compete in a tight labor market against private companies that often offer more alluring benefits. Read more from Roxana Tiron.
With assistance from Maeve Sheehey
To contact the reporter on this story: Michaela Ross in Washington at mross@bgov.com
To contact the editor responsible for this story: Brandon Lee at blee@bgov.com