What to Know in Washington: Biden, Pelosi Seek to Break Gridlock
Bloomberg Government subscribers get the stories like this first. Act now and gain unlimited access to everything you need to know. Learn more.
President Joe Biden and top Democrats will regroup this week to salvage two pillars of his agenda, after gridlock between the party's two flanks scuttled passage of an infrastructure bill and threatens to drag on for weeks.
Speaker Nancy Pelosi (D-Calif.) reset the clock on Saturday, giving lawmakers until Halloween to strike a deal on both the bipartisan $550 billion infrastructure deal and a broader, signature package of social spending, climate change, and tax measures they must pass with only Democratic votes.
The weekend offered mixed signals—including Pelosi's delay and a blistering critique of House Democrats from moderate Sen. Kyrsten Sinema (D-Ariz.), who is balking at the broad bill. But there were also olive branches, with some members of Congress suggesting the reconciliation package could be authorized for a limited time to pare down the price.
"I believe I can get this done. I believe, when the American people are aware what's in it, we can get it done," Biden said Saturday at the White House, acknowledging but still shrugging off tensions within the party. "Everybody is frustrated. It's part of being in government—being frustrated."
Moderate Democrats say they'll vote for infrastructure as a standalone bill, but progressives insist infrastructure be paired with an ambitious social spending plan—including child care, tuition-free community college, paid family leave, an expansion of Medicaid and sweeping climate provisions.
The president will travel to Michigan tomorrow to urge passage of his two packages, nodding to a cradle of U.S. manufacturing and a symbol of the rise and decline of the American middle class. He's visiting the district of Elissa Slotkin (D), a key House moderate.
Congress bought time by passing a deal to avoid a government shutdown until at least early December, and a 30-day extension of surface transportation funding, which Biden signed Saturday. Last week's frenzied, around-the-clock push to broker a deal won't spill into this week with the same fervor. Instead, the president will continue to press for passage of both bills, and will reprise in his Michigan speech many of the themes he raised while speaking to House Democrats on Friday. Read more from Josh Wingrove and Gregory Korte.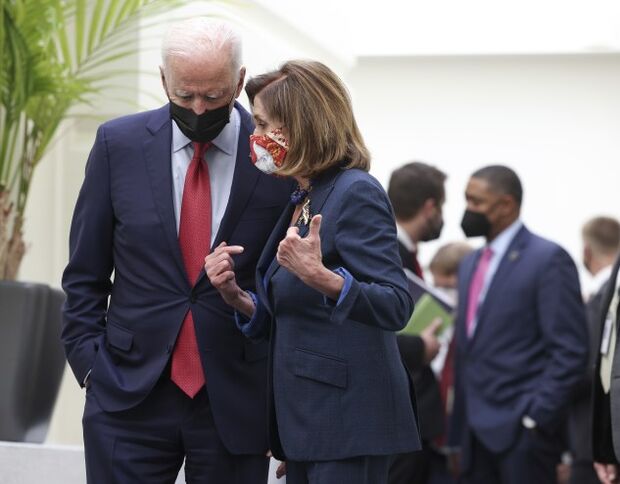 Progressives Offer to Cut Spending Short: House progressives looking for ways to rescue Biden's stalled domestic agenda opened the door to scaling back some of the more ambitious social spending by having those programs expire rather than be permanent. "One of the ideas out there is to fully fund what we can fully fund, but instead of funding it for 10 years, fund it for five years," Rep.

Alexandria Ocasio-Cortez

(D-N.Y.), a leading progressive voice, told CBS.
Progressives say they're willing to compromise—within limits. The chairwoman of the Congressional Progressive Caucus flatly rejected Sen.

Joe Manchin

's (D-W.Va.) offer of $1.5 trillion in social spending. "That's not going to happen," Rep.

Pramila Jayapal

(D-Wash.) said on CNN. "That's too small to get our priorities in." Gregory Korte has more.
Sinema Strikes at Progressives: Meanwhile, Sinema criticized House progressives on Saturday for delaying a vote on the bipartisan infrastructure bill she helped negotiate, blaming them for eroding trust in politicians. The unusually withering public statement from Sinema shows the depth of mistrust that's developed between factions of the Democratic Party. "I have never, and would never, agree to any bargain that would hold one piece of legislation hostage to another," she said, Peter Martin reports.
Happening on the Hill
Today's Agenda:
The Senate is likely to hold a procedural vote on a measure to suspend the debt limit.
The House does not have any floor activity scheduled for this week or next.
Click here for a complete list of today's hearings and markups.
Doomsday Clock for Debt Limit Ticks With No Plan: The U.S. is moving closer to its first-ever default, with neither political party in Washington yet signaling it's ready to back down from a partisan showdown on the federal debt limit. Senate Majority Leader Chuck Schumer (D-N.Y.) plans another vote as early as today on a House-passed measure to suspend the federal government's legal debt limit until December 2022.
But his Republican counterpart, Mitch McConnell (Ky.), vowed to block the attempt, for the third time running. The risk is rising that political miscalculation and byzantine congressional procedures could tip the U.S. into an outcome that practically no one on Wall Street or Washington expects. Biden plans to speak at 11:15 a.m. on the need for Congress to address the debt ceiling. Mike Dorning has more.
Highway Bill Extended: Biden on Saturday signed into law a 30-day extension of federal surface transport programs that ended brief furloughs for some 3,700 Department of Transportation employees, Tony Czuczka reports. The Senate passed the measure by unanimous consent earlier in the day. The deadline for extending the surface transportation programs was Sept. 30. The lapse triggered the furloughs, though employees will have their missing pay restored under the extension bill.
While the department said last week it has funding on hand to keep programs running in the short term, a contingency plan showed that much of its work, including federal-aid highway programs, would be curtailed without an authorization.
Politics & Influence
Whistleblower Says Facebook Puts Profits Over Users: A Facebook whistle-blower who turned over thousands of internal documents to U.S. lawmakers and the Wall Street Journal unveiled herself as a Frances Haugen, a former product manager who has accused the platform of prioritizing profits over the well-being of its users. Haugen gave her first public comments in an interview broadcast yesterday on "60 Minutes."
Haugen said she took tens of thousands of documents from the company because the harms Facebook poses are worse than what she had seen at other social media networks. "You know what's going on inside of Facebook and you know no one else knows," she said. "I knew what my future looked like if I continued to stay at Facebook, which is person after person has tackled this inside of Facebook and ground themselves to the ground." Read more from Kurt Wagner and Naomi Nix.
Trump Seeks Reinstatement of Twitter Account: Former President Donald Trump asked a federal judge to force Twitter to temporarily reinstate his account while he sues to permanently return to the social media network. Trump's request for a preliminary injunction against Twitter was filed late Friday in Miami, Fla. The Republican claims Twitter canceled his account in January under pressure from his political rivals in Congress. Twitter declined to comment on the filing. Erik Larson has more.
Around the Administration
Fauci Says U.S. Is Turning the Corner: The U.S. is turning the corner on the most recent surge in Covid-19 cases but more people need to get vaccinated to keep infections on a declining trend, infectious disease specialist Anthony Fauci said. Fauci, chief medical adviser to Biden, said that while the full-vaccination rate has hit 55%, the key risk is the 70 million eligible people in the U.S. who haven't gotten a shot. "We certainly are turning the corner on this particular surge," Fauci told ABC. Read more from Max Reyes.
U.S. Supreme Court Justice Sonia Sotomayor let New York City start enforcing its requirement that school employees be vaccinated against Covid-19 or lose their jobs, rejecting a bid by four teachers and staff members who sought to block the mandate. Sotomayor, who is assigned to consider emergency requests out of the New York-based 2nd U.S. Circuit Court of Appeals, made no comment in turning down the emergency request. Read more from Kimberly Robinson and Greg Stohr.
U.S. Urges China to Halt Military Moves on Taiwan: The U.S. called on China to halt its "provocative" pressure on Taiwan after a record number of incursions by Chinese warplanes, saying the actions are destabilizing and risk leading to "miscalculations." The U.S. commitment to Taiwan "is rock solid and contributes to the maintenance of peace and stability across the Taiwan Strait and within the region," State Department spokesman Ned Price said in a statement yesterday. Cindy Wang and Jacob Gu have more.
Meanwhile, the Biden administration will directly engage with Beijing in the coming days to enforce commitments in their trade deal and start a new process to exclude certain products from U.S. tariffs in an effort to help American workers and businesses, top administration officials said. U.S. Trade Representative Katherine Tai is scheduled to speak to Chinese Vice Premier Liu He soon, the first meeting where she will mainly stress China's shortfalls in the agreement struck with Trump. Read more from Jenny Leonard.
France's Le Drian to Hold Talks With Blinken: French Minister of Foreign Affairs Jean-Yves Le Drian is expected to hold talks with U.S. Secretary of State Antony Blinken in Paris tomorrow, in a bid to improve ties after the recent diplomatic crisis between the two countries. The two ministers will hold in-depth talks "in order to identify the steps that could allow the restoration of confidence between our two countries," French Foreign Ministry spokeswoman Anne-Claire Legendre said in a statement. Blinken is visiting Paris this week for meetings at the Organization for Economic Cooperation and Development. Read more from Alexandre Rajbhandari.
Iran Says Freeing Oil Money Could Revive Talks: Iran said its demand that the U.S. unblocks $10 billion of its oil funds trapped overseas is "one example" of what Washington could do to generate good will before big-power talks aimed at reviving the 2015 nuclear deal can restart, the country's foreign ministry spokesman said today. "The U.S. can show that it's changing its actions in many ways. Releasing $10 billion of our money is just one example," Saeed Khatibzadeh said. Read more from Yasna Haghdoost.
The Biggest Revelations From the Pandora Papers Leak: An unprecedented leak of financial records known as the Pandora Papers has revealed the offshore financial assets of dozens of current and former world leaders and hundreds of politicians from Asia and the Middle East to Latin America. The International Consortium of Investigative Journalists obtained 11.9 million confidential documents from 14 separate legal and financial services firms, which the group said offered "a sweeping look at an industry that helps the world's ultrawealthy, powerful government officials and other elites conceal trillions of dollars from tax authorities, prosecutors and others." Iain Marlow examines some of the biggest revelations in the release.
To contact the reporters on this story: Brandon Lee in Washington at blee@bgov.com; Zachary Sherwood in Washington at zsherwood@bgov.com
To contact the editors responsible for this story: Giuseppe Macri at zsherwood@bgov.com; Loren Duggan at lduggan@bgov.com
Stay informed with more news like this – from the largest team of reporters on Capitol Hill – subscribe to Bloomberg Government today. Learn more.