What to Know in Washington: Biden Hits Setback on Voting Rights
President Joe Biden and congressional Democrats head into the weekend uncertain about the future of their voting rights push, after key Senate Democrats yesterday dashed hopes for a rules change to overcome Republican opposition. At the White House today, Biden plans to provide an update on the rollout of the bipartisan infrastructure law, highlighting funds for bridge repairs.
Here's what Bloomberg Government is tracking for Friday.
Biden's Schedule:
Press Secretary Jen Psaki and FEMA Administrator Deanne Criswell hold a press briefing at 11:45 a.m.
Biden will speak at 12:30 p.m. at the White House about the administration's progress implementing the infrastructure law.
At 6 p.m. the president will depart Washington for Wilmington, Del., arriving shortly before 7 p.m.
Congress's Schedule:
Both chambers are out until Tuesday. The Senate canceled next week's planned recess to continue work on voting rights legislation.
Biden Has Little Hope for Voting Bill
President Joe Biden cast doubt yesterday on his push for voting-rights legislation after key Senate Democrats expressed opposition to the plan, a significant setback for the party's defense of narrow congressional majorities in the November elections.
After meeting privately with Senate Democrats, Biden said while he hoped lawmakers would advance the measure, "the honest-to-God answer is: I don't know if we can get this done."
The almost certain defeat is the latest disappointment for a president battling a relentless pandemic and soaring inflation and struggling to push a sweeping tax and spending plan through Congress. And on the foreign policy front, talks with Russia to avert an invasion of Ukraine have failed to make progress. A Quinnipiac poll released Wednesday showed Biden's approval rating at 33%, the lowest of his presidency.
The challenges for Biden on voting rights expanded yesterday when Sen. Kyrsten Sinema (D-Ariz.) rejected the White House-backed efforts to change Senate rules to win approval of the legislation, uniformly opposed by Republicans. Her opposition — outlined in a speech from the Senate floor — deprived Biden of crucial support in a chamber divided 50-50. Republicans oppose the voting rights measures.
Biden said if the measure fails in the Senate, he'll try again. "As long as I have a breath in me, as long as I'm in the White House, as long as I'm engaged at all, I'm going to be fighting" for legislation to counter measures in Republican-led states that limit voting rights, he said.
He met with Sen. Joe Manchin (D-W.Va.), who also opposes changing the Senate's rules, and Sinema last night. A brief White House statement described the session, which lasted a little over an hour, as "candid and respectful" while offering no other details.
At issue is the fate of two voting rights measures that were combined into a single bill passed by the House earlier yesterday. Senate Majority Leader Chuck Schumer (D-N.Y.) had set up the legislation as a test of the Senate rules that give the minority party broad power over what bills can get a vote. Schumer said the Senate would return on Tuesday to take up the voting rights bill, cutting into a planned week-long recess. If Republicans block it as expected, he said, the Senate will debate and vote on filibuster rule changes. "In the coming days we will confront this sobering question and every member will go on record," Schumer said. Read more from Laura Litvan, Jennifer Jacobs and Jenny Leonard.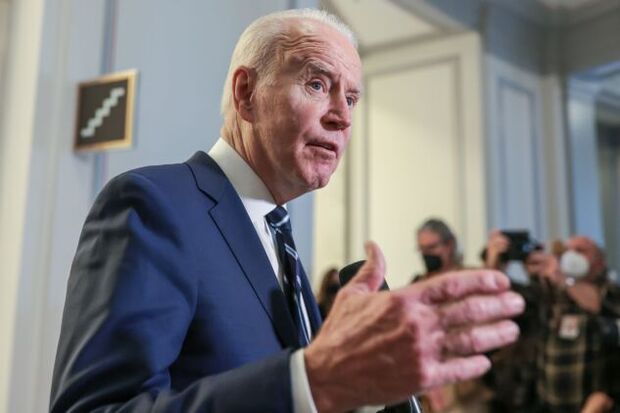 ALSO HAPPENING ON THE HILL:
McConnell Renews Drive to Scrap Fundraising Curbs in Court Case
Senate Minority Leader Mitch McConnell (R-Ky.) is reviving his longstanding crusade against campaign finance restrictions, joining a Supreme Court case that could further erode fundraising curbs for the midterm elections and beyond.
McConnell is urging the court to use its first campaign finance case since 2014 to get rid of a ban on unlimited "soft money" contributions to political parties, disclosure requirements for political ad sponsors, and other remaining restrictions of the landmark 2002 Bipartisan Campaign Reform Act, also called the McCain-Feingold law.
McConnell's advice came in a brief filed in a narrower challenge brought by Sen. Cruz that legal experts say is likely to resume the court's march toward deregulation of campaign financing. Read more from Kenneth P. Doyle.
MORE POLITICS & INFLUENCE:
The amount of money already raised for this year's races for state offices that oversee voting laws indicates there likely will be record fundraising for elections that previously stirred little interest among voters, according to a new analysis by a voting rights advocacy group. More money is coming from out-of-state donors than ever before as these races join the national spotlight, with campaigns in crucial battleground states focused on denying the results of the 2020 presidential election, according to a report by the Brennan Center for Justice. Read more from Jennifer Kay.
JPMorgan Chase Chief Jamie Dimon has for years griped about what he calls an unfair playing field between traditional banks and upstart fintechs. He isn't alone: Big banks and the powerful lobbying groups representing them are readying a fight on multiple fronts, in what's already shaping up as a definitive year for the rivalry between traditional banks and their tech competition. Read more from Hannah Levitt.
Biden Vaccine Push Hobbled by Courts as Onus Shifts to Business
States and businesses now have to decide for themselves whether American workers should be required to get coronavirus shots, after Biden's flagship vaccination mandate was gutted by the U.S. Supreme Court. The justices yesterday blocked Biden's workplace health rule that would have required companies with 100 or more employees to either mandate Covid-19 vaccination or weekly testing. A separate rule to require vaccination for federal contractors had earlier stalled amid legal fights.
Taken together, the high court's decisions exempt millions of workers from measures Biden announced in the fall as vaccinations slowed and the delta variant fueled a new spike in cases. Despite ample supplies of shots, the U.S. badly trails other industrialized nations at inoculations, with less than 63% of the population fully vaccinated, according to the Bloomberg Vaccine Tracker. Read more from Josh Wingrove.
The U.S. Supreme Court may have rejected the federal rule mandating Covid-19 vaccinations or testing, but businesses threatened by omicron's spread might be forced to implement one anyway to protect the workers they have and keep factories open. Read more from Matthew Boyle.
The decision signals trouble for OSHA's other rulemakings for infectious diseases. The high court decision doesn't halt OSHA's other Covid-19 curbing efforts, including the issuance of workplace hazard citations under that general duty clause, which has been a bulwark of its enforcement efforts thus far. Read more from Bruce Rolfsen.
Meanwhile, health-care facilities must once again work toward complying with the Biden administration vaccine mandate, attorneys who advise hospitals and other medical providers said in the wake of the Supreme Court's decision to allow that requirement to move forward. Read more from Allie Reed.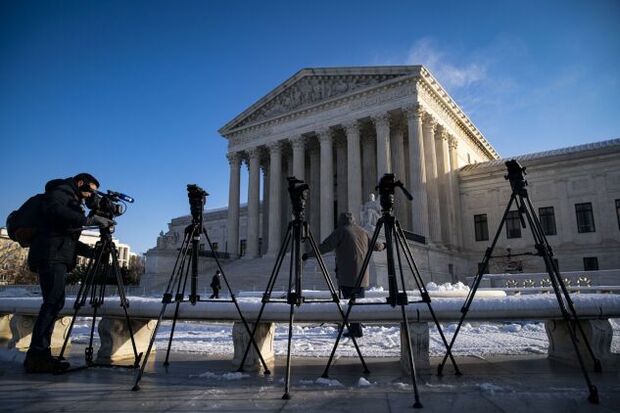 The coronavirus surge that is claiming record numbers of victims is disrupting a federal civilian workforce of 2 million across the country. That has delayed the processing of tax returns, drug approvals and even foreign travel by diplomats as workers call in sick, quarantine or stay home to care for ill family members. Read more from Ari Natter.
The U.S. economy will take an early hit this year from omicron — but the damage shouldn't last beyond the first quarter, according to Bloomberg's latest monthly survey of forecasters. Expectations for growth in gross domestic product for the January-March period dropped to 3%, from 3.9% in the previous monthly survey. Forecasts for inflation, however, were marked up for each quarter into 2023, reflecting prolonged problems with supply chains that risk being exacerbated by omicron. Read more from Jordan Yadoo and Sarina Yoo.
Around the Administration
Biden is expected to announce today the distribution of more than $5 billion to repair or replace bridges across the U.S., part of a program that the White House hailed as the largest investment of its kind "since the construction of the interstate highway system." The funds, $5.3 billion for states and $165 million for tribes in the 2022 fiscal year, are part of the $550 billion infrastructure law that was passed by Congress last year.
The money will be paid out through formulas by the U.S. Department of Transportation through its Bridge Replacement, Rehabilitation, Preservation, Protection and Construction Program. The overall program will provide $26.5 billion to states and $825 million for tribal transportation facilities for bridge projects over the next five years. Read more from Keith Laing.
Biden plans to nominate Sarah Bloom Raskin to be the Federal Reserve's top banking regulator and economists Lisa Cook and Philip Jefferson to be governors, people familiar with the decision said yesterday, completing his overhaul of leadership at the U.S. central bank. The selections of Cook, who would be the first Black woman on the Fed's board, and Jefferson, who would be the fourth Black man, keep a Biden promise to improve diversity at the central bank If all the picks are confirmed by the Senate, it would mark two firsts for the seven-member panel: four women serving together, and two Black governors at the same time. Read more from Jennifer Jacobs and Jennifer Epstein.
Texas Governor Greg Abbott's border crackdown violates the U.S. Constitution and improperly intrudes on the federal government's authority to set immigration policy, a Texas state judge ruled. Read more from Laurel Brubaker Calkins.
North Korea appears to have fired two ballistic missiles into waters off its east coast– in what could be its third rocket-volley test in less than 10 days — hours after issuing a fresh warning to the Biden administration. Read more from Jeong-Ho Lee.
Editor's Note: Bloomberg Government's What to Know in Washington will not publish on the Monday, Jan. 17, Martin Luther King Jr. Day federal holiday. We'll return Tuesday, Jan. 18.
To contact the reporters on this story: Zachary Sherwood in Washington at zsherwood@bgov.com; Brandon Lee in Washington at blee@bgov.com
To contact the editors responsible for this story: Giuseppe Macri at gmacri@bgov.com; Loren Duggan at lduggan@bgov.com; Michaela Ross at mross@bgov.com