Trump's Call for Drug-Pricing Law Faces Uphill Battle (1)
(Updates with comments from Sen. Chuck Grassley starting in the fifth paragraph. A previous version was corrected to remove a reference to insulin.)
The effort to enact legislation reducing drug prices will remain fractured despite President Donald Trump's call for unity on the issue.
Trump, in his annual State of the Union address Tuesday, highlighted his administration's work to lower the price of drugs. He credited Sen. Chuck Grassley (R-Iowa) with working on it, although he fell short of endorsing the Finance Committee chairman's drug-pricing package. Trump called on Congress to "get something done," asking for legislation without singling out a particular bill.
"I am calling for bipartisan legislation that achieves the goal of dramatically lowering prescription drug prices," Trump said. "Get a bill on my desk, and I will sign it into law immediately."
The president used his speech to claim credit for the reduction of overdose deaths under his watch and for expanding the availability of low-cost health insurance plans that don't have to comply with many of Obamacare's rules.
Grassley has been seeking a much-needed boost from Trump for the drug-pricing package he put together with Sen. Ron Wyden (Ore.), the top Finance Committee Democrat. Grassley has said he needs more support from his Senate colleagues to get a vote in that chamber this year.
Grassley said Wednesday Trump's call out to him during the speech was the "impetus we needed to get more Republicans" to support the bill. He added that he's unsure if this will get them over the finish line, but it could.
House Democrats spent the day Tuesday arguing that Trump and his administration have done little to reduce what Americans pay at the pharmacy. They pointed to legislation (H.R. 3) the House passed last year that would empower Medicare to pressure drugmakers to lower their prices. The Senate hasn't taken up the bill.
Trump's comments on drug pricing during his speech prompted Democrats in the chamber to shout "H.R. 3! H.R. 3!"
Democrats also argued Trump has undermined Obamacare, their signature health policy achievement, by supporting a lawsuit challenging the constitutionality of the health law.
"I will work with President Trump if he will help us lower the cost of prescription drugs, if he will drop this lawsuit for the American people," Rep. Debbie Dingell (D-Mich.) said.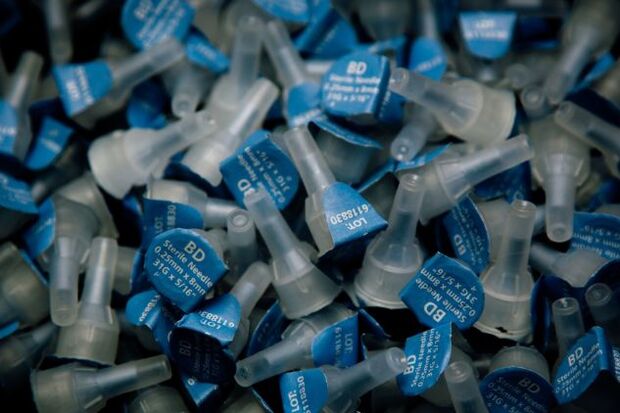 Democrats see themselves as holding the high ground on health care and therefore don't need to support whatever Trump and Republicans in the Senate can agree on. Without their support, any drug-pricing bill could be doomed.
Recent polling from the Democratic firm Public Policy Polling found that a thin majority of voters in Florida, Michigan, North Carolina, Pennsylvania, and Wisconsin would more likely trust Democrats on prescription drug matters than Trump and that most voters favor allowing Medicare to negotiate for lower prices. The poll was conducted on behalf of the Democrat-aligned advocacy group Protect Our Care.
"If President Trump is serious about tackling the cost of prescription drugs, he will reverse course, announce his support for the House-passed Lower Drug Costs Now Act, and urge Senate leaders to stop delaying and send it to his desk," said Eli Zupnick, a former spokesman for Sen. Patty Murray (D-Wash.) who now works for the drug pricing advocacy group Patients Over Pharma.
Skeptical Democrats
Trump's announcement that his administration will proceed with a plan to tie the price of drugs in the U.S. to their cost overseas was similarly met with skepticism from Democrats.
Leslie Dach, chair of Protect Our Care, called it "nothing more than a proposal for a proposal for a proposal."
"Even under the most optimistic timeline, this policy wouldn't take effect for years and Americans would likely only see a modest benefit if any at all," Dach said. "Meanwhile the president gave billions of dollars in tax breaks to drug companies and opposes giving Medicare the power to negotiate for lower drug prices, the one proven way to lower costs from millions."
Protect Our Care on Tuesday also launched an ad campaign in Florida, Michigan, North Carolina, Pennsylvania, and Wisconsin—all 2020 battleground states—that says the president is lying when he claims he's maintained Obamacare's popular protections for people with pre-existing health conditions. The administration has declined to defend the Affordable Care Act—including safeguards for those with pre-existing conditions—in a lawsuit by a group of Republican-led states that seeks to strike down the law.
To contact the reporter on this story: Alex Ruoff in Washington at aruoff@bgov.com
To contact the editors responsible for this story: Paul Hendrie at phendrie@bgov.com; Robin Meszoly at rmeszoly@bgov.com