Trump Antifa Terrorist Label Seen Distracting From Real Threats
Bloomberg Government subscribers get the stories like this first. Act now and gain unlimited access to everything you need to know. Learn more.
President Donald Trump's tweet that he would designate the group Antifa as a domestic terrorism organization is drawing criticism as unconstitutional and risking the diversion of resources from known terrorism threats.
"This can bleed resources from the true threats that exist," Jason Blazakis, former director of the Counterterrorism Terrorism Finance and Designations Office at the State Department, said in an interview. "Those that may not be politically palatable to the president, like threats posed by far right and neo-Nazi organizations that certainly are operating in the United States."
If Trump tasked law enforcement and intelligence agencies with investigating Antifa as a domestic terrorism threat, that could shift financial and human resources from other national security threats, officials worry.
"The President continues to deflect and distract from his utter lack of leadership during this time of crisis. A list of domestic terrorist organizations would be unconstitutional," Rep. Bennie Thompson (D-Miss.), chairman of the House Homeland Security Committee, said in an email.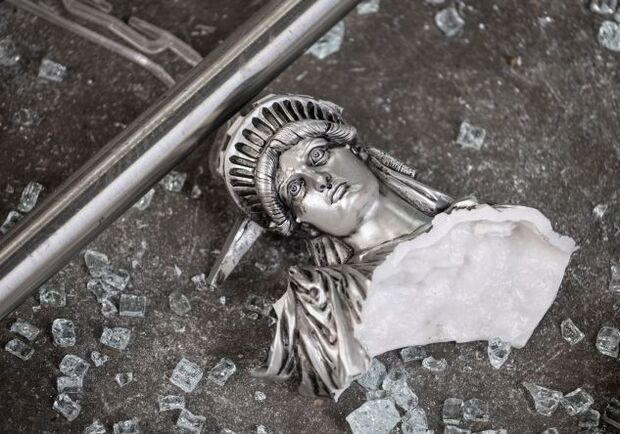 Trump on Twitter, Attorney General William Barr, and acting Homeland Security Director Chad Wolf in press briefings, and national security adviser Robert O'Brien on weekend news appearances all raised the specter of Antifa, antifacists, being involved in some of the violent protests that spread across the country amid outrage over George Floyd's death after a police officer knelt on his neck in Minnesota last week.
"We have serious concerns about the Constitutional implications of several of these statements. We also seek to understand the truth and evidence behind reports of extremist involvement in protests and how the Department of Homeland Security (DHS) and the FBI are responding to these issues while ensuring that Americans' civil rights and civil liberties are protected," House Homeland Security Committee Democrats said in a letter to Wolf and FBI Director Christopher Wray.
The president would likely face significant constitutional challenges in declaring domestic actors as a terrorist organization, said Blazakis, currently a senior research fellow at The Soufan Center and a program director at the Middlebury Institute of International Studies at Monterey.
"We're pursuing the domestic terrorism angle; that's what the DOJ has decided," Kayleigh McEnany, White House press secretary, told reporters Monday about Antifa.
McEnany pointed to Title 18, Section 2331 of U.S. Code, which includes domestic terrorism.
There aren't any criminal penalties associated with the statute, however, unless the crime involved weapons of mass destruction, Blazakis said.
"Acts of vandalism that may be associated with Antifa—burning and carrying out arson—that would not be covered under any relevant domestic terrorism statute the United States has as of today," he said.
Distraction From Threats
The FBI on May 18 issued a report on the Pensacola, Fla., navy base shooting last December, finding that an al-Qaida in the Arabian Peninsula associate was behind the murder of three and the wounding of eight others.
"Foreign terrorist organizations remain a core priority of DHS's counterterrorism efforts and we will continue to make substantial progress in our ability to detect, prevent, protect against, and mitigate the threats that these groups pose to the American people," Wolf said in a statement the day the government announced the al-Qaida connection to the naval base attack.
Terrorist organizations are taking advantage of anti-government sentiment in the U.S. stoked by the Trump administration's handling of the coronavirus pandemic and opposition to stay-at-home orders, Ali Soufan, CEO of the Soufan Group and a former FBI special agent, told House lawmakers during a May 20 virtual forum.
Soufan was speaking about the rising domestic threat of white supremacists, such as those backed by the Russian Imperial Movement, which the State Department in April announced would be the first white supremacist group deemed a Specially Designated Global Terrorist.
"The pandemic has created a disinformation terrorism nexus with its focal point centering upon the white supremacists as a threat," Soufan said at the time.
ISIS and al-Qaida remain threats, he told lawmakers. Antifa, however, didn't come up in the course of the discussion.
Antifa barely fits the standard of an organization—it's more of a "mindset," Blazakis said.
"Does that require requisite resources to be diverted to from a homeland threat from ISIS, the homeland threat from al-Qaida—particularly after al-Qaida in the Arabian Peninsula just struck Pensacola naval base?" he asked. "That would be a bad national security call by the president."
House lawmakers want a briefing by mid-June and documents about any intelligence related to the protest and the designation of groups as domestic terrorist organizations among other items.
"Whether this is just hot air or something more serious, we will be getting to the bottom of this," Thompson said.
To contact the reporter on this story: Shaun Courtney in Washington at scourtney@bgov.com
To contact the editors responsible for this story: Paul Hendrie at phendrie@bgov.com; Robin Meszoly at rmeszoly@bgov.com
Stay informed with more news like this – from the largest team of reporters on Capitol Hill – subscribe to Bloomberg Government today. Learn more.