Short-Handed Farm Groups See Path to Bipartisan Immigration Deal
Renewed immigration talks underway in Senate
Groups hope effort yields protections for farm workforce
Bloomberg Government subscribers get the stories like this first. Act now and gain unlimited access to everything you need to know. Learn more.
Supporters of legal status for immigrant farmworkers are holding out hope that U.S. lawmakers will prioritize the agricultural workforce in nascent bipartisan immigration talks after previous efforts fell apart.
Advocates see this year as a critical window of opportunity, with only eight months left in the congressional session, and immigration politics likely to get more fraught when new members take their seats next year. The push to create a path to legal status for farmworkers has gotten additional attention amid broader worker shortages, supply chain snafus, and new stress to the global food system stemming from Russia's invasion of Ukraine.
Sens. Mike Crapo (R-Idaho) and Michael Bennet (D-Colo.) have renewed conversations on proposals to secure the agricultural workforce and overhaul guestworker visas, Crapo said. He added that he's anxious for the Senate's top immigration negotiators to work out overarching issues so farmworker measures can move forward as part of a broader prospective package.
"Bennet and I continue to basically wait for those guys to get things ironed out so that we can engage," Crapo said, referring to Sens. Dick Durbin (D-Ill.) and John Cornyn (R-Texas).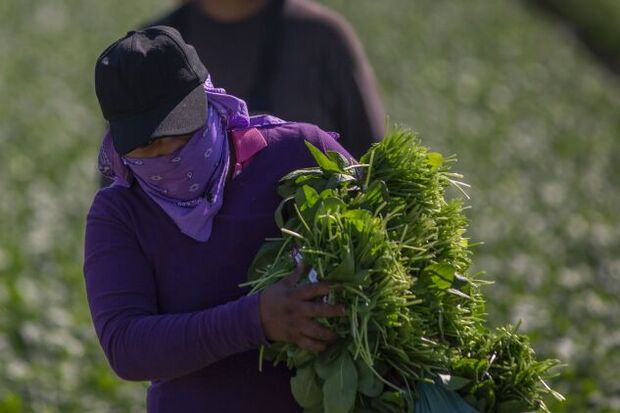 Immigration talks are in early stages, and Durbin told reporters he's focused on putting together bills that seem able to attract 60 votes in the Senate, which is currently split 50-50 between the parties. Farmworker allies hope hard-fought agricultural workforce measures will finally get traction in the chamber.
"The longer we wait on some of these issues, the more intractable the problems become, and the more people and other U.S. interests are harmed," said Craig Regelbrugge, senior vice president at the nursery and landscaping industry organization AmericanHort.
Not 'Stuck'
The nation's roughly 2.4 million farmworkers were deemed essential at the beginning of the Covid-19 pandemic, and their work is critical to maintaining a secure food system amid supply chain disruptions. But the threat of detention and deportation looms for many. While precise data isn't available, estimates suggest more than one-third or as many as half of agricultural laborers lack work authorization.
"If we don't figure out how to fix this issue, we're going to start losing growers and producers in a time when that's the last thing we should be doing," Bennet told Bloomberg Government.
Advocates are trying to boost pressure for bipartisan measures. An array of industry, advocacy, and faith-based organizations launched the Alliance for a New Immigration Consensus last month to push for incremental immigration measures this year, with an eye toward a broader overhaul of the system in the future.
Narrow Immigration Fixes Sought by Employers, Religious Groups
"I don't think you would have seen the new alliance form if we thought we were just stuck," said Bob Naerebout, head of government affairs for the Idaho Dairymen's Association. His group is part of the coalition, as is AmericanHort.
Cautious Bipartisan Overtures
Renewed focus on bipartisan measures follows the collapse of Democrats' efforts to achieve new protections for some undocumented immigrants, including farmworkers, through a partisan tax and social spending bill last year. Lawmakers are now cautiously approaching new talks across the aisle, with more than a decade's worth of past failures hanging over their heads.
Senate Democrats Weigh Farm Immigration Overhaul Skipping GOP
Immigration measures involving workforce issues have tended to attract more bipartisan support. The House has twice passed the Farm Workforce Modernization Act (H.R. 1603) spearheaded by Reps. Zoe Lofgren (D-Calif.) and Dan Newhouse (R-Wash.). The measure would allow undocumented laborers to apply for temporary status as certified agricultural workers, and later seek green cards and citizenship.
"If we want to address any potential issues with not having enough agricultural workers, the obvious first step is to provide status to those hundreds of thousands of workers who are already here," Farmworker Justice staff attorney Andrew Walchuk said.
While U.S. immigration authorities aren't targeting undocumented farmworkers for deportation now, that could change under a future administration.
BGOV Bill Summary: H.R. 1603, Farm Worker Visas
The bill would also expand worker protections in the H-2A guestworker visa program, crack down on foreign labor recruitment fraud, and mandate the use of the E-Verify program for agricultural employers to check job candidates' work authorization.
The provisions would help address both illegal immigration and agricultural labor needs, Newhouse said.
"If the Senate acts now, we can create a viable and desperately-needed agriculture labor program" that removes opportunities to work illegally in the U.S., and ensures a reliable workforce for farms and ranches, he said in a statement to Bloomberg Government.
Newhouse and fellow House Republicans included similar legalization and H-2A measures in a sweeping border security and immigration bill (H.R. 6637) they introduced in February.
'It Doesn't Get Easier'
Efforts to provide legal status to any group of immigrants will likely need to be paired with new border security measures to notch support from enough Republicans to clear the Senate's 60-vote threshold for legislation. It remains to be seen whether the two sides can reach a deal acceptable to their respective bases.
"The chasm between what they would introduce, and what is needed, is quite large," Lora Ries, director of the Center for Border Security and Immigration at the Heritage Foundation, said of potential Democratic proposals on border security.
Durbin acknowledged the difficulty of reaching agreement. "I'll be very blunt with you, it's complicated with what's going on with the southern border," he told reporters last week.
But recent blowback the Biden administration received for announcing the end of Title 42 also shone a light on potential opportunities for bipartisan border security conversations. The public health authority has allowed border officials to turn away many migrants during the pandemic.
A contingent of prominent Democrats criticized the announcement and worked with Republicans on legislation to keep Title 42 in place. Sen. Thom Tillis (R-N.C.) said the effort indicated Democrats are increasingly willing to engage on border policy.
Biden Border Move Sows Congress Divide as Democrats Splinter
Bipartisan groups like the Alliance for a New Immigration Consensus are trying to create political space on both sides, signaling to Democrats that there's room to revamp border security, and to Republicans that it's possible to provide immigrant farmworkers paths to legal status without alienating voters.
The push is time-sensitive, AmericanHort's Regelbrugge said. While upcoming midterm elections will make some Republicans wary of engaging on immigration, the timing might present an opportunity for retiring senators, including Sens. Rob Portman (Ohio) and Richard Burr (N.C.), to offer support. Newly elected Republicans who join both chambers next year may be less likely to come to the table, he said.
"Regardless of electoral outcomes, it doesn't get easier going forward," Regelbrugge said. "Needing to start over, needing to rebuild consensus, needing to do so with different players obviously presents its own set of challenges — and with a presidential looming."
With assistance from Nancy Ognanovich
To contact the reporter on this story: Ellen M. Gilmer in Washington at egilmer@bloombergindustry.com
To contact the editors responsible for this story: Sarah Babbage at sbabbage@bgov.com; Anna Yukhananov at ayukhananov@bloombergindustry.com
Stay informed with more news like this – from the largest team of reporters on Capitol Hill – subscribe to Bloomberg Government today. Learn more.