Romney Returns to Policy Passions After Impeachment Vote Furor
A week after his contentious vote to convict President Donald Trump on one article of impeachment, Sen. Mitt Romney headed to Europe with Senate colleagues for high-level meetings on international security, including the rising threat posed by China.
Amid scathing criticism from the president and calls for his ouster from some conservatives, the Utah Republican has plunged back into his work, focusing on issues such as foreign policy and health care that have long interested the veteran politician and businessman who won the Senate seat in 2018.
"Romney has an incredible ability to compartmentalize and focus on the task at hand. I think he's right back to doing what he came to Washington to do, which is work on big issues and represent faithfully the interests of the people of Utah," said Kevin Madden, a public affairs expert who was senior adviser to Romney during his presidential campaigns.
The fact that he's already right back to work makes it clear "how he plans to handle the aftermath" of impeachment, said Madden, executive vice president at Arnold Ventures.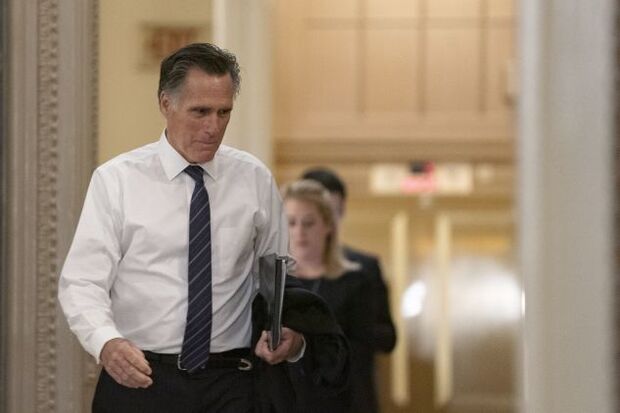 Lawmakers said Romney is ready to move on, and the freshman senator said he'll be intensifying his push at the Munich summit, where he spoke Friday, to encourage international cooperation against rising threats.
"I'll be talking about the challenge we face economically from China and the different rules they play by, and the need for other nations to encourage China to adopt a posture economically and militarily which is consistent with international norms," Romney said in an interview Wednesday before he attended a closed-door Senate briefing on the coronavirus threat.
Romney declined to discuss Trump's criticism of him or reaction to his vote. But other lawmakers and aides said Senate Majority Leader Mitch McConnell(R-Ky.) assured Romney he wouldn't be in any Senate "doghouse" over the matter.
"I don't think there will be any fallout," said Sen. Roy Blunt (R-Mo.), a member of McConnell's leadership team. "The Senate's a place where relationships matter more than they do in the House, and so people will be focused on the next important vote."
Senate Foreign Relations Committee Chairman Jim Risch (R-Idaho), who is leading a large contingent of senators to the Munich Security Conference, said Republicans quickly rejected outside calls to strip Romney of his posts on Foreign Relations or the other panels he serves on.
The rising challenge posed by Beijing is a recurring theme for Romney, who used his first Senate floor speech to address the threat. In his first year on the Foreign Relations panel, he also sponsored legislation (S. 2547) to encourage alliances between Europe and Indo-Pacific nations to develop a unified approach to dealing with China. The Senate passed the bill, which the House hasn't yet acted on.
Romney, who is chairman of the Foreign Relations subcommittee overseeing Middle East policy, backs many of Trump's policies. He commended the strike that killed Iranian General Qassem Soleimani and voted Wednesday to oppose Democrats' resolution (S.J. Res. 68) that would restrict the president's authority to take military action against Iran without congressional approval. But he's also called for the United States and its allies to "articulate and pursue a coherent strategy" on Iran policy.
Bucking Trump
Romney is still willing to buck the White House on other matters, saying he wasn't yet ready to endorse Trump's nomination of Judy Shelton to serve on the Federal Reserve Board.
"I'll take a look at her record. It's not terribly encouraging at this point but we'll see after I review it," Romney told reporters Tuesday. Shelton has come under bipartisan criticism for her past comments and stands, including returning to the gold standard.
He also told CNN it "would be a mistake" for Trump to pardon Roger Stone, a longtime GOP political operative with ties to the president who was convicted on charges stemming from Special Counsel Robert Mueller's investigation into Russian interference in the 2016 elections. Top Justice Department officials this week overruled career prosecutors' sentencing recommendations for Stone that Trump blasted as excessive.
Romney is a member of the Health, Education, Labor, and Pensions Committee, where Chairman Lamar Alexander (R-Tenn.) is developing legislation to lower prescription drug prices and deal with surprise medical billings.
As governor of Massachusetts, Romney pushed through a health care plan that became a model for Obamacare, which he opposed as a presidential candidate.
Vaping Curbs
A high priority for the senator is convincing Trump and fellow Republicans to support plans he's introduced to address the vaping epidemic. Late last year Romney pressed Trump to back an outright ban on the sale of flavored e-cigarette products. But after expressing initial interest, the administration in January proposed a watered-down plan that would prevent flavors for some vape products but not for all.
Romney now has joined other lawmakers in pushing several bills to combat vaping, including one (S. 3223) to force e-cigarette manufacturers to pay user fees for safety reviews of its products.
The Utah senator is also a member of the Homeland Security and Governmental Affairs Committee, where he's co-sponsoring bipartisan legislation (S. 2733) to address the long-term solvency of Social Security, Medicare, and other federal trust funds.
The committee's chairman, Sen. Ron Johnson (R-Wis.), said there won't be "any retaliation or lingering problems" because of Romney's vote on impeachment.
"He believed in his heart it was the right thing to do," Johnson said. "I really disagreed with his vote, but I don't have any hard feelings over it."
To contact the reporter on this story: Nancy Ognanovich in Washington at nognanov@bgov.com
To contact the editors responsible for this story: Bennett Roth at broth@bgov.com; Kyle Trygstad at ktrygstad@bgov.com