Rideshare, Flat Tax Measures Spur Billion-Dollar Ballot Spending
Despite fewer initiatives, fundraising could break records
Industry spends big to protect status quo in Calif., Mass.
Bloomberg Government subscribers get the stories like this first. Act now and gain unlimited access to everything you need to know. Learn more.
Uber Technologies Inc., DaVita Inc., and General Motors Co. are among the companies pumping millions of dollars into ballot initiatives in a year when the pandemic has upended political campaigning conventions.
Voters are casting ballots on 120 statewide proposals including legalizing marijuana, employee rights, and taxing the rich. That's on top of local questions on bond issues, police practices, and more.
There are fewer statewide ballot measures this year than in any previous even-numbered year in the 21st Century, according to the Initiative and Referendum Institute of the University of Southern California. Even so, the fundraising to pass or defeat those questions could end up outpacing 2018's $1.19 billion; at least $1.13 billion had been raised, according to data compiled as of Oct. 28 by the election-tracking site Ballotpedia.
"Everyone's competing with each other for voters' eyeballs," said Kim Alexander, president the California Voter Foundation, in a state where campaigns have raised more than $700 million to target 12 ballot propositions.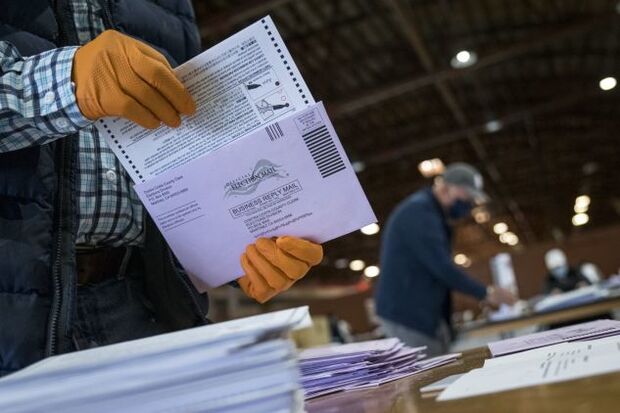 The pandemic helped drive up costs as campaigns replaced in-person outreach with digital advertising, text messaging, and mailings, said Chris Melody Fields Figueredo, executive director of theWashington, D.C.-based Ballot Initiative Strategy Center, which partners with left-leaning ballot measure campaigns nationwide.
They also had to pay for personal protective equipment for workers and volunteers; and hire attorneys to ask courts for new rules to qualify measures that fell short on signatures as a result of the stay-at-home orders. Courts in eight states denied campaigns the flexibility to qualify measures despite a shortfall in signatures, according to the Initiative and Referendum Institute.
"Because of Covid-19, there were just unforeseen costs," Figueredo said.
Widespread early voting and voting by mail meant voters turned in ballots earlier and over a longer period of time, extending the campaign advertising window, said Alexander.
Independent Contractors
Among the biggest spenders: Industries trying to beat back laws or proposals that may set a nationwide standard.
App-based driving services like Uber, Lyft Inc., DoorDash Inc., and Instacart Inc. have poured more than $200 million into Proposition 22 in California, according to the California Secretary of State. The effort would permanently classify ride-sharing and food delivery drivers as independent contractors while offering them a guaranteed minimum wage and other protections. If passed, the proposition would exempt the companies from complying with a state law that prevents gig economy companies from considering drivers as contractors.
Stoking of Pre-Uber 'Dark Ages' Drives California Ballot Message
When companies pour millions into a ballot measure, "there's some sort of fear that it's a national issue," said Josh Altic, a project director for Ballotpedia.
Rent Control
Real estate investment companies around the country have pitched in a collective $94 million to fight off an initiative that would give local governments in California more power to cap rents in one of the most expensive states for housing (Proposition 21).
Former presidential candidate Sen. Bernie Sanders (I-Vt.), the state Democratic Party, and the American Civil Liberties Union have endorsed the measure, and supporters have raised $40.4 million, according to the California Secretary of State's website.
California Voters to Decide on Giving Cities Rent Control Power
In a rare defection from his party, California Gov. Gavin Newsom came out against the initiative, saying it would discourage the construction of affordable housing in the state.
Apartment building developer Essex Property Trust Inc.has donated over $15 million to try to stop the proposal. Virginia-based developers Equity Residential and AvalonBay Communities Inc.
have given close to $20 million combined to tank it, according to California's Fair Political Practices Commission.
Two Colorado companies also donated: United Dominion Realty Trust, Inc. gave $2.5 million and Apartment Investment and Management Co. donated $2 million, according to the commission.
Wealthy Donors
While some initiatives benefit from company cash, others are relying on billionaire benefactors to sway voters.
Illinois Gov. J.B. Pritzer (D) has put $58 million behind a proposal to replace the state's flat tax with a graduated system. Citadel LLC CEO Kenneth Griffin, the richest man in the state, has given close to $54 million to defeat it. The measure would increase the income tax rate for those making more than $250,000 per year.
Billionaires Pay Up to Draw Attention to Ballot Initiatives
California's Proposition 15, which would remove a decades-old cap on commercial property taxes, has the support of labor unions and Facebook CEO Mark Zuckerberg. They have contributed $67 million to pass it, according to the Secretary of State's office. The California Business Roundtable, real estate companies, and the agriculture industry have raised over $74 million in opposition.
Car Repair, Dialysis, Bail
In Massachusetts, AutoZone Inc. and other car-repair players are battling with General Motors Co., Toyota Motor Corp. and other manufacturers and dealers over ballot question (Question 1) about the computerized components in new vehicles.
The measure would expand a 2013 state law that required manufacturers to use diagnostic platforms in cars that any repair shop could access. Advance Auto Parts Inc., O'Reilly Automotive Inc., and local repair shops have raised more than $24 million to tell voters why they should pass the measure, according to Massachusetts campaign filings. Those companies say the state's "right-to-repair" law needs to be updated because modern cars wirelessly transmit mechanical information only to the dealers.
Dealers and manufacturers argue that consumers' personal data would be at risk if more shops can access that information. They've given more than $26 million to the Coalition for Safe and Secure Data, a group opposed to the initiative that counts auto manufacturers as its top donors.
Californians also will see a rematch between kidney dialysis providers and the state's largest health-care worker union. DaVita, Fresenius Medical Care North America, and other dialysis providers are spending more than $105 million to defeat an initiative from the Service Employees International Union-United Healthcare Workers West to require doctors to be present at clinics at all hours of operation (Proposition 23), according to secretary of state filings.
Big Spenders Betting Money Talks on Health Ballot Issues
The bail bond industry collected more than $8 million to try to defeat a California measure (Proposition 25) to replace the state's cash bail system with one that weighs a detainee's risk to society as he or she awaits trial, according to state filings. Insurance underwriters Bankers Insurance Co. and AIA Holdings Inc. are battling billionaire donors including former Microsoft CEO Steve Ballmer and former hedge fund manager John Arnold, who have given millions in supportof the measure, according to the California Fair Political Practices Commission.
Privacy, Cannabis, Voting
What to Watch
Get up to speed on more ballot issues:
With assistance from Adrianne Appel
To contact the reporter on this story: Tiffany Stecker in Sacramento, Calif. at tstecker@bgov.com
To contact the editors responsible for this story: Michaela Ross at mross@bgov.com; Heather Rothman at hrothman@bgov.com
Stay informed with more news like this – from the largest team of reporters on Capitol Hill – subscribe to Bloomberg Government today. Learn more.