Paying for Privacy at Core of California Ballot Measure Battle
Civil liberties group calls proposition a 'privacy poll tax'
Tech giants are staying on the sidelines, out of the fight
Bloomberg Government subscribers get the stories like this first. Act now and gain unlimited access to everything you need to know. Learn more.
California voters are being asked to build on a landmark privacy law that gives consumers more control over personal data that companies collect, and whether they'll have to pay to protect it.
If they approve the California Privacy Rights Act (Proposition 24) in Tuesday's election, Californians will add an enforcer to police the privacy law, and add protections for more types of personal information.
California is the world's fifth-largest economy, and companies that want to do business in the state would have to comply with the new rules. Passage of the measure could influence other states to follow suit, as lawmakers in Washington and New York already have proposed. Congress also could end up deciding to pass a national law to avoid a patchwork of state privacy rules.
Californians currently have the right to ask companies what data they hold about them, that it be deleted, and that it not be sold. If the ballot question succeeds, residents also could demand that their personal information not be shared, which, among other things, could help end online ads that target them based on their Internet browsing history.
"The writing is on the wall that privacy law is coming," University of California Berkeley School of Law Professor Chris Hoofnagle, who supports the measure, said in an interview. "Americans have rarely had the opportunity to vote directly on privacy."
Tech titans are watching from the sidelines as consumer and privacy groups argue over whether the measure does more harm than good. At the heart of the debate: does the measure endorse the practice of companies charging consumers more to limit collection and use of their personal data?
Opponents say the initiative would enshrine the concept of "paying for privacy" in California law. Those who don't pay more to restrict collection and use of their data could receive inferior service in the form of bad connections, slower downloads, and more pop-up ads, the American Civil Liberties Union and other groups argue.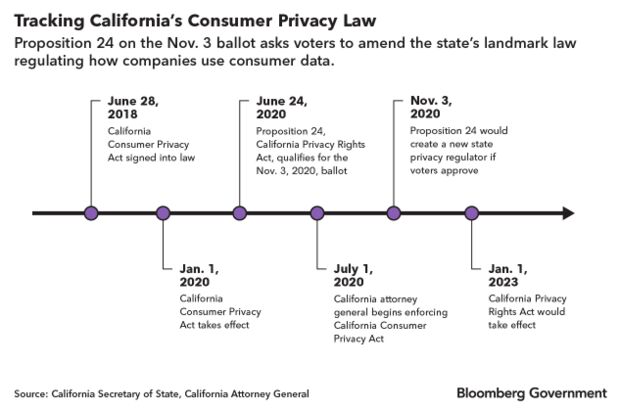 "This is essentially a privacy poll tax and it's going to disproportionately mean that people who are economically struggling won't have privacy because it will become a luxury good for the rich," Jacob Snow, technology and civil liberties attorney for the ACLU of Northern California, said during an Oct. 15 debate on Proposition 24 hosted by the Sacramento Press Club.
Backers say existing law, the 2018 California Consumer Privacy Act, already allows companies to ask consumers to pay more to restrict the collection and use of their data if the price is reasonably tied to the data's value. The ballot question would refine those rules and improve them, they argue.
"Your data is a commodity and you should be able to sell it if you want to or not sell it. But that is the law today," Jamie Court, president and chairman of the board of Consumer Watchdog, said during the press club debate.
"It will be the most effective privacy legislation in the world," Alastair Mactaggart, a real estate developer who founded the pro-proposition Californians for Consumer Privacy, told lawmakers in June.
Mactaggart faults opponents for wanting to eliminate the option for consumers to decide, for example, to pay more for a music streaming service to avoid ads. The arguments ignore models that many businesses are using successfully and that consumers like, Mactaggart said in an interview.
"It's the ultimate nanny state," he said.
The proposition doesn't set up a pay-for-privacy system but it could push the marketplace to be better at valuing consumer data, said Cynthia J. Cole, an attorney with Baker Botts LLP in Palo Alto, Calif.
"It is recognizing that personal information is used by companies large and small, in many contexts and industries as a revenue model," she said. "This gives consumers the freedom to act and use those models with more transparent pricing and increased judicial rights."
Ahead in Polls
With separate polls showing either 60% or 77% of those surveyed favoring the measure, proponents say they expect to win on Tuesday. Former Democratic presidential candidate Andrew Yang signed onto the campaign in August, joining consumer group Common Sense Media, U.S. Rep. Ro Khanna (D-Calif.), dozens of state elected officials, labor groups, and academics who say the measure would strengthen the California Consumer Privacy Act.
Mactaggart, who led the charge for adoption of the 2018 law, has provided most of the $6.1 million in campaign cash to ask voters to approve Proposition 24.
Facebook and Google are neutral on the measure, and major business groups, such as the California Chamber of Commerce, California Retailers Association, and the Computer Technology Industry Association, have stayed quiet after expressing concernin June about its complexity and compliance burden.
The groups, which count many major tech companies as members, were heavily involved in efforts to stop or weaken the California Consumer Privacy Act before it passed in 2018 and during the 2019 legislative session when they backed more than a dozen unsuccessful bills that would have amended the law. Facebook supported the 2018 law.
A coalition of 11 digital advertising groups, including the Interactive Advertising Bureau and Association of National Advertisers, said in September it opposes the measure, but it hasn't joined forces with other opponents or spent money to help defeat it. The opposition is poorly funded, with about $50,000 raised and no campaign to speak of.
Among the proposed changes:
Adding race, religion, health information, geolocation, and other sensitive data to the list of protected personal information that falls under the law;
Restricting the gathering of consumer data from multiple platforms to target advertising at specific consumers;
Tripling fines for violations that involve children;
Expanding consumer rights to opt out of sharing, as well as sale of data, to third parties;
Allowing companies to accept a universal opt-out signal sent from a consumer's browser or application rather than requiring consumers to respond to privacy options at individual websites;
Creating a new state agency with a five-member board appointed by the governor and elected state officials to assume regulatory authority from the state attorney general, who retains enforcement authority; and
Allowing lawmakers to amend the law only with majority-vote approval of bills that further the proposition's purposes.
The new state regulator would be created within months of the measure's passage, while other provisions would take effect Jan. 1, 2023.
To contact the reporter on this story: Laura Mahoney in Sacramento, Calif. at lmahoney@bloomberglaw.com
To contact the editors responsible for this story: Tina May at tmay@bloomberglaw.com; Katherine Rizzo at krizzo@bgov.com
Stay informed with more news like this – from the largest team of reporters on Capitol Hill – subscribe to Bloomberg Government today. Learn more.