Ocasio-Cortez, Omar Lap Lower-Key Members in Small-Dollar Funds
National name recognition brings money from outside districts
Trump defenders Nunes, Jordan top GOP small-donor fundraisers
Making headlines keeps small-dollar campaign donors clicking.
House freshmen who've attracted national attention are doing better than their lesser-known colleagues at attracting the small-denomination donations that are a sign of strong grass-roots enthusiasm.
Rep. Alexandria Ocasio-Cortez (D-N.Y.) , who landed on the cover of Time magazine within weeks after taking her seat in Congress, has collected almost $600,000 this year from campaign donors giving $200 or less each. That's more than 80 percent of her total haul of close to $728,000 in the first quarter of 2019, according to a newly filed Federal Election Commission report.
A key factor in small-dollar fundraising is national name recognition, said Sarah Bryner, research director of the nonprofit Center for Responsive Politics. Donors giving online tend to be spread across the country, not concentrated in the lawmaker's district, and it takes a lot for a House member to be nationally known, she said.
"How many people can even name their own member of Congress?" asked Bryner. People going online to give $10 or $25 may be doing so "not to help win an election but as as a symbolic gesture," she said.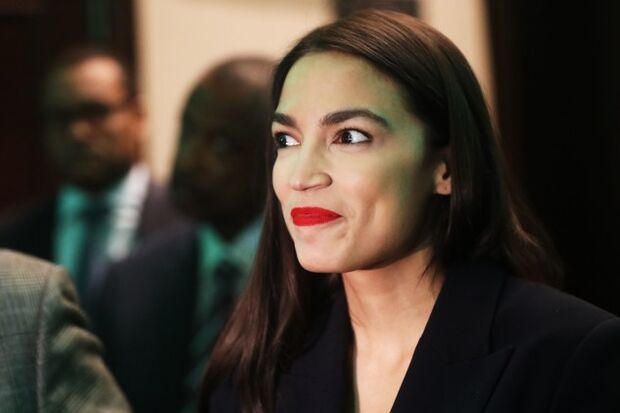 Rep. Ilhan Omar, a Muslim Democrat from Minnesota frequently in the news, is running close behind Ocasio-Cortez in small-dollar fundraising this year, collecting about $415,000 — half of her total campaign money — in the first quarter. She's been the target of well-publicized attacks by President Donald Trump and other Republicans, who say her criticism of Israel and its supporters is anti-Semitic.
Omar's campaign collected a total of $832,000 in the first three months of this year, according to her latest FEC report. That was more than 75 percent of what she raised for the entire 2018 election cycle. Omar's share of small-donor contributions has increased so far this cycle from 29 percent to 50 percent.
Unlike Ocasio-Cortez and Omar, most of the top fundraising freshman Democrats have seen a decline so far this year in the proportion of their campaign money coming from small-dollar donors.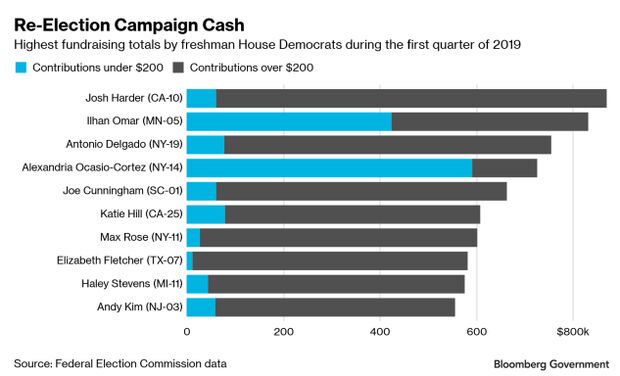 That could be a troubling trend for Democrats after their record money haul to win the House majority in the midterms, according to Bryner. Democrats emphasized appealing to grass-roots donors in the 2018 midterms as a way to counter the influence of wealthy individuals and corporate interests in Washington.
One of the Democrats' top fundraisers, Rep. Joe Cunningham (D-S.C.) collected more than $660,000 through the first quarter of 2019, but less than 10 percent came from donors giving $200 or less. In the 2018 race, Cunningham raised almost a quarter of his more than $2.4 million in campaign money from small donors.
Rep. Katie Hill (D-Calif.) had the third-highest rate of small-dollar support among the top fundraising freshmen Democrats this year. She collected 11.3 percent of her first-quarter cash total of about $608,000 from smaller donors.
In 2018, Hill got 21 percent of her campaign cash from smaller donors. She got $1.8 million in small-dollar contributions of a total of roughly $8.6 million.
The House Democrats' campaign arm, the Democratic Congressional Campaign Committee, said in statement it was pleased with fundraising numbers racked up freshmen lawmakers and "frontline" members in competitive districts.
"Democrats are doing their jobs by delivering results on issues from health care to creating jobs to cleaning up Washington corruption, and it's clear grass-roots supporters across the country will have their backs," DCCC spokeswoman Melissa Miller said.
Small-Dollar Republicans
The same giving trend is happening on the Republican side, where high-profile defenders of Trump also are hauling in small-dollar contributions.
Republican Reps. Devin Nunes (Calif.) and Jim Jordan (Ohio) have cashed in on media attention as they helped Trump battle Robert Mueller's independent counsel investigation and congressional testimony from Trump's former lawyer, Michael Cohen.
Nunes collected about $712,000 in smaller contributions during the first three months of the year, according to FEC reports, while Jordan received $302,000.
Nunes' small-dollar contributions constituted 59 percent of his total receipts of just over $1.2 million for the first quarter of the year. He raised 49 percent of his campaign money from small donors in 2018. Jordan has raised 62 percent of his roughly $484,000 in receipts this year from small donors, up from 28 percent last year.
With assistance from Madi Alexander
To contact the reporter on this story: Kenneth P. Doyle in Washington at kdoyle@bgov.com
To contact the editors responsible for this story: Bennett Roth at broth@bgov.com; Robin Meszoly at rmeszoly@bgov.com